This Chestnut butter or Chestnut Paste recipe has essentially one ingredient, and it's easier than you might think to make. It's also one of the most unique and delicious homemade food gifts you can give for the holidays.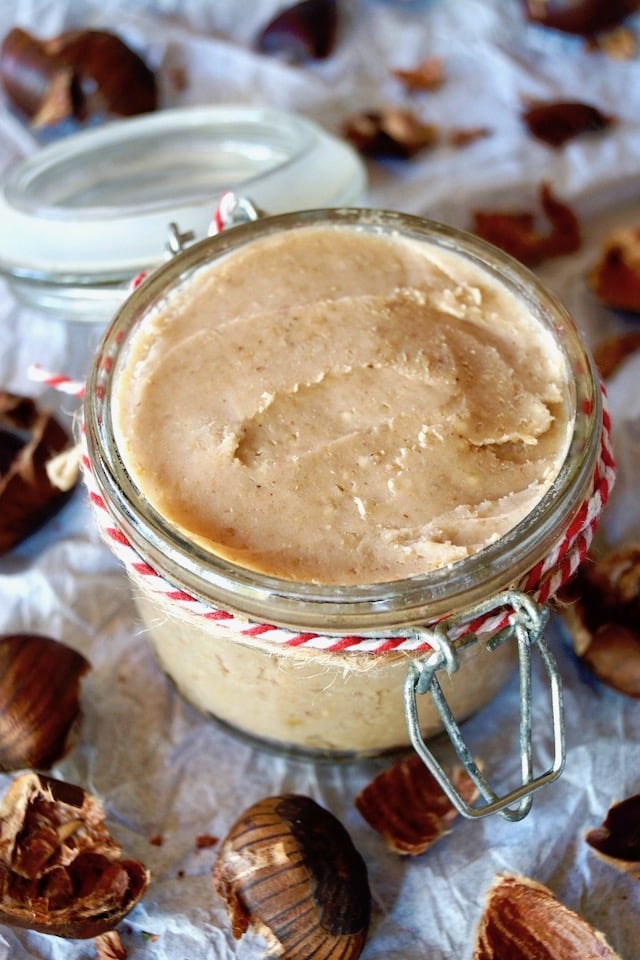 It's not too late to make homemade food gifts for this holiday season!
Once upon a time, when I thought of a nut butter, peanut butter was pretty much the only thing that popped into my mind. Then slowly, over the years new nut butters were making appearances in the stores, and in my life. 😉
Almond butter is everywhere now, and cashew butter has almost caught up. Then there's sunflower seed butter — though not a nut at all. (It gets a mention because it sits on the same shelf as the others.) And I'm sure there are more.
Homemade Nut Butters
---
I love making nut butters you wouldn't typically find in stores. They're not only easy and fun to whip up, but they also make for fantastic homemade food gifts. Don't you love receiving something you can't buy anywhere?
Last year I made a most delicious pistachio butter for one of my homemade food gifts, and it was a big hit. And I'm hoping this super tasty chestnut butter will be also. It already is in my house.
About Chestnuts
---
Chestnuts are unlike most other nuts because they're quite soft. Their flavor is subtly sweet with earthy notes, and when made into "butter," it spreads very smoothly. In fact, since I made this the other day, I've been spreading it on sourdough toast every morning, with a drizzle of honey. It's SO good!
Learning how to make chestnut butter is easy!
---
Roast and peel chestnuts (up to two days ahead of time). Here's how to do that.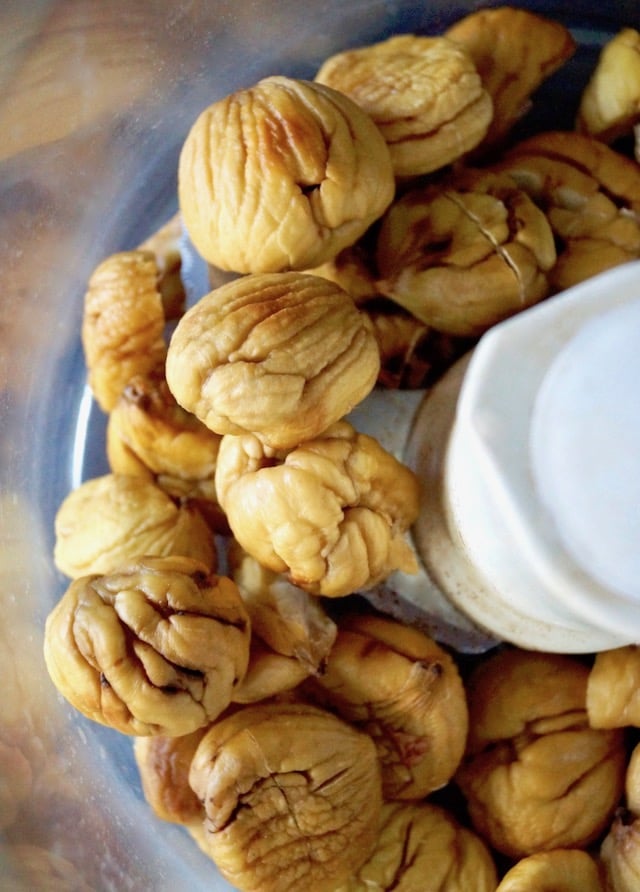 Blend the chestnuts for 30 seconds in a food processor.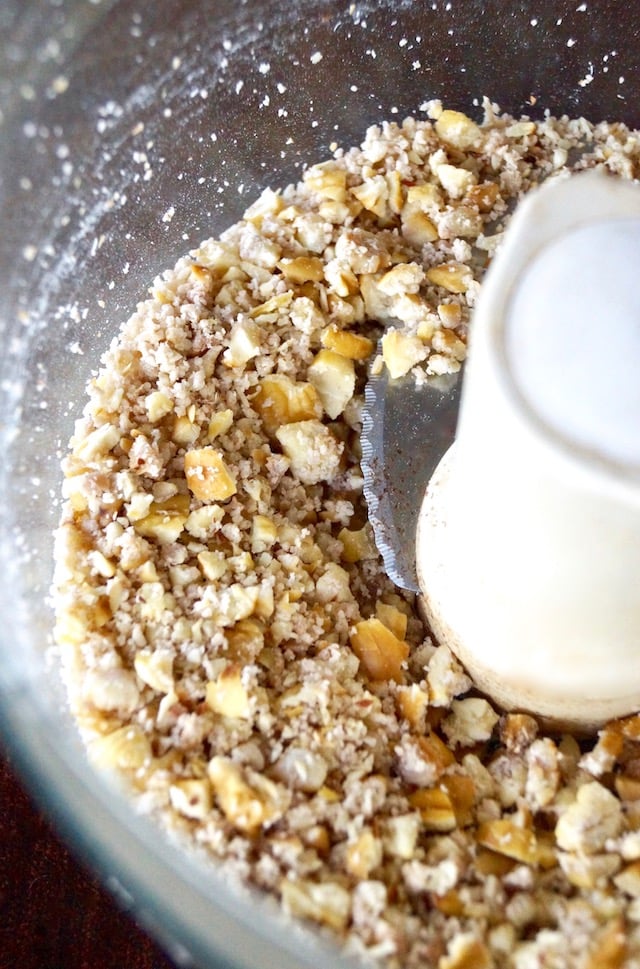 Then for 60 more seconds, until they're a fine powder.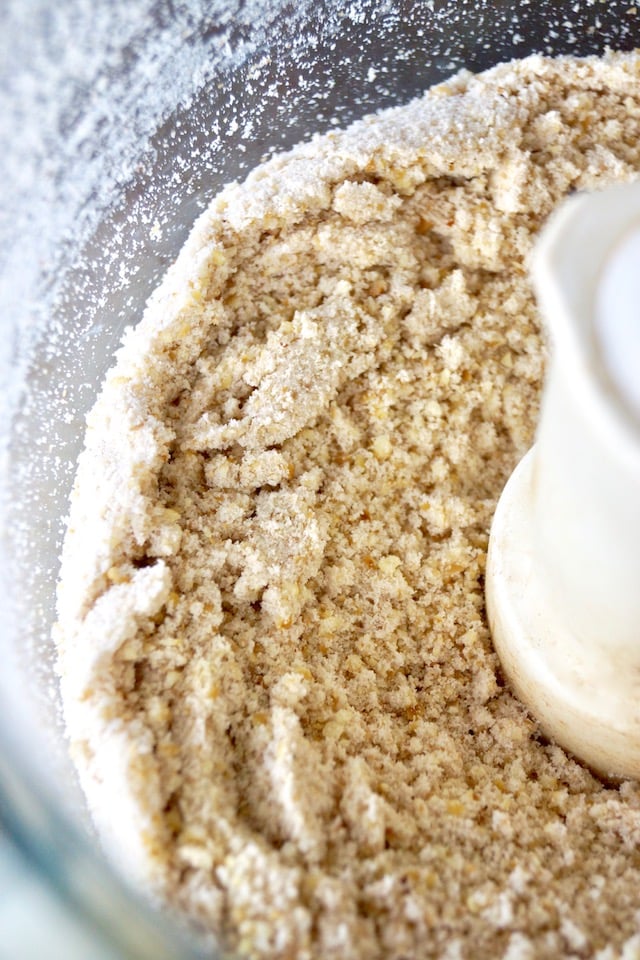 Add water.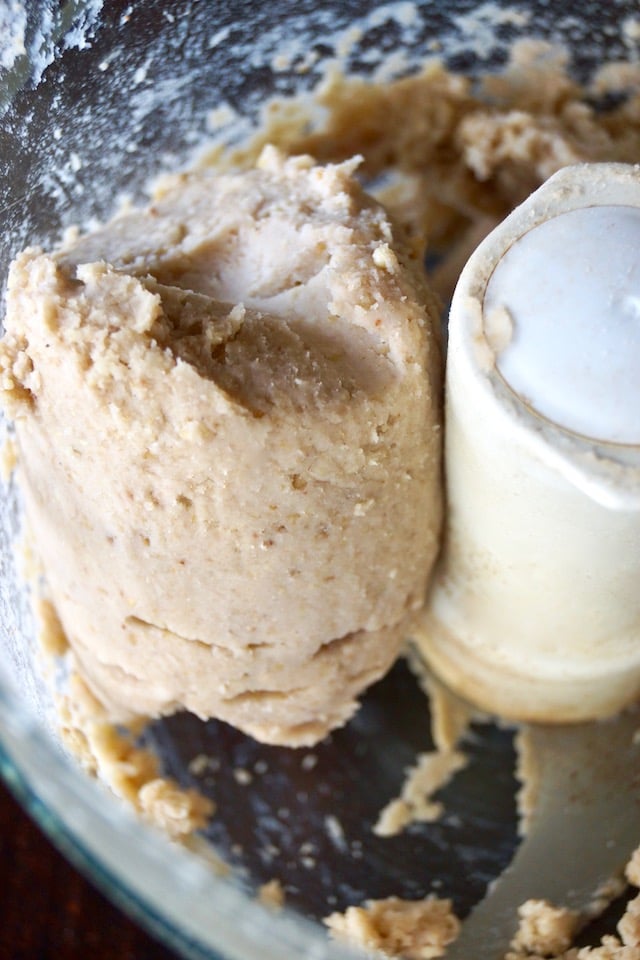 Blend again until the mixture is a paste-like consistency.
I call it chestnut butter. Some call it chestnut paste, and others call is chestnut spread.
Call it what you will, it's delicious with any title. And it's not to be confused with chestnut cream. The cream is for desserts and has a lot of sugar added to it. (It's delectable, it's just not this.)
Recipe Tips
---
If your chestnuts aren't easily going from a crumb to a paste, you can add a little more water, bit by bit, until it's smooth and paste-like.
What to do With Chestnut Butter
---
Make cake frosting with it.
Use it in a cookie recipes.
Spread it on toast.
Mix it into a savory sauce.
And of course, use it for homemade food gifts.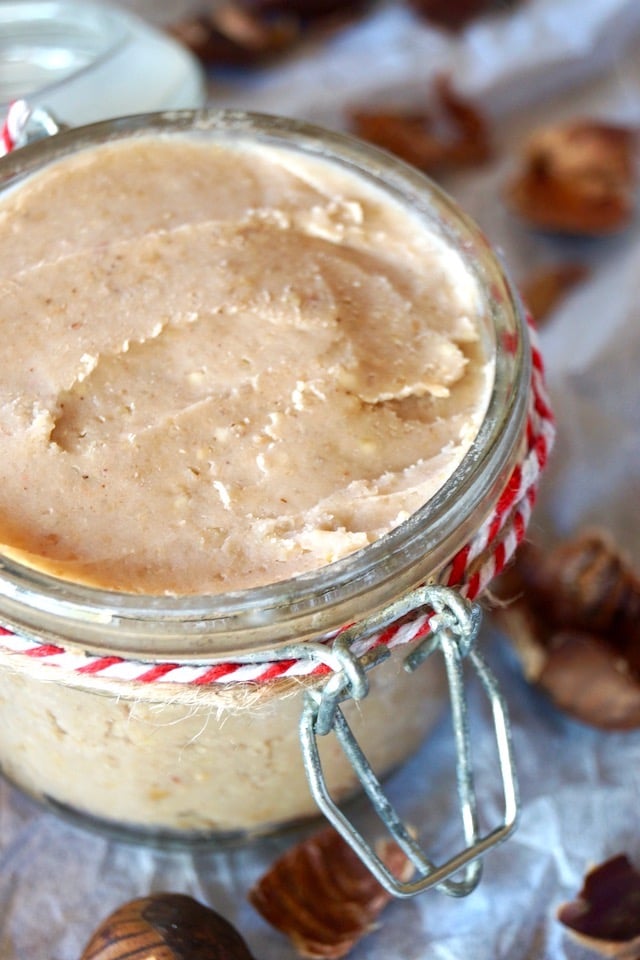 How long will chestnut butter keep?
---
The chestnut butter can be stored in an airtight container in the refrigerator for approximately three to four weeks.
It can be stored in an airtight container in the freezer for up to 6 months. Do not heat it to thaw -- let it sit out and come to room temperature. Then refrigerate.
The chestnut butter should not be stored at room temperature.
More chestnut recipes: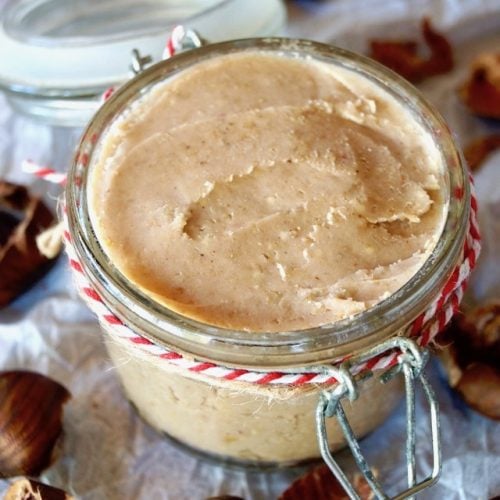 Chestnut Butter Recipe
Homemade Food Gift: Chestnut Butter is so unique and SO delicious!
*Please note that the prep time does not include roasting and peeling chestnuts, which takes about 45 minutes.
Here's how
.
*The honey is optional, but I think it adds the perfect amount of sweetness.
*Makes 1½ cups
Instructions
Add the roasted and peeled chestnuts to a food processor fitted with the blade attachment, and blend until the chestnuts are a fine powder, about 2 minutes.

Add the water and honey and blend until the chestnuts are a paste-like consistency. This typically takes about 30 more seconds, but could take longer.  It will likely all gather to one place in the food processor. (If it doesn't seem to be coming together, add more water, bit by bit.
NOTES
Calorie count is only an estimate.
NUTRITION
Have you tried this recipe?
I'd love to see it on Instagram! Tag me at @cookingontheweekends or leave a comment & rating below.