All garlic lovers should definitely know how to roast garlic! It's super easy and transforms the raw, often sharp, strong garlic into a creamy, mild, spreadable treat.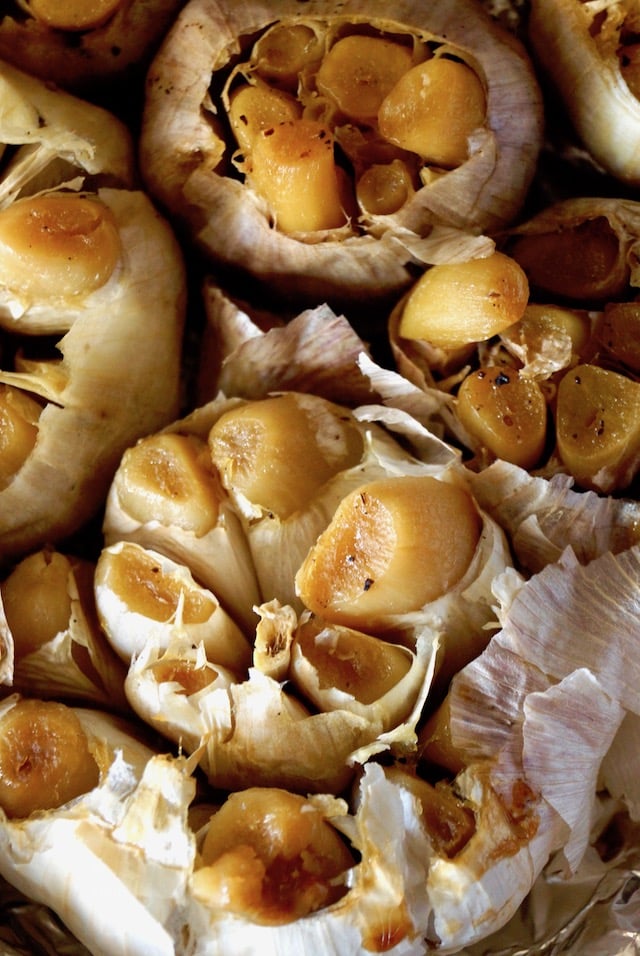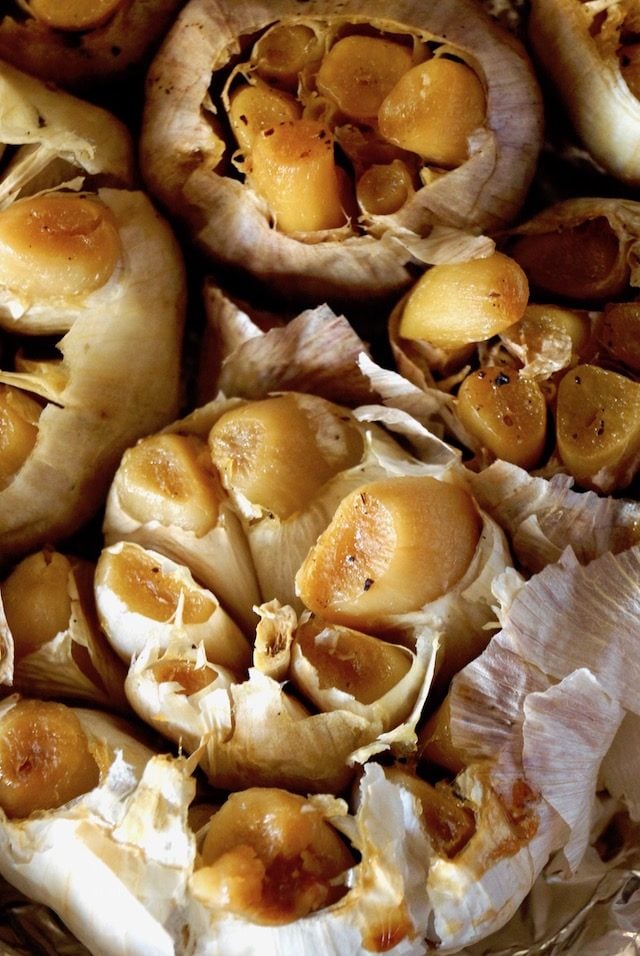 I could literally use a small spoon and scoop out one creamy, delicious roasted garlic clove after another and eat them as they are.
You know what I'm talking about if you've ever had roasted garlic -- and if you haven't, get ready to experience a dreamy culinary delicacy.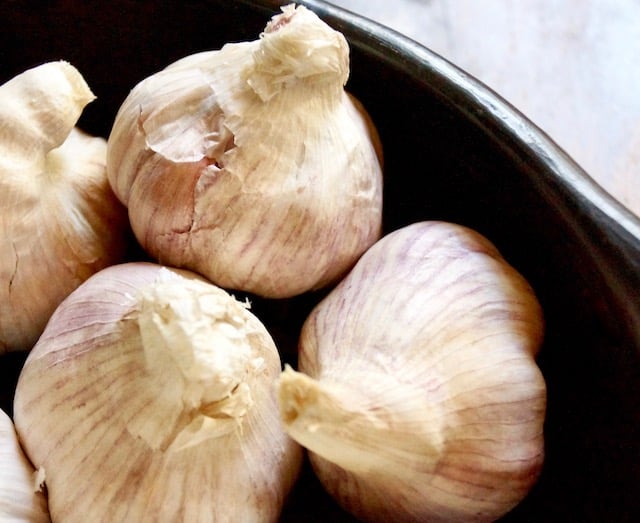 Roasting Raw Garlic
There are many ways to roast garlic, and below are the most popular. All of these involve drizzling a bit of olive oil over heads of garlic with about ½ inch cut off the tops, and they all go in the oven.
foil - Wrap the prepared head of garlic in (preferably heavy-duty) foil with at least a couple of inches of air around it.

garlic roaster

- Place the prepared head of garlic in the roaster and cover with its lid.
muffin pans - This is an awesome method if you want to roast a dozen heads of garlic at once. Place one prepared head of garlic in each muffin hole. Then place another muffin pan, upside down, on top.
casserole dish with foil or lid - You can line a casserole dish with foil, or not. Clean-up is much easier if you do. Place the prepared heads of garlic inside and then cover with foil, leaving a couple of inches between it and the garlic. Or, if the casserole dish has a lid, you can use that.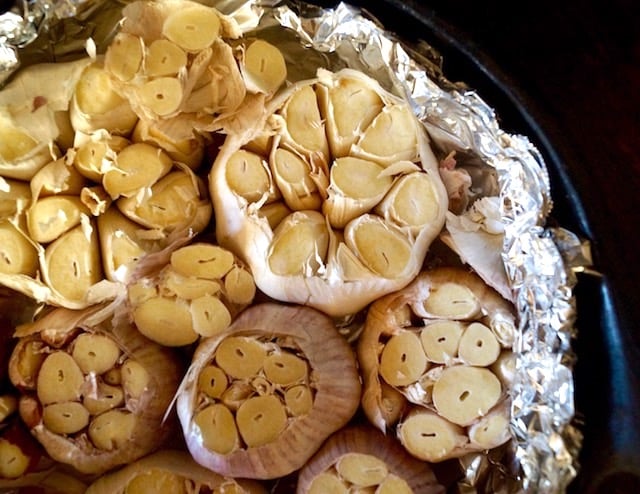 In my experience -- and I've tried it every which way -- as long as there's space between the lid/foil and the garlic, the vessel it's in doesn't seem to make a big difference. It's more about the temperature of the oven and the length of time it roasts.
* More detailed instructions are below.*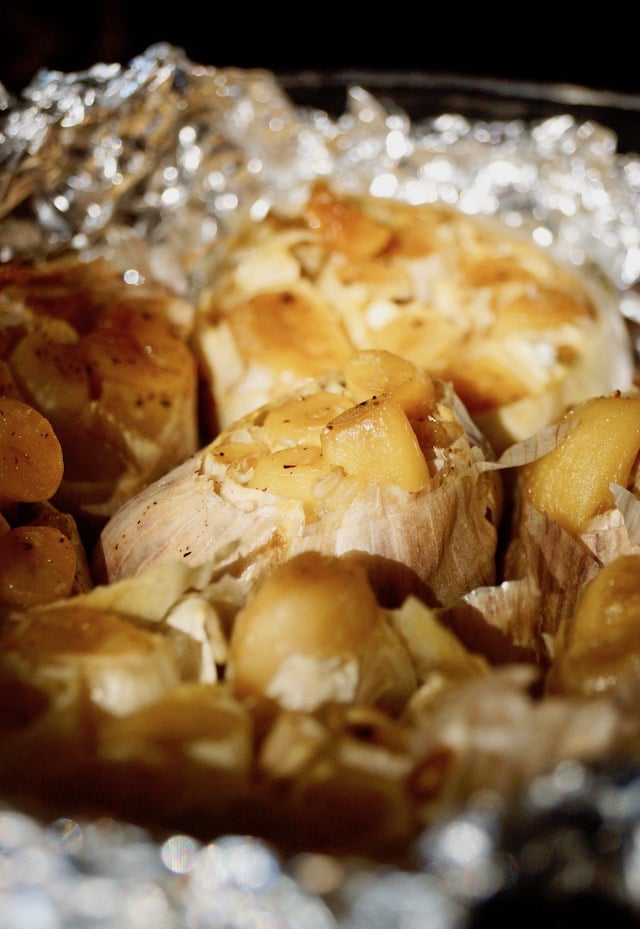 What does roasting do to raw garlic?
Most flavors intensify when roasted -- interestingly, when you roast garlic, the flavor does the opposite -- it mellows out. It goes from sharp and pungent to sweet, creamy and unbelievably aromatic.
Uses for Roasted Garlic
Roasted garlic is an ingredient in many recipes, and it's also fantastic on its own.
You can spread it on toast as it is, or mix it with butter and then spread.
Add it to soups, stews, rice dishes and stir-fries.
It's also great in salads and in salad dressings.
It's delicious in these recipes: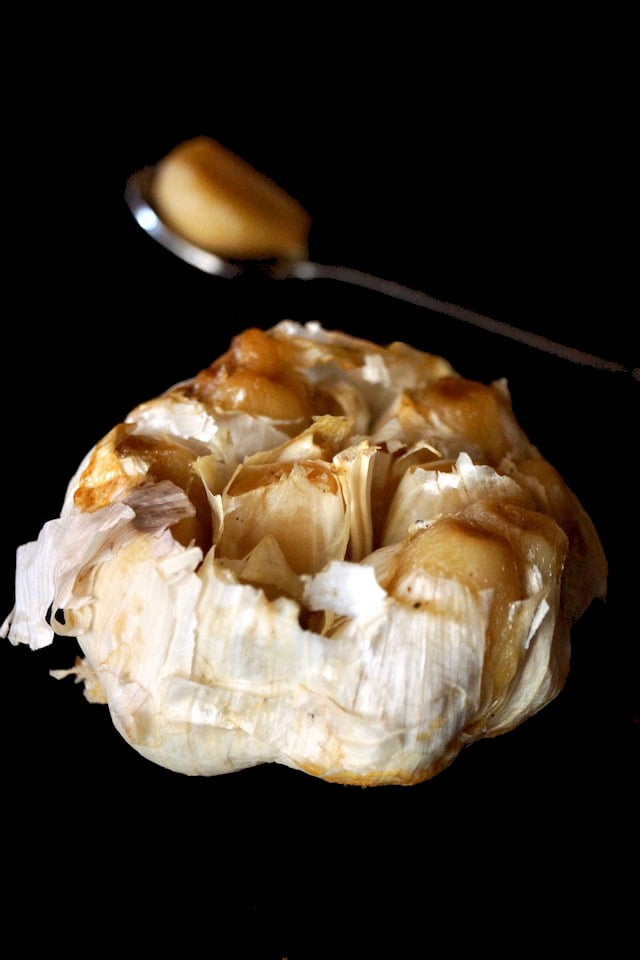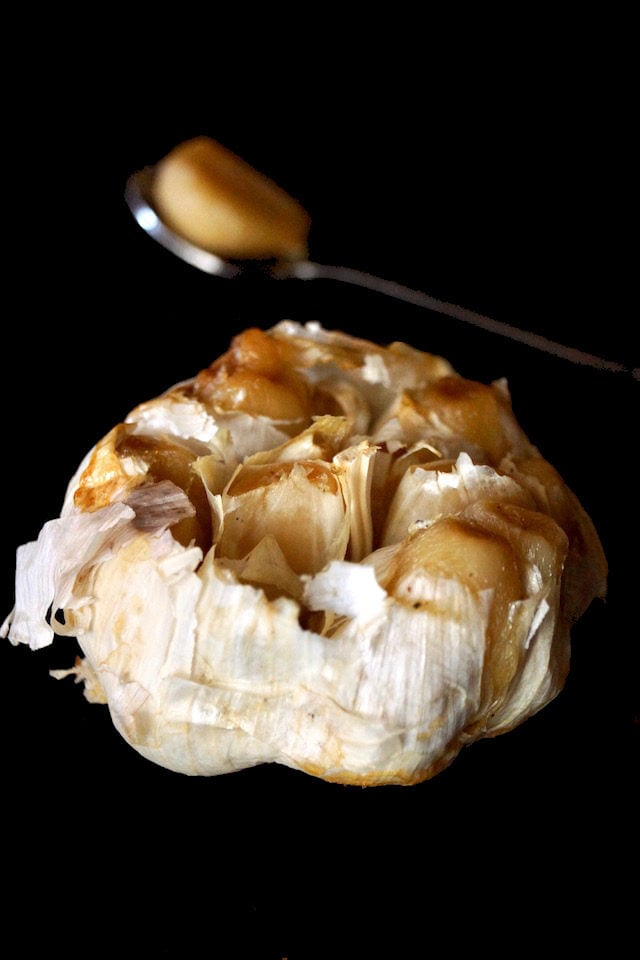 How to Store Roasted Garlic
Don't store roasted garlic at room temperature. It will go bad quickly!
Refrigerator, method 1: You can store roasted garlic in tightly sealed container in the refrigerator for about 1 week. Do not remove the cloves from their skins until you're ready to use them.
Refrigerator, method 2: Remove the cloves from their skins and place them in a clean jar with olive oil. They can be stored this way for at least 2 weeks.
Freezer, method 1: Freeze the roasted garlic bulbs in a zip-log bag. When you're ready to use them, thaw at room temperature.
Freezer, method 2: This method takes a little more work, but will ultimately be more efficient. Remove the skin, and place the roasted cloves on a parchment paper-lined paper plate or baking sheet (if it fits in the freezer). Be sure there is a bit of space between each clove. If you have enough cloves for a second layer, be sure you add another sheet of parchment paper between them. Once they're completely frozen, add them to a small container or zip-lock bag. Thaw at room temperature before using, and only as many as you plan to use at a time.
* For both freezer methods, the roasted garlic will keep for about 6 months. *
Since its existence, garlic has offered dozens of health benefits, so many that it's often called a "cure-all" food. Healthline is a great resource to learn more about why to love and eat garlic.
And there's another benefit of roasting garlic -- the amazing aroma that will fill your home! This is, of course, great weekend cooking!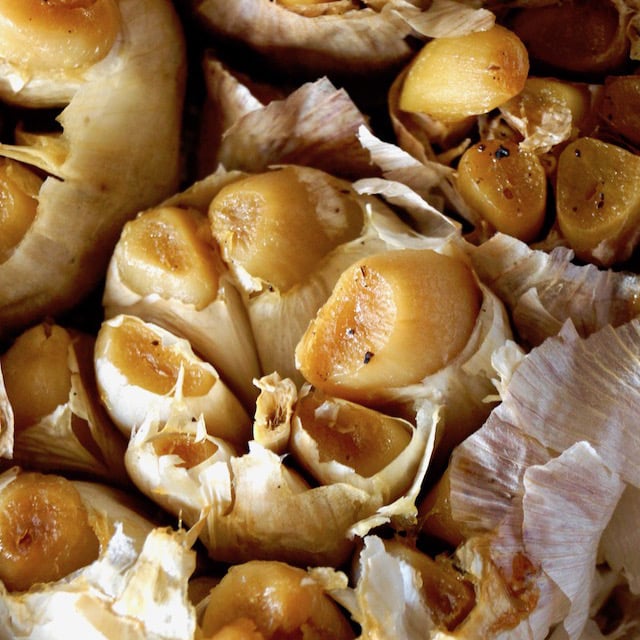 Roasted Garlic
All garlic lovers should definitely know how to roast garlic! It's super easy and transforms the raw, often sharp, strong garlic into a creamy, mild, spreadable treat. *Measurements do not have to be exact.
Ingredients
about 8

medium-sized heads

garlic

about 3

tablespoons

olive oil

salt and pepper
Instructions
Preheat the oven to 400°F.

Cut approximately ¼ to ½ inch off the top of each head of garlic and save the removed portion. Place all of the garlic -- and the top portions -- face up on a large piece of heavy-duty foil or in a shallow, oven-proof casserole dish fitted with a lid (or have foil ready to use as the lid).

Drizzle the olive oil evenly over the open cloves -- about 2 teaspoons per 2 inch head of garlic. Sprinkle with salt and pepper. Cover with lid or foil. If you're using foil, be sure to seal it along the edges.

Place the dish in the preheated 400°F. oven and roast until the garlic is super soft and will easily squeeze out of the skin, about 1 hour, 30 minutes. Halfway through the roasting process, at about 45 minutes, open the foil and remove the tops you cut off, as they will cook much faster than the rest. Be sure to reseal the foil.

You will actually see that the cloves are popping out of the skin already.Unwrap the foil (or remove lid) and let the garlic cool until it's comfortable to touch. Then squeeze the soft, creamy garlic out of its skin -- or, if you'd like to keep the cloves whole, use a paring knife to help you gently remove them.
NOTES
Calorie count is only an estimate.
NUTRITION
Calories:
37
kcal
|
Carbohydrates:
5
g
Have you tried this recipe?
I'd love to see it on Instagram! Tag me at @cookingontheweekends or leave a comment & rating below.
Cooking On The Weekends is a participant in the Amazon Services LLC Associates Program, an affiliate advertising program designed to provide a means for sites to earn advertising fees by advertising and linking to Amazon.com.