Roasted Tomato Poblano Salsa has a delicious fresh and smoky flavor. It's fantastic with chips, tacos, burritos, or to top meats, chicken and fish.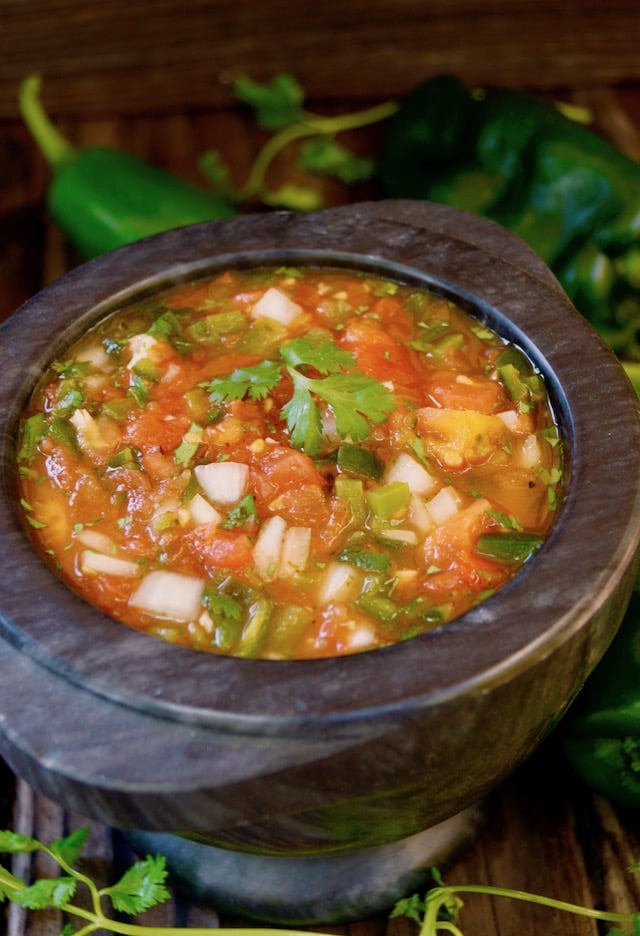 Inspiration for Roasted Tomato Poblano Salsa
Many moons ago, my friends and I used to frequent a Santa Monica restaurant called Carlos & Pepe's.
The main reason we loved it was because of the incredibly delicious chips and salsa (I guess that's two reasons).
The Carlos & Pepe's salsa recipe was fresh, spicy, smoky, slightly sweet, and a bit crunchy. The chips were light, warm, and perfectly salted.
The combination was incredible.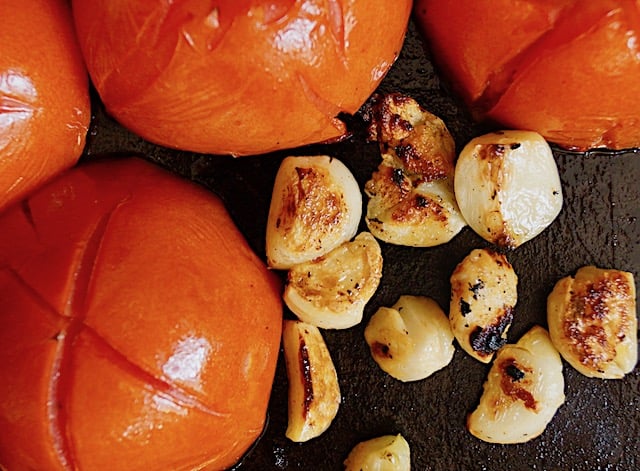 My friend Aimée found out the "secret" to the Carlos & Pepe's salsa recipe.
The answer: almost all of the ingredients were roasted. Brilliant. So that's exactly what I did with the ingredients in my Tomato Poblano Salsa.
What's in this amazing salsa recipe?
olive oil
tomatoes
onion
garlic
poblanos
jalapeños
cilantro
lime juice
Now imagine all of that, roasted, chopped, and in one delicious bite.
Recipe Tips and Substitutions
If you want extra heat, leave some of the seeds in the peppers.
If you're tomatoes are not as sweet as you'd like, add a pinch or two of sugar when you season the salsa.
While the recipe calls for specific measurements that work very well, when it comes to salsa, generally more or less of any of the ingredients is okay. Feel free to adjust it to suit your taste.
What to serve with Roasted Tomato Poblano Salsa
There's really no end to the possibilities here . . .
with warm, salted tortilla chips
mixed into guacamole
on top of grilled chicken, fish or meat
drizzled over grilled vegetables
mixed into salads
with your tacos, burritos, tostadas
This is one of my all time favorite things to serve for a casual summer get together.
This only takes a little more time than a raw salsa, and it's totally worth it.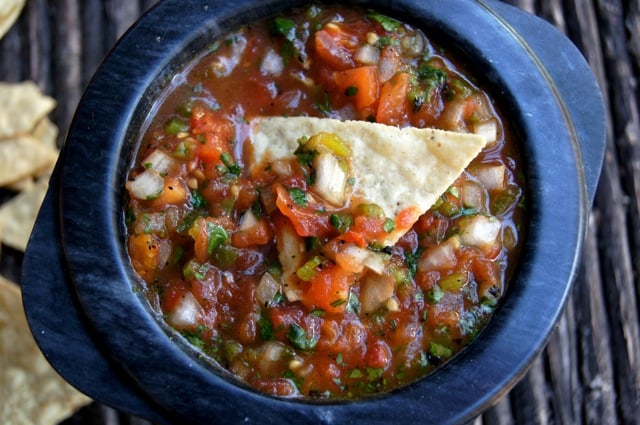 However you serve this amazing, smoky and delicious salsa, I hope enjoy every last bite!
More recipes with Poblano peppers: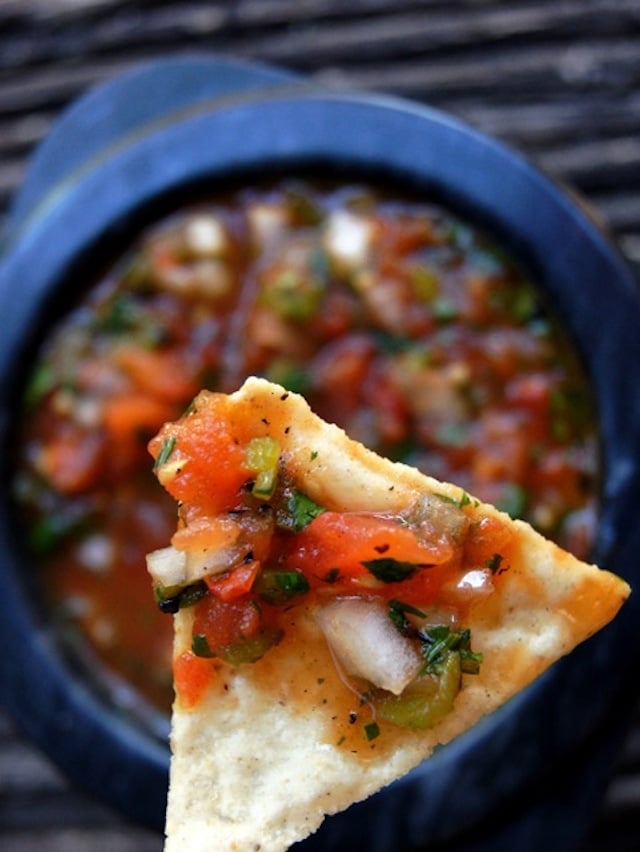 More delicious summer salsa recipes:
Roasted Tomato Poblano Salsa Recipe
The smoky flavor and fresh ingredients make this roasted salsa superb for chips, tacos, burritos, or to top meats, chicken and fish.
*Makes about 3 cups

Keyword:
summer salsas, party food
Ingredients
2

tablespoons

olive oil

2

pounds

tomatoes

5

small cloves (about 2½ tablespoons)

garlic,

peeled, smashed and root ends trimmed

½

pound

poblano chili pepper (about 2 medium-sized peppers)

¼

pound

jalapeño pepper (1 to 2 small peppers)

¾

cup

yellow onion,

finely chopped

⅓

cup

fresh cilantro,

washed and dried, finely chopped

5

tablespoons

fresh lime juice (about 1 small lime)
Instructions
Preheat the oven to 500°F and lightly coat a baking sheet with the olive oil. Sprinkle it with salt and pepper and set aside.

Roast the tomatoes and garlic: Use a paring knife to remove the cores from the tomatoes and cut them in half horizontally. Cut an "X" on the round side of each half -- just enough of a slit to break the skin. Place the tomatoes flat side down on the baking sheet. Add the garlic cloves to an empty space on the baking sheet. Place in the preheated 500°F oven until the garlic is golden and the tomatoes are sizzling and the skin is beginning to pull away from the "X," about 10 minutes. Remove the baking sheet from the oven and let the tomatoes cool for at least 5 minutes. 

Once the tomatoes are cool enough to touch, you can use your hands or the dull side of a paring knife to remove the skin. As you do this, add the skins to a small strainer over a large mixing bowl. Finely chop the tomatoes and mince the garlic. Add both to the bowl. Use a metal spatula to scrape any brown bits of tomato, and any remaining olive oil from the baking sheet and add it to the bowl. Use the back of a spoon to press down on the tomato skins to get any excess juice into the bowl.

Roast the poblano and jalapeño peppers: Cut them in half, remove the seeds and pith, and place them round side up on a baking sheet. Place them directly under the broiler until the skin is fairly evenly charred and blistered, about 2 minutes. Remove the baking sheet from under the broiler and let the peppers cool for a few minutes. Use your hands or the dull side of a paring knife to remove the skin. Finely chop them and add them to the bowl with the tomatoes and garlic.

Add the onion, cilantro and lime juice to the bowl and mix everything together. Season generously to taste with salt and pepper. If the tomatoes aren't especially sweet, add a pinch or two of sugar. (Here's How to Season to Taste.)
Save
Save
Save
Save
Save