This Poblano Pepper Omelet Recipe is literally overflowing with delicious flavors, and the presentation is unique and fun. Smoky Poblano chile recipes do not disappoint!
Though I really like to keep my focus on delicious food and cooking here, today I'll share that lately I've been consumed with worry about some people in my life who I care deeply for. One who isn't well physically, one who isn't well mentally, and then of course, those around them who are suffering as a result of this. One of the hardest parts is knowing there's nothing more I can do for them. I think I've done all I can and now I have to just "be there," more or less feeling helpless.
I'm moving through each day being as present as possible for my two sweet boys and my husband, who always make my heart happy.
And I keep on cooking, which always helps. Some people need a walk on the beach, a day at the spa, quiet time with a book — and then there's me. I just want to be cooking something delicious.
(Maybe I'm on topic after all. ;-))
I've been cooking my way through a big, beautiful pile of peppers since the launch of the The Great Pepper Cookbook from Melissa's Produce.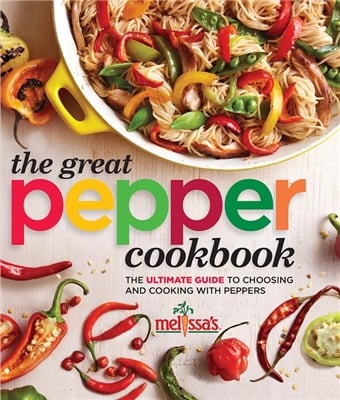 I can never get enough Poblano chile recipes so yesterday I made this breakfast/brunch dish with the Poblanos and it's amazing!
What do Poblano chiles taste like?
Poblano chiles are mild with a smoky, somewhat rich earthy flavor.
Fun fact: Dried Poblano chile peppers are called Ancho Chiles.
This Poblano Pepper Omelet recipe was exactly what I'd hoped it would be — comforting, full of delicious strong flavors and hearty.
What are the ingredients in this Poblano Pepper Omelet Recipe?
poblano chile peppers
sausage
onion
pesto
sun-dried tomatoes
eggs
cheddar cheese
Doesn't that list make you hungry!?
Thanks for listening, and maybe you could put some positive, healing thoughts out there for me and my family? 🙂
I hope you enjoy this recipe – the process and the result.
Poblano Pepper Omelet
This Poblano Pepper Omelet Recipe is literally overflowing with delicious flavors, and the presentation is unique and fun. And smoky Poblano chile recipes do not disappoint!
Please note that the prep time does not include roasting and peeling the peppers, which will add about 20 minutes.
Course:
Breakfast, Brunch
Keyword:
best recipes with eggs, great for brunch
Ingredients
1/3

pound

raw sausage (pork or chicken),

squeezed out of the casings

1/2

cup

yellow onion,

finely chopped

2

tablespoons

marinated sun-dried tomatoes,

finely chopped

8

large

eggs

2

tablespoons

Cheddar cheese,

grated
Instructions
Use a paring knife to make a slit on one side of each roasted and peeled pepper -- do not cut through the entire pepper. Once the slit has been made, gently remove the seeds from the pepper, being careful to keep it intact. Place the peppers in a small enough baking dish, so that the peppers are close enough together that the sides hold each other up -- like a bowl. (If you happen to have small individual baking dishes, that fit the pepper with the sides resting along the edges, that's great, too.) Set the peppers aside.

Preheat the oven to 375 degrees F and adjust a rack to the center.

Add the sausage to a medium-sized sauté pan, break it up into very small pieces, and sauté over medium heat until it's cooked through, about 7 minutes.

Then add the onion and continue to sauté until he onion begins to caramelize, about 5 minutes. (There should be enough grease from the sausage for sautéing the onion, but if not, add a bit of olive oil.) Mix in the pesto and sun-dried tomatoes and stir to blend. Turn off the heat and let the mixture cool to room temperature.

In a large mixing bowl, whisk the eggs until they're well blended.

Once the sausage mixture has cooled, mix it into the eggs, and using a measuring cup or ladle, add ¾ to 1 cup into each of the Poblano "bowls." (If a little seeps out, that's okay -- though if it seems to be more than a little, use crumpled foil to help hold the sides of the peppers up.)

Sprinkle a bit of the cheese on top of each one, and bake in the preheated 375 degree F oven until the egg mixture is set in the middle, about 30 minutes.

Let them cool for about 10 minutes before serving.
Cooking On The Weekends is a participant in the Amazon Services LLC Associates Program, an affiliate advertising program designed to provide a means for sites to earn advertising fees by advertising and linking to Amazon.com.