This beautiful, Marinated Achiote Chicken Recipe, also called Pollo Pibil, is juicy, succulent, and full of rich, deep Mexican flavors.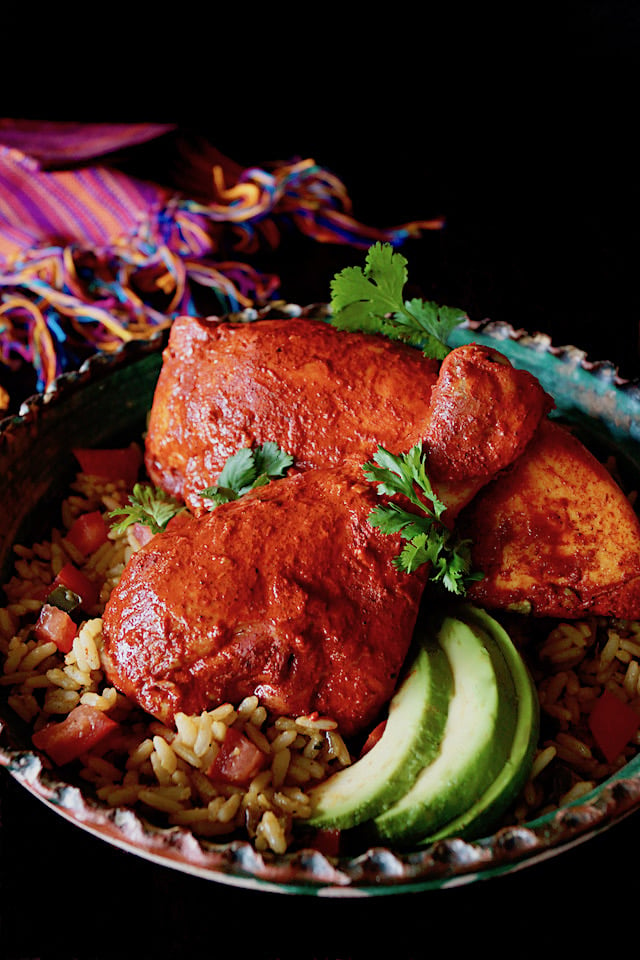 I'm not an authority on Mexican cuisine -- a local in Loreto, Mexico gave me a rough idea of ingredients and instructions for this dish.
Last weekend I was in Loreto, Mexico. My cousins have a home there, and I visited for the first time. It was nothing short of dreamy!
The weekend consisted of relaxing, paddle boarding, eating some of the best Mexican food ever, shopping in charming stores, and then some. Like I said . . . dreamy!
Inspiration
One of my favorite shops was Semillas y Especias el Gavilan, which translated means "Seeds and Spices Sparrow Hawk." Gabriel Vazquez owns and runs the shop, which isn't just full of seeds and spices. This tiny shop also holds the largest dried pepper selection in Loreto.
You can find out all about Gabriel, and how the store got its interesting name here.
The variety of spices and dried peppers was exciting.
The Guajillo chile peppers were such a pretty, deep red color that I had to get some. I asked Gabriel what he cooks with them, and he started telling me about a chicken recipe he makes for his friends.
I loved the look of these brooms outside Gabriel's store, and of course, the pretty Guajillo chile peppers.
Achiote Chicken Recipe Inspiration
Gabriel immediately grabbed the achiote paste off another shelf, and off the top of his head, he described what I'm calling Marinated Achiote Chicken Recipe.
I was hanging on his every word as he so kindly, generously shared his creation with me. When he mentioned adding orange juice, I was in. I imagined how delicious that tangy sweetness would be with the smoky guajillo peppers and the achiote paste.
Gabriel Vasquez inside his store, Semillas y Especias el Gavilan.
What are Guajillo Chile Peppers?
Available year round, Guajillos are currently one of the most commonly grown chile peppers in Mexico.
Unlike many dried peppers, Guajillos have the same name whether they're fresh or dried, though they're most commonly found in their dried form.
Guajillo chile peppers have a sweet, smoky flavor that's delicious in sauces, marinades, sauces, and so on.
Some of the dozens of spices that line the shelves in Semillas y Especias el Gavilan.
What is Achiote Paste?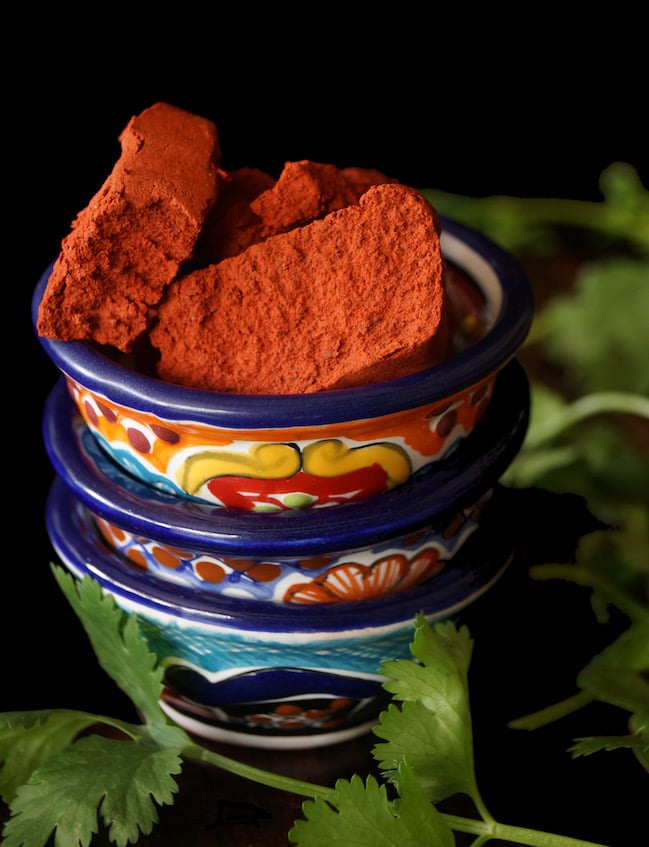 Achiote is another name for annatto seeds. Achiote paste, which is typically formed into a small block, is a Mexican ingredient that consists of ground annatto seeds and various spices that might include cumin, pepper, coriander, oregano, cloves, and garlic.
A gorgeous deep red color, achiote paste originated in the Yucatán region of Mexico and can be used in sauces, marinades or rubs.
The mild flavor of achiote paste is slightly sweet and peppery.
Truth be told, Gabriel sold me a second type of dried pepper that was meant to be in the recipe, but by the time I got it home I couldn't remember what it was called, so I omitted it. (GASP!)
Gabriel, what was it!? Please tell me in the comments!
I baked the chicken in my Chamba pottery baking dish -- it can go on the fire, in the oven, and is beautiful to serve in.
I seriously encourage you to make this Marinated Achiote Chicken recipe (Pollo Pibil). It is truly out of this world! I've been home less than a week and have made it twice already! Really!
Enjoy!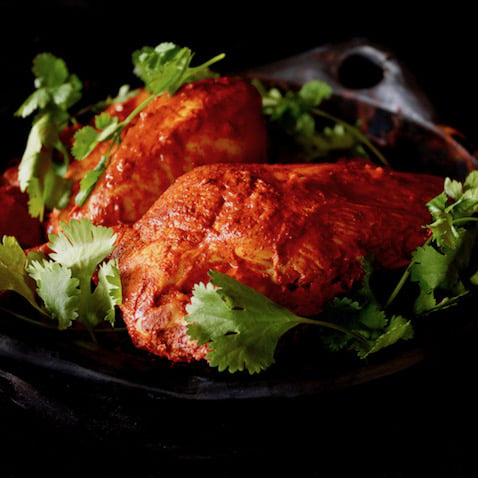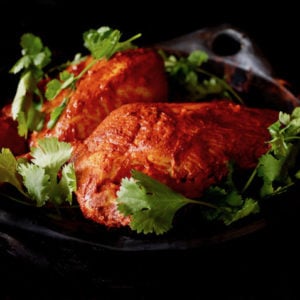 Marinated Achiote Chicken Recipe
This beautiful, Marinated Achiote Chicken Recipe, also called Pollo Pibil, is juicy, succulent, and full of rich, deep Mexican flavors.
Ingredients
1

cup

water

2

ounces

achiote paste

¼

cup plus 1 tablespoon

fresh orange juice

3

small to medium-sized

garlic cloves,

peeled, roots trimmed (about 1 tablespoon)

1

approximately (3½ pound)

whole cut up chicken,

skinless, bone-in
Instructions
Add the Guajillo peppers and water to a small pot and bring to a boil. Then reduce the heat to low and simmer for five minutes. Turn off the heat, cover the pot and let it stand for 20 minutes.

Remove the stems and seeds from the hydrated peppers. (Leave some seeds is you prefer more heat.) Add both the peppers and water they hydrated in, to a blender.

Add the achiote paste, orange juice and garlic to the blender and blend until smooth. Set aside.

Add the skinless, bone-in chicken pieces to a large zip-lock bag and pour in the achiote marinade, which shouldn't be hot because of the addition of the orange juice. Move the chicken pieces around to be sure they're all well coated, remove the air from the bag and seal it. Then put this in another large zip-lock bag to ensure it doesn't leak. Place in the refrigerator for at least 3 hours and ideally overnight.


Preheat the oven to 375°F and once the chicken is done marinating, add it, and all of the marinade to a large enough baking dish to hold the everything snugly. Sprinkle with salt and pepper.

Bake in the preheated 375°F oven just until it's cooked through, about 45 minutes. Flip the pieces over about halfway through the cooking time and sprinkle with salt and pepper. Once it's cooked through, flip the chicken over once more, sprinkle sightly with a bit more salt, and serve.
NOTES
Calorie count is only an estimate.
NUTRITION
Have you tried this recipe?
I'd love to see it on Instagram! Tag me at @cookingontheweekends or leave a comment & rating below.
Cooking On The Weekends is a participant in the Amazon Services LLC Associates Program, an affiliate advertising program designed to provide a means for sites to earn advertising fees by advertising and linking to Amazon.com.