Bacon Hash Brown Casserole with Eggs can be served in individual ramekins for an elegant presentation or in one baking dish for a more casual meal. Cooking hash browns and eggs together is over-the-top delicious in any vessel!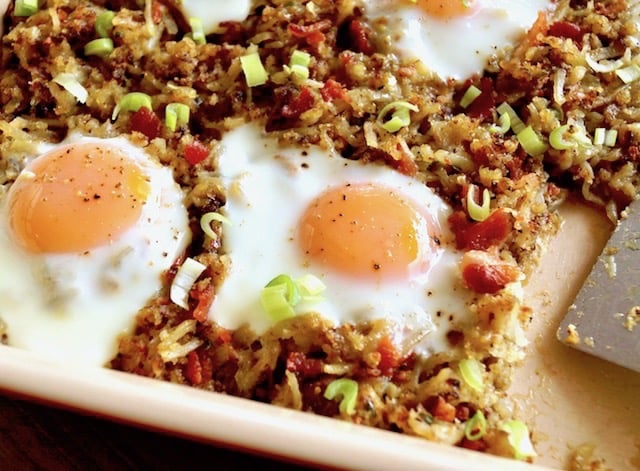 Eggs, bacon and potatoes are one of the most popular savory breakfast combinations.
What if we fancied up this traditional breakfast combination, and put them neatly together in a cute little ramekin? Or in a big casserole dish for sharing?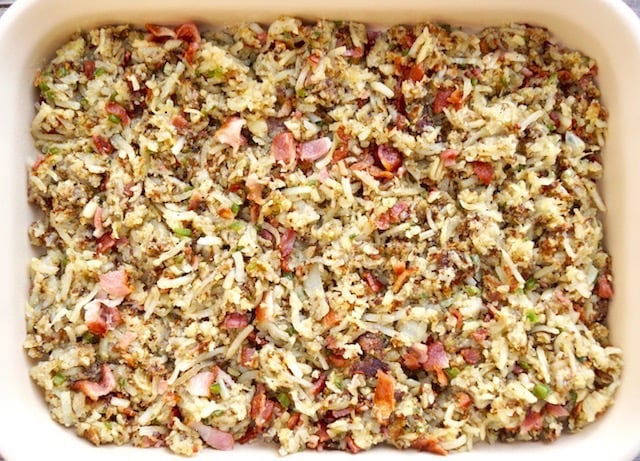 What's in this recipe?
potatoes
bacon
eggs
onion
garlic
jalapeño peppers
breadcrumbs
olive oil
micro greens
green onions
Cooking hash browns and eggs together is always a crowd pleaser. Add the bacon and watch out!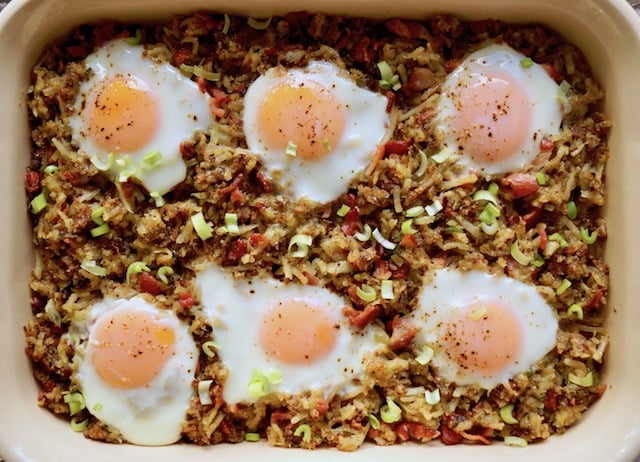 Large Casserole vs. Individual Portions
Presented in a large casserole dish, this is perfect for a casual brunch. It's fairly quick and easy to put together.
Bacon Hash Brown Casserole with Eggs is so fun and pretty in individual ramekins. I would serve it this way if time is not limited and for a fancier gathering.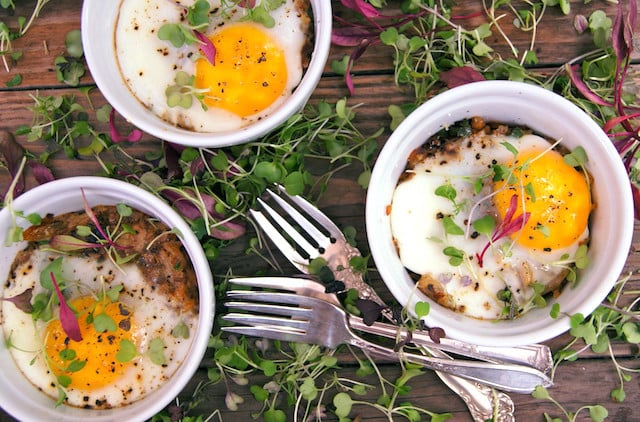 When to Serve it

Frankly, I'd happily gobble my Bacon Hash Brown Casserole up any season, and day -- but, it's rather special, so it might be nice to serve it on a special occasion. I think it would be perfect for Easter and Mother's Day.
Brunch is always a special occasion -- after all, it's a late morning event, and it's almost always a relaxed, unhurried meal. I definitely find that special.
This is also one of my all time favorite things to serve when I'm in the mood for "breakfast for dinner."
Can you use frozen Hash Browns?
Sure you can. This is a great way to save time if you need to. Be sure the frozen hash browns are completely thawed before using them.
Recipe Tips
Be sure to "wring" out the the potatoes and onions after they're grated and before cooking them. They will become crispier with less moisture.
The recipe calls for grating the onion. I really like the texture of grated onion in hash browns -- however, if it's easier for you, you can finely chop them. It will still be delicious, I promise. 🙂
Jalapeño peppers can vary in heat, so it's a good idea to taste a tiny bit before using it. You can use more or less of it, depending on the level of heat you like. I find that when the seeds are removed, they're usually on the mild side.
Gluten-free? Simply use gluten-free breadcrumbs.
Vegetarian? Omit the bacon, and add finely chopped red pepper or zucchini.
Are you in? A Bacon Hash Brown Casserole with Eggs -- I mean c'mon, let's go for it.
More hash brown recipes:
Bacon Hash Brown Casserole with Eggs
Bacon Hash Brown Casserole with Eggs can be served in individual ramekins for an elegant presentation or in one baking dish for a more casual meal. It's delicious in any vessel! 
Ingredients
8

strips

applewood smoked bacon

4

cups

peeled and grated Russet Potatoes (approximately 2 pounds)

1

cup

grated yellow onion

1

cup

fresh breadcrumbs

about ¼

cup

jalapeño pepper,

washed and dried, seeds removed, finely chopped

1

tablespoon

garlic,

minced

olive oil for the pan,

if necessary

1¼

teaspoon

salt

freshly ground black pepper

6

large

eggs

small handful of micro greens or finely chopped green onions for garnish,

washed and dried (optional)
Instructions
Cook the bacon. Place a paper towel over a large plate and set aside. Add the bacon to a large sauté pan over medium heat. Cook until it's crispy, about 5 minutes per side. Remove the bacon -- but leave the bacon grease -- from the pan, and set it aside to drain on the towel-lined plate.

Prep potatoes and onion. Use a food processor fitted with the grater attachment to grate the potato and onion. Then use your hands to squeeze as much liquid as possible out of the potatoes and onion. Do this before measuring the amount you need. Potatoes and onions have a very high water content, so you'll be surprised at the quantity of liquid; you can actually "wring" them out. Doing this will result in much crispier potatoes.

Preheat the oven to 375°F.

Make hash browns. Add the potatoes and onion, along with the breadcrumbs, jalapeño pepper and garlic to the pan with the bacon grease. Drizzle with the olive oil and turn the heat to medium-high. Stirring often, sauté until everything is golden brown, about 15 to 20 minutes. (If at any point the pan becomes too dry and the potatoes are sticking to the bottom, add a bit of olive oil.) Roughly chop or crumble the bacon. Add it to the pan and mix. Then add the salt and a few turns of pepper. Stir to blend.

Assemble. Place six (4 x 2-inch, round) ramekins or a 9 x 13 x 2-inch baking dish on a sheet pan. Then divide the potato-bacon mixture evenly among the ramekins, or add all of it to the baking dish. Gently press down on the potatoes with the back of a spoon.Make a small depression in the potatoes with the back of the spoon, and crack an egg in each one in the ramekins, or evenly space them over the potatoes in the baking dish.

Bake. Bake in the preheated 375°F oven just until the eggs are cooked, about 15 to 20 minutes. (I like the yolks runny and the whites completely solidified, but cook to your taste.)

Cool and serve. Whether in the ramekins or baking dish, let it cool for about 10 minutes. Then add a few micro-greens or finely chopped green onion to the top and serve!
NOTES
Calorie count is only an estimate.
NUTRITION
Have you tried this recipe?
I'd love to see it on Instagram! Tag me at @cookingontheweekends or leave a comment & rating below.
Cooking On The Weekends is a participant in the Amazon Services LLC Associates Program, an affiliate advertising program designed to provide a means for sites to earn advertising fees by advertising and linking to Amazon.com.