Kampot Pepper Seared Ahi Tuna is truly special for a couple of reasons. First, the Kampot Pepper from the Pepper Project, which is bright, bold and delicious. And second, a super quick, simple cooking process.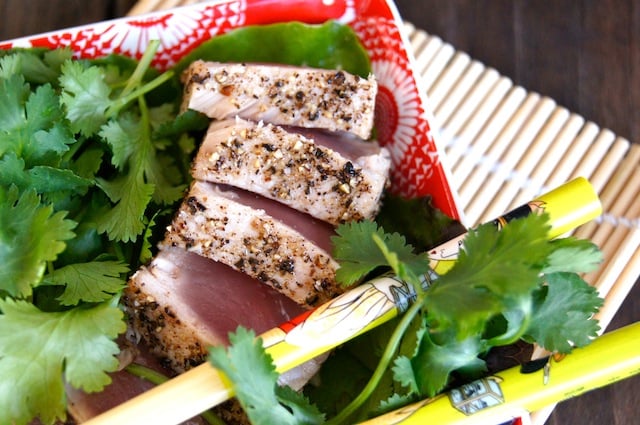 I ordered a bundle of Kampot pepper from the Pepper Project mid-way through reading about it on one of my favorite food blogs, Blue Kitchen.  Who knows, maybe I'll inspire you to do so, too — or, at the bottom of this post, you can enter to win a package of this prized pepper from me.
Let me explain . . .
First discovered by Chinese explorers in the 12th century, this pepper is cultivated in Cambodia in the province of Kampot.  This pepper is highly regarded among food connoisseurs and ranks as the finest gourmet pepper in the world.  Kampot pepper, which is a certified organic product, is incredibly aromatic, pungent, bold, bright and delicious.
The Pepper Project is a not-for-profit enterprise devoted to introducing products of Cambodia to the United States, primarily pepper.  One hundred percent of the proceeds from sales of these products goes to support fair trade for farmers and to organizations that protect street children, disabled children and victims of sex trafficking.
(You can learn more about the Pepper Project here.)
Look how lovely my package of pepper is — with a hand written, personal note, literature about the Pepper Project, recipes, seeds, and the wonderful pepper itself in beautiful hand made bags.   You can order Kampot Pepper here, or enter to win a package from me below.

The first dish I made with Kampot pepper was this gorgeous Pepper Seared Ahi Tuna.  The flavor of the pepper makes this some of the best Ahi I've ever tasted.   So if you didn't realize that using a high quality, freshly ground pepper would make a difference — trust me, it does!
Now please, enjoy this Kampot Pepper Seared Ahi Tuna.
Kampot Pepper Seared Ahi Tuna
Keyword:
seared fish dish
Ingredients
4

(4-ounce)

Ahi tuna fillets,

sushi grade

salt

2 to 3

tablespoons

black pepper (preferably Kampot),

finely ground

grape seed oil

for the pan
Instructions
Place the number of Ahi fillets you're serving on a clean, dry plate or cutting surface. (For a slightly fancier plate presentation, you can slice each fillet into 2 to 3 long, rectangular pieces.)

Lightly sprinkle all of the sides with sea salt, then either sprinkle or grind black pepper directly onto the top and bottom surfaces of the fillets. The pepper should be a thin, but generous layer.

Coat a large sauté pan with grapeseed oil and place it over high heat.

Once the pan is very hot, add the Ahi and sear each side until it's only cooked through about 1/8-inch, 1 minute or less per side. (If you don't hear a sizzling sound when the tuna hits the pan, it's not hot enough -- wait for the sizzle!)

Remove the pepper seared tuna from the pan and place each piece on a large plate. Once they have cooled a bit, cut them into very thin slices and serve.
Recipe Notes
This is also just as delicious served cold and is perfect over a salad of greens.
Pepper should be stored in an airtight container, in a cool, dark place. Experts recommend grinding or cracking whole peppercorns right before use.