This quick and easy recipe for Spicy Pickled Cucumbers will knock your socks off. It's a pretty successful attempt at the Din Tai Fung cucumber salad recipe.
My friend Rebecca took me on a food tour of her favorite Chinese food spots in the San Gabriel Valley. Lucky me!
Si Hai Restaurant
First Rebecca took me for an unbelievable Tawianese breakfast at Si Hai Restaurant (Four Sea Restaurant in English.)
We had several dishes, but what really stood out was a small hand pie called Ngau Yuk Sau Ban (that's Beef Hand Pie in English). The Ngau Yuk Sau Ban is made with pickled vegetables and very thinly sliced marinated beef all wrapped into a super, flaky and light pastry — similar to puff pastry, only made with pork fat instead of butter. Sounds more like lunch, right? Frankly, I'd eat this hand pie anytime of the day any day!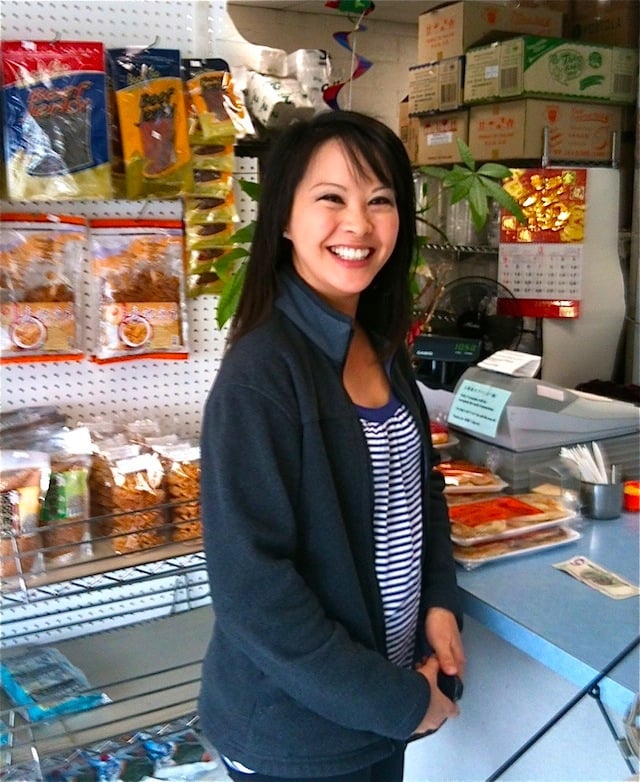 Rebecca, ordering our goodies at VP Tofu!
VP Tofu
Next, a quick stop at VP Tofu where Rebecca picked up a delicious dessert for her family, Do Fu Fa, which means soybean custard — it's served with a lovely, light ginger syrup. I followed suit, of course.
VP Tofu
237 S. Garfield Avenue, Monterey Park
626-572-9930
Half & Half Tea House
From VP Tofu, we headed to the Half & Half Tea House, where I got one of the most delicious, delightful beverages I've ever had — Coffee & Milk Tea with Boba. Boba, or "Bubble," are the small, semi-sweet balls that fall to the bottom of the drink.
These somewhat big, chewy balls are made from cassava, a type of sweet potato, rolled into black tapioca-like balls. These drinks are always served with an extra wide straw to accommodate these yummy treats! And treats they are!
Din Tai Fung Cucumber Salad Recipe
For our last stop we traveled to Arcadia to Din Tai Fung, where Rebecca ordered Juicy Pork Dumplings — hands down, the most delicious dumplings I've ever had. Ever! Each small dumpling was like having a bite of warm, comforting, hearty soup.
To complement the dumplings, Rebecca also ordered a wonderful dish of Spicy Pickled Cucumbers, which was a highlight that I've recreated for you today.
This might not be exactly the way the Din Tai Fung cucumber salad recipe is made, but I think I've come pretty close!
This was a most memorable food day!
If you're in Southern California, make your way to these places to eat . . . and eat. . . and eat!
Now go get started on this Spicy Pickled Cucumber Salad.
Spicy Pickled Cucumbers Recipe
This quick and easy recipe for Spicy Pickled Cucumbers will knock your socks off. It's refreshing, spicy and crunchy, all at once.

Keyword:
Asian side dishes
Instructions
Cut the cucumbers into approximately ½ inch rounds and place them in a mixing bowl.

Sprinkle the cucumbers with the salt and gently mix. Let them sit for about 20 minutes.

Pour the salted cucumbers into a strainer and drain and rinse them with cold water. Dry them with paper towels and place them in a new mixing bowl. Set aside.

In a small sauté pan, over low heat, warm the sugar with the vinegar only until the sugar has dissolved, about 2 minutes. You can stir it a bit as it warms. Pour this over the cucumbers and gently mix. Let them marinate in the refrigerator for about 2 hours.

You can use the same small sauté pan to heat the oil with the chili paste. Cook only until it's sizzling, about 2 minutes. Let this cool to room temperature.

Remove the marinating cucumbers from the refrigerator and drain almost, but not quite all of the liquid. Carefully stir in the chili oil and serve.
Cooking On The Weekends is a participant in the Amazon Services LLC Associates Program, an affiliate advertising program designed to provide a means for sites to earn advertising fees by advertising and linking to Amazon.com.