Inspired by a meal at the Hawaiian Style Cafe on The Big Island in Hawaii, this hearty Portuguese Sausage Omelet Recipe is packed with mushrooms, and super delicious smoky, savory flavors that will keep you satisfied all day!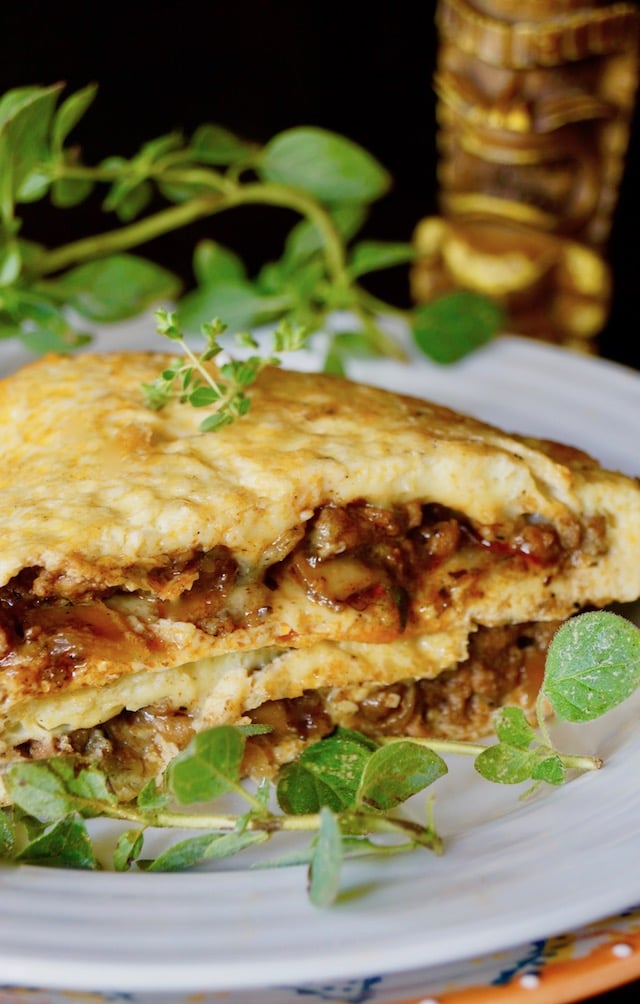 Back in July I started taking you on a culinary journey through the Big Island of Hawaii. And after a detour of sorts, we're back on that journey.
And I'm super excited to share this new Portuguese-Style Sausage Mushroom Omelet recipe, and tell you all about the Hawaiian Style Cafe!
As I've told you, I always ask the locals when I'm traveling, to share the best places to eat — where they eat! The Hawaiian Style Cafe came up a few times so it was a must.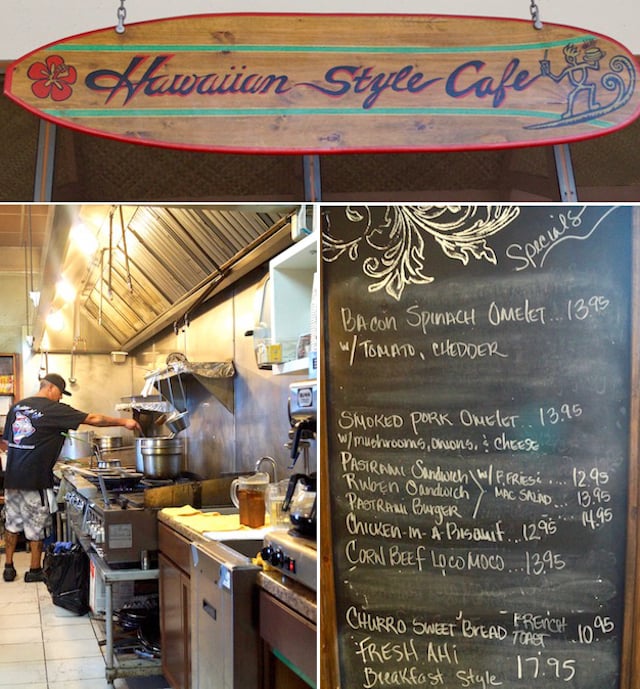 Everyone who told me about it, said to be sure to go starving, and maybe not plan on eating all day afterwards.
The Hawaiian Style Cafe
The minute I walked in I could smell the aromas of sweet pancakes and smoky bacon. Yum!
The vibe was awesome! Super eclectic, full of funky trinkets that exuded Hawaiian culture and folklore.
It was packed with locals who clearly frequented the place, and we got there early enough (around 9 a.m.), that we only had to wait a few minutes for a table.
If you go though, plan on having patience, and knowing it'll be worth every minute.
The waitress told me the Portuguese and Ham Combo Omelet was a local favorite, so I jumped on it. It included mushrooms, tomatoes, onion, Provolone cheese and brown gravy.
What is Portuguese Sausage?
Portuguese sausage

has been an important part of everyday cuisine in Hawaii ever since immigrants arrived there from the Azores Islands southwest of Portugal in the 1800's. It was made from smoke cured pork.
Portuguese sausage we find in stores today typically contains pork, paprika, oregano, pepper, sugar, liquid smoke and red wine or vinegar.
Portuguese sausage brands usually offer mild, regular or hot varieties.
What are the ingredients in my Portuguese Sausage?
I thought it would be fun to try to recreate Portuguese Sausage at home. I used many of the same ingredients you'd find in a packaged one, and it's fantastic!
onion
ground pork
garlic
oregano
brown sugar
allspice
smoked paprika
liquid smoke
cayenne pepper
The omelet filling is so scrumptious -- smoky and subtly spicy and sweet, it would also be a fantastic pasta sauce or perfect over mashed potatoes.
Most of the breakfasts come with a side of pancakes. Yep my friends, that's a side! Notice they're much bigger than my (super cute) son's head!
My husband ordered another winner among the locals, the BIG Mok. It's pretty much what you see, a bed or rice, two eggs, Portuguese sausage, and Spam.
You heard me, I did say Spam, which is another popular item among Hawaiians. Oh, and like most things on the menu it also came with the brown gravy.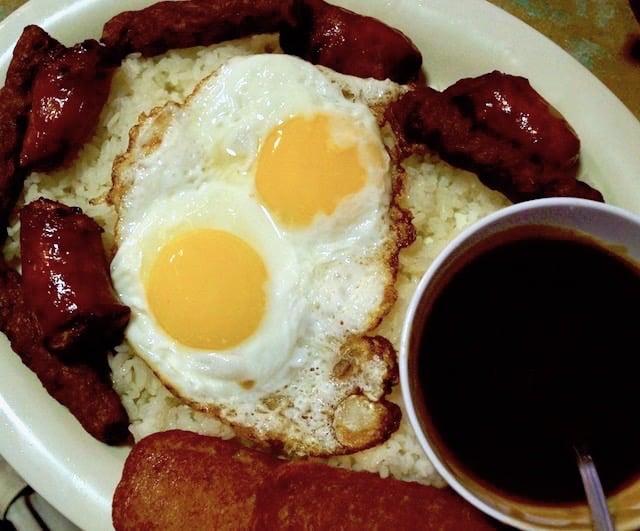 Everything we ordered was delicious. A true comfort food breakfast joint, for sure.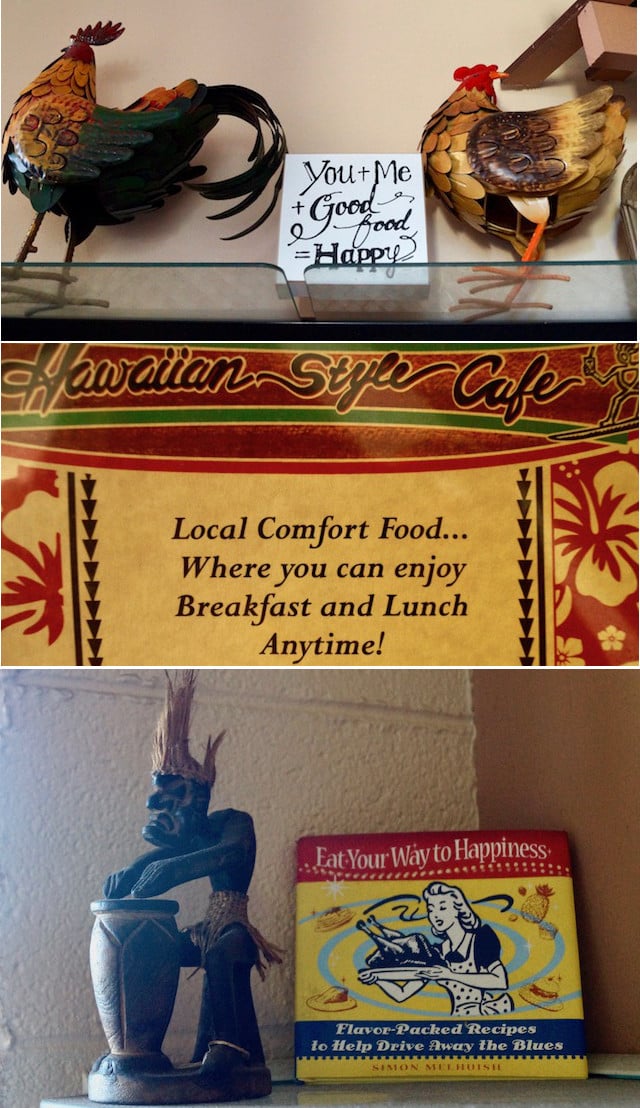 And it was indeed a good thing we went starving -- and no, we weren't hungry for hours!
Hawaiian Style Cafe locations:
65-1290 Kawaihae Rd, Waimea, HI 96743-7310
(808) 885-4295
-----------------------------------------------------------
681 Manono St, Hilo, HI 96720
(808) 969-9265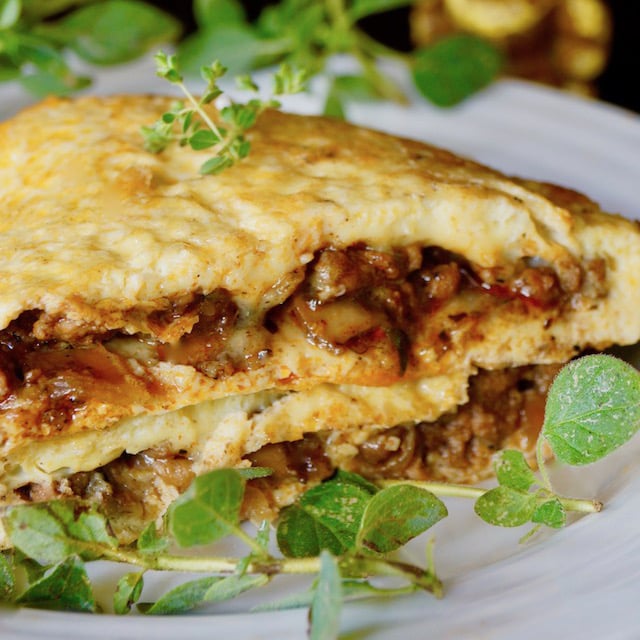 Portuguese-Style Sausage Mushroom Omelet Recipe
This hearty Portuguese Sausage Omelet Recipe is packed with mushrooms, and super delicious smoky, savory flavors that will keep you satisfied all day!*This serves 4 to 8 because each omelet can serve 2 -- unless you really it Hawaiian Style, then it's 1 each.
Ingredients
olive oil for the pans

1

cup

yellow onion,

finely chopped

½

pound

Crimini mushrooms,

washed and dried, thinly sliced

1

pound

ground pork

1

tablespoon

garlic,

minced

1

tablespoon

dried oregano

1

teaspoon

brown sugar

1

teaspoon

allspice

1

teaspoon

smoked paprika

1½

teaspoons

liquid smoke

pinch

of cayenne pepper

¼

cup

dry red wine

1

tablespoon

unsalted butter

12

large

eggs

salt and pepper
Instructions
Coat the bottom of a large sauté pan with olive oil, and place it over medium heat. Stirring often, sauté until soft, about 7 minutes. Add the garlic and then cook for another minute or so.

Add the mushrooms and a little more olive oil, and stirring often again, sauté until they begin to brown, about 10 minutes.

Add the pork, oregano, liquid smoke, brown sugar, allspice, paprika, and cayenne. Mix until everything is well blended and sauté until it's cooked through, about 10 minutes. (Use a flat-bottomed spatula to break up the pieces of pork as it cooks.)

Drizzle the red wine over the pork and mix. Cook just until it has reduced by about half.

Make the four omelets one at a time. Crack the eggs, three at a time, into a small mixing bowl, sprinkle with a bit of salt and pepper, and whisk until well blended.

Coat the bottom of a medium-sized, non-stick sauté pan (about 10-inch) and place it over medium-high heat. Once the pan is hot, slowly pour in the egg mixture. (It should begin to set almost immediately.)

When the top surface of egg has thickened, evenly distribute about 1 cup of the pork mixture on one side. Then fold the omelet in half with a spatula. Gently slide it out of the pan and onto a serving plate. Cover with foil while you make the other omelets.

Serve!
NUTRITION
Have you tried this recipe?
I'd love to see it on Instagram! Tag me at @cookingontheweekends or leave a comment & rating below.
Cooking On The Weekends is a participant in the Amazon Services LLC Associates Program, an affiliate advertising program designed to provide a means for sites to earn advertising fees by advertising and linking to Amazon.com.