From Raghavan Iyer's cookbook, Smashed, Mashed, Boiled and Baked, this delicious, Vegetarian Potato Moussaka recipe is packed with warm spices, tender slices of potato and caramelized eggplant.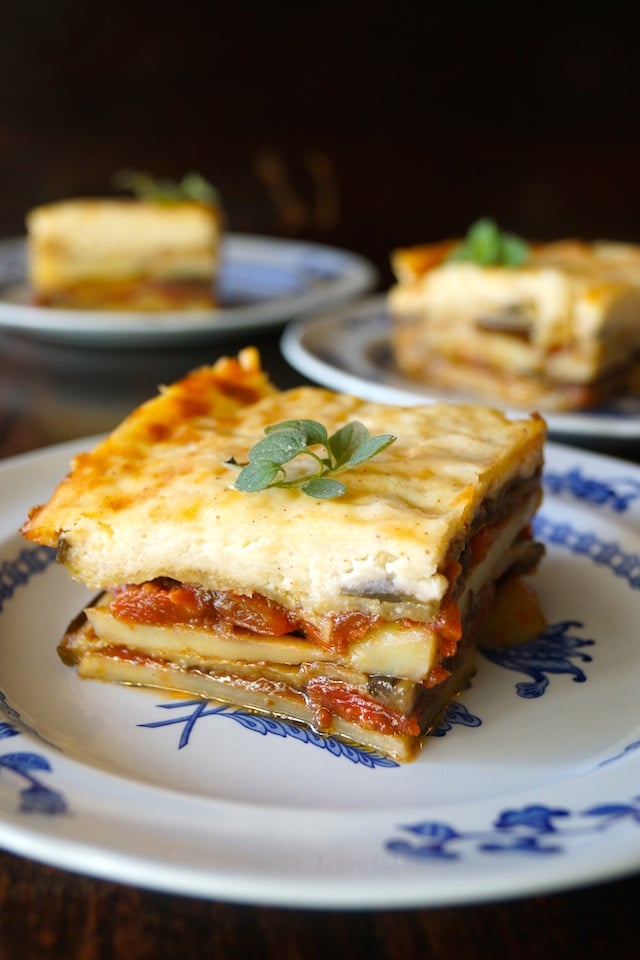 This post is sponsored by the Idaho Potato Commission. As always, all opinions are my own.
I was so happy when the Idaho Potato Commission asked me to be a part a project called "Cook the Book" -- cooking and sharing recipes from From Raghavan Iyer's, Smashed, Mashed, Boiled and Baked.
Cookbook Author, Raghavan Iyer
A native of Mumbai, Iyer is a James Beard Award winner and IACP Award–winning Teacher of the Year.
He's also the author of 660 Curries, Indian Cooking Unfolded, Betty Crocker's Indian Home Cooking, and The Turmeric Trail, and among other things, he's the host of the Emmy Award–winning documentary Asian Flavors. So who wouldn't want a potato recipe from this guy!?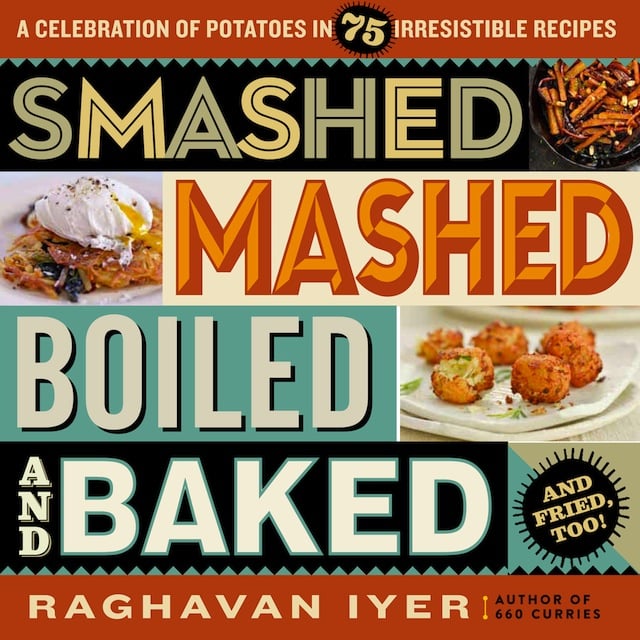 In this book, whether Iyer smashes, mashes, boils or bakes the potato, he celebrates its beauty, versatility, and superb taste.
And of many varieties of the potato, too! (This Vegetarian Moussaka recipe uses Russets and Yukon Golds.)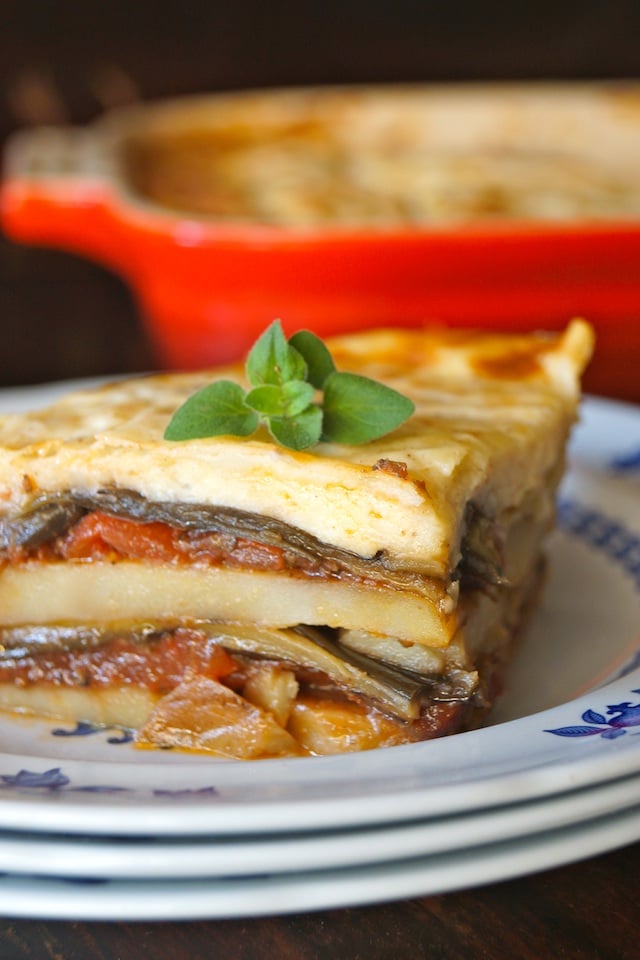 Inside Smashed, Mashed, Boiled and Baked
From this vegetarian Moussaka recipe, made with both Russets and Yukon Golds and a fiery Fingerling filled Patatas Bravas, to a delectable Irish Lamb stew made with red potatoes and sweet, Sweet Potato Cinnamon Rolls -- you simply won't be able to get enough!
There is really something for everyone in this book, and today we'll make the Potato Moussaka, which is my new favorite vegetarian Moussaka recipe.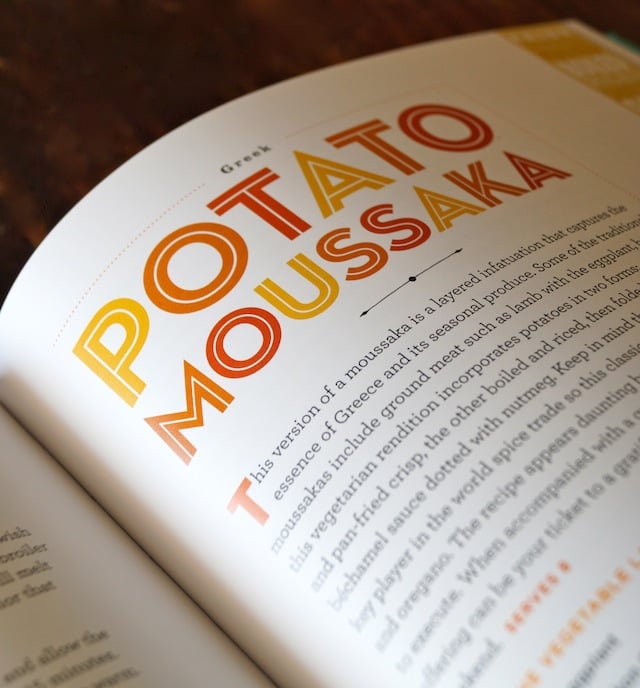 When I began researching Iyer, I read something he said that really resonated with me...
"The spices are the beauty of Indian food, and through them you can learn the beauty of India."
While you'll see hints of Indian cuisine in Smashed, Mashed, Boiled and Baked, it's not an Indian cookbook -- yet reading that quote made me want to cook everything in the book!
I think you can understand the allure of any culture through its food.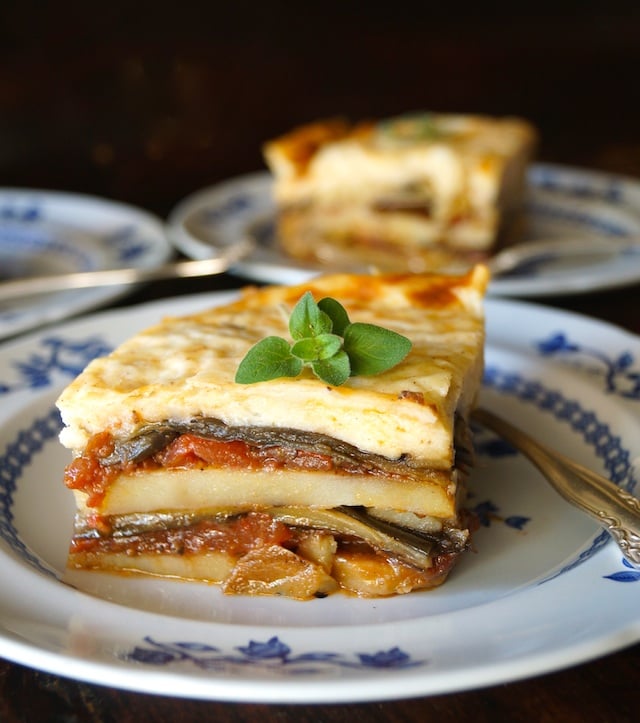 In addition to 75 mouth-watering recipes, Iyer also shares information about the history of potatoes, facts about potato nutrition, purchasing and storage tips, and menu options for special diets.
Enjoy this scrumptious Potato Moussaka!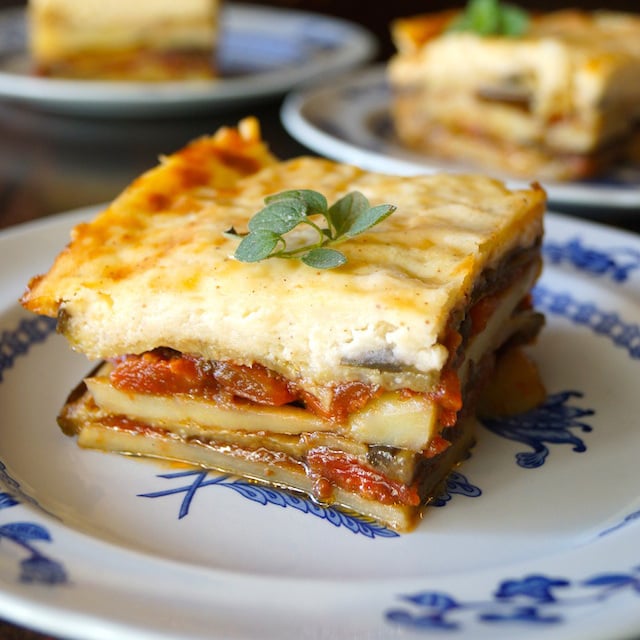 Potato Moussaka Recipe
From Raghavan Iyer's newest cookbook, Smashed, Mashed, Boiled and Baked, this delicious, vegetarian Potato Moussaka recipe is packed with warm spices, tender slices of potato and caramelized eggplant.
Ingredients
For the vegetable layers
2

pounds

eggplant

2½

pounds

Yukon Gold potatoes

extra-virgin olive oil

for frying and for the pan

2

(14.5 ounce)

cans diced tomatoes,

juices drained

1

tablespoon

dried oregano leaves

(preferably Greek)

2

teaspoons

cumin seeds,

ground

1

teaspoon

crushed red pepper flakes

1

teaspoon

coarse sea or kosher salt
For the Bechamel sauce
1

pound

russet potatoes

3

tablespoons

unsalted butter

3

tablespoons

unbleached all-purpose flour

2

cups

whole milk

1

large egg

slightly beaten

1

teaspoon

freshly grated nutmeg

1

teaspoon

coarse sea or kosher salt

1

cup

Kefalotyri or Parmigiano-Reggiano cheese,

shredded
Instructions
For the vegetable layers
Lop off the stem end of each eggplant and stand them up on their cut surface and slice them into ¼ inch-thick planks.

Fill a medium-size bowl halfway with cold water. Peel the Yukon Gold potatoes and give them a good rinse under cold running water. Slice them lengthwise into ¼-inch-thick planks. Submerge them in the bowl of water to rinse off surface starch and to prevent them from discoloring.

Drizzle 2 tablespoons of oil into a large skillet and heat it over medium heat. Once the oil appears to shimmer, arrange as many eggplant planks as you can in a single layer, without overlapping. Allow the underside to brown and soften, 2 to 3 minutes. Flip the planks and repeat on the other side for an additional 2 to 3 minutes. Lift them out of the skillet with tongs and place them in a stack on a large cookie sheet. Brown the remaining eggplant planks, adding more oil as needed. Add them to the stack on the cookie sheet when they're done.

Lay out several layers of paper towels or a clean cotton kitchen towel on the counter. Drain the potato planks in a colander and give them a good rinse under cold running water to remove any residual surface starch. Give the colander a good shake or two to rid the potatoes of excess water. Pat the potatoes dry on the paper towels. Pour another 2 tablespoons of oil into the skillet and heat over medium heat until it shimmers. Arrange a single layer of potato planks, without overcrowding. Once the underside browns slightly and the top looks opaque, 2 to 3 minutes, flip them over and repeat on the other side for an additional 2 to 3 minutes. Lift them out of the skillet and set them in their own stack, on the same cookie sheet as the eggplant. Brown the remaining potato planks, adding them to their stack.

Combine the tomatoes, oregano, cumin, red pepper flakes, and salt in a medium-size bowl.
For the béchamel
To start the béchamel sauce, peel the russet potatoes, cut them into quarters, and give them a good rinse under cold running water. Place them in a medium-size saucepan and cover them with cold water. Bring to a boil over medium-high heat. Lower the heat, cover the pan, and gently boil the potatoes until the pieces fall apart quite easily when pierced with a fork, 20 to 25 minutes.

While the potatoes boil, melt the butter in a small saucepan over medium heat. Spoon in the flour and whisk it into the butter, making sure there are no lumps. Continue to cook the flour, whisking constantly, so the flour cooks evenly but does not start browning, about 1 minute. Pour in ½ cup of the milk, whisking to ensure a lump-free sauce. Slowly whisk in the remaining 1 ½ cups of milk. Simmer the sauce over medium heat, uncovered, whisking occasionally, until it starts to thicken and bubble, 3 to 5 minutes. Remove from the heat.

Whisk a few tablespoons of the sauce into the beaten egg to warm it. Pour the egg mixture into the sauce along with the nutmeg and salt and give it all a good whisking. Set the béchamel sauce aside. Once the potatoes are ready, drain them into a colander and return the pieces to the dry pan. Return the pan to the burner, and over low heat, dry the potatoes of any residual water that may cling to their surfaces, about 30 seconds.

Working in batches if necessary, transfer the potatoes to a ricer and press them through directly into the béchamel. (If you don't have a ricer, use a potato masher and fluff them with a fork when completely mashed, then add them to the sauce.) Sprinkle in the cheese and fold the potatoes and cheese into the béchamel.
To assemble and bake
Now you are ready to assemble the moussaka. Position a rack in the center of the oven and preheat the oven to 350°F. Lightly grease a 13-by-9-inch baking pan with some oil.

Arrange half of the potato planks as the bottom layer. (A little overlapping is fine.) Spoon on half of the seasoned tomatoes and top with a layer of half of the eggplant. Repeat with the remaining potatoes, tomatoes, and eggplant. Top it off with the béchamel sauce, spreading the sauce evenly with a spatula.

Bake the moussaka, uncovered, until bubbly and the top is lightly browned, about 1 hour. Cut into squares and serve hot.
NOTES
Calorie count is only an estimate.
NUTRITION
Have you tried this recipe?
I'd love to see it on Instagram! Tag me at @cookingontheweekends or leave a comment & rating below.
Cooking On The Weekends is a participant in the Amazon Services LLC Associates Program, an affiliate advertising program designed to provide a means for sites to earn advertising fees by advertising and linking to Amazon.com.