This Pickled Cabbage recipe is quick and easy to make, and awesome to have at the ready all the time. Fresh, tangy and subtly sweet, it's excellent in tacos, sandwiches, and alongside almost any protein.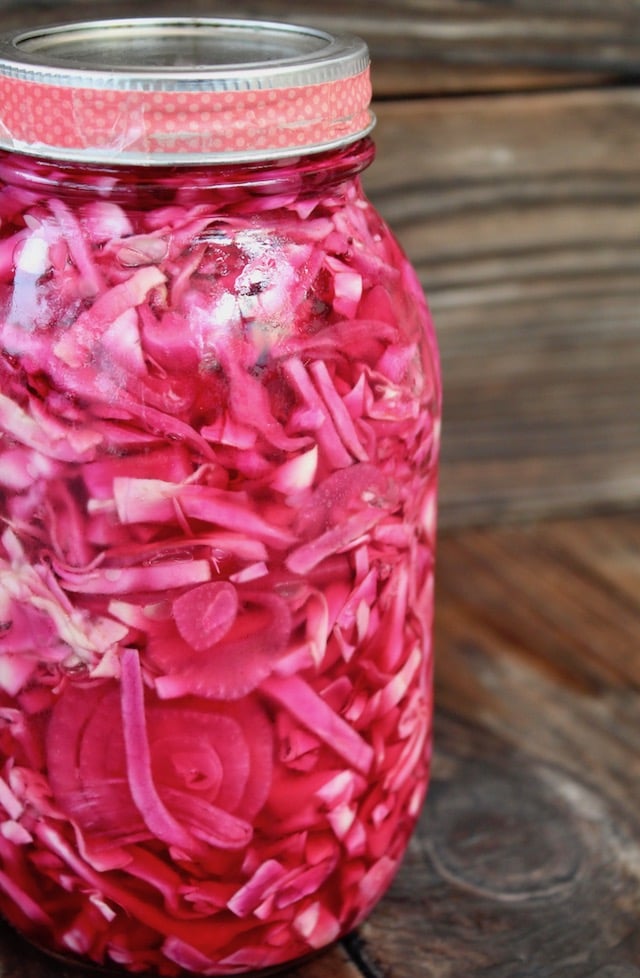 You know when you bite into a taco or sandwich and it's extra special somehow? Like there's a secret ingredient bringing a fantastic punch of flavor?
It might just be pickled cabbage slaw!
What is Pickled Cabbage?
Cabbage is immersed in vinegar and seasonings to change the texture and flavor -- and if it's red cabbage, the color, too. Pickled red cabbage and pickled green cabbage are both great -- in this recipe I combined the two.
This image is the cabbage after 24 hours of marinating.
How is this different from sauerkraut?
Pickled cabbage involves pickling the cabbage, while sauerkraut is cabbage that is fermented.
Pickling is soaking foods in an acidic liquid to attain a sour flavor. On the other hand, fermenting involves a chemical reaction between the natural sugar in foods and naturally present bacteria. Fermented foods will last longer than those that are pickled.
What's in this recipe?
red cabbage
green cabbage
red onion
garlic
sherry vinegar
pickling spices
sugar
salt
water
pickling spices
How to Pickle Cabbage?
Vinegar, water, seasonings, and sometimes other ingredients like onion and garlic are mixed with chopped cabbage and left to marinate. The marinating time can vary from an hour to a few days or more.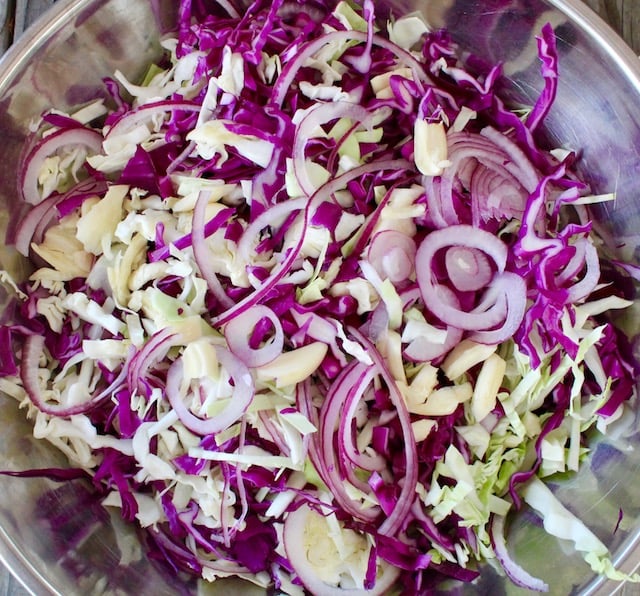 How to Use it
Pickled cabbage adds vibrant color, a great crunch, and a powerful punch of tangy, subtly sweet flavor to everything it's added to.
How long will it keep?
In a tightly sealed container, pickled cabbage will last 3 weeks in the refrigerator. (I would not recommend freezing it.)
This image is 1 hour after marinating.
Recipe Tips and Substitutions
I use sherry vinegar in this recipe. I love the flavor! You can use other vinegars too — red wine vinegar and apple cider vinegar are the most commonly used for pickled cabbage recipes.
The most common cabbage is probably Cannonball, the green, very round cabbage.You can use any variety of cabbage including Napa, Savoy and Bok Choy. Textures will vary with each type.
The recipe calls for pickling spices. I add them in a small cheesecloth bag and let it steep a bit in the pickling liquid. Then I remove the bag before pouring the liquid over the cabbage. Typically the spices are added directly to the liquid and left in. You can do this either way -- I prefer not finding bits of crunchy spices in the cabbage when I'm eating. Your call, though.
Please note that cabbage won't be completely submerged in the liquid at first,

but it will soften and and be completely covered as time goes by. This also allows you to add any cabbage that didn't initially fit into the jars.

Add a little chili paste to make it spicy. I would add 1 teaspoon, and then taste and adjust.
I like using jars, but feel free to use any (approximately 2 quart) container that can be tightly sealed.
Though it's delicious after a couple of hours, for the best flavor and texture, let the cabbage marinate at least overnight.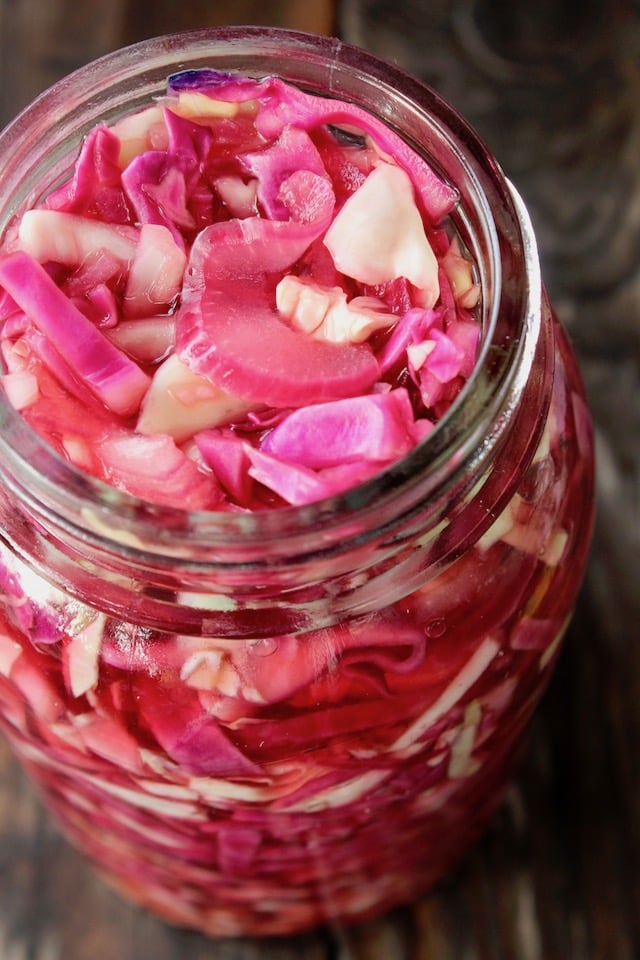 This image is after 3 hours of marinating.
I'm not sure why we call it "red" cabbage because it's really more purple. When it's pickled, the purple color turns into a deep, bright and beautiful magenta. The green cabbage takes on some of that magenta, and becomes less green.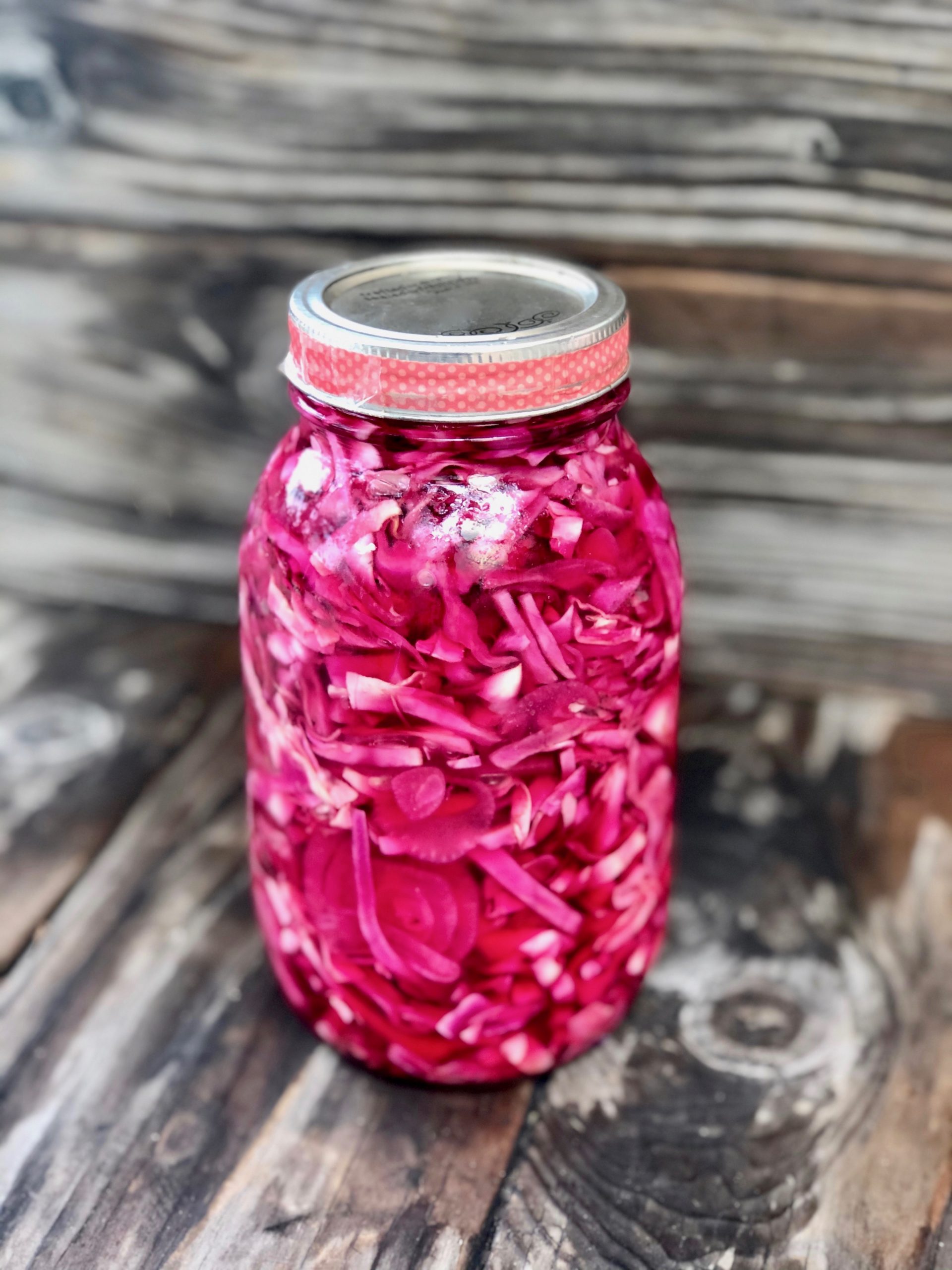 Enjoy!
More delicious pickled recipes: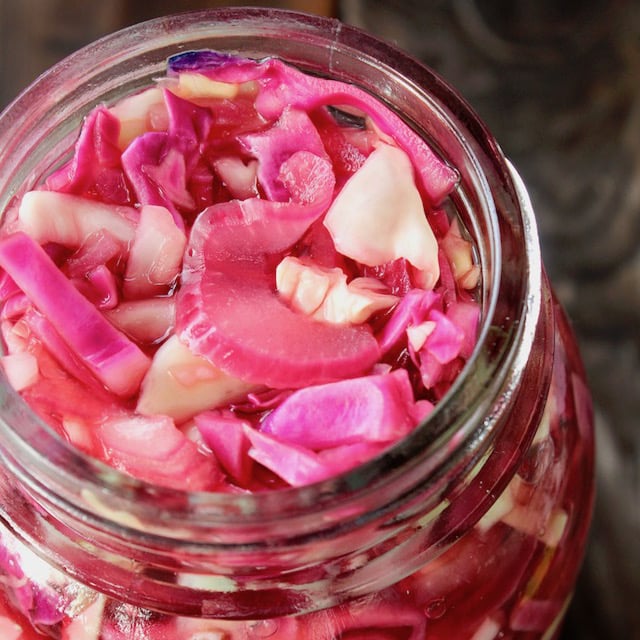 Pickled Cabbage Recipe
This Pickled Cabbage Recipe is quick and easy to make, and awesome to have at the ready all the time. Fresh, tangy and subtly sweet, it's excellent in tacos, sandwiches, and alongside almost any protein.
*You will need
2 (1 quart) Mason jars
.
**The number of servings is based on using it as a condiment.
Instructions
Make the pickling liquid. Combine the vinegar, water, sugar, salt in a small sauce pot. Add the pickling spices to a small cheesecloth bag and add it to the pot. Place the pot over low-medium heat. Warm it just long enough to dissolve the sugar and salt. Turn off the heat and let it sit for at least 30 minutes.

Prepare the cabbage. In a very large bowl (likely your largest), toss the cabbage, onion and garlic together.

Fill the jars. Pack two (1 quart) Mason jars with as much of the cabbage mixture as you can. Use the back of a spoon to press it down on top to be sure you've filled it as much as possible. You will fit in any cabbage that's left in a bit. Remove the spice bag from the pickling liquid, and pour half of the liquid into each jar. (It should be warm or room temperature, not hot!) It won't cover the cabbage completely, but it will soften and be covered after about an hour. Once it's been an hour, you can push the cabbage down further into the jar and add any remaining cabbage that will fit. Put the lids on and refrigerate.

Marinating. Refrigerate the cabbage filled jars for at least three hours, and ideally overnight.
NUTRITION
Have you tried this recipe?
I'd love to see it on Instagram! Tag me at @cookingontheweekends or leave a comment & rating below.
Cooking On The Weekends is a participant in the Amazon Services LLC Associates Program, an affiliate advertising program designed to provide a means for sites to earn advertising fees by advertising and linking to Amazon.com.