Coconut Hatch Chile Chocolate Chip Cookies are subtly spicy and nice n' sweet! Super delicious and gluten-free, they're are all that, and then some!
Hatch Chile Season!
We go all out in the culinary world to celebrate this joyous season.
Right now folks are counting down to the huge Hatch Chile Festival in New Mexico, and local roasting events are happening in cities all over the U.S.
There could be one around your corner! (There's one around mine. For real!) You can find them all right here.
Years ago Melissa's Produce introduced me to Hatch Chiles and I've been a big fan ever since. They are a prized New Mexican chile and are available only in August and September.
Where do Hatch Chiles grow?
These favorite Southwestern chiles are grown in the Mesilla Valley, where the sunlight is intense and and the nights are cool.
This climate combination results in a chile that has a wonderful earthy flavor, with a subtle sweetness and kick to it.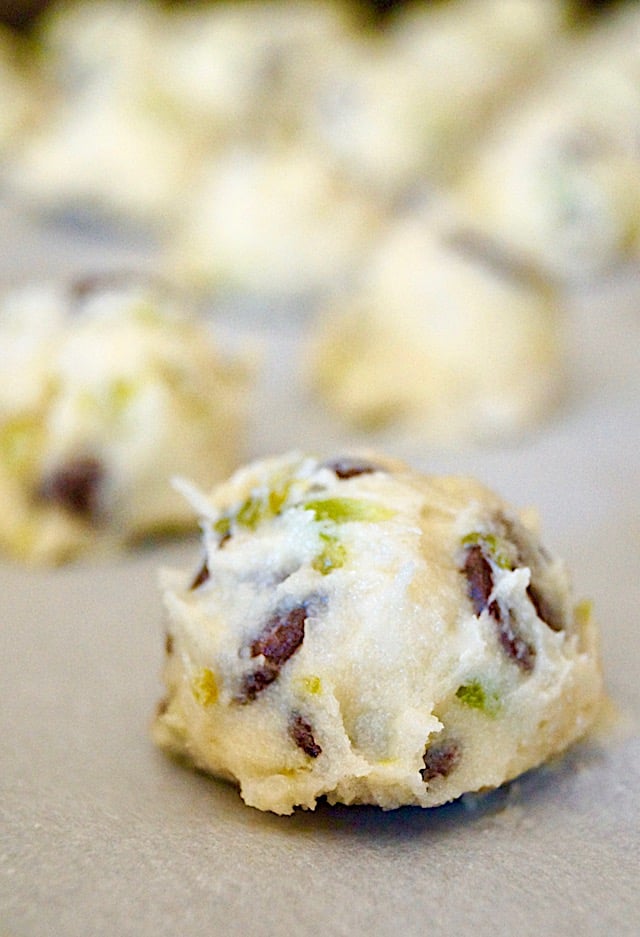 I'm not always into adding savory and/or spicy ingredients into my sweet baked goods, but this is an absolutely delicious exception.
I've always wanted to try Hatch Chile Chocolate Chip Cookies — and guess what? It totally works and you will flip for them.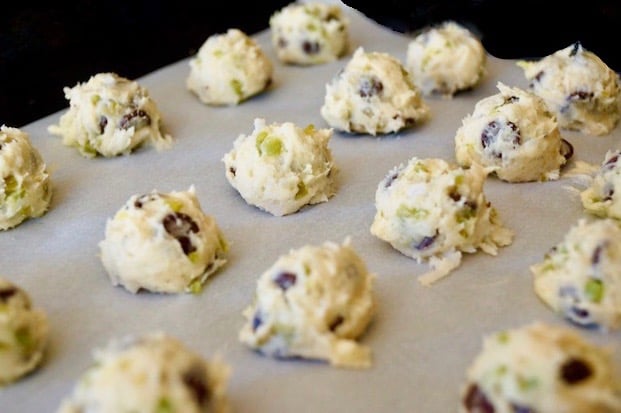 Hatch Chiles: Hot, Medium and Mild
Hatch chiles are one of the few chiles where hot, medium and mild can be determined, even though they all look the same. They should be labeled as such in stores — if they're not, ask the produce department if they know, and if they don't, ask them to cut into one for you.
They can be very, very hot — or not at all. I like medium heat for this recipe.
(Scroll down if you want to jump to the cookie recipe.)
Here are a few more of my favorite Hatch Chile recipes . . . .
Double Hatch Chile Pineapple Salsa Recipe
Perfect Poached Eggs Over Double Hatch Chile Hash Browns
But wait . . . . there are more! Nine more!
Hatch Chile Pepper Jack Bacon and Eggs, Hatch Chile Seared Scallops, Smoky Hatch Chile Skillet Cornbread, Hatch Chile Tequila Chicken Tostada, Hatch Chile Agave Butter, Hatch Chile Shrimp Sauté with Coconut Rice, Hatch Chile Cornbread Casserole, and Fire Roasted Corn-Hatch Chile Stuffed Sole Hatch Chili Zucchini Bread — Get those recipes here.
And now to the cookies . . . .
Coconut Hatch Chile Chocolate Chip Cookies
Hatch Chile Chocolate Chip Cookies with Coconut are subtly spicy and nice n' sweet! Super delicious and gluten-free, they're are all that, and then some!*Makes about 56 small cookies

Instructions
Line a baking sheet with parchment paper and set aside.

In a large mixing bowl, combine the powdered sugar with the softened butter, egg and vanilla. Mix until smooth.

Add the gluten-free flour, coconut flour, xanthan gum and salt and again, mix until smooth.

Fold in the roasted, peeled and finely chopped Hatch chiles, shredded, chocolate chips and sweetened, shredded coconut.

Use a 1¼-inch cookie scoop (or teaspoons) to shape the cookies into small balls of batter, placing them on the parchment-lined baking sheets as you go, very close together so they all fit on the one sheet.

Cover the sheet tightly with plastic wrap and refrigerate for at least 2 hours.

Preheat the oven to 325°F and line another baking sheet (or two) with parchment paper.

Bake in the preheated 325°F oven until the cookies are just becoming golden along the edges, about 12 minutes. Let them cool on the baking sheet for a few minutes and then transfer them to a cooling rack. Cool them at least until they are room temperature before serving.
Notes
Once you've roasted, peeled, seeded and finely chopped the chiles, you will need to fill a 1/2 cup measure.
Have you tried this recipe?
I'd love to see it on Instagram! Tag me at @cookingontheweekends or leave a comment & rating below.
Save
Save
Save
Save
Save
Save
Save
Save
Save
Save
Save
Save