With a gluten-free option, this one-pan meal is hearty, rich, packed with warm flavors, and is comfort food at its finest!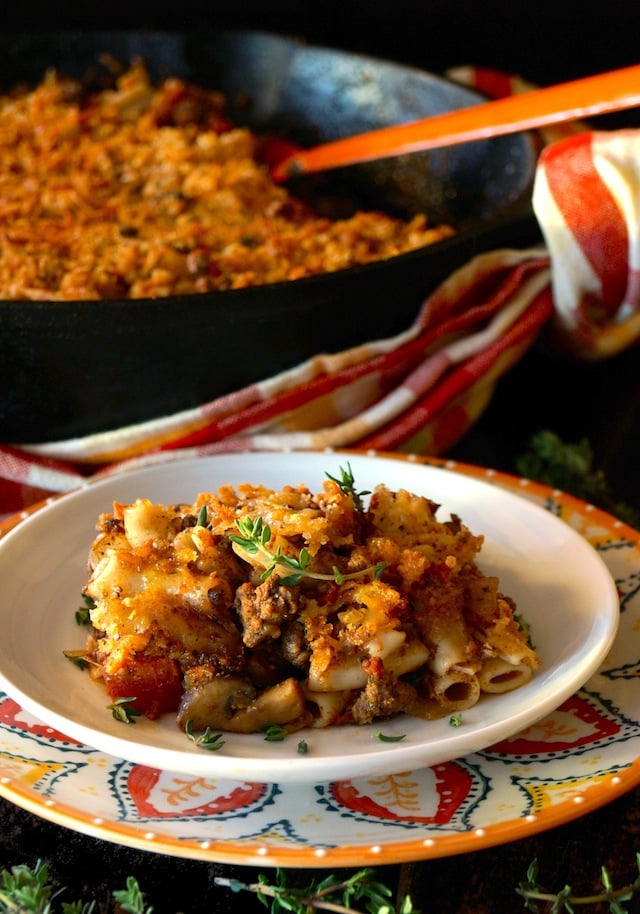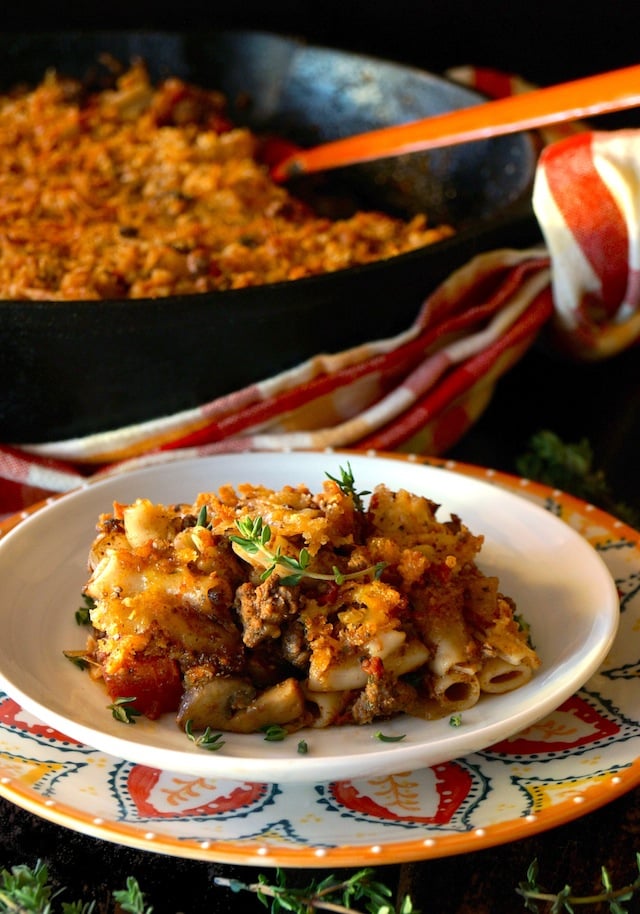 Imagine, if you will, the most scrumptious macaroni and cheese ever . . .
Now imagine, adding to it, tender ground lamb with delicious warming spices, onions and mushrooms caramelized to perfection — all simmered first in a tomato-wine sauce.
Keep the scenario going, and now picture all of this deliciousness beneath a crispy bread and cheese crust.  Every bite includes a variety of textures and flavors so wonderful that you will keep coming back for more.  And more.
All made in one pan, you can share this comforting, cozy meal with 8 guests!
You know how I feel about comfort food by now.  What makes a comfort food a comfort food?  Find out here and get more of my favorite comforting recipes (pictured below).
Enjoy!
Spiced Lamb and Mushroom Penne Gratin Recipe
Ingredients
olive oil for the pan and for drizzling

2

cups

finely chopped brown/yellow onion

1

tablespoon

minced garlic

3

cups

thinly sliced

roughly chopped crimini mushrooms (washed and dried)

1 1/4-

pound

ground lamb

2

teaspoons

ground cinnamon

2

teaspoons

dried oregano

1

teaspoon

all spice

1/4

teaspoon

ground cloves

1

28-ounce can diced tomatoes in tomato juice

1/2

cup

dry red wine

2

tablespoons

finely chopped

fresh thyme

3 3/4

cups

cooked penne pasta

about 2 cups dry -- see notes

1

cup

grated Asiago cheese

divided

1

cup

grated Fontina cheese

divided

1

cup

bread crumbs -- see notes

sea salt and freshly ground black pepper to taste

here's How to Season to Taste
Instructions
Preheat the oven to 375 degrees F.

Coat the bottom of a large (approximately 12-inch) oven safe, sauté pan (preferable cast iron), with olive oil. Place it over medium heat and add the onions and garlic. Cook until the onions are caramelized and soft, about 15 minutes.

Add a bit more oil, turn the heat to medium-high and add the mushrooms. Cook, stirring often, until they're golden brown, about 15 minutes.

Turn the heat back to medium and add the ground lamb, breaking it up into smaller pieces. Cook, stirring from time to time just until it's cooked through, about 7 minutes.

Sprinkle with salt and pepper, and add the cinnamon, oregano, all spice, and cloves. Mix and let this simmer until it's very aromatic, about 30 seconds.

Add the tomatoes and wine and stir to blend. Turn the heat to high and bring to a boil. Then reduce the heat to low and simmer gently for about 10 minutes. Mix in the fresh thyme and season generously to taste with salt and pepper. (

Here's How to Season to Taste

.)

Add the cooked penne and 1/2 cup of each of the two cheeses. Mix so that all of the ingredients are evenly blended together.

Combine the remaining 1/2 cup of each cheese with the bread crumbs and sprinkle this mixture on top. Drizzle the entire surface lightly with olive oil.

Place the pan in the preheated 375 degree F oven for 30 minutes.

Remove from the oven and serve.
Recipe Notes
I made this dish gluten-free for my son with Celiac Disease, so I used brown rice gluten-free penne. You can use any pasta you like.
To keep this dish gluten-free, I used gluten-free bread crumbs that I made. I use the ends of our gluten-free loaves of bread. I break them up into smaller pieces, and grind them in the food processor until they're a fine crumb.
Save