Pesto Spaghetti Squash is made with wine, sun-dried tomatoes and spinach. Packed with flavor, it's an ideal vegetarian and gluten-free dish that everyone will love.
Let's face it, a Spaghetti Squash is so bizarre! Right!?
It's easy to cook and it tastes delicious -- but it falls into strings when it's cooked for goodness sake! I mean, who does that?
What's with this stringy squash, anyway?
Honestly, I don't even try to understand how this happens. Sure I went to culinary school, I've cooked in restaurants, catered and worked as a private chef for years, taught countless cooking classes, and yet, no where on my culinary journey has this craziness ever been explained to me. Nor has it come up. 😉
Science is not my thing. Neither is math, but that's not relevant here.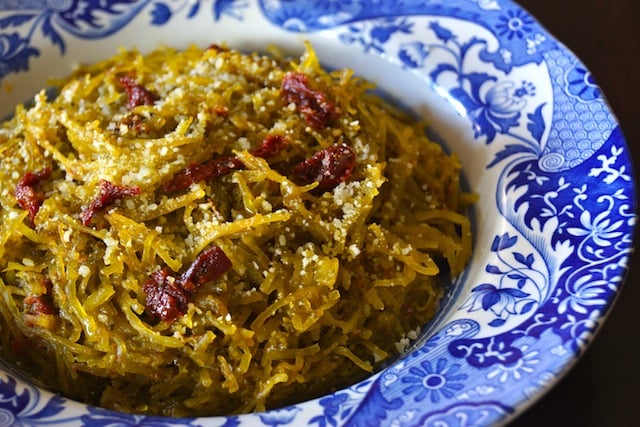 Clearly, the formation of the "spaghetti" is to do with the way the heat interacts with squash.
That's a given and the rest will forever be a mystery to me -- because much like my computer, I don't really try to understand how it works -- I just accept it, move on, and use it to the best of my abilities.
This bizarre squash that goes form solid to "strings," is one of those things I just accept. And let me tell you, this Pesto Spaghetti Squash recipe is fantastic. Bizarre or not.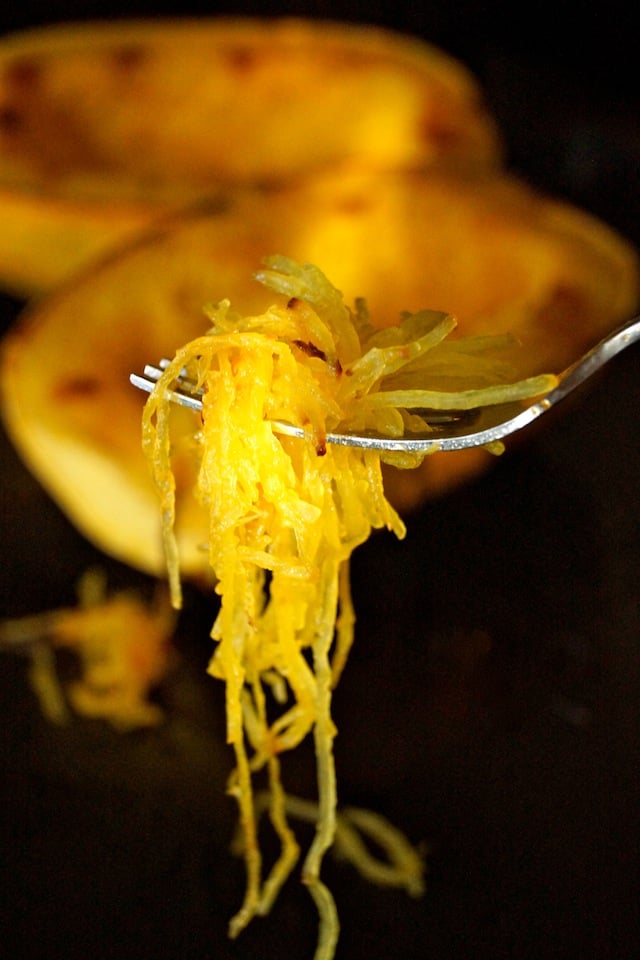 On top of this spaghetti squash with pesto being a beautiful and delicious dish, it's also super healthy. It's low calorie, vegetarian, low-carb, and gluten free.
Recipe Tip
If you'd like to make this recipe vegan, simply leave the Parmesan cheese out. It's only used to sprinkle on top -- the pesto is dairy free.
More spaghetti squash recipes:
This recipe is delicious. That I know. Let's eat!
Enjoy!
Here's How to Cook a Spaghetti Squash.
Pesto Spaghetti Squash
Ingredients
1

(approximately 3-pound)

Spaghetti Squash

4

cups

packed spinach leaves,

washed and dried

1

cup

packed basil leaves,

washed and dried

⅓

cup plus 2 tablespoons

packed marinated, sun-dried tomatoes,

drained

¼

cup

extra virgin olive oil

(ideally from the marinated sun-dried tomatoes)

2

medium-sized

garlic cloves,

roots and stems removed

¼

cup

dry white wine

salt and freshly ground black pepper

Parmesan cheese for sprinkling
Instructions
Make the pesto. While the squash is cooking, add the spinach and basil to a food processor fitted with the blade attachment. Blend until it's chopped so much that it's all towards the bottom of the processor. Now add ⅓ cup of the sun-dried tomatoes, oil and garlic. Blend until smooth.

Simmer the pesto with wine and season. Add the spinach mixture to a medium-sized sauté pan and mix in the wine. Bring to a boil and, reduce the heat to low, cover and let it simmer for about 10 minutes. Season generously to taste with sea salt and freshly ground black pepper. (Here's How to Season to Taste.)

Assemble. Let the pesto sauce cool a bit and then pour it over the Spaghetti Squash and mix. If it's not too hot, using your hand is the best way to mix this -- to be sure all of the strands are well coated.

Garnish and serve. Finely chop the remaining 2 tablespoons of the sun-dried tomatoes and sprinkle them on top, along with some Parmesan cheese if desired. Serve!
NOTES
Calorie count is only an estimate.
NUTRITION
Have you tried this recipe?
I'd love to see it on Instagram! Tag me at @cookingontheweekends or leave a comment & rating below.
Save
Save