Strawberry Avocado Salsa recipe is fantastic with chicken, fish and of course, chips! Sweet, spicy, fresh and fun, it's ideal for summer.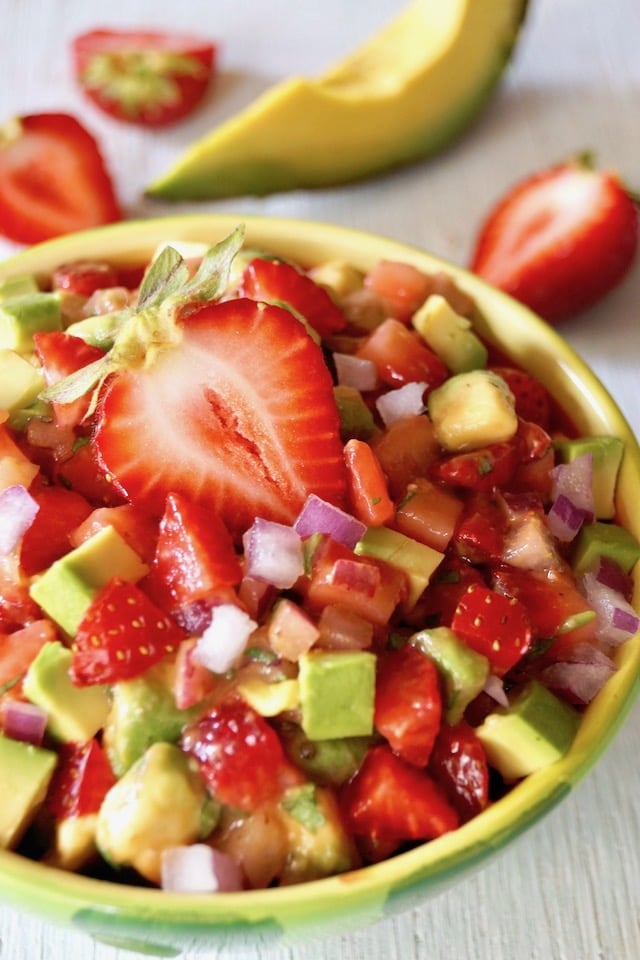 Strawberries and avocados are a superb flavor combination that can be highlighted in so many summer recipes. In salads, on toast, and today in this delicious fresh, fun salsa.
You can probably find avocados and strawberries year round -- but, generally they'll never be as perfect as they are in the summer.
The strawberries are their sweetest, and the avocados are their creamiest. (Unless of course you live in a hot climate all year.)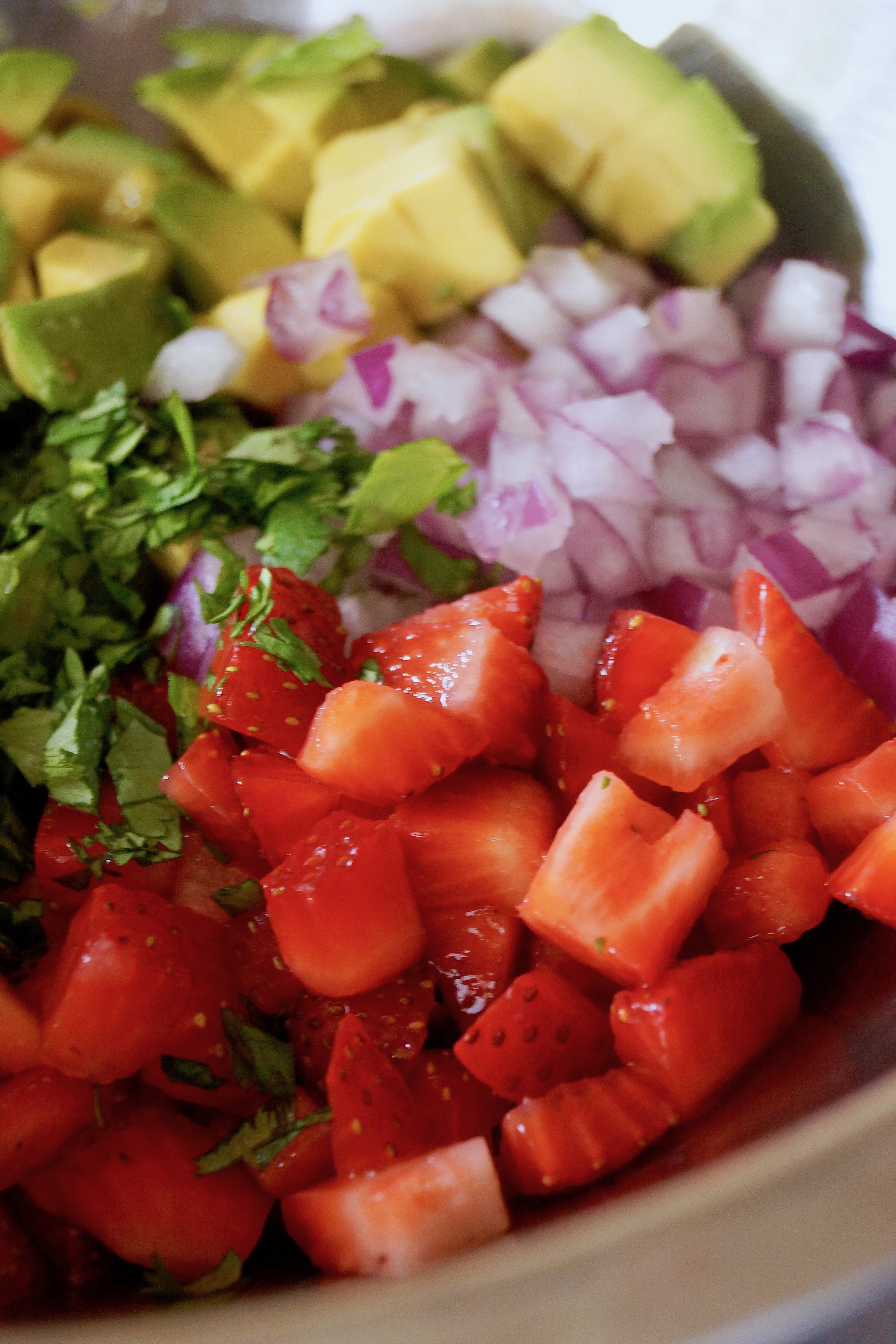 Ingredients in this Strawberry Salsa
---
strawberries
avocados
red onions
red wine vinegar
cilantro
lime
salt, black pepper
How to Make Avocado Strawberry Salsa
---
It's so straight forward . . .
Chop all of the ingredients and gently mix them together.
Here's

How to Peel and Cut an Avocado

.
And below is an easy method to easily dice the strawberries
1. Slice off a tiny portion on the stem end and rest the strawberry on this base. Then make vertical slices, followed by horizontal slices.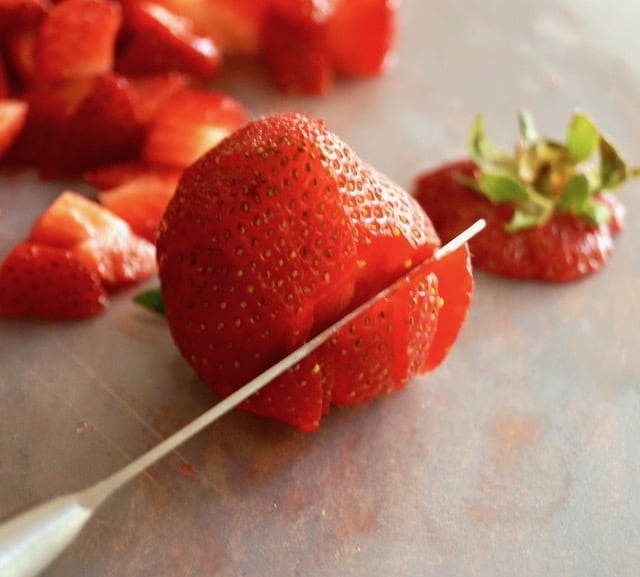 2. Then chop again in another direction. (This is the same concept for chopping an onion.)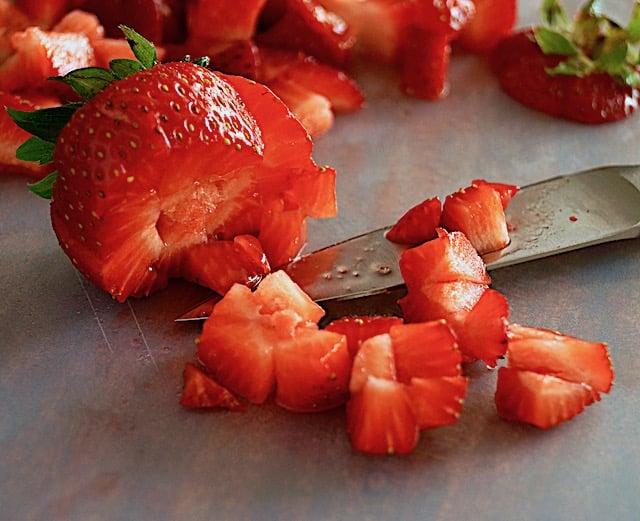 Can you make this salsa ahead?
---
Well, partially. You should not mix the ingredients together until as close to serving time as possible. However, you can prepare all of them a few hours ahead of time. (Just be sure to drizzle the lime juice from the recipe on the diced avocado.)
What can you use instead of cilantro?
---
This salsa is delicious with a number of fresh herbs!
I love cilantro, though I realize some people have an aversion to it. So this Strawberry Salsa with basil or mint. Or any combination thereof.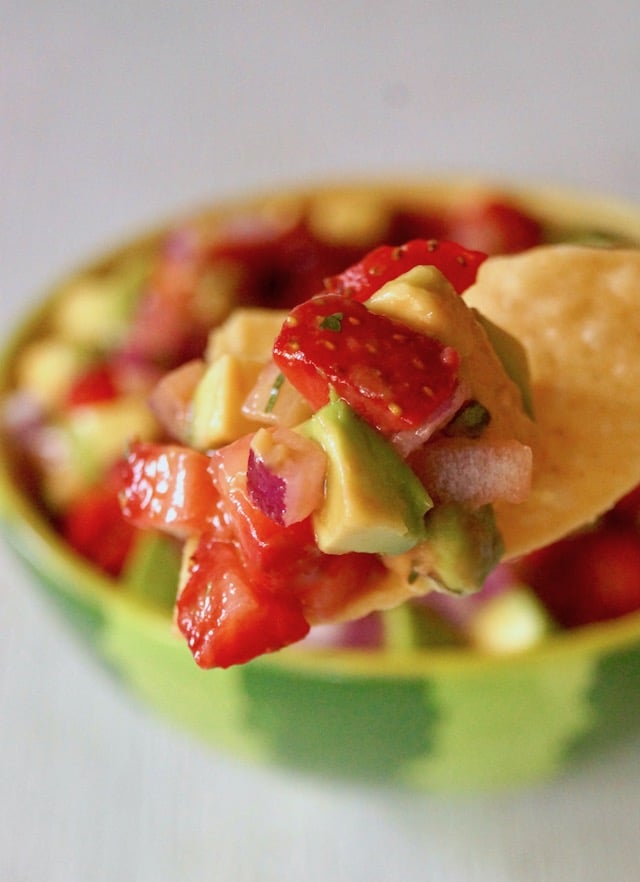 Recipe Tips
---
As with most salsas, it's nice to have all of the diced ingredients be approximately the same size -- except for the onion. I dice the onion a bit smaller because of its strong flavor. Having everything about the same size ensures each bite will capture each flavor.
Again, don't mix the ingredients together until the last moment. Otherwise, the avocado will become too creamy.
If you cut the avocado ahead of time, drizzle it with the lime juice to keep its pretty green color.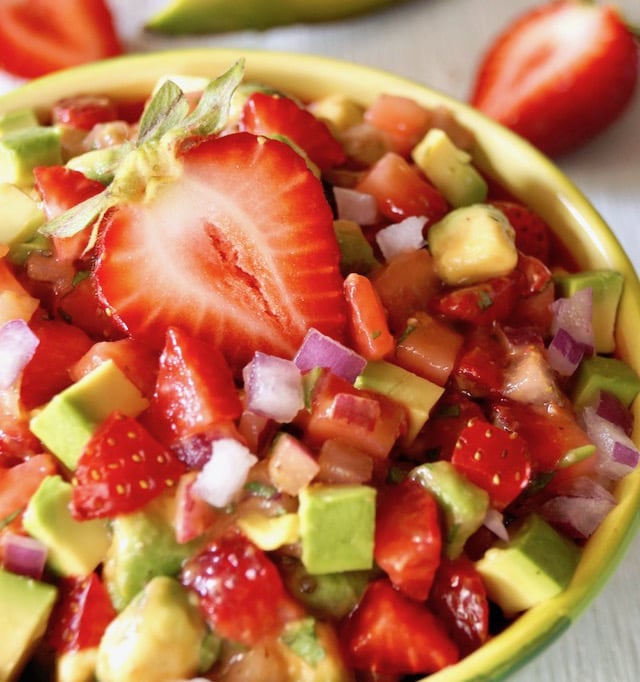 Serving Suggestions
---
Avocado Strawberry Salsa is fantastic with chicken, grilled fish or shrimp.
How about in a quesadilla? Or on top of one?
It would also be fabulous on toast with a layer of goat cheese.
If it's convenient for you, shop at your local farmers market for super fresh, local produce, where you can sample before you buy!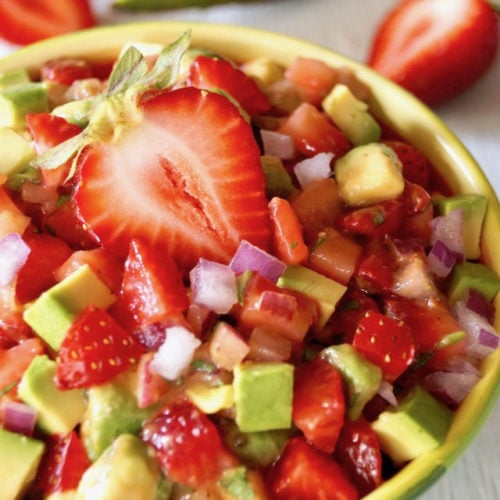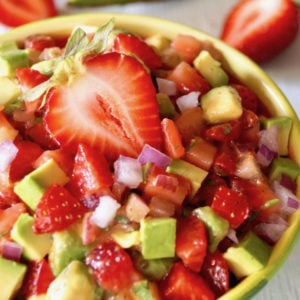 Strawberry Avocado Salsa Recipe
This salsa is fantastic with chicken, fish and of course, chips! Sweet, spicy, fresh and fun, it's ideal for summer.
Ingredients
1

cup

strawberries,

cut into a small dice

1

cup

ripe but firm avocado,

cut into a small dice

¼

cup

finely chopped red onion

1

tablespoon

finely chopped fresh cilantro,

(wash and dry before chopping)

2

tablespoons

fresh lime juice

1

teaspoon

red wine vinegar
salt, freshly ground pepper and sugar to taste

(see notes)
Instructions
Combine all of the ingredients in a small mixing bowl and season to taste with salt, pepper and sugar if necessary. If you're not serving the salsa immediately, keep it chilled in the refrigerator, and wait to add the lime juice and oil until you are ready to go.
NOTES
The sugar to taste is only necessary if your strawberries aren't as sweet as you'd like.
Calorie count is only an estimate.
NUTRITION
Have you tried this recipe?
I'd love to see it on Instagram! Tag me at @cookingontheweekends or leave a comment & rating below.
Cooking On The Weekends is a participant in the Amazon Services LLC Associates Program, an affiliate advertising program designed to provide a means for sites to earn advertising fees by advertising and linking to Amazon.com.