The scent of rosemary and sweet strawberries all in one summer cake. This pretty Strawberry Rosemary Cake is too good to be true!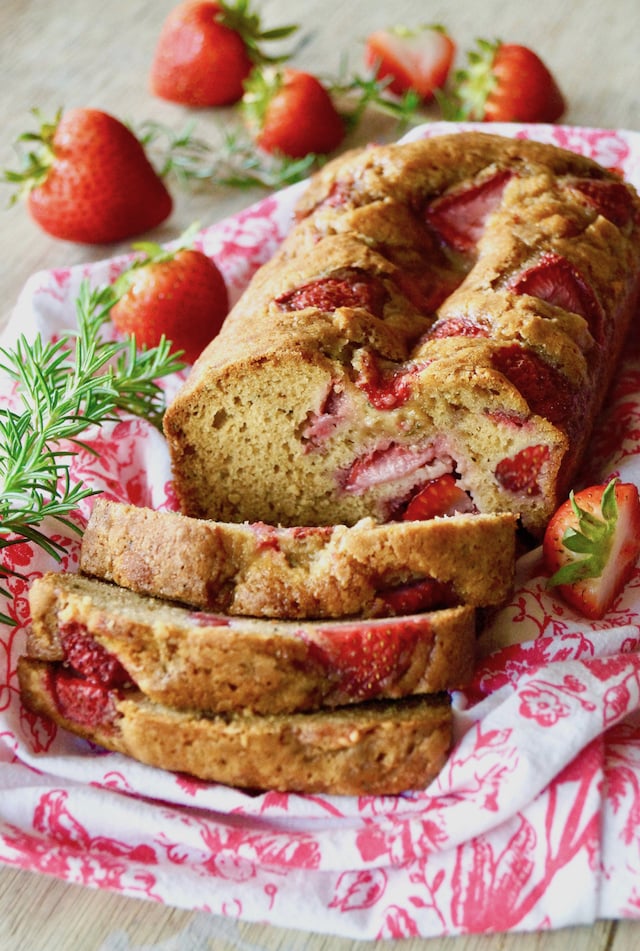 I know I've said this before, and I'll say it again — just because it's made in a bread pan, doesn't necessarily mean it should be called "bread." You could call this recipe bread, but who would you be kidding?
I mean, c'mon it's cake! And "muffins" — don't even get me started. 😉

Inspiration for Strawberry Rosemary Cake
It's that time of year when strawberries are becoming sweeter and sweeter. I can't get enough — seriously, every Sunday I pick up three baskets at the Farmer's Market, and by the next morning they're gone.
(Sure, four of us live here, but I'm responsible for their quick disappearance.)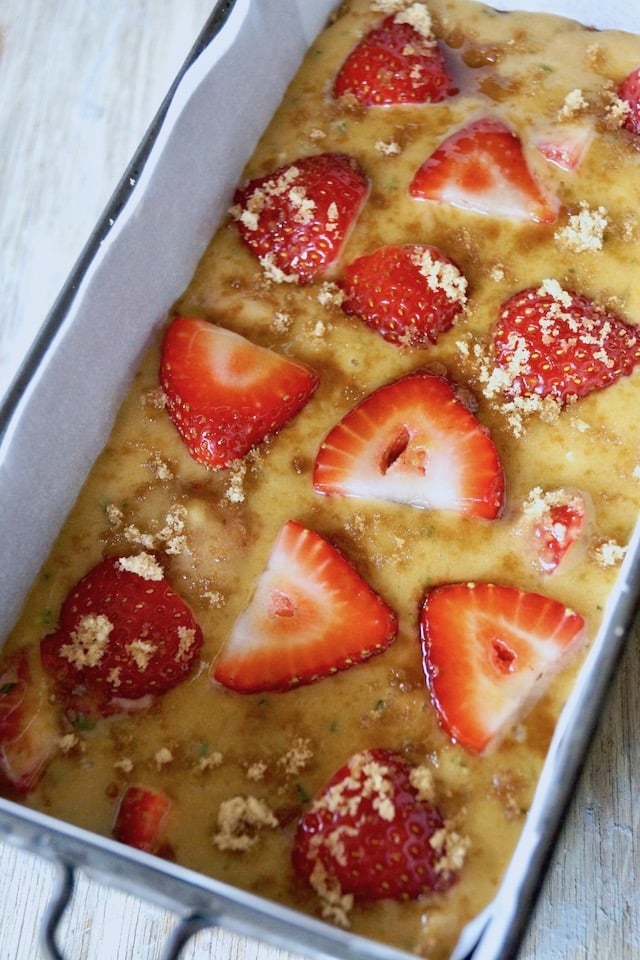 I rarely cook with strawberries because they're pretty perfect as they are, but I absolutely love rosemary with them.
It's a match made in heaven, and cakes with rosemary are unexpected and incredibly delicious! You must make this cake and experience the delicious blend of flavors.
That said, if rosemary and/or strawberries aren't your thing, don't fret. You can still make a delicious summer cake with berries and herbs.
A few more fresh herb and berry cake ideas:
Thyme and Blueberries.
Basil and Blackberries.
Mint and Strawberries.
You can even use a mix of different berries and herbs, or a combination of anything in between.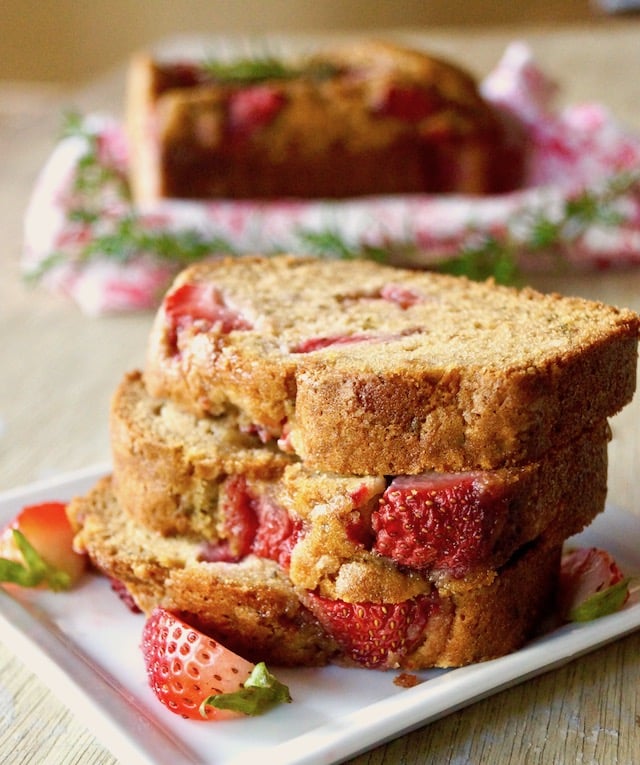 When to Serve it
I really love this Strawberry Rosemary Cake in the morning with my coffee.
Of course it's equally as lovely for an after dinner dessert. Especially warmed slightly and served with a scoop of vanilla bean ice cream on top.
And hey, I'd even have it for afternoon summer snack — perhaps with a cold glass of

My Mom's Meyer Lemonade

. Oh, how lovely that would be.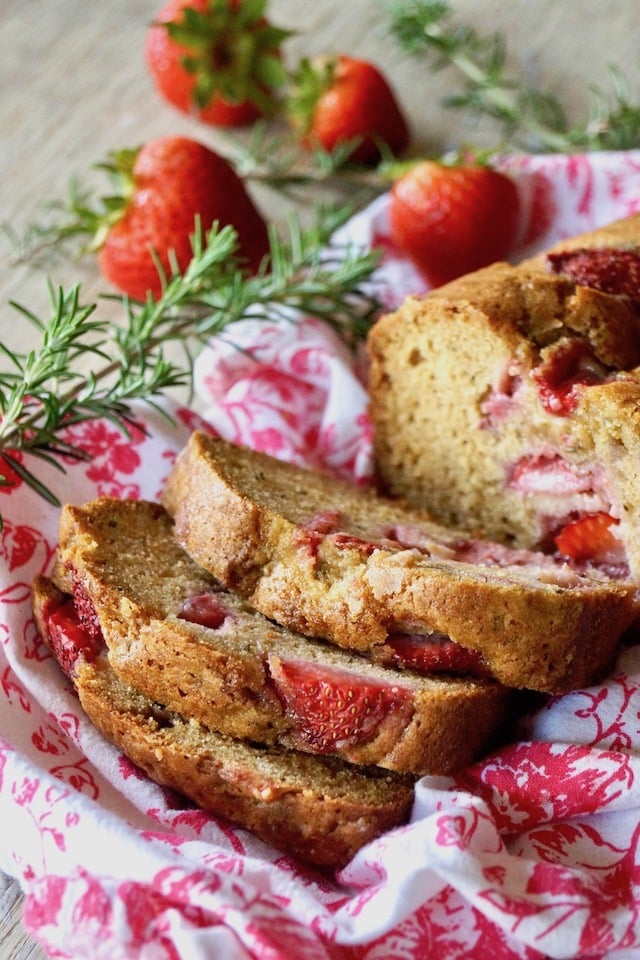 I give you permission to eat it anytime. 😉
Enjoy every last bite of this Strawberry Rosemary Cake!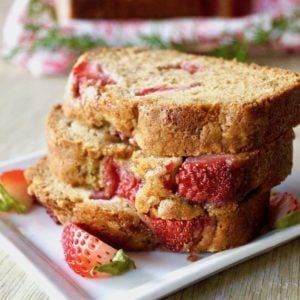 Strawberry Rosemary Cake Recipe
The scent of rosemary and sweet strawberries all in one summer cake. This pretty Strawberry Rosemary Cake is too good to be true!*Makes 1 approximately (8 1/2-inch) loaf cake.
Ingredients
1⅓

cups

all-purpose flour

½

teaspoon

baking soda

¾

cup plus 1 tablespoon

golden brown sugar,

divided

½

cup

olive oil

2

teaspoons

vanilla extract

1¾

teaspoon

finely chopped fresh rosemary,

washed and dried

½

teaspoon

salt

2

large

eggs

1

tablespoon

boiling water

1¼

cup

strawberries,

washed and dried, cut into approximately 1/4-inch thick slices
Instructions
Preheat the oven to 350°F, and line an approximately 8 1/2-inch loaf pan with parchment paper. (Use a large piece that will cover all 4 sides and cut slits in each corner so that it will lay flat.) Set aside.

In a large mixing bowl, combine the flour and baking soda. Make a well in the center and set aside.

In a medium-sized mixing bowl, add 3/4 cup of the sugar, oil, vanilla, rosemary and salt. Mix until smooth. Then whisk in the eggs until they're completely blended in.

Pour the wet ingredients into the well in the dry ingredients and mix only until combined -- just until you no longer see any dry spots.

Fold in the boiling water. Once it's blended in, fold in 1 cup of the sliced strawberries.

Pour the batter into the prepared pan, and arrange the remaining ¼ cup of sliced strawberries on top, pressing them lightly into the batter.

Sprinkle the remaining 1 tablespoon of sugar evenly on top, and bake in the preheated 350°F oven until the cake becomes solid and looks completely dry. It should no longer jiggle if you move the pan, and a toothpick should come out clean when stuck in the center -- about 1 hour. (If the top is getting too dark before it's fully cooked, very loosely cover with foil for the remaining cooking time.)


Let the cake rest in the pan for at least 20 minutes or so. (It will sink slightly in the center -- that's okay.)


Use the parchment paper surrounding the cake to carefully lift it out of the pan. Wait about an hour before slicing.
Notes
Calorie count is only an estimate.
Have you tried this recipe?
I'd love to see it on Instagram! Tag me at @cookingontheweekends or leave a comment & rating below.
Save
Save