Sweet Basil Cheesecake with Lemon Crust is a no-bake, make-ahead dessert that's full of beautiful and bright summer flavors. It's easy to make and works well for both casual or elegant entertaining.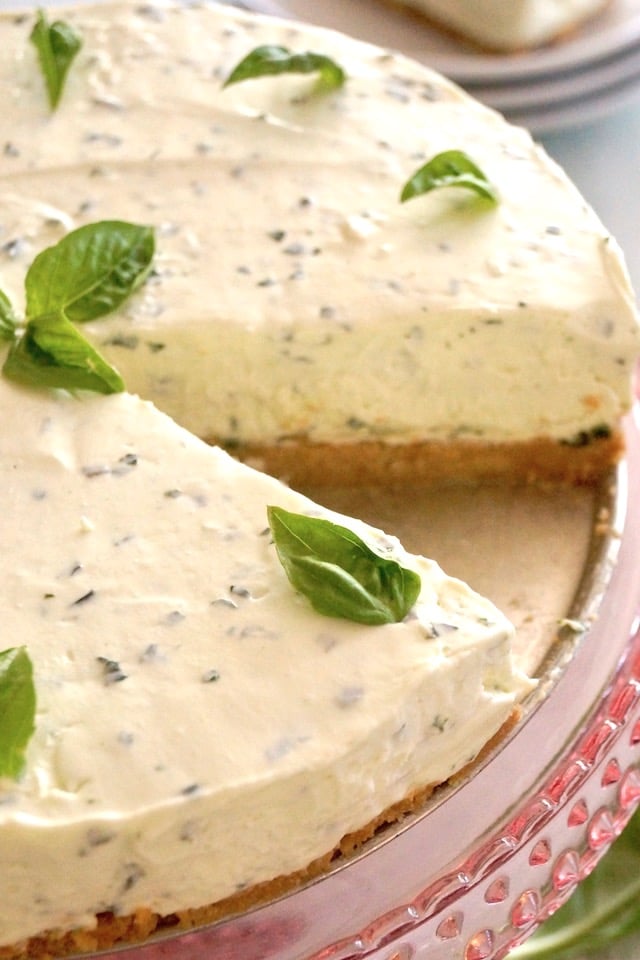 Though you can most likely find basil year round, it's a fresh herb that thrives in the summertime. If it's not in your backyard, it's probably in your neighbor's.
All summer fresh basil shines in pestos, salads, caprese, and now . . . . in a cheesecake!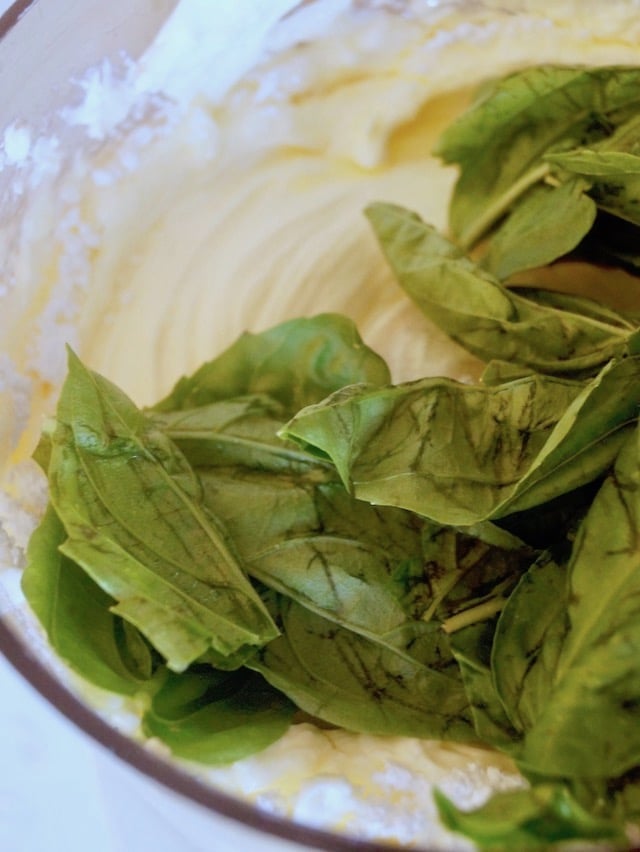 What's in this Basil Cheesecake?
heavy whipping cream
cream cheese
powdered sugar
lemon juice
basil leaves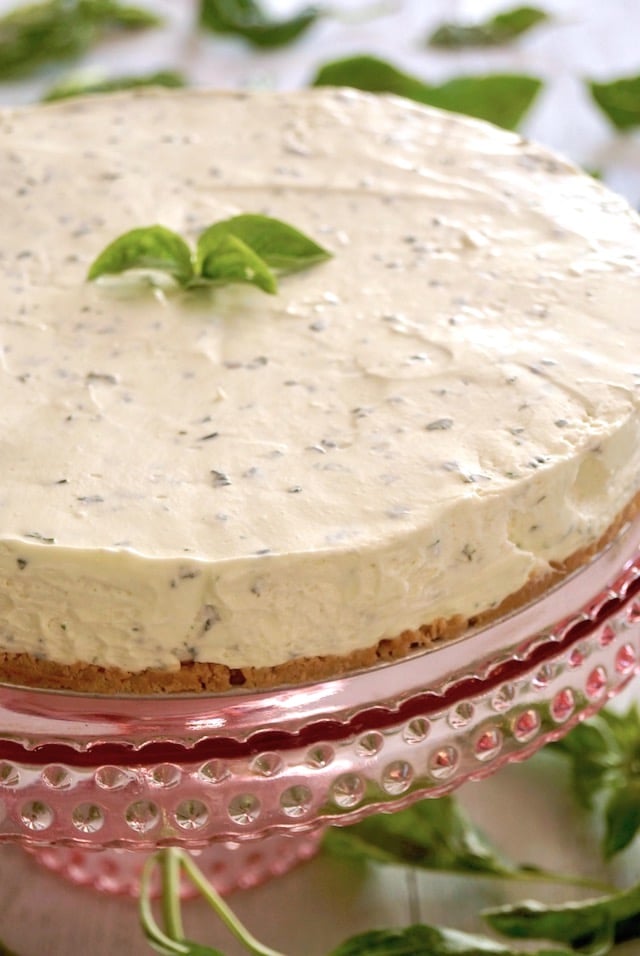 How to Make a Lemon Cookie Crust for Cheesecake

You can use almost any cookies you like for this crust. I used gluten-free vanilla cookies. (So my son with Celiac could try it). You can use any vanilla wafers, vanilla sandwich cookies, or graham crackers. If you use graham crackers, you will have to add a touch of sugar to taste.
Blend the cookies in a food processor until they are a fairly fine crumb.
Mix in melted butter and lemon zest.
Gently press the crust into a springform cheesecake pan.
Refrigerate while you're making the filling.
(More detailed instructions are below.)
How is no-bake cheesecake different from regular cheesecake?
Typically no-bake cheesecakes do not contain eggs. (They really shouldn't, since they would remain raw.)
The texture, even when set, will be less firm than baked cheesecakes — imagine a consistency somewhere between a velvety mousse and a firm cheesecake.
A no-bake cheesecake is such a fabulous choice for summertime. Why heat up the kitchen and house if you don't have to!?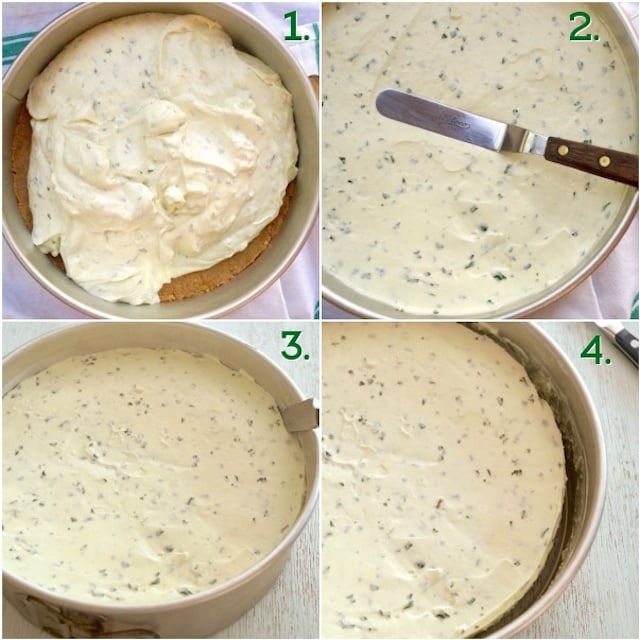 Tips for making Sweet Basil Cheesecake
There are a couple of keys to making this no-bake cheesecake successfully . . .
The heavy whipping cream must be whipped long enough — but not too long. Whip it just until it becomes stiff and not a second longer. So you have to watch it carefully as you're whipping. If it goes too long you will make butter, and not long enough will result in a cake that's too soft.
Refrigerate the cheesecake for at least 12 hours before attempting to slice it.
Be sure the basil leaves are blended into as tiny pieces as possible — this will intensify the basil flavor and make for a nicer texture.
When you fold the cream cheese-basil mixture into the whipped cream, do so gently and with as few strokes as possible. The less folding, the less air is removed.
Before you release the spring from the pan, go along the edges with the dull side of a knife. If you skip this step, the edges of the cake might be messy.
I like to put a small basil leaf to mark each slice of cake. It's a pretty garnish, and when you go to serve it will be very efficient.
And as with most cakes, it helps to make neat and pretty slices if you wipe off the knife between cutting each piece.
Can you freeze it?
Yes you can, so this is a great make-ahead basil dessert!
If you want to make it ahead of time to serve later, or save leftovers for more than a few days, it will freeze well.
The best way to freeze it is in the spring form pan you made it in, covered tightly with plastic wrap. This way the plastic won't rest directly on the cake, and it will keep its pretty surface.
It can be frozen for about 4 weeks and should be thawed completely in the refrigerator before eating.
Sweet Basil Cheesecake with Lemon Crust is a fun, unique recipe for summertime entertaining, that your guests will love!
Here are a couple more delicious cheesecakes. . .

And if you're loving the basil-lemon combination . . .
Sweet Basil Cheesecake with Lemon Crust Recipe
This no-bake, make-ahead dessert is full of beautiful and bright summer flavors. It's easy to make and works well for both casual or elegant entertaining.
Ingredients
Lemon Crust
2½

cups

vanilla cookie crumbs (from about ¾-pound cookies),

see notes

¼

cup

unsalted butter,

melted

2

tablespoons

lemon zest
Filling
1¼

cups

heavy whipping cream,

cold

3

(8-ounce) packages

cream cheese,

room temperature

¾

cups

powdered sugar

2

tablespoons

lemon juice

1

cup

packed basil leaves,

washed and dried

pinch of salt

small basil leaves for garnish,

washed and dried
Instructions
Lemon Crust
Add the cookies to a food processor fitted with the blade attachment and blend until you have fairly fine crumbs.

Add the crumbs to a large mixing bowl and mix in the melted butter and lemon zest.

Pour into a 9-inch springform pan and press it evenly and firmly onto the bottom surface. Place the crust in the refrigerator while you make the filling.
Filling
Use an electric mixer or a stand mixer fitted with the whisk attachment, to whip the cream into stiff peaks. This will take about 2 minutes. Set aside.

Now add the cream cheese and powdered sugar to the food processor fitted with the blade attachment. Blend until it's completely smooth. Add the lemon juice, vanilla, basil and pinch of salt and blend until the basil is tiny specks of green. Use a rubber spatula to add this to a large mixing bowl.

Fold the whipped cream into the cheese mixture just until it's combined.

Remove crust from the refrigerator and pour the filling into it the pan. Smooth the top and cover with plastic wrap. Refrigerate overnight (at least 12 hours).

Use a knife to loosen the chilled cheesecake from the rim of the springform pan, then remove the rim.

Garnish with small basil leaves, slice and serve.
NUTRITION
Have you tried this recipe?
I'd love to see it on Instagram! Tag me at @cookingontheweekends or leave a comment & rating below.
Cooking On The Weekends is a participant in the Amazon Services LLC Associates Program, an affiliate advertising program designed to provide a means for sites to earn advertising fees by advertising and linking to Amazon.com.