This Swiss Chard Lasagna recipe is gluten-free, vegetarian, super hearty, and oh-so-delicious! You'll be surprised as to what's creating the layers in this twist on a classic.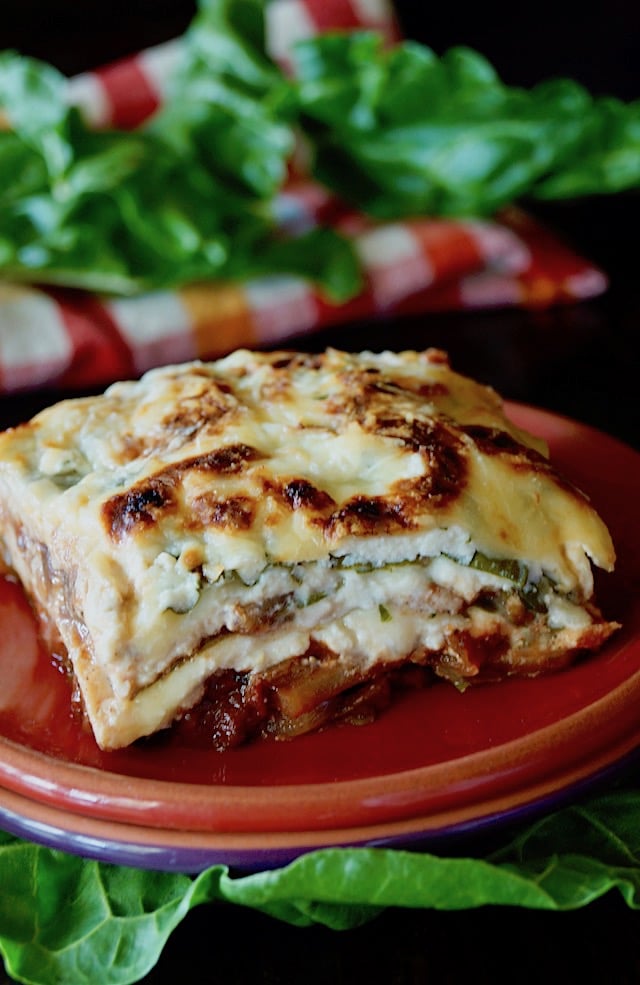 This post contains Amazon affiliate links for your convenience at no additional cost to you.
What is Swiss Chard?
Swiss chard is a green leafy vegetable that's in the same family as beets and spinach.
Swiss chard recipes are a bit underrated. At least, it seems that way since we don't see too many of them.
In addition to its lovely flavor, I love Swiss chard because of it's texture, which is somewhere between spinach and kale. When cooked, the leaves wilt nicely, but they don't shrink as much as spinach and stay intact when cooked.
The colors of the stems and veins vary and range from a golden yellow to red.
What Does Swiss Chard Taste Like?
The leaves of the chard have a flavor similar to beet greens and spinach, and are slightly bitter. When cooked, they become less bitter and subtly sweet.
The crunchy stems have a similar flavor and can also be eaten.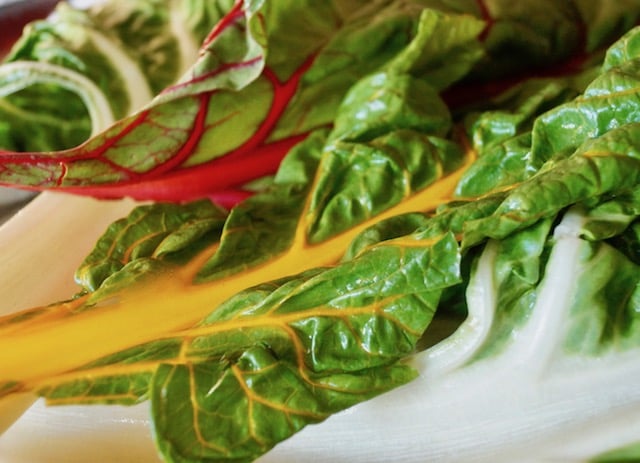 Coming from a family of gardeners, you'd think I'd have a green thumb. Well, I don't. My thumb, if you will, is somewhere between brown and olive green — at best. 😉
Fortunately my family lives close by, and I have wonderful neighbors, who all have bright green thumbs, and they invite me in to "shop" in their yards.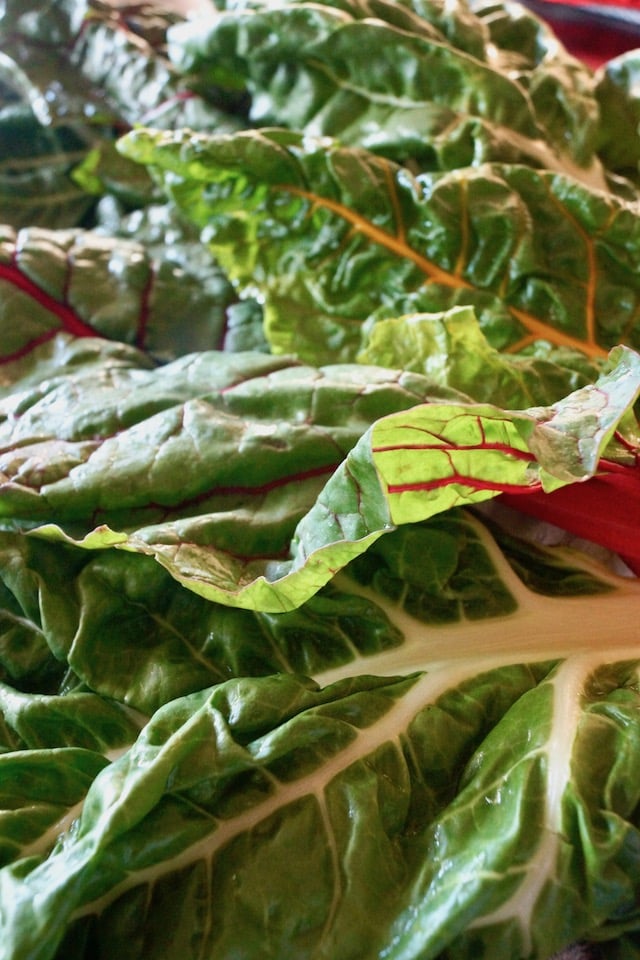 I can get beautiful chard from my neighbor, Kaye of The Late Bloomer Show.
All of these gorgeous stalks practically make up a rainbow with their varying colors, and they all came from the same plant!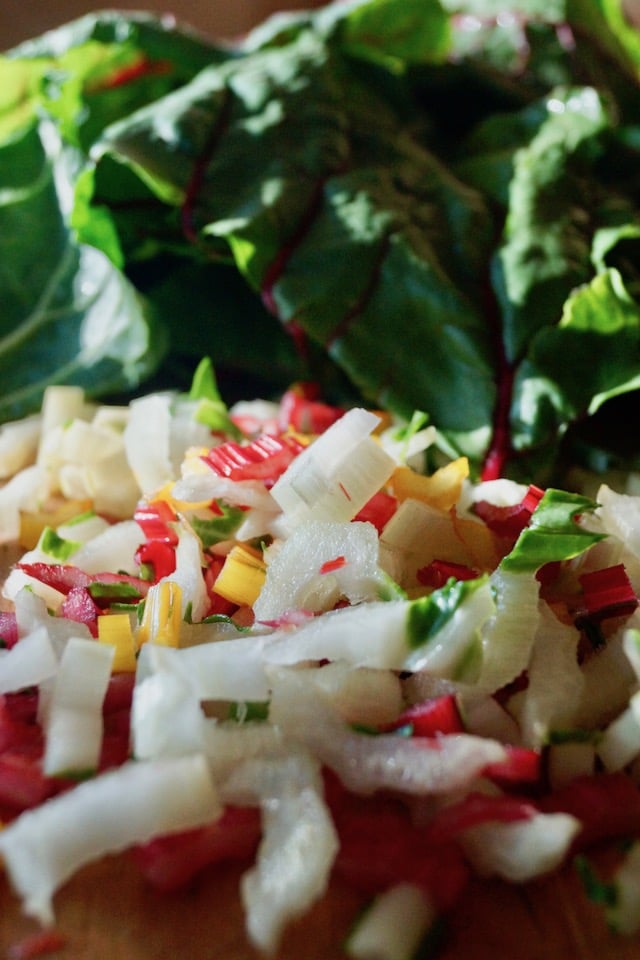 The leaves looked so fantastic that I didn't want to cut them. So naturally I used them in lieu of pasta in this gluten free vegetarian lasagna.
This Swiss Chard Lasagna is unique and deliciously perfect for a casual dinner party.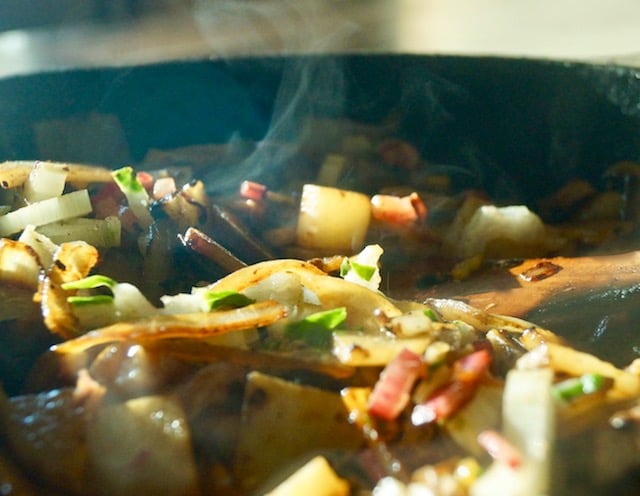 And I have an extra treat for you.
Kaye interviewed my dad for her Tomato Story show a few years ago. In it, he talks all about growing tomatoes and you'll get to see his gorgeous tomato garden! He's the handsome guy who comes in at 3:35. 🙂
A sneak peak into the layering process for this Gluten-Free Vegetarian Swiss Chard Lasagna . . . .
First a thin layer of the vegetable filling, followed by an even layer of the large, Swiss chard leaves.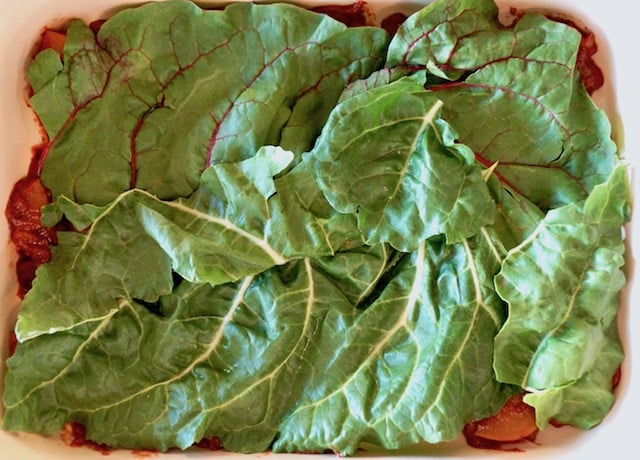 Next a lemony-basil ricotta cheese layer followed by finely grated mozzarella cheese.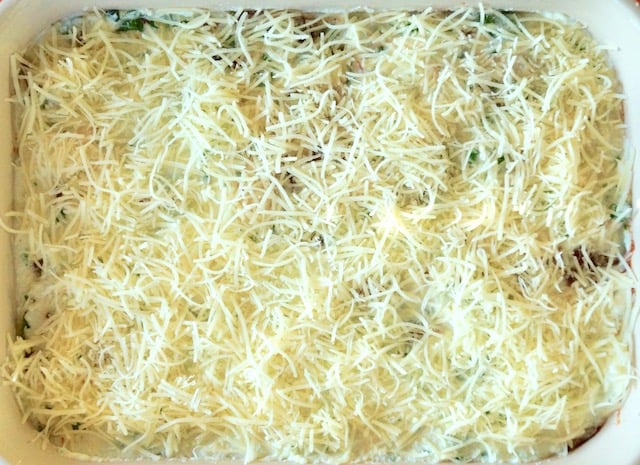 Another layer of the Swiss chard leaves, and then repeat the whole process.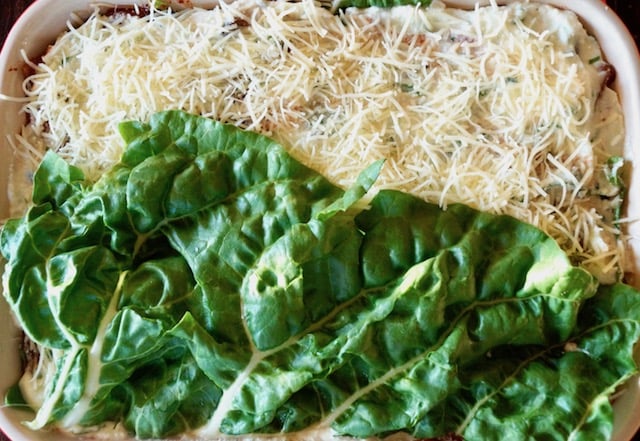 Enjoy every last bite of Gluten-Free Vegetarian Swiss Chard Lasagna!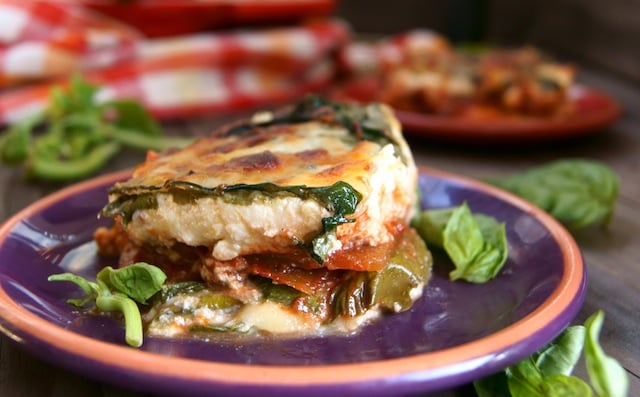 I hope this becomes one of many Swiss chard recipe you enjoy!
Here is another super tasty, unique gluten-free lasagna for your non-vegetarian friends . . . . .
Spiced Chicken Butternut Squash Lasagna Recipe
Swiss Chard Lasagna Recipe
Please don't be daunted by the lengthy list of ingredients -- this isn't a difficult recipe.

Keyword:
gluten-free lasagna recipes, lasagna for vegetarians
Ingredients
6

large Swiss chard leaves,

washed and dried
For the vegetable filling:
1

cup

yellow onion,

thinly sliced

2

tablespoons

garlic,

finely chopped

1

pound

Crimini mushrooms,

washed and dried, thinly sliced

3/4

pound

White Rose potatoes,

washed and dried, cut into bite-sized, thin slices

6

Swiss chard stems,

thinly sliced (from above leaves)

1

teaspoon

ground cinnamon

1/8 to 1/4

teaspoon

ground cayenne pepper

1/2

cup

red wine

1

(28-ounce) can

crushed tomatoes

1

tablespoon plus 1 teaspoon

brown sugar

salt and freshly ground black pepper
For the cheese mixture:
4

cups

skim Ricotta cheese

1

large

egg,

1/2

cup

fresh basil leaves,

washed and dried, roughly chopped

2

tablespoons

fresh lemon zest

2

tablespoons

fresh lemon juice

1/2

teaspoon

sea salt and a few turns of black pepper

2

cups

grated Mozzarella cheese

olive oil for the pan
Instructions
Cut the leaves away from the center stems of the chard leaves. Thinly slice the stems and set both aside.

For the vegetable filling
Coat the bottom of a large sauté pan with olive oil and place it over medium heat. Add the onion and garlic and cook, stirring often, until everything is beginning to brown, about 10 minutes. Than add the sliced chard stems and let them sauté for a couple of minutes, until they're a bit soft.

Add the mushrooms and cook until they are nicely browned, about 10 minutes. Then add the potatoes and cook just until tender, about 7 minutes or so.


Cook all of this until everything is well combined and tender, and the bottom of the pan is becoming brown.

Sprinkle the cinnamon and cayenne over the vegetables and add the wine. Use a flat-bottomed deglazing spatula to scrape the bottom of the pan. Cook until most of the wine has been cooked off. Then add the tomatoes. Turn the heat to low and let this simmer for about 15 minutes. (It will reduce a bit and become thicker.)

Add the brown sugar and season generously to taste with salt and pepper.
For the cheese mixture
While the vegetable mixture is simmering, in a large mixing bow, combine the Ricotta, egg, basil, lemon zest, lemon juice, salt and pepper. Mix until all of the ingredients are well blended.

Adjust a rack to the center of the oven and preheat it to 350 degrees F.
Assembly
Add a thin layer of the vegetable mixture to a 9 X 13 X 3-inch, rectangular baking pan. Now place 2 of the chard leaves on top. You can tear them a bit, and use bits form the other leaves if necessary, to cover the surface. Cover the leaves with about half of the remaining vegetables, followed by layer of about a third of the cheese mixture. Sprinkle with a third of the Mozzarella. (Each layer should cover the one below it completely.)

Repeat the above, and then add a final layer of the chard leaves and the remaining third of the cheese mixture and Mozzarella.

Bake in the preheated 350 degree F oven until the lasagna is sizzling and golden brown on top, about 30 minutes. If it's done cooking, but the top hasn't browned, you can place the pan under the broiler for about 30 seconds or so. (Watch it carefully if you do this -- don't let it go too long!)

Let the lasagna sit for at least 2 hours before serving.