The Best Smoked Salmon Deviled Eggs include absolutely everything you want in a bagel, cream cheese & lox, minus the bagel. These beauties are a mouthful of flavor and are a perfect hors d'oeuvre or brunch dish.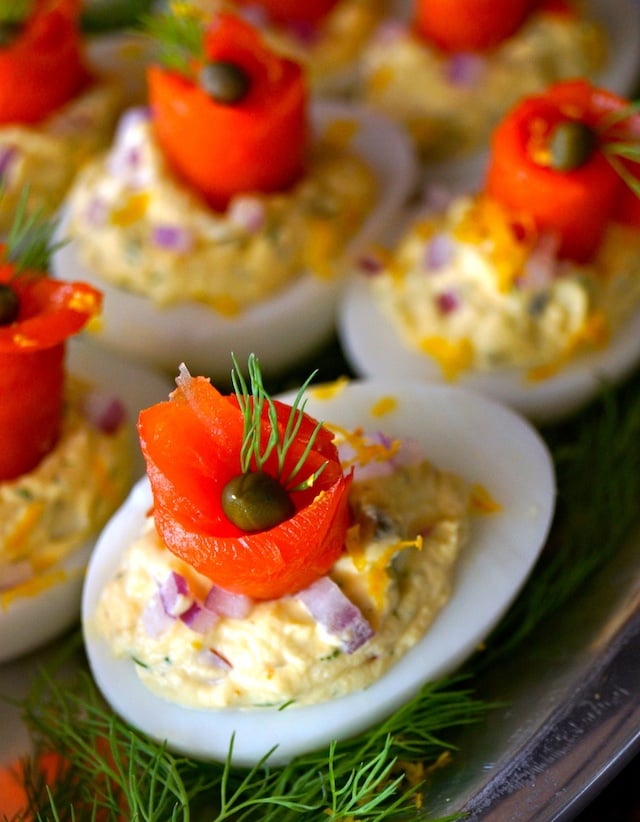 Inspiration
Tis' the season!
For eggs, that is! Easter Sunday and Mother's Day are both just around the corner, and both of these holidays invite eggs to the lunch or brunch table.
And why not make them beautiful and artful?  This recipe is exactly that, and it also happens to result in the best Smoked Salmon Deviled Eggs ever!
(In my humble opinion, of course.)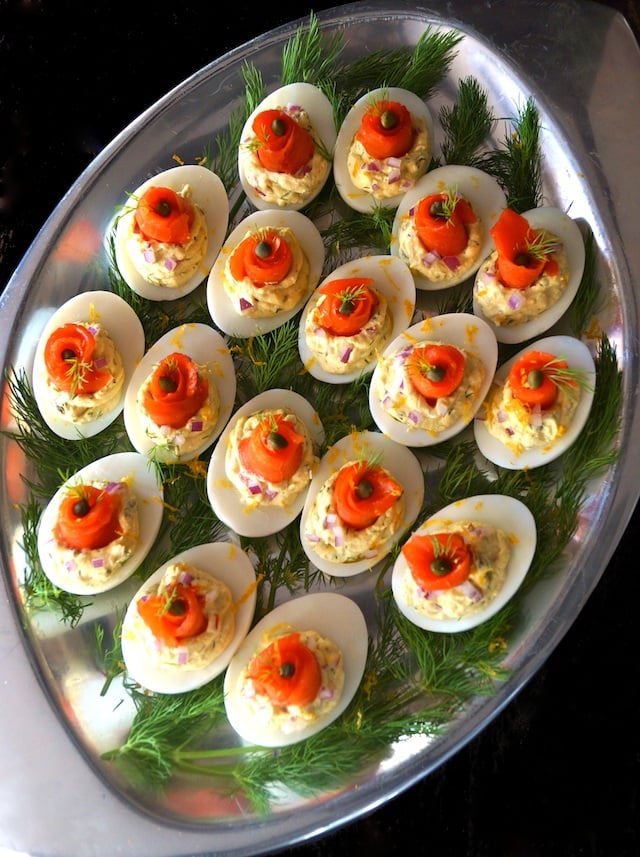 I'm telling you, if you love the flavors of a bagel, cream cheese and lox, you will adore these Smoked Salmon Deviled Eggs.
Just imagine an egg in place of the bagel.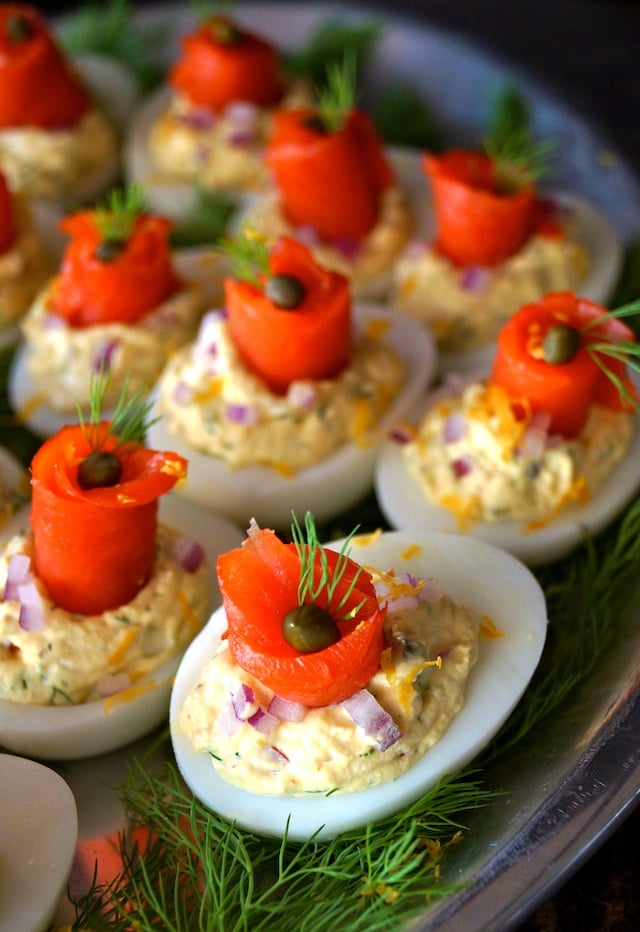 When to serve Them
In my mind, the most popular meal on Mother's Day is brunch -- and brunch is all about eggs. The same goes for Easter.
Holidays are fun, but these eggs would be lovely at any brunch any time of year.
They would also be a loved hors d'eouvre at a cocktail party.
How about for an afternoon tea?
Can you make them ahead?
Yes you can.
They can be made up to about four hours ahead of time. They should be kept refrigerated, very lightly wrapped with plastic wrap.
And you can make the filling and roll the "roses" the night before. Again, keep everything refrigerated.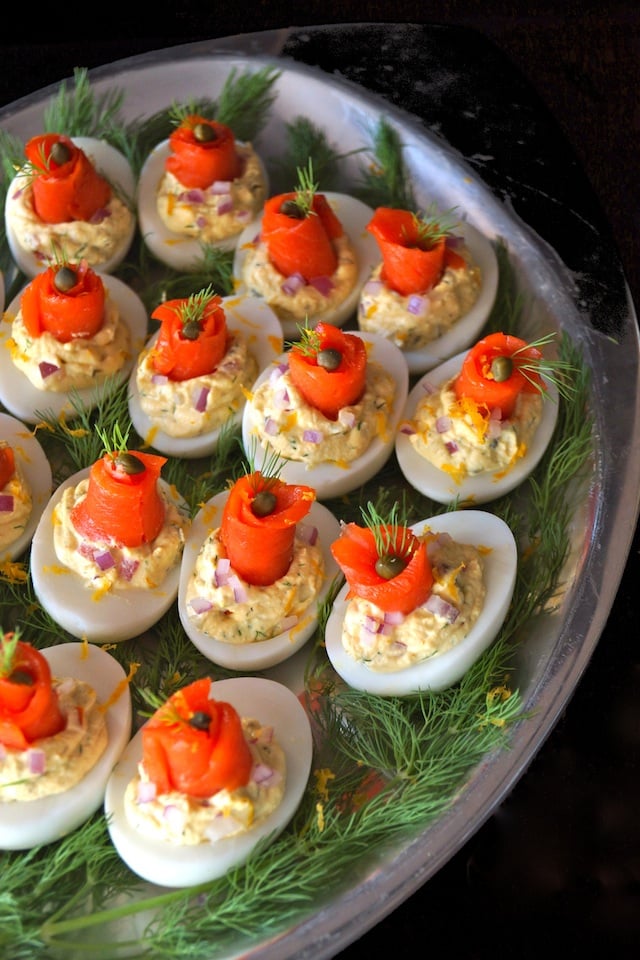 Smoked Salmon Deviled Eggs take a bit of time to assemble, and it's well worth every second.
I tend to find assembling dishes like this relaxing and zen-like. That may just be me, but try it and see how it goes for you. I'd love to know if you have a similar experience.
More Delicious Deviled Eggs
Enjoy every last egg!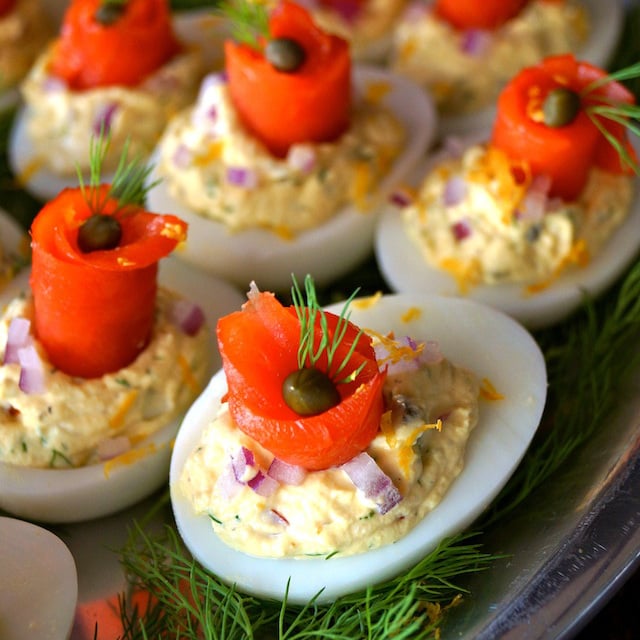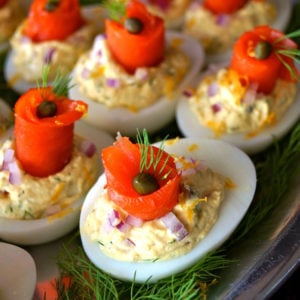 The Best Smoked Salmon Deviled Eggs Recipe
*The Best Smoked Salmon Deviled Eggs include absolutely everything you want in a bagel, cream cheese & lox, minus the bagel. These beauties are packed with flavor & make for a perfect hors d'oeuvre or brunch item for the spring holidays.
*Please note that you can hard boil the eggs well ahead of time, which would shorten the prep time by 20 minutes. (
Here's How to Hard Boil Eggs
.)
Ingredients
4

ounces

smoked salmon,

very thinly sliced

1

tablespoon

fresh dill

finely chopped (plus 18 tiny sprigs for garnish and a handful of sprigs for the platter)

9

large

hard boiled eggs

¼

cup

sour cream

3

tablespoons

finely diced red onion

divided

2

tablespoons

tomatoes,

washed and dried, seeds removed, finely diced

1½

tablespoons

capers,

roughly chopped (plus 18 left whole for garnish)

1

tablespoon

Dijon mustard

1

tablespoon

mayonnaise

2

teaspoons

lemon juice

¾

teaspoon

salt

a few turns of freshly ground black pepper

⅛

teaspoon

cayenne pepper

zest of 1 small lemon
Instructions
Cut each of the salmon slices into 18 thin strips, about ½ to 1-inch wide. Roll each strip as tightly as possible to make a rose, and place them on a plate. Cover lightly with plastic wrap and set aside in the refrigerator.

On a clean dry surface, carefully slice the eggs in half lengthwise. Very gently remove the yolks from each egg half and add them to a medium-sized mixing bowl.

Spread out the "handful" of fresh dill sprigs on a large serving platter and then arrange the egg white halves on top. (The dill will keep them from wobbling.)

Use a fork to mash the yolks, and then add the sour cream. Mash until you don't see any lumps from the yolks. Then add 2 tablespoons of the onion, tomato, chopped capers, 1 tablespoon of dill, mayonnaise, mustard, lemon juice, salt pepper and cayenne. Mix until everything is evenly incorporated.

Add the yolk mixture to a large zip-lock bag and then cut about ¼-inch off one of the bottom corners, to turn it into a pastry bag. Gently squeeze the mixture evenly among each of the 18 egg white halves. Sprinkle the remaining 1 tablespoon of onion on top of each one.

Remove the salmon "roses" from the refrigerator and carefully place one on top of each deviled egg, using a bit of pressure so that it's partially inserted into the yolk mixture. Add 1 caper and 1 tiny dill sprig to the center of each salmon rose, and then sprinkle them with the lemon zest.

Serve!
NUTRITION
Have you tried this recipe?
I'd love to see it on Instagram! Tag me at @cookingontheweekends or leave a comment & rating below.
Save