Chipotle-Bacon Deviled Eggs are packed with scrumptious, smoky flavors. They're lovely for Easter brunch, an hors d'oeuvre at a cocktail party, a game day snack, lunch, and the list goes on.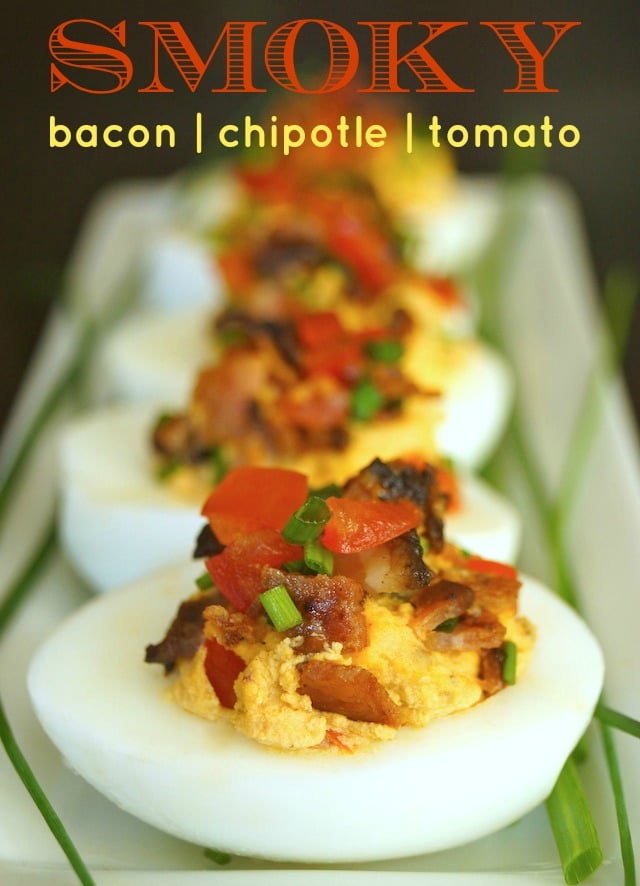 Amazon affiliate links are for your convenience. As an Amazon Associate I earn from qualifying purchases at no additional cost to you.
Current food trends: asparagus, matzo dishes, artsy eggs, and fun deviled eggs. (Just to name a few.)
Which means the obvious, of course — it's spring, and Easter and Passover are on the horizon.
Enter: Chipotle-Bacon Deviled Eggs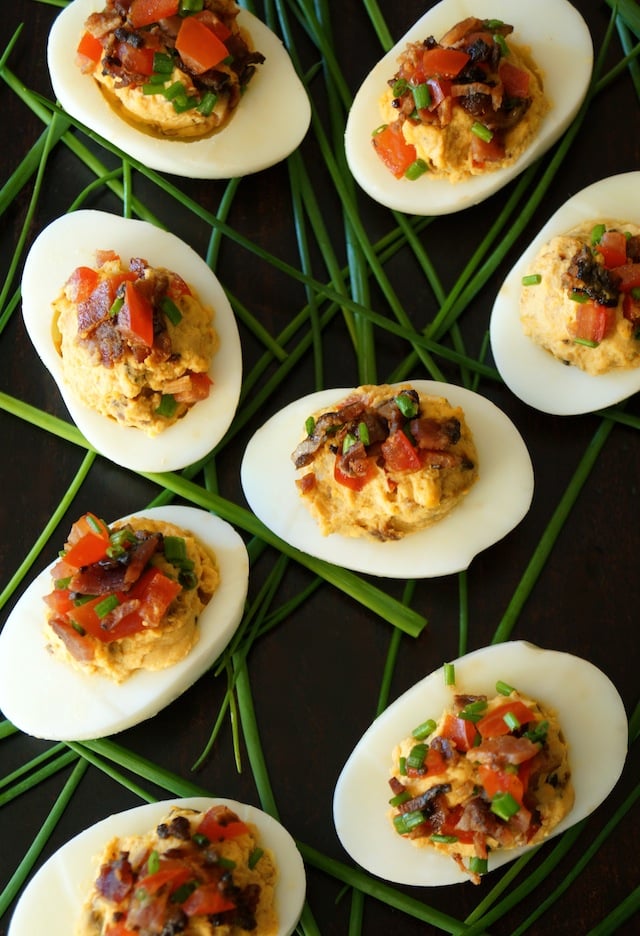 If you've been reading Cooking On The Weekends for a while, you know how much I love smoky flavors — and that I think "smoky" makes recipe titles sound much more delicious. (It's true.)
What's in Chipotle-Bacon Deviled Eggs?
eggs (of course!)
crema Mexicana
chipotle pepper adobo sauce
tomatoes
extra virgin olive oil
chives
It's those few ingredients that pack an incredible amount of delicious flavor into an egg!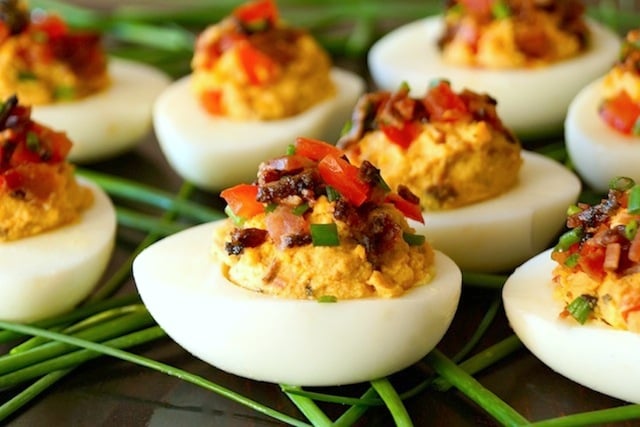 These eggs have it going on.  And by "it" I mean they're creamy, rich, packed with flavor and they're fun!
This is one of the best deviled eggs recipes I've tasted!
Ever.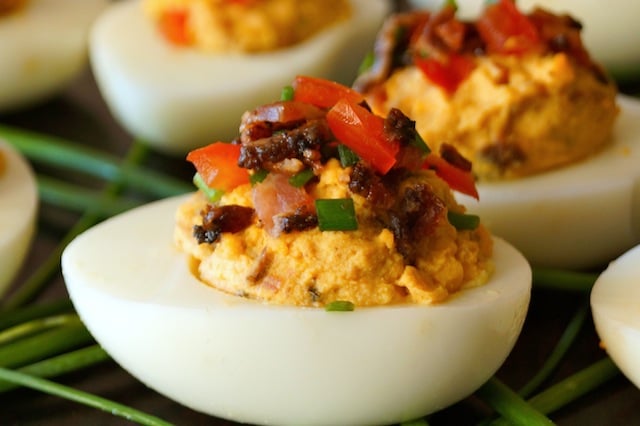 When to Serve Chipotle-Bacon Deviled Eggs
Well, with Easter around the corner, I think they be a lovely part of the brunch. They would also be a super fun hors d'oeuvre for a cocktail party, and fabulous for a luncheon of any sort.
I highly suggest serving Matzo Brei à la Florentine for Passover.
Enjoy every last Chipotle-Bacon Deviled Egg!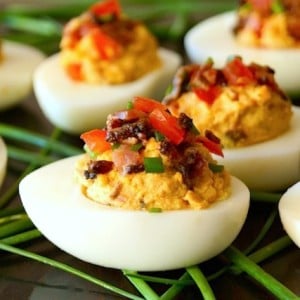 Smoky Tomato-Bacon-Chipotle Deviled Eggs
Chipotle-Bacon Deviled Eggs are packed with scrumptious, smoky flavors. They're lovely for Easter brunch, an hors d'oeuvre at a cocktail party, a game day snack, lunch, and the list goes on.
Please note that the prep time does not include the time it takes to hard boil the eggs, which is about 15 minutes. (Here's How to Hard Boil Eggs.)

Makes 1 dozen / serving size: 2

Course:
Appetizers and Hors d'Oeuvres, Brunch
Keyword:
best recipes with eggs, great for brunch
Ingredients
2

strips

bacon

3

tablespoons

Crema Mexicana

(see notes)

1

tablespoon

chipotle pepper adobo sauce,

seeds removed - just use the sauce, not the peppers themselves

2

tablespoon

tomatoes,

washed and dried, seeds removed, finely chopped, divided

2

teaspoons

extra virgin olive oil

1

tablespoon

chives,

washed and dried, finely chopped
Instructions
Add the bacon to a sauté pan over medium heat. Cook until it's brown and crisp, about 3 minutes per side. Remove it from the pan. Set it aside to drain a double layer of paper towels.

On a clean dry surface, carefully slice the eggs in half lengthwise. Very gently remove the yolks from each egg half and add them to a small mixing bowl.

Place the empty egg white halves on a serving platter - round side down. If they slice around too much, you can very gently slice a sliver off of the bottom to make a base -- being sure not to cut through to the opening!

Use a fork to mash the yolks and then add the Crema Mexicana and adobo sauce (from chipotle peppers in adobo sauce).

Crumble the bacon into tiny pieces and add half of it to the yolk mixture. Then add 1 tablespoon of the tomatoes and the oil, and mix until everything is evenly blended. Now season to taste with salt and pepper. (

Here's How to Season to Taste

.)

With two teaspoons or a tiny cookie scoop (about 1-inch), equally divide yolk mixture into the openings of the egg white halves.

Add the remaining half of the crumbled bacon and the 1 tablespoon of tomatoes to a small bowl. Stir in the chives and mix. Add a bit of this mixture to the top of each egg.

Serve!
Recipe Notes
You can use sour cream if you don't have Crema Mexicana.
Cooking On The Weekends is a participant in the Amazon Services LLC Associates Program, an affiliate advertising program designed to provide a means for sites to earn advertising fees by advertising and linking to Amazon.com.