Reminiscent of fondue, this is a take on a Welsh Rarebit recipe, a British dish consisting of a savory sauce made mostly of melted cheddar cheese, served hot over toast.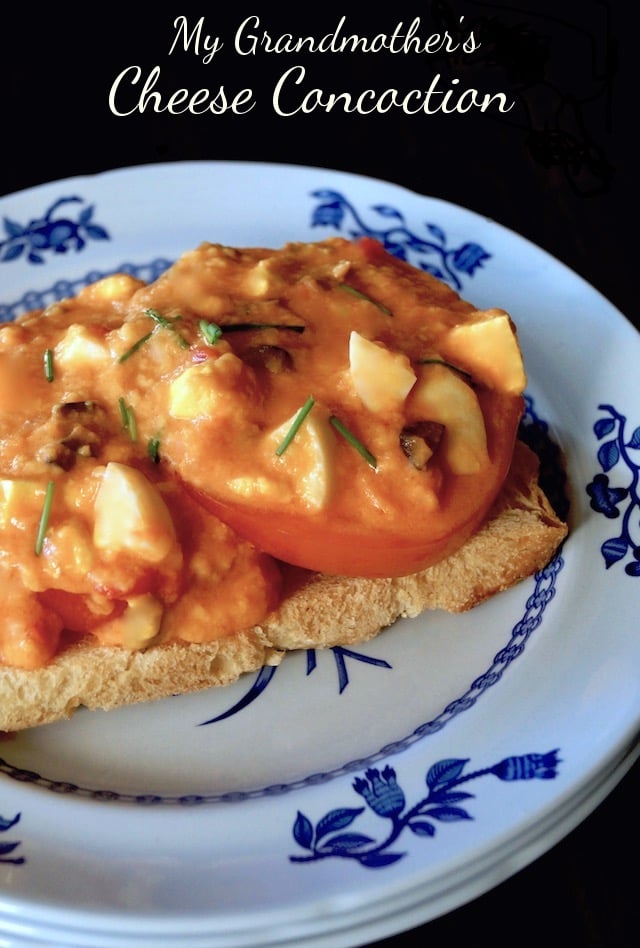 I grew up eating this dish, which my Grandmother called "Cheese Concoction." For years she'd serve it when we'd come for dinner. Then my mom started making it, and I had it for many more years. My whole family loved it.
My dad comes to dinner every Thursday now, and last week I surprised him with this dish. I wanted to introduce it to my husband and boys, and my dad and I hadn't had it in at least fifteen years, I bet.
I'm so fortunate to have a collection of my Grandmother's recipes. Both because they are all really wonderful, and because they hold a special place in my heart. Some came from her friends, and some from family, and all were written in her pretty handwriting. Next to each recipe, she noted who it came from. This one came from Aunt Lilly.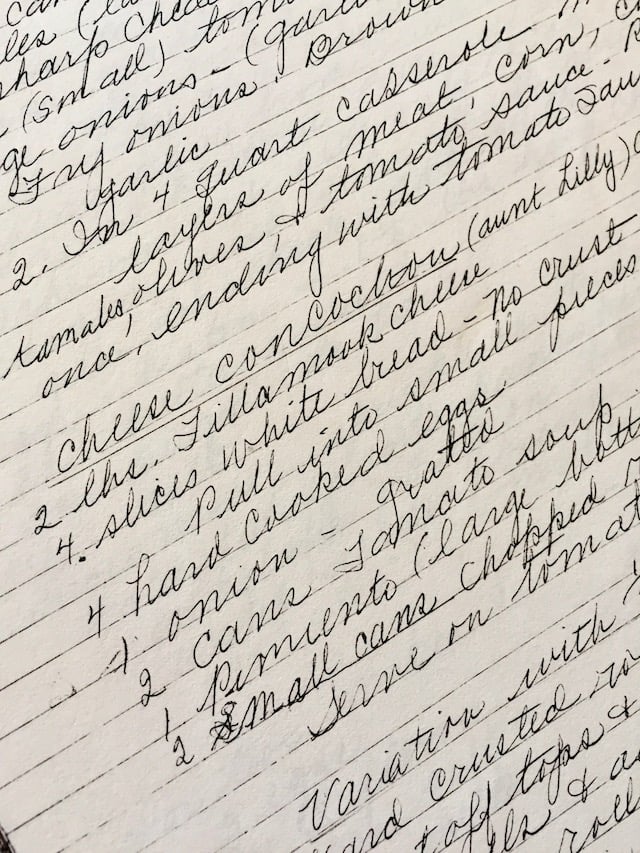 What is Welsh Rarebit?
I can only assume that this Cheese Concoction was Aunt Lilly's take on a Welsh Rarebit recipe, a British dish. Not necessarily because of the ingredients, but more because of the preparation.
A typical Welsh Rarebit recipe, in addition to a large amount of sharp cheddar cheese, might include beer, Worcestershire sauce, cayenne, mustard, paprika, sometimes an egg on top, and it's always served on toast. (Here's some history on Welsh Rarebit.)
Other than the cheddar cheese, cayenne, egg and toast, Aunt Lilly's version was quite different.
What puts this Welsh Rarebit recipe over the top?
My dad would say it's a beautiful, large tomato slice that's placed on top of the toast and beneath the cheese mixture.
He says what made it so delicious when my Grandmother made it, was that the tomato was cold, and the cheese mixture was piping hot. It was this contrast in temperatures, that he said put it over the top.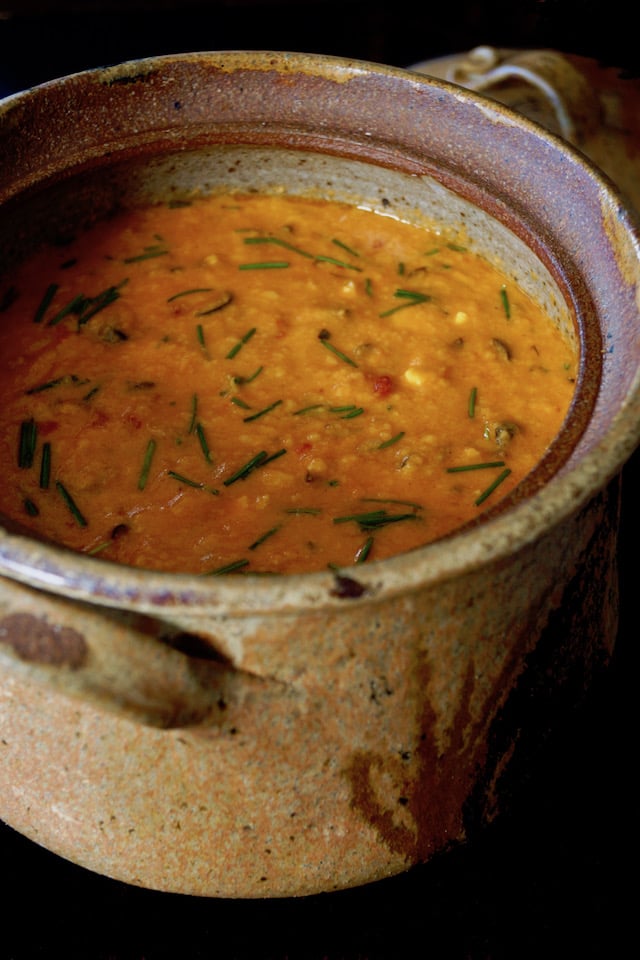 Whenever I recreate one of my Grandmother's recipes, I try not to deviate too much from her words. Partly to honor how she'd follow a recipe to a T, and partly because her food was also so fabulous, why would I?
That said, since my older son is gluten-free, I left out one of the ingredients — "torn pieces of white bread with crusts removed." And of course I served my son's on gluten-free bread, unlike the white or wheat she used.
Variations
Instead of hard boiling the eggs, add a sunny side up egg on top of each serving.
Add fresh herbs to the mix — maybe thyme, oregano, rosemary.
Slice and caramelize the onion.
Add avocado slices on top.
Try other olive varieties.
I really hope you love this as much and my dad and I, and now my whole family does! Whether you want to call it a Welsh Rarebit recipe or Cheese Concoction, and however you decide to serve it, enjoy!
Do you remember when I shared my Grandmother's Stuffed Cabbage with Tomato Caramelized Onion Sauce?  It's one of my all time favorites.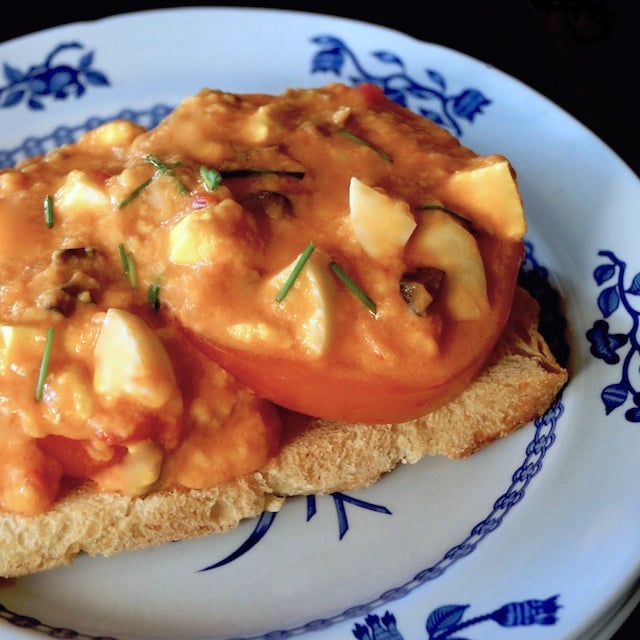 Welsh Rarebit Recipe
Reminiscent of fondue, this recipe is a take on a Welsh Rarebit, a British dish consisting of a savory sauce made mostly of melted cheddar cheese, served hot over toast.
Ingredients
2

pounds

sharp cheddar cheese,

grated

3

cups

tomato soup

1

(approximtely ¾-pound)

yellow onion,

grated

1

cup

jarred, diced pimientos

drained

1

cup

black olives,

drained, roughly chopped

4

large

hard boiled eggs,

roughly chopped

8

slices

bread,

wheat, white, sourdough, gluten-free, your choice

1 to 2

beefsteak tomatoes,

cut into 8 (approximately ¼-inch) slices

pinch or more cayenne pepper

depending on the amount of heat you want
Instructions
Preheat the oven to 350 degrees F, and adjust a rack to the center.


In a large ovenproof pot (at least 3 quart), combine the cheese, tomato soup, onions, pimientos, and olives. Mix well.

Once the oven is preheated to 350 degrees F, cover the pot and bake for 45 minutes.

To serve, ladle the cheese concoction over a tomato slice on toast.
NUTRITION
Have you tried this recipe?
I'd love to see it on Instagram! Tag me at @cookingontheweekends or leave a comment & rating below.