One ingredient is all you need to make this dulce de leche. That's it!  Sweetened Condensed Milk. And yes, it takes a whopping 6 hours or so to turn it into "gold," but you'll only be involved for about 5 minutes.  The rest of the time, it'll just do "its thing" on the stove.  This is the sort of cooking I do when I can do other chores at home.  While I made this the other day, I also spent time reading books with my kids, making dinner,  and yes, watching TV.
Here's the deal. . . dulce de leche is divine! It's unbelievably rich, creamy and delicious. It can be added to a plethora of baked goods or covered with chocolate.  It can be drizzled over ice-cream or eaten with a spoon!
Dulce de leche is all about caramelizing, pretty much my favorite cooking technique. You can caramelize the natural sugars in most foods to bring out a deeper and more intense flavor. Whether I've roasted cauliflower at a high temperature to give it a beautiful golden-brown color, seared a steak to create a crisp, brown crust, or simply sautéed a piece of toast, I'm lovin' it!
Sweetened condensed milk is cow's milk that has had the water removed and sugar added to it. The result is a very thick, super sweet milk.  When this wonderful product is cooked very slowly, it turns into dulce de leche, which literally means "milk candy."  Yum!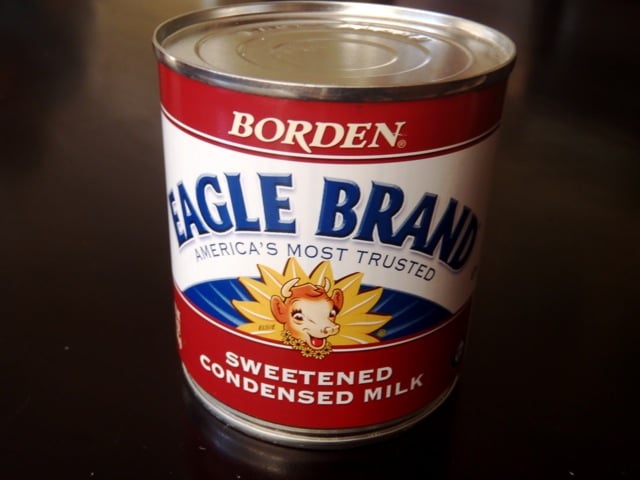 Recipe
Makes 1 3/4 cups
Total Prep and Cooking Time: 6 hours
Active Work Time: 5 minutes
Ingredients: 1 (14-ounce) can sweetened condensed milk
Remove the paper label and use a bottle opener to puncture the top of the can on two opposite sides.   These holes are very important because they will keep the can from exploding during the cooking!
Place a small cloth in the bottom of a sauce pot — this will keep your can from making a racket! (Your pot should be about the height of the can, or higher.)
Place the can directly on the cloth and then fill the pot with water to about 1/2-inch below the top rim of the can.
Bring the water to a boil and immediately turn the flame to the lowest setting.  The idea is to keep the water at a slight simmer.  Let it  simmer like this for 6 hours.  Every 45 minutes or so, refill the water to 1/2-inch below the top rim of the can, as it will continue to evaporate. You will see a little bit of white milk ooze out of the top, and that's OK — don't mess with it!
Use a thick kitchen towel to remove the can from the water.  Open the can with an opener, and pour the milk — which will now be a rich caramel color — into a small mixing bowl. Use a heat resistant, rubber spatula to get every bit out of the can (it will be firmer towards the bottom.) Use a metal whisk to blend until it's smooth. This should only take a few seconds.
Save