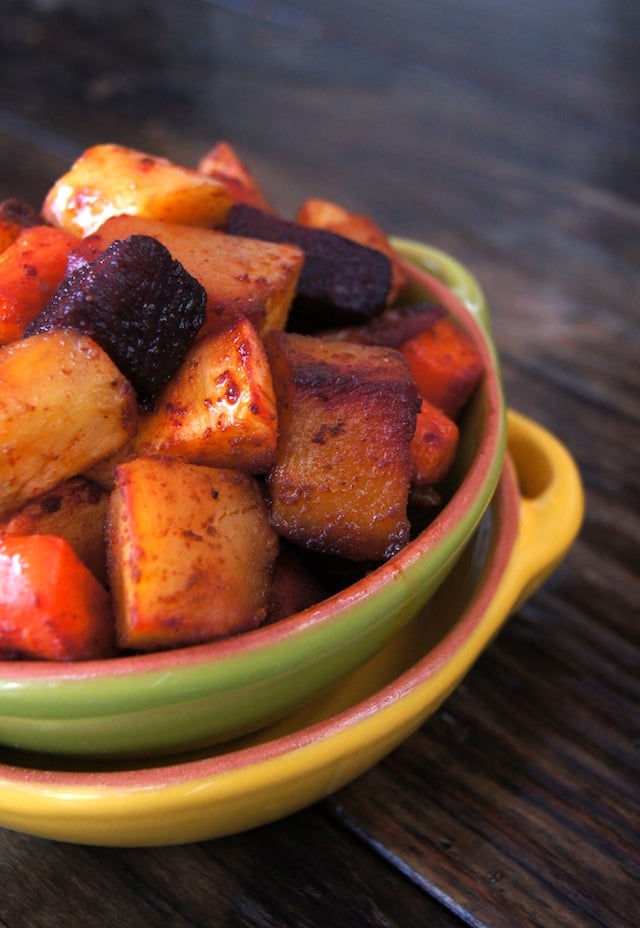 This might just be the most comforting of all vegetarian comfort foods.
I'm just going to cut to the chase today and tell you that this recipe is best described as creamy, crisp, earthy, rich, smoky, and sweet.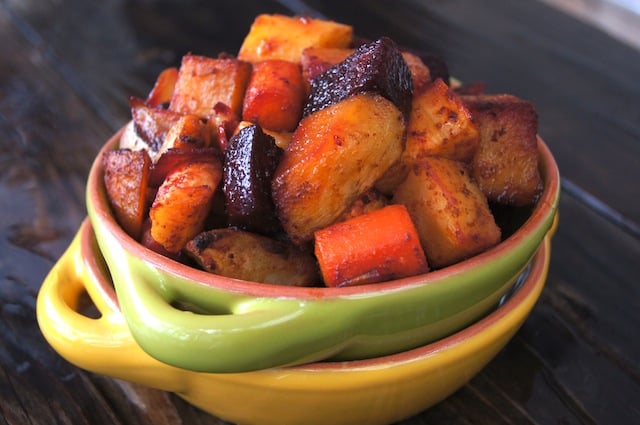 Now imagine all of that, at once, in each bite.
All of those things combined create a cozy warmth.  You'll see what I mean as soon as you try it.
And imagine it along side a super delicious, hearty meat, like this Grilled Mediterranean Flank Steak.
What a scrumptious meal that would be!
There's something just so comforting about root vegetables.  They seem to exude warmth, making them perfect for fall and winter.
I'm guessing that's how nature intended it.  🙂
Enjoy!

Smoky Cumin Roasted Root Vegetable Recipe
Ingredients
⅓ cup olive oil, plus 2 tablespoons
1 tablespoon ground cumin
2 teaspoons smoked paprika
1 teaspoon sea salt
2 cups yellow onion, peeled and diced into bite-sized pieces (about 1 medium-sized onion)
2 cups parsnips, peeled and cut into bite-sized rounds (about ¾-pound)
2 cups carrots, peeled and cut into bite-sized rounds (about 1-pound)
2 cups beets, peeled and cut into bite-sized pieces (about ¾-pound)
2 cups Idaho Rusett potato, peeled and cut into bite-sized pieces (about 1-pound)
About 20 small to medium-sized garlic cloves, peeled and root end trimmed off
Freshly ground black pepper
Instructions
Preheat the oven to 450 degrees F, and adjust a rack to the center.
Coat an edged baking sheet with the 2 tablespoons of olive oil and set aside.
Add the remaining ⅓ cup of olive oil to a small bowl and mix in the cumin, paprika and salt. Set aside.
Add all of the vegetables to the oiled baking sheet as you peel and cut them.
Drizzle the spiced oil evenly over the vegetables and use you hands or a flat-bottomed spatula to mix everything together. Be sure everything is well coated and in an even layer on the baking sheet. (Try to avoid any pieces being on top of each other.)
Sprinkle with a bit of freshly ground black pepper.

Place the baking sheet in the preheated 450 degree F oven and roast until all of the vegetables are well caramelized, about 45 minutes to 1 hour. Use a flat-bottomed spatula to turn them over about every 15 minutes.

Serve at warm or hot.
Save
Save