Whether or not you love parsnips, once you've tried this comforting, rich and creamy soup, you will!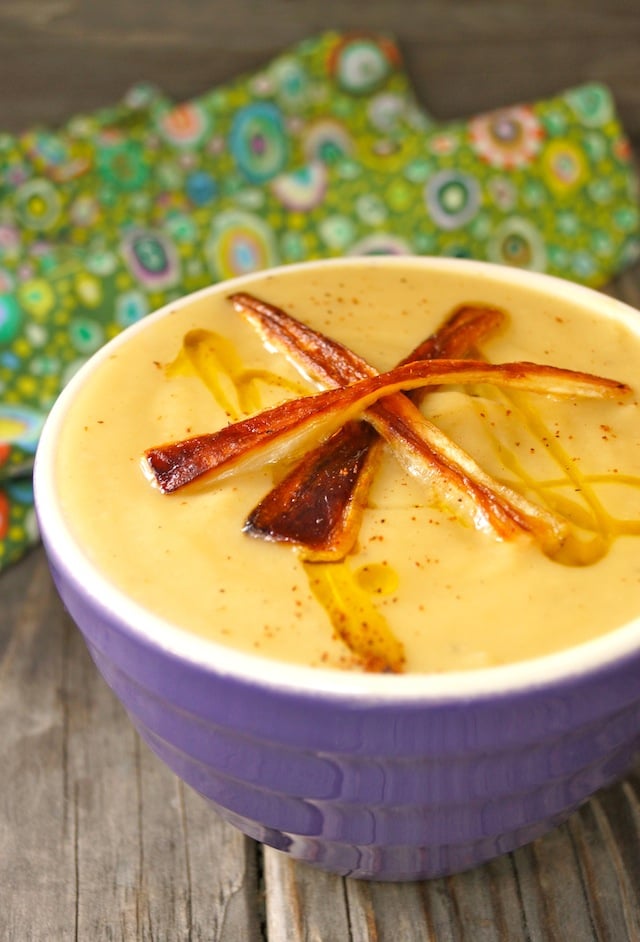 I know that life is super busy and that it's often hard to slow down, which is one of the many reasons I so appreciate you being here.  And now, if you can squeeze in just an extra moment for me — well, for this soup — take a good look at the image above.
Do you see the beautiful, light golden color?  The creaminess?  The richness?  If you close your eyes, you might even be able to imagine the unbelievably delicious flavor.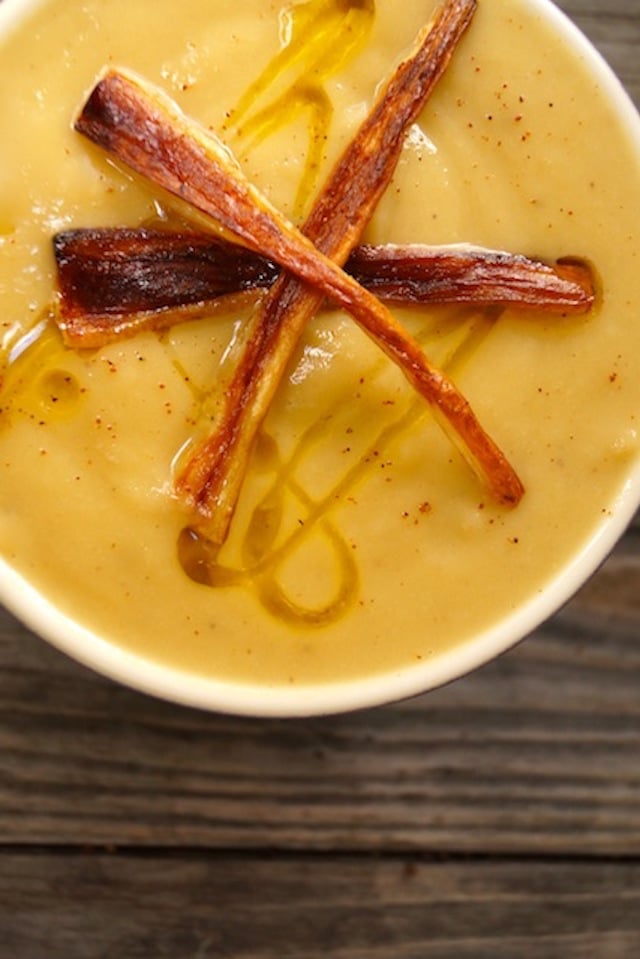 Yes, this is another one of my recipes that I can't help but talk up — because it's that good, and I really want you to try it.  Even if you're a person who thinks they might not care for parsnips — this soup will change you!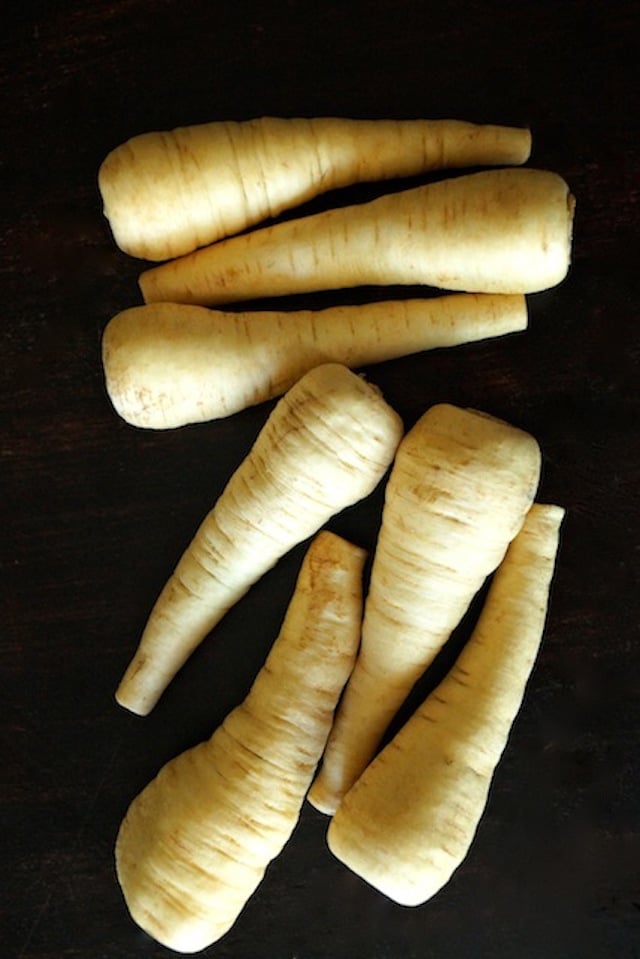 And look at these baby parsnips!
They're not only cute (yes, foods can be cute), but they're more tender and a bit sweeter than the larger parsnips — and they're perfect for making French fries!
Here's an image of a regualr parsnip and a baby parsnip, to give you a little perspective on their size . . .
You can get them in the specialty section of most grocery stores or here from Melissa's Produce.
Enjoy!
Creamy Caramelized Parsnip Soup Recipe with Baby Parsnip French Fries
Ingredients
olive oil for the pans

2½-

pounds

parsnips

peeled and roughly chopped

4 to 5

baby parsnips

peeled and cut into fourths or sixths, lengthwise

1

cup

roughly chopped onion

2

teaspoons

minced garlic

½

teaspoon

ground nutmeg

plus a bit more for garnish

½-

pound

Dutch Yellow potatoes

washed, dried and roughly chopped

8

cups

light vegetable stock

the flavor should be mild

sea salt and freshly ground black pepper
Instructions
Preheat the oven to 500 degrees F and adjust a rack to the center.

Generously coat a baking sheet with olive oil. Add the roughly chopped parsnips and mix them into the oil - dredging them through and coating both sides.


Then do the same thing with the baby parsnip slices, keeping them all in one area, as you'll be removing them from the oven before the rest. Generously sprinkle all of the parsnips with salt and pepper and once the oven has preheated to 500 degrees F, roast them for approximately 30 minutes, flipping them halfway through. The baby parsnip slices should be checked when you flip the rest -- they'll likely be ready to come out of the oven at this point. (Place them on a plate and set aside.) The parsnips should all be golden brown. Set them aside, keeping them on the baking sheet.


Coat the bottom of a large soup pot with olive oil, place it over medium-high heat, and add the onions and garlic. Cook until the onions are nicely caramelized, about 15 minutes.

Add the nutmeg and and stir. Once the aroma has been released, add the potatoes and cook for just a couple of minutes.

Now add the roasted parsnips to the pot (not the baby parsnips -- those are for garnish).

Pour in the stock and bring to a boil. Turn the heat to low, cover and simmer until the potatoes are tender, about 20 minutes.

In two batches, pour the mixture into a very powerful blender and purée until it's as smooth as possible. It should be thick and creamy.

Pour the puréed soup back into the pot and season generously to taste with salt, pepper and maybe a pinch or two of granulated sugar. (

Here's How to Season to Taste

.)

Serve with a drizzle of extra virgin olive oil, a super light dusting of ground nutmeg and a few of the baby parsnip fries.
Save
Save
Save