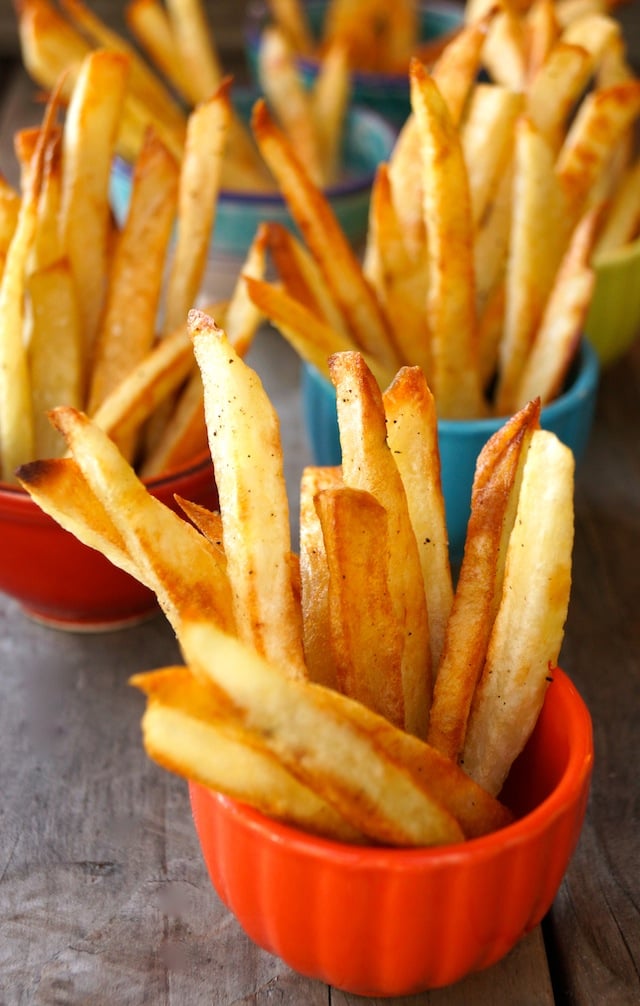 Do you love French fries?  Me too.
Wanna make them today?  Me too.
Yet, do you want to make a big pot of oil super hot and risk making a big greasy mess?  Me neither!
Not only are oven roasted French fries mess-free, they're also very easy to make and they're absolutely just as delicious as those dunked in oil.
Crisped to perfection on the outside, and soft and creamy inside.  You won't be able to get enough!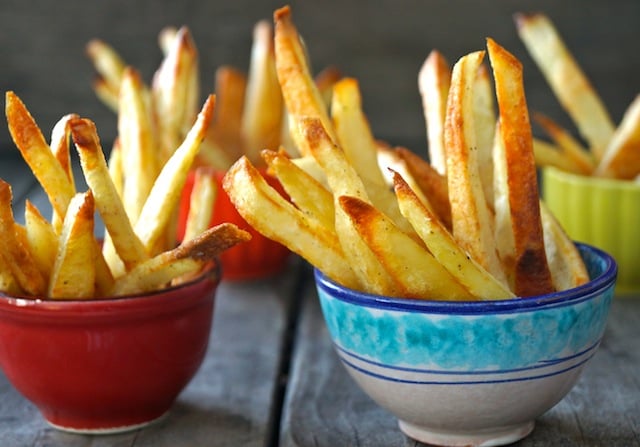 Off we go . . . .
2 (approximately 1-pound) Idaho Russet potatoes will serve 4 (maybe 6 for a smaller snack)
Step 1: Fill a large mixing bowl with ice water.  Set aside.

Step 2:  Start out with a big Idaho Russet potato.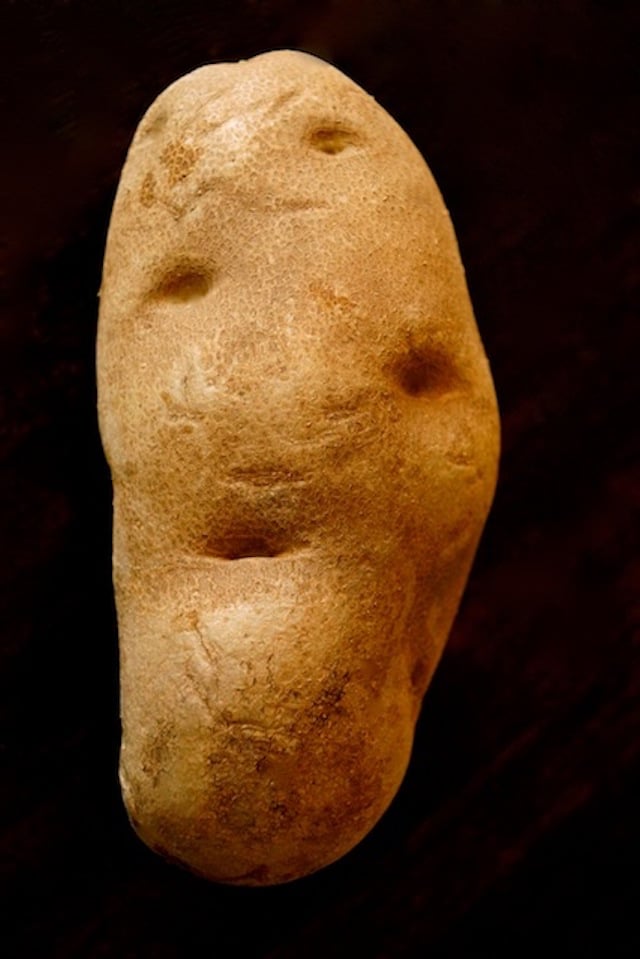 Step 3:  Peel the potato — or not.  It's your call.
I just felt like it today, but I love them just as much with the skin — it creates a slightly earthier flavor.  (If you don't peel them be sure to wash them very well.)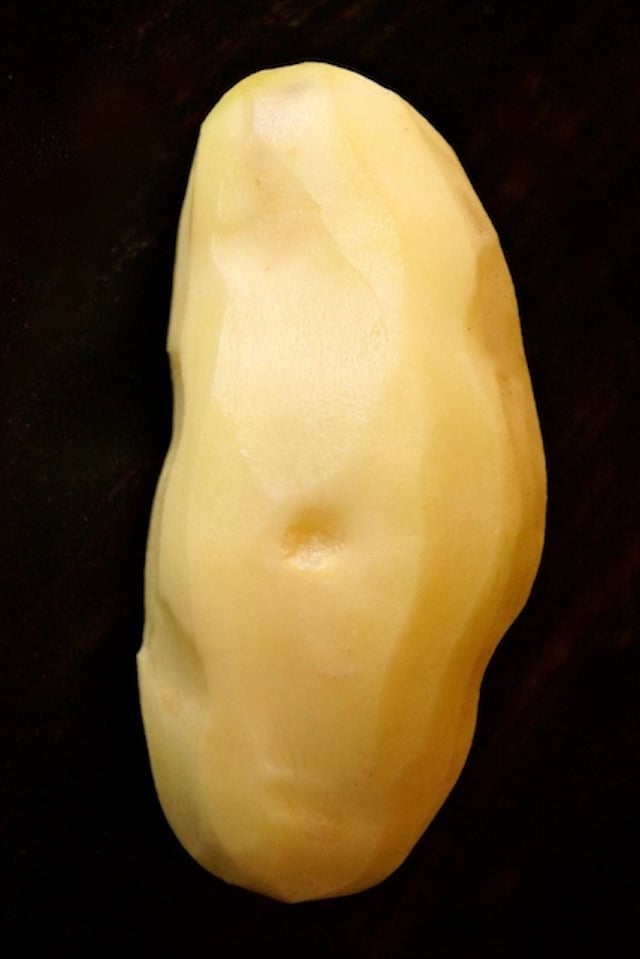 Step 4:  On a clean dry surface, slice about ¼-inch off one of the sides of the potato to create a base.
Set the potato on the base and then cut it into approximately ¼-inch slices.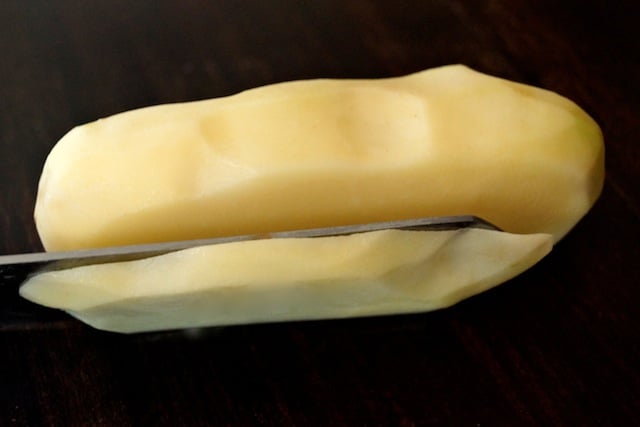 For even cooking, it's important to try to make the slices about the same size.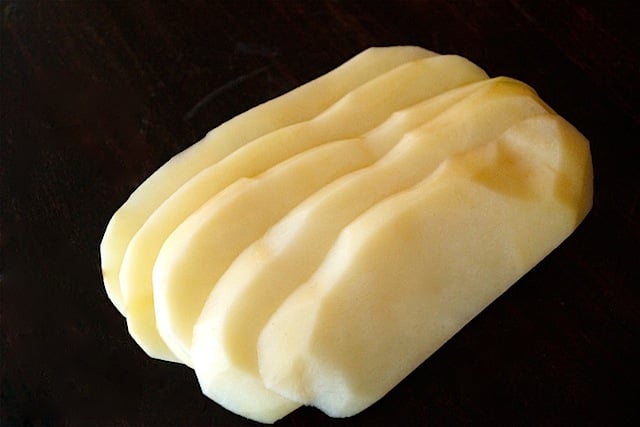 Step 5:  Stack the slices on top of each other and then cut through them to make approximately ¼-inch sticks.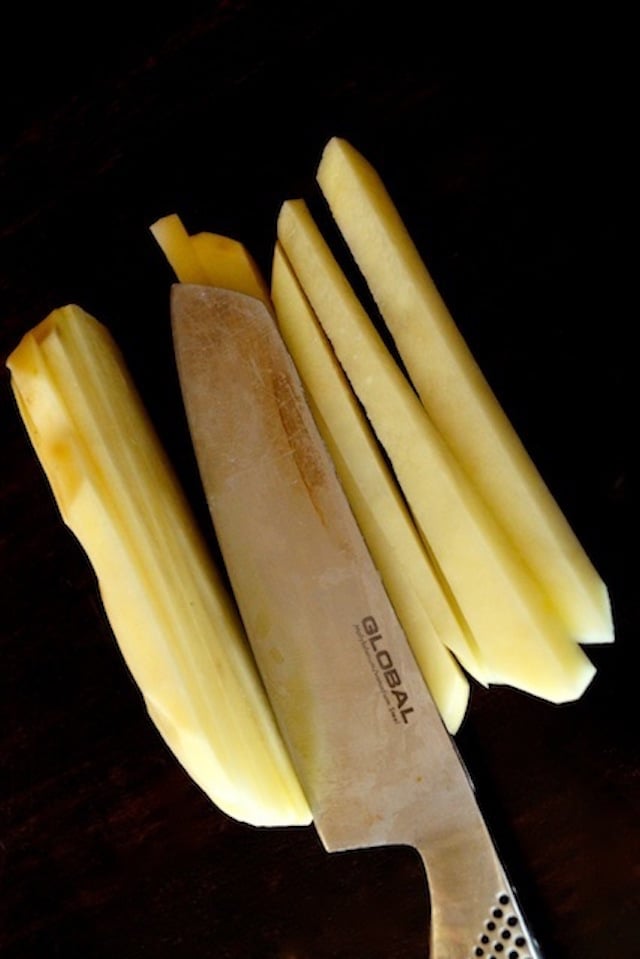 Step 6:  As soon as you've cut the potatoes into sticks, put them into the ice water-filled bowl to soak.
They should be completely submerged.  Set aside, and let them soak for at 1 to 2 hours.  (Soaking them in ice water removes some of the starch and helps to create more crispness.)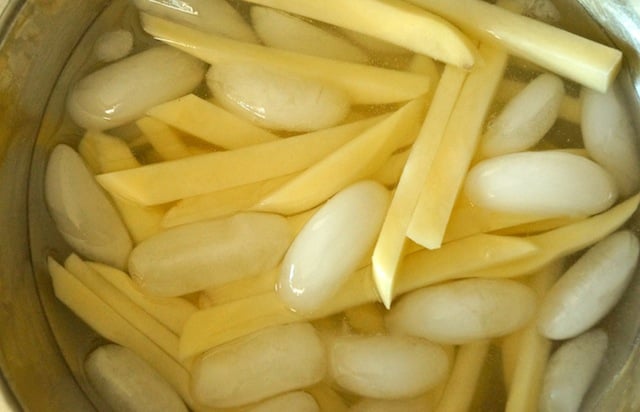 Step 7:  About 15 minutes before you remove the potatoes from the water, preheat the oven to 450 degrees F.
Step 8:  When you remove the potato sticks from the ice water, place them in one layer on a clean dish towel.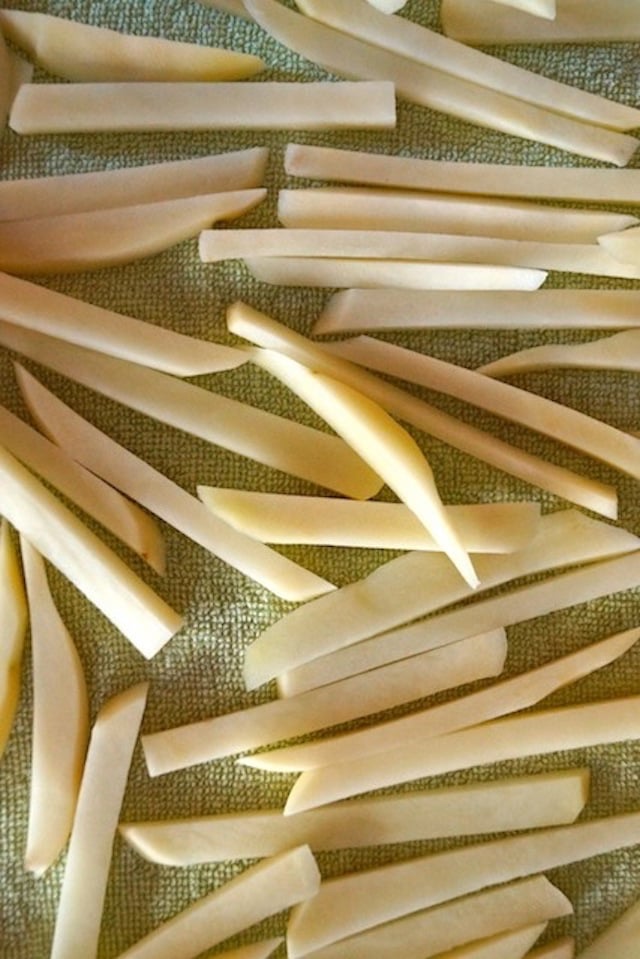 Step 9:  Place another clean dish towel on top and gently press to dry the potatoes completely.
Step 10:  Line a baking sheet with parchment paper and add the potato sticks.  Drizzle them with olive oil and season generously with sea salt and freshly ground black pepper.  Use your hands to be sure they're well coated with the oil. (You only want enough oil to coat them, here should not be any excess — the fries won't reach their potential crispness with too much oil.
Step 11:  Spread them out in one layer on the parchment-lined baking sheet.  It's important that they aren't touching each other.  (Depending on how many potatoes you're using, this might require more than one baking sheet.)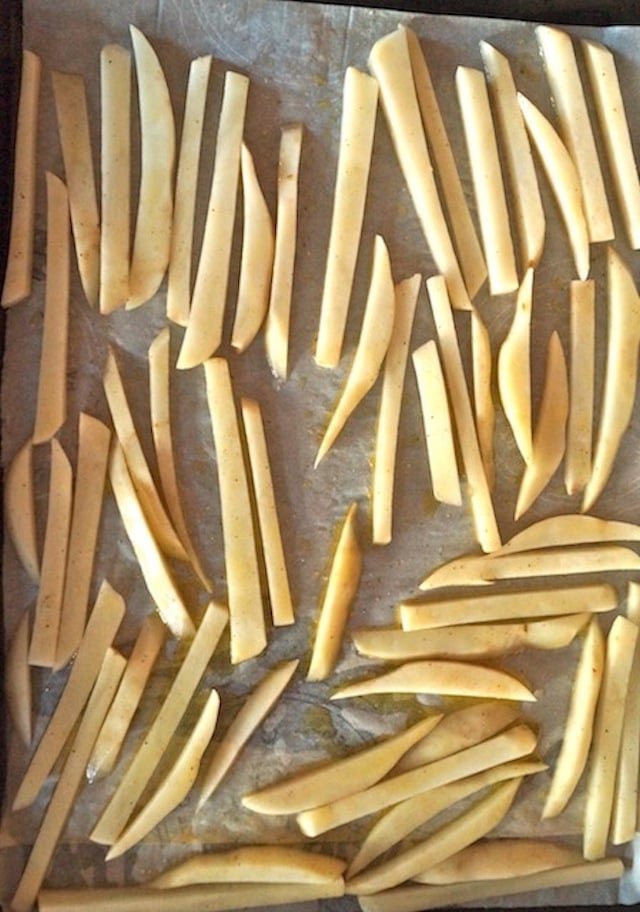 Step 12:  Line a large plate, platter or another baking sheet with a double layer of paper towels and set it aside.
Step 13:  Place the baking sheet in the preheated 450 degree F oven.  Roast until the bottoms of the potato sticks are golden brown, about 15 minutes.   Then flip them over and roast the other side, about 15 more minutes.
Step 14:  Remove the baking sheet from the oven and "pour" the fries onto the paper towel-lined plate.  Quickly taste to see if they need more seasoning, and if so, season to taste with more salt and pepper.  (Here's How to Season to Taste.)  Spread them out on the towel to cool a bit before serving.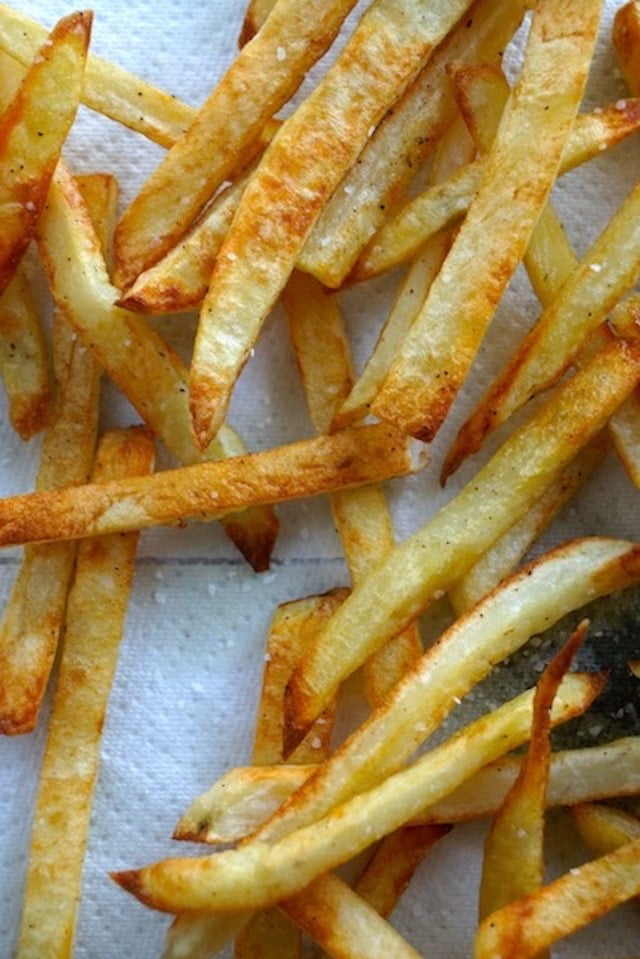 And there you have it!  Yum!
Hungry fro more French fries?  Right this way . . . .
Chile-Lemon Purple Sweet Potato French Fries
Curry French Fries
Smoky Chipotle Parmesan French Fries
Spicy Roasted Daikon French Fries
Save
Save