Root beer and coffee ice cream!  It doesn't get much better than that.  And this float is laced with wonderful memories, too!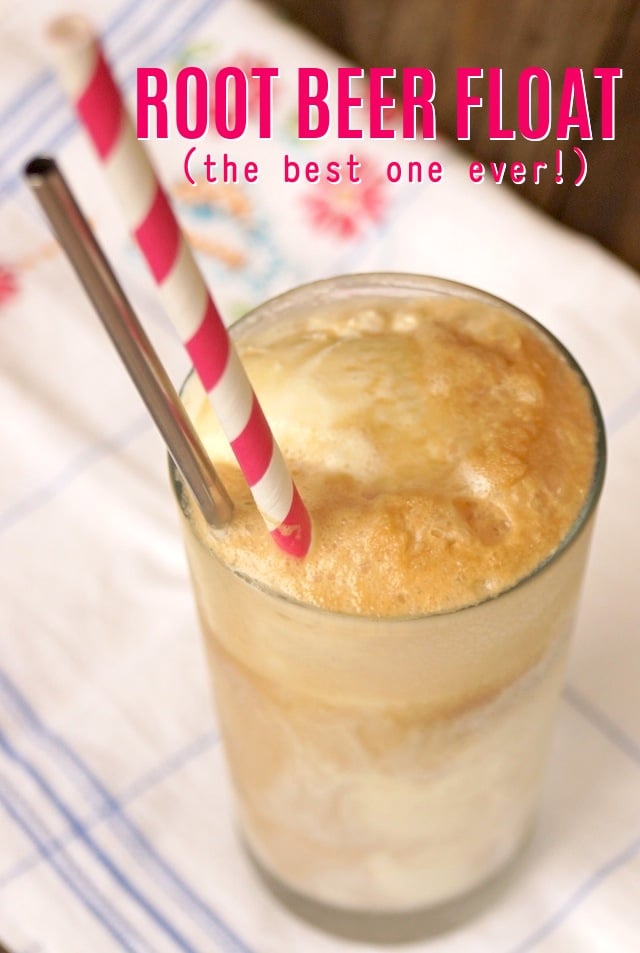 My grandfather made the best Root Beer Float ever.
It wasn't the delicious vanilla and coffee ice cream, or the A&W Root Beer, that made it the best.  (The three key, and only ingredients.)
It was the best because of how he took making this treat so seriously.  Making a Root Beer Float was a tradition for my grandfather.  It was a ceremony.  And it was the highlight of sleeping over at my grandparents house.
I'd stand beside him as he make them right next to the refrigerator on the kitchen counter. I didn't help.  Nobody did, as this was his gig completely.  I absolutely loved watching him execute his masterpiece.
The glasses were chilled in the freezer before they were filled.  A tall silver spoon was used for intentional and quite frantic stirring/mashing of the ice cream with the root beer.  This was not just mixing, this was truly intense — his whole body shook as he did this.  Though this was very exciting, to be honest, when this part was over, it was sort of a relief.
After the floats were completely assembled, my grandfather would put them on a pretty round tray, along with napkins, spoons, flex straws, and containers of any leftover ice cream for seconds.
I'd follow him as he'd walk through the living room and down the hall with the tray.  It always shook shook slightly, and made noises that would make me nervous something might spill.  Nothing ever did, though, as he'd always make it safely to the sitting area in my grandparents' bedroom.  There, on one of the great big chairs with a cute wooden foot stool, I'd have my Root Beer Float while we'd watch TV.  My grandmother would always have one too, and sit in the chair beside me.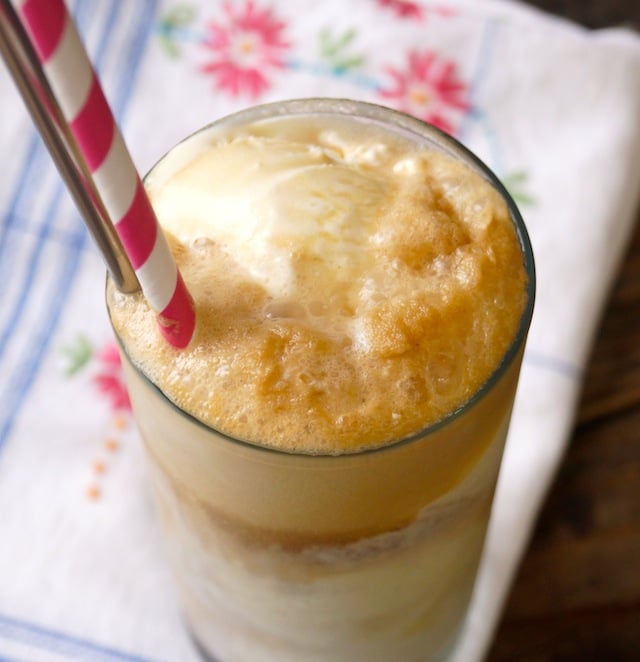 And what really made my grandfather's Root Beer Float the best?  Well, it was made with lots of love, of course.  He'd make them for all of the grand kids, and whether it was me, my brother or any of my three cousins, I believe no step was ever left out.  It was a ritual, after all.
It was incredibly delicious, but that wasn't at all what made it the best.  I would love to be with my grandfather today, watching him make a Root Beer Float — or not.
The Best Root Beer Float Recipe
Ingredient measurements will vary, depending on the size of your glass.
Ingredients
2

scoops vanilla bean ice cream

1

scoop coffee ice cream

about 2 ounces root beer

my grandfather only used A&W
Instructions
Place a tall glass in the freezer for about 5 minutes.

Remove the glass and add 1 scoop of vanilla ice cream, and pour about half of the root beer over it.

With a tall spoon, mash and stir until the ice cream is blended with the root beer.

Add the scoop of coffee ice cream, followed by the second scoop of vanilla, and then pour the remaining root beer over it.

Serve immediately with a straw and tall spoon.
Save