A rich, warmly spiced sauce wraps itself around each of the beef and rice filled cabbage rolls, making for the most delicious comfort food this winter!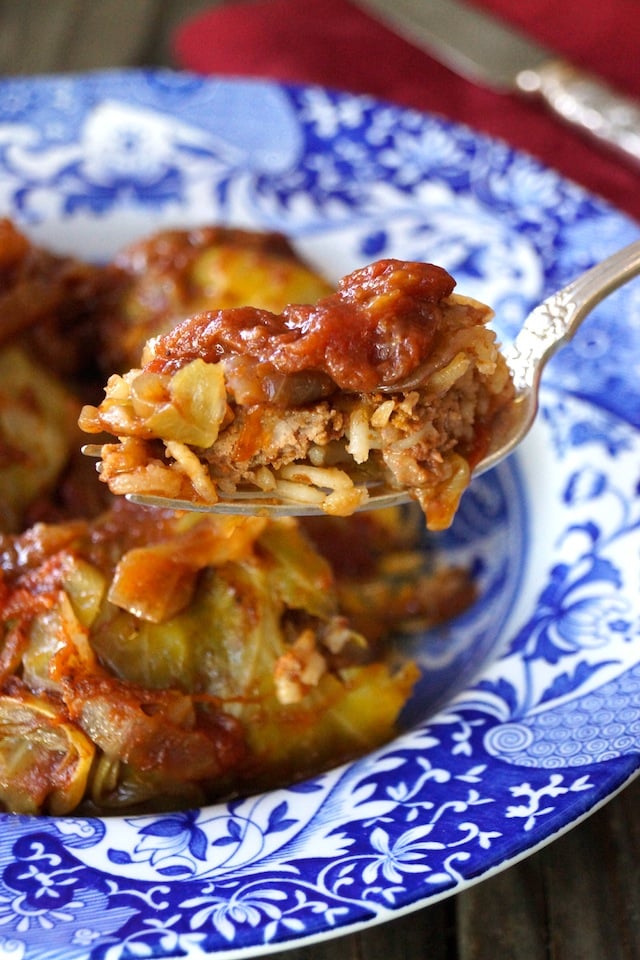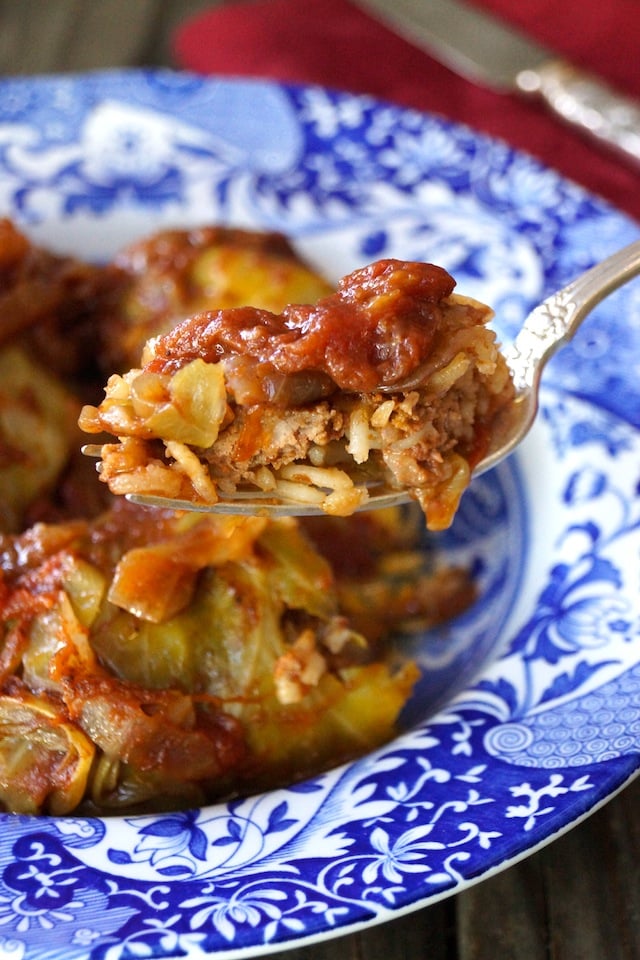 My Grandmother was an excellent cook.
Everything was always delicious and the table was always set perfectly.  (I told you about how fancy I thought my Grandparents were when I shared my version of my Grandmother's Spicy Quick Pickled Broccoli.)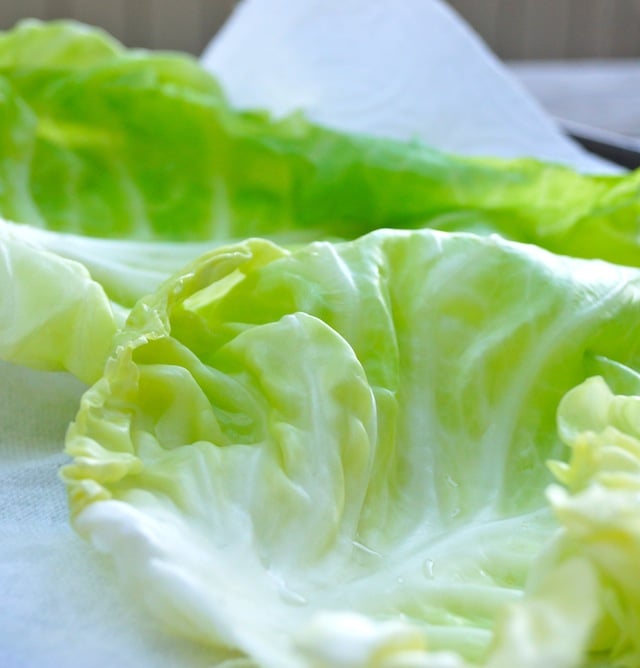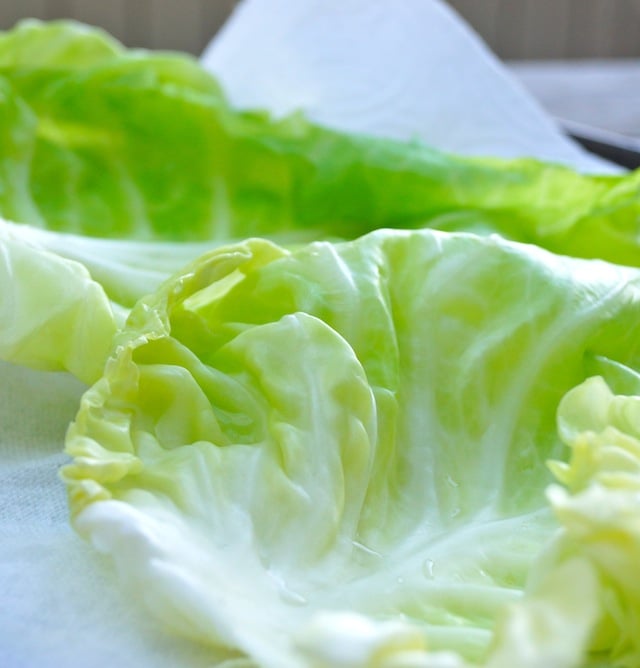 My dad still talks about how my Grandmother followed every recipe  to a T.
I wish I could give you a visual of my dad holding his finger in the air and motioning it sideways to show how she'd level off a ½ teaspoon measurement perfectly, so as not to add a spec too much or too little.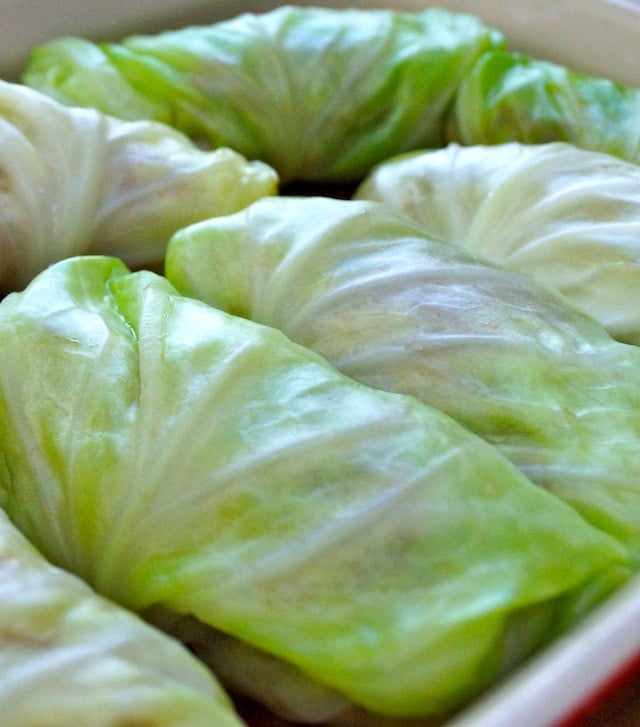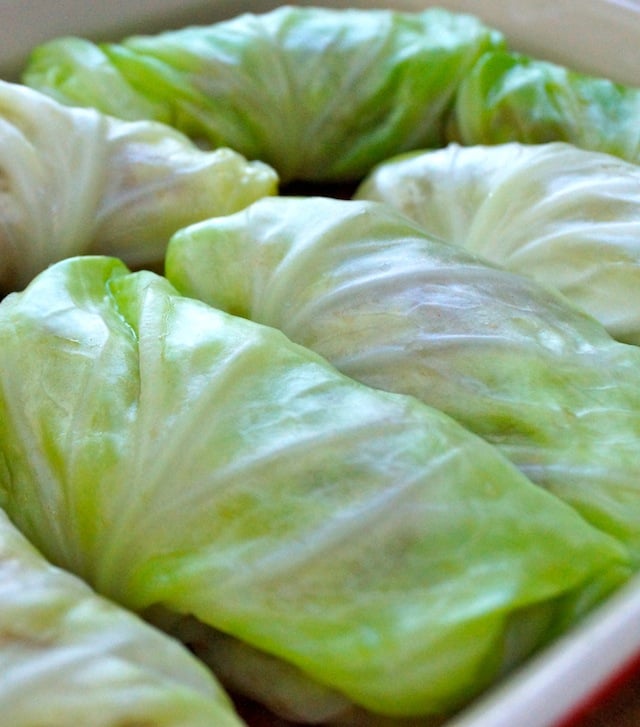 I'm so fortunate to have a collection of my Grandmother's recipes.
Some came from her friends, and some from family, and all were rewritten in her pretty handwriting.
I haven't tried all of them — but over the years, I've been working my way though the book.
I had not looked at the collection for a while, but I woke up a few days ago with a sudden urge to make the stuffed cabbage.  I just had to have it!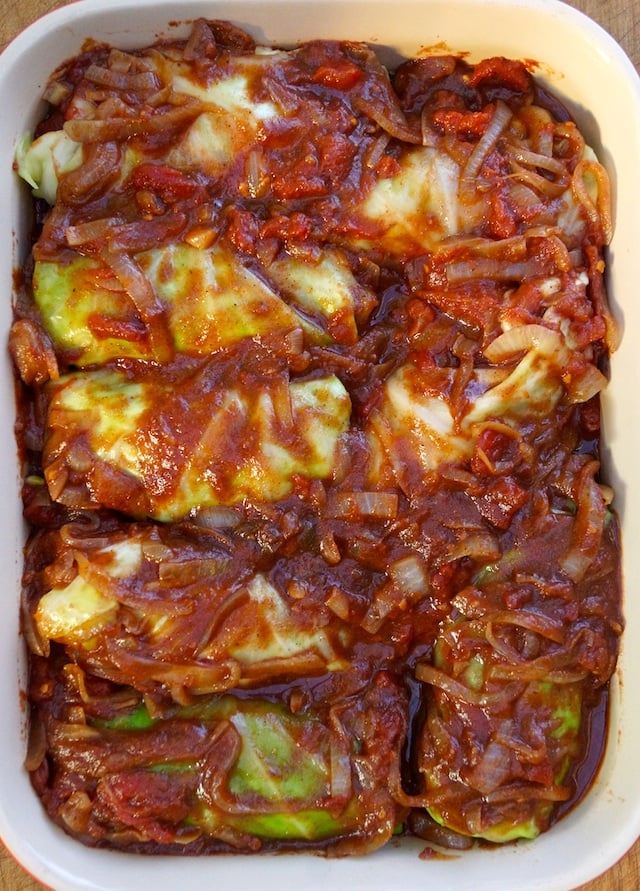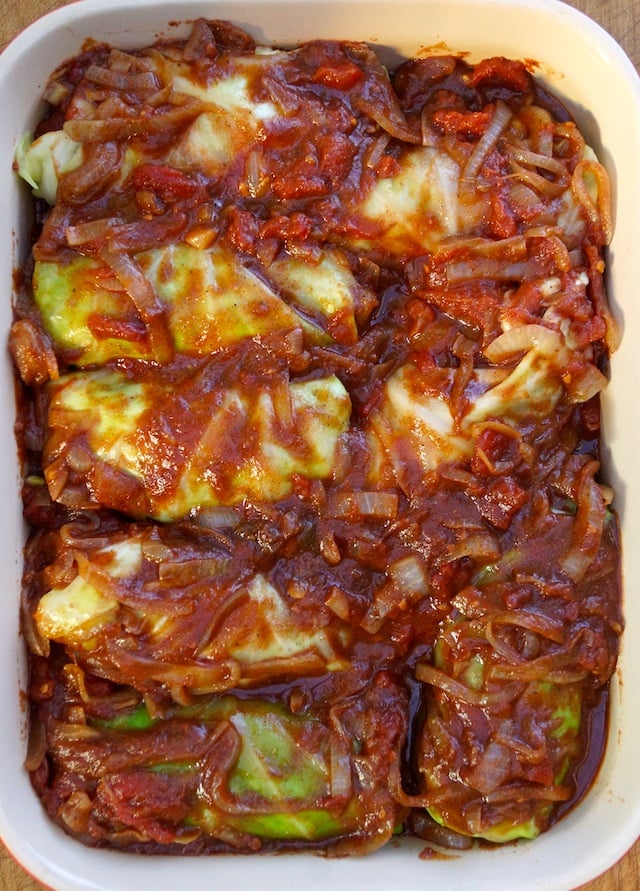 I made the recipe twice — the first time I followed it exactly, since I knew my Grandmother would have.  It was super delicious, though sweeter than I'd remembered.  The second time I made it, I changed it up a bit, taking out some of the sweetness and adding a few additional spices just to dress it up a bit.  I think my Grandmother would approve.  🙂
I have to tell you, it was hard to stop eating this — right out of the baking dish.  It's absolutely scrumptious.
Enjoy!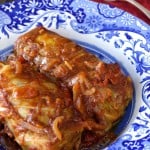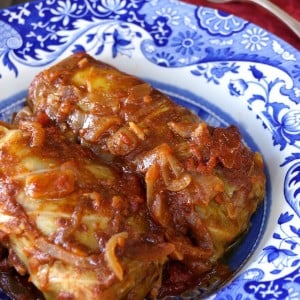 Stuffed Cabbage Recipe with Tomato Caramelized Onion Sauce
Ingredients
For the cabbage
1

head green cabbage

1-

pound

grass-fed beef

1/2

cup

grated brown/yellow onion

from about 1small onion

1/3

cup

canned tomato sauce

sometimes called tomato purée

1/2

cup

raw long grain rice

1

teaspoon

sea salt

1

teaspoon

smoked paprika

1

tablespoon

Worcestershire sauce
For the sauce
olive oil for the pan

3

cups

thinly sliced brown/yellow onion

from 1 1/2 about medium-sized onions

2

teaspoons

minced garlic

from about 3 small cloves

1 1/2

teaspoons

allspice

1 1/4

teaspoon

ground mustard

1

teaspoon

smoked paprika

1 1/2

cups

canned peeled tomatoes in tomato juice

3/4

cup

tomato sauce

sometimes called tomato purée

1/4

cup

dry red wine

1/2

cup

beef broth

2 1/2

tablespoons

red wine vinegar

2

tablespoons

fresh lemon juice

2

tablespoons

brown sugar
Instructions
For the cabbage
Cover a baking sheet with a double layer of paper towels and set aside.

Bring a large pot of water to a boil. Place the whole head of cabbage in the water, root end up. Let it sit in the boiling water for a few minutes, and then use metal tongs to lift it out and onto a kitchen towel.

Very gently lift the 8 outermost leaves off of the cabbage head, trying to keep them as intact as possible. (If some of the leaves are harder to remove, you can put it back in the water for another couple of minutes.) Place 2 to 3 on the towel-covered baking sheet. Then place another paper towel on top before adding the remaining leaves. Set aside. (Save the rest of the cabbage for another use.)

In a large mixing bowl, add the beef, grated onion, tomato sauce/purée, rice, salt, paprika and Worcestershire sauce. Use your hands to blend everything together, and do not continue to mix once everything is evenly incorporated. Cover with plastic and set aside.

Preheat the oven to 325 degrees F, and adjust a rack to the center.
For the sauce
Coat the bottom of a large sauté pan with olive oil and place it over medium heat. Add the onions and garlic and sauté, stirring every couple of minutes, until he onions are soft and golden, about 15 minutes.

Add the allspice, mustard and paprika, mix and let it sauté until it's aromatic, about 30 seconds.

Add the tomato sauce/purée, tomatoes, wine, broth, vinegar, lemon juice and sugar and stir to blend. Use a wooden spatula to break the tomatoes into smaller pieces and bring to a boil. Then turn the heat to low and simmer for about 10 minutes.
Assembly
Add a few large spoonfuls of the sauce to the bottom of an (approximately) 9 X 13 X 2-inch baking dish.

Lay the cabbage leaves, round side down, on a clean, dry surface, and use a paper towel to dry them if they're still damp. Use a paring knife to cut out the lower portion of the root if it's tough. Then add about 1/2 cup of the meat mixture to the bottom of each leaf.

Once you've made all of the rolls, pour all of the remaining sauce over them, cover the dish with foil, and place in the preheated 325 degree F oven for 1 hour and 20 minutes. Uncover and cook for another 10 minutes.

Remove from the oven and let it cool for a few minutes before serving.
Save