Smoky, Sweet & Spicy Pork Ribs — Super succulent and tender, these pork ribs are made with a delicious spice rub that becomes a wonderful sauce as they slow roast to perfection.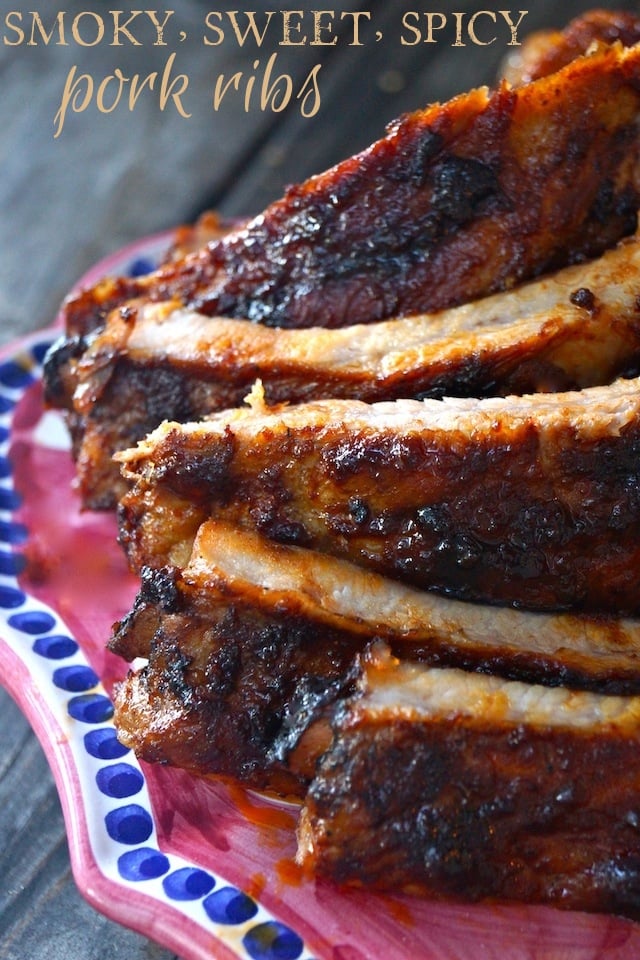 My husband's birthday was last week, and I love that he requested these Smoky, Sweet and Spicy Pork Ribs for dinner!  Love it!
Do you remember my husband's culinary story?
He was a Vegetarian for 21 years and a year or so ago he decide to eat meat again.  (Why?  You can check out his explanation here.)
While none of my his (often quirky) eating habits have ever truly bothered me, I do love his new meat eating ways.  Especially this time of year as it cools down, when I typically start cooking all sorts of comfort food meals, which often include slow roasted meats.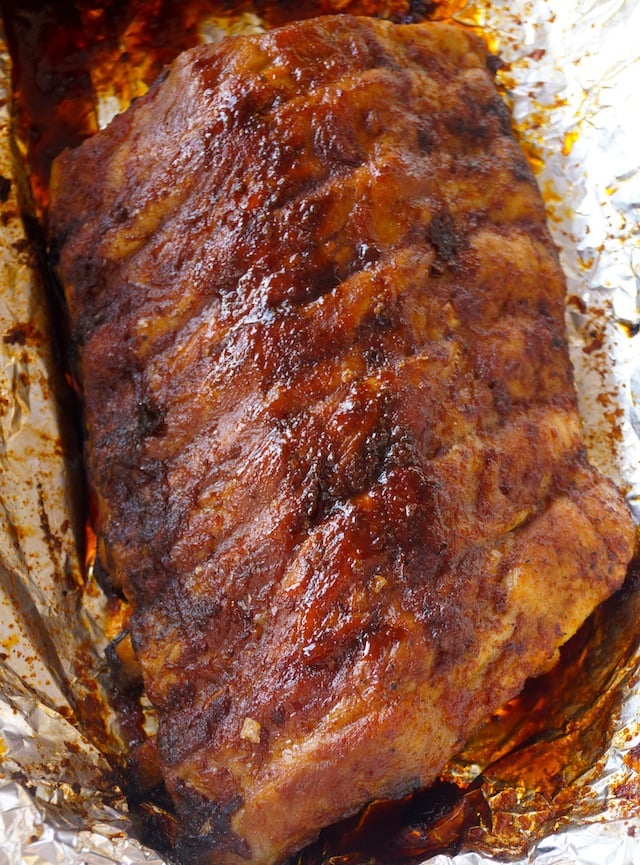 These ribs are not to be missed!
They're so incredibly succulent and tender!  And the spices pack every bite with delicious flavors!
Whether you're having guests or an intimate dinner with family, everyone will be wowed!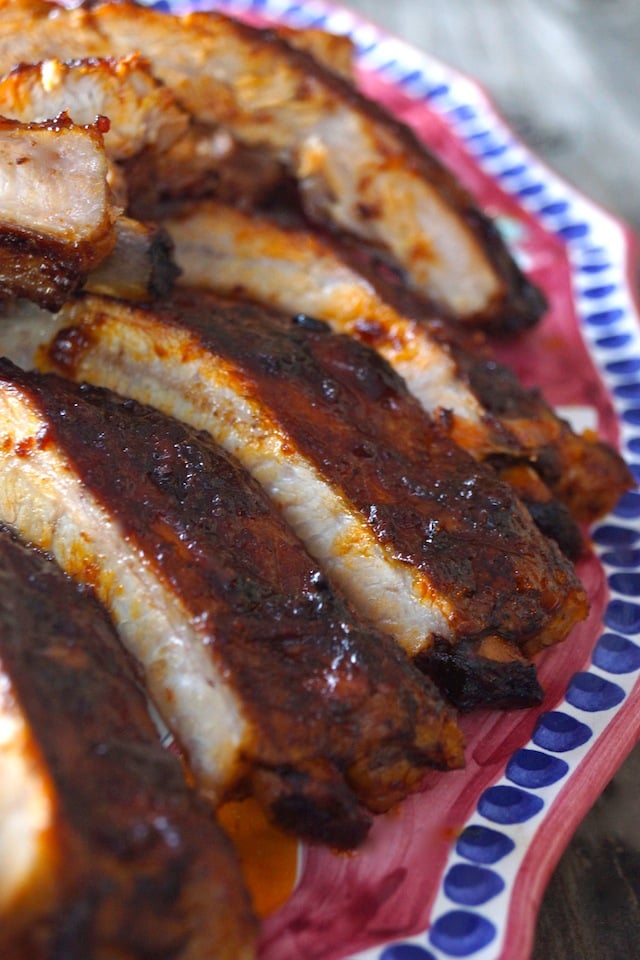 Enjoy!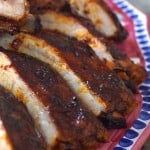 Smoky, Sweet and Spicy Pork Ribs Recipe
Cook Time
2
hours
15
minutes
Total Time
2
hours
30
minutes
Ingredients
3

tablespoons

golden brown sugar

1 1/2

tablespoons

smoked paprika

2

teaspoons

mild chile powder

see notes

1

teaspoon

garlic powder

1

teaspoon

onion powder

smoked sea salt and freshly ground black pepper

see notes

olive oil for the pan

approximately 2 1/2-pounds pork ribs
Instructions
Preheat the oven to 300 degrees F and adjust a rack to the center.

In a small bowl, combine the sugar, paprika, chile powder, garlic powder and onion powder. Mix to blend. Set aside.

Add two layers of foil -- or one layer of heavy-duty foil -- on a baking sheet. Set aside.

Coat the bottom of a large sauté pan (preferably cast iron) with olive oil, and place it over high heat. If the rib rack is too long to fit in the pan, cut it in half, between the center ribs.

Place the ribs on a clean, dry surface and season both sides generously with the smoked salt and pepper.

Once the pan is very hot, add the ribs, meat side down. Sear them just until there's a nice golden "crust," about 3 minutes. You can use metal kitchen tongs to move them around to be sure the entire surface of the meat is seared.

Place the ribs, meat side up, on the foil-lined baking sheet and sprinkle half of the spice mixture over them. They should be very well coated, and you should use your hands to spread it around if necessary, and gently rub it in.

Flip them over and add the remaining spice mixture to the bony side, again, using your hands to spread it around and rub it in.

Keeping the ribs meat side down, wrap them in the foil -- crimping it together at the top and on each end. There should be a couple of inches of air space between the ribs and the foil.

Keep the wrapped ribs on the baking sheet and then place them in the preheated 300 degree F oven until they're very tender (a knife should very easily be able to slide into the thickest part of the rib meat), at least 2 hours. About halfway through the cooking time, remove from the oven, open the foil and flip the ribs over. Use a large spoon to baste them with any juices in the foil. Reseal the foil and put them back in the oven for the remaining cooking time.

Let the ribs rest, uncovered, for about 5 minutes, and then slice between each bone to separate them.

Serve!
Recipe Notes
I used mild chile powder, but depending on the amount of heat you want, you can use whatever intensity you like. Mild, medium, or hot.

I loved smoked salt for this recipe, but if you use regular sea salt, it'll still be delicious!
Save
Save
Save