This Smoky Paprika-Bacon Roasted Turkey is the mother of all roasted turkeys. Saying it's over-the-top might be an understatement, and it will surely bring your Thanksgiving feast to the next level!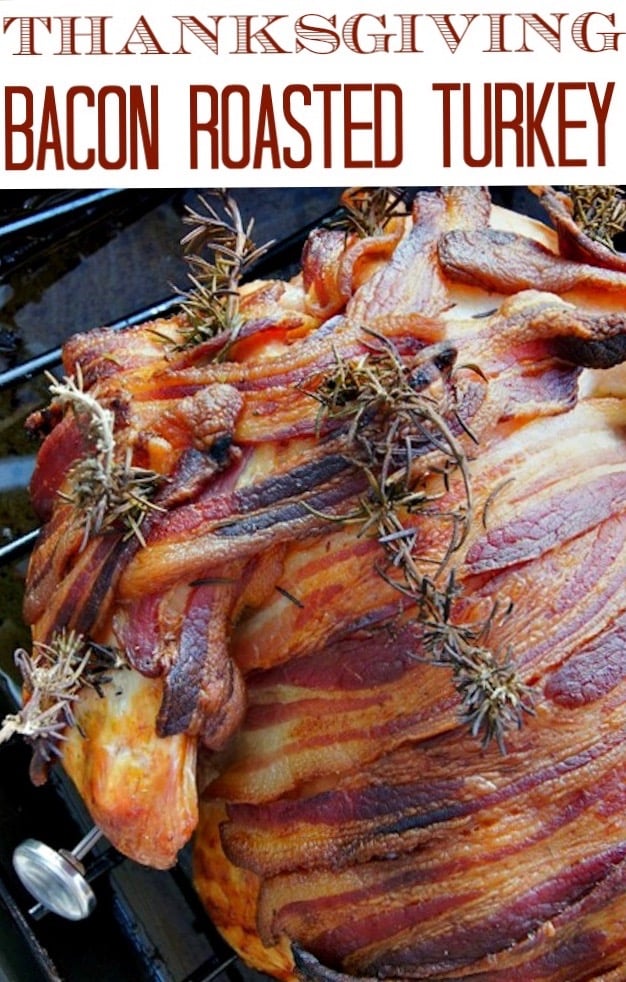 As you know from my Cornbread Stuffing Recipe, Thanksgiving is full of wonderful food and family memories for me.
Inspiration
From my dad's roaring fires in the brick fireplace and the family filling the living room, to my mom's perfect table settings and gravy that cooked for days — it was always a special day in our house.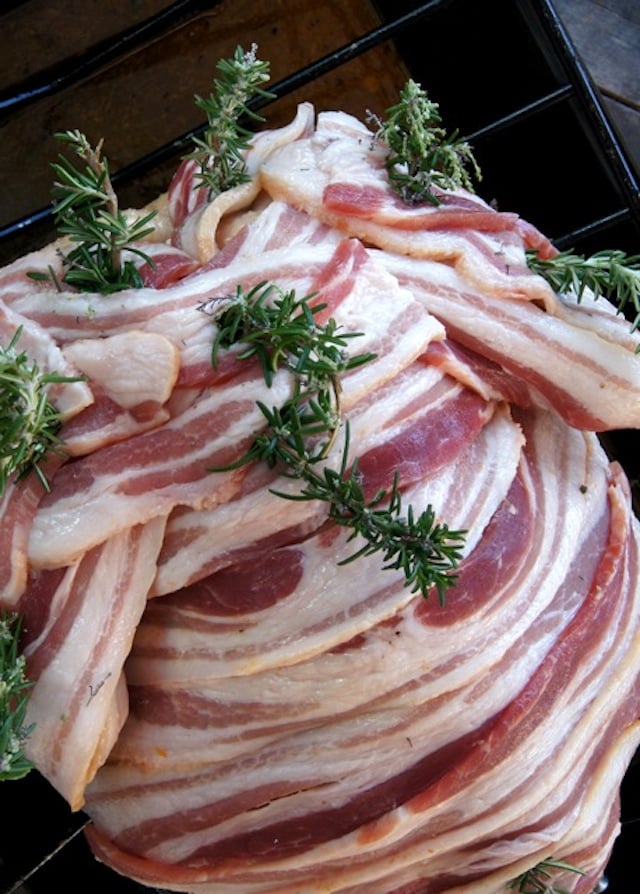 So Thanksgiving happens to be my favorite holiday.
In the last few years, this Smoky Paprika-Bacon Roasted Turkey has become one of our Thanksgiving food traditions. We never tire of it and it's requested each year.
I go nuts with the turkey, and I love the entire process.
Why should you brine the turkey?
If time permits, I highly recommend brining your turkey. Brining will add moisture and flavor and will help keep the turkey from drying out. The Best Turkey Brine Ever is here.
What does wrapping the turkey in bacon do?
Covering the turkey with bacon is brilliant. This "trick" serves as an automatic baster — and adds an insanely delicious smoky flavor to the turkey.
---
The bacon is super delicious to eat along with the turkey — but, it's more about what it does during the cooking process than eating it.
---
During the roasting process, the delicious bacon grease will very slowly drip into every nook and cranny of the turkey.

Tips about what you need to make this Smoky Paprika-Bacon Roasted Turkey?
turkey — The recipe below is for a 12 pound turkey. The general rule of thumb when you're buying a turkey, is 1 pound per person. (Remember each person won't eat a pound of meat! The weight includes bones and everything.) You should purchase your turkey only one to two days before you plan to cook it and keep it stored in the refrigerator until you're ready to pop it in the oven.
applewood smoked bacon — You can use any bacon you like. Applewood smoked, happens to be my favorite. It adds a touch of sweetness.
butter — Be sure it's unsalted. They way you can better control the overall seasonings.
smoked paprika — Any paprika is okay, but the smoked variety adds a touch of extra smokiness that goes so well with all of the flavors working together here.
garlic — A

microplane zester

is the best way to easily mince garlic.
fresh rosemary, sage and thyme — There a very good chance you'll find rosemary growing somewhere in your neighborhood, if not in your own backyard.

lemon juice — If you can get your hands of a Meyer lemon, do it — but, any lemon is okay.

You will also need:
roasting pan
butcher's twine
meat thermometer
heat resistant silicone kitchen gloves or large kitchen tongs
(See images below the recipe.)
So go nuts! Make this oh-so-amazing Thanksgiving Bacon Roasted Turkey! Everyone at your Thanksgiving table will be totally wowed. And that's a promise!
Since Thanksgiving is what it is, here's a timeline to help you out . . .
This timeline is for roasting a turkey that is approximately 12-pounds. Roasting times will change based on the weight of your turkey.
Timeline for Smoky Paprika-Bacon Roasted Turkey:
At least 24 hours ahead of time: If desired, brine the turkey. I highly recommend it! (The turkey will be removed from the brine after at least 18 hours.) The Best Turkey Brine Recipe Ever is here.
Up to 5 days and at least 3 hours ahead of time: Make the butter portion of the recipe.
About 3 1/2 hours ahead of serving time: Begin assembling the turkey with the bacon.
About 3 hours ahead of serving time: Begin roasting the turkey.
I hope you find this turkey as amazing as my family and I do!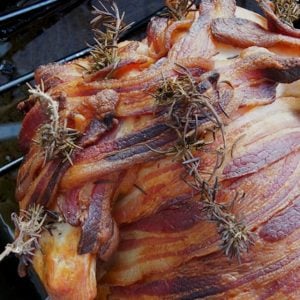 Smoky Paprika-Bacon Roasted Turkey
This turkey will bring your Thanksgiving feast to the next level!

* IMPORTANT * If you're brining your turkey, which I recommend, it must be brined before you begin this recipe. Brining the turkey is not included in the prep time and will take about 20 hours. (Don't worry, 99% of that time is inactive.) Here's the recipe and how to do it.

Keyword:
Thanksgiving turkey recipes, turkey with bacon for Thanksgiving
Ingredients
1/2

cup

unsalted butter,

softened

2

teaspoons

smoked paprika

2

teaspoons

fresh garlic,

minced

2

teaspoons

fresh rosemary,

washed and dried, finely chopped

1

tablespoon

fresh sage leaves,

washed and dried, finely chopped

1

teaspoon

fresh thyme,

washed and dried, finely chopped

1-1/2

tablespoons

lemon juice

1 approximately

(12-pound)

whole brined turkey (click here for brine recipe)

about 12

strips

applewood smoked bacon

about 10

fresh rosemary sprigs,

washed and dried

salt and freshly ground black pepper
Instructions
Preheat the oven to 500°F and adjust a rack that will fit your roasting pan and turkey. The rack will likely need to be below the middle. Then prepare a large roasting pan with a raised rack. Add two cups of water to the bottom of the pan and set aside.

Make compound butter by combining the butter with the paprika, garlic, herbs and lemon juice. Set aside.

Remove the neck and insides of the turkey, rinse it inside and out, and pat dry with paper towels. Use your hands to loosen the skin on the turkey breast and legs. Then rub all but about 1 tablespoon of the compound butter under the skin, being careful to leave it intact. Set the remaining butter aside.

Place the turkey, breast side up, on the roasting rack and into the oven. After about 15 minutes, use a basting brush or your hands to spread the rest of the butter on the turkey's surface. Continue to roast until the skin is brown, about 10 more minutes. Then remove from the oven and reduce the heat to 350°F.

Gently turn the turkey over so the breast side is down on the rack. (Yes, this is tricky with a big turkey -- you might want to use heat resistant silicone kitchen gloves, or hold each end with paper towels for a better grip.) Cover the back and sides of the turkey with the bacon slices, using rosemary sprigs to hold them in place.

Return the turkey to the oven (as it is, breast side down) and roast until the internal temperature is 155°F. The final internal temperature will be about 165°F, as the turkey will continue to cook for several minutes outside the oven. The juices should run clear and the legs should move easily when it's done. Cooking times might vary, but it should take about 2 hours. If your turkey is getting too brown before it has finished cooking, cover it with foil.

Wait at least 20 minutes before carving (this allows the juices to settle). Remove the bacon and add it to your serving platter. Place the turkey slices over the bacon as you carve. Garnish your platter with fresh herbs.
Cooking On The Weekends is a participant in the Amazon Services LLC Associates Program, an affiliate advertising program designed to provide a means for sites to earn advertising fees by advertising and linking to Amazon.com.


Save
Save
Save
Save
Save
Save
Save