Comforting, sweet, savory, creamy & fresh — these Bacon Basil Baked Sweet Potatoes are all of that, and then some!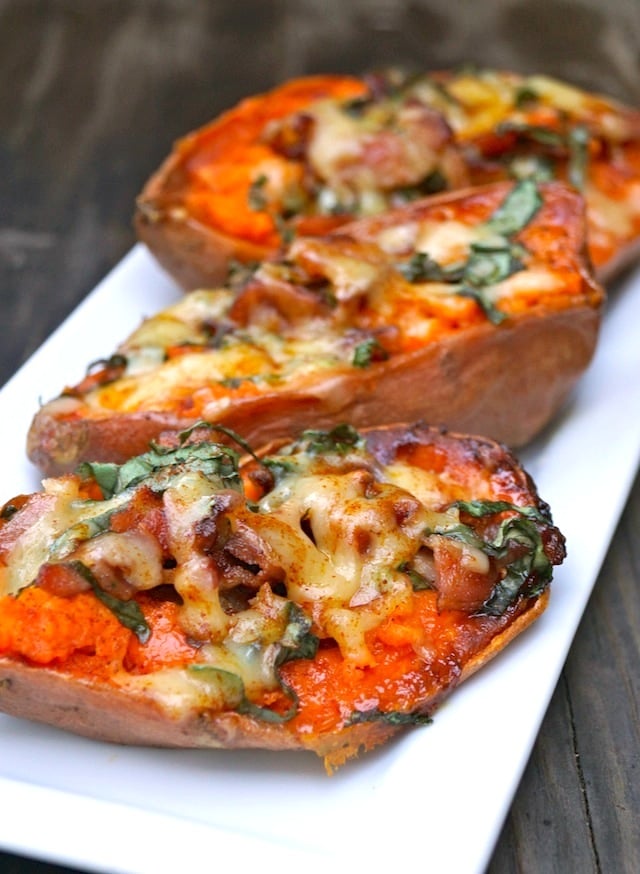 Sometimes I methodically plan out what I'm going to cook for you.  Sometimes days in advance.  Sometimes weeks in advance.  Not this time.
It was only after I took the sweet potatoes out of the oven, when I saw their beautiful orange, soft "meat" fluff up with a fork, that I thought it should be shared.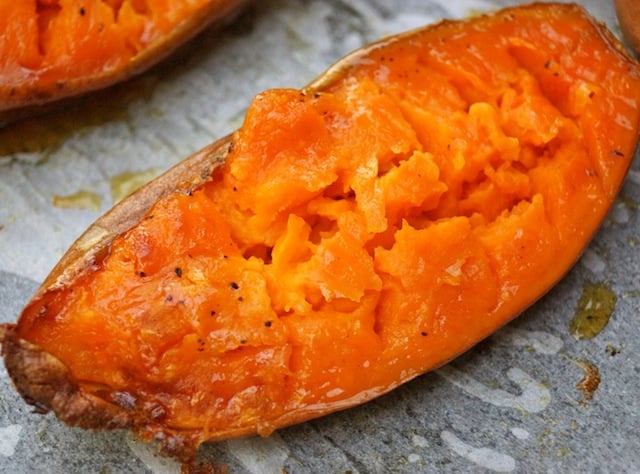 However, although they're super tasty on their own, I couldn't just share the potato.
I had to mix it with a few other flavors and textures.
This was going to be fun!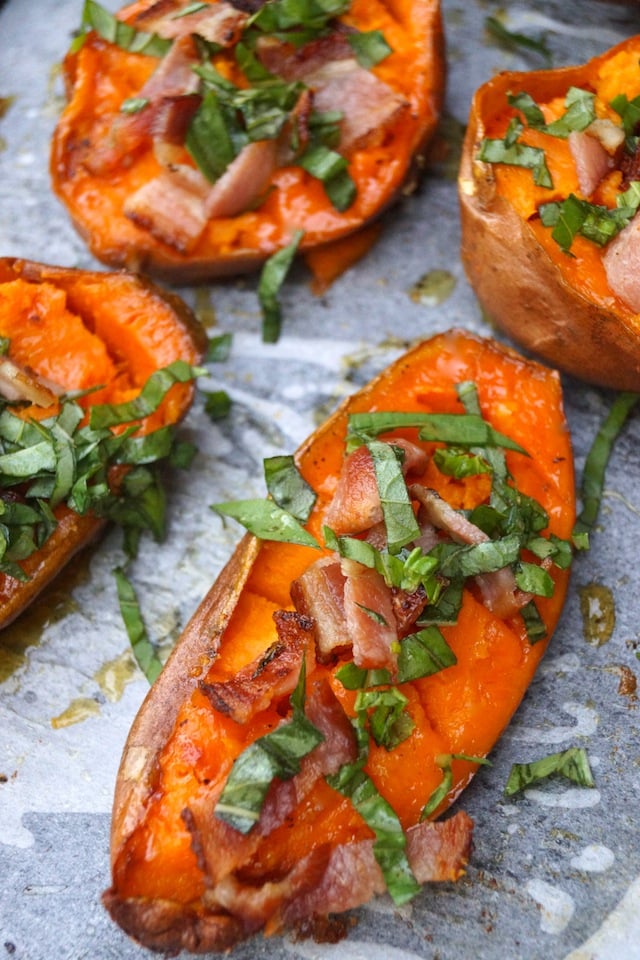 I remembered I had bacon and Gruyère in the fridge.
That was exciting! Perfect, in fact.  Well, almost perfect.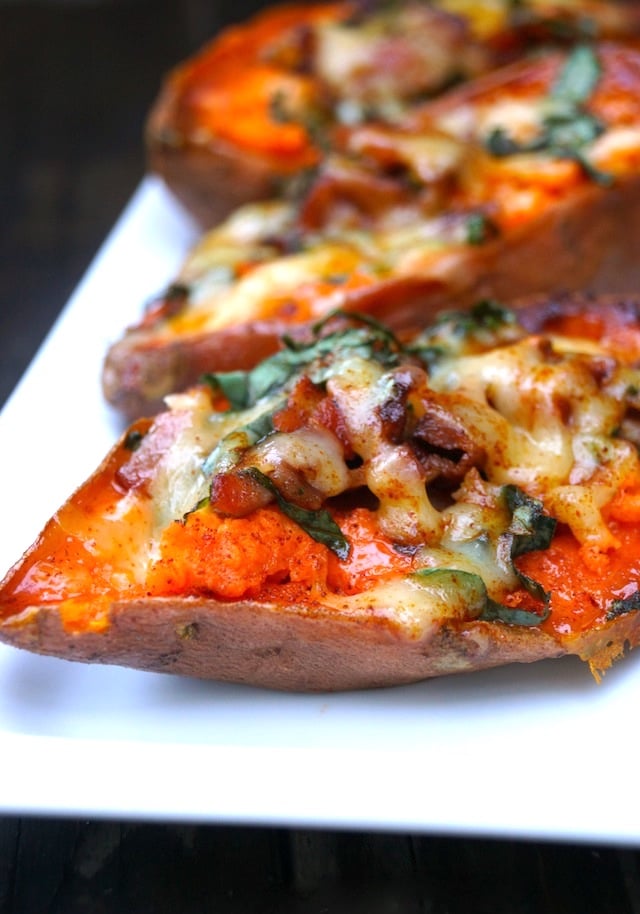 I just needed one more thing that would bring all of this rich deliciousness to life, something fresh, something green. Ahhh, basil!  That was it.
Then it would be perfect. And it was.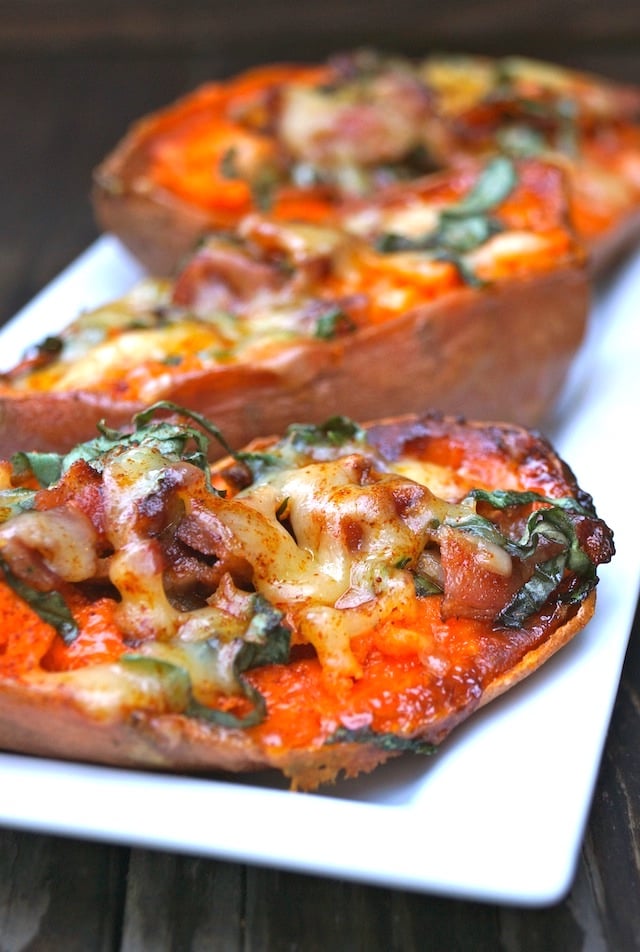 Enjoy!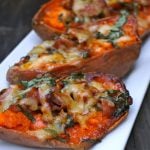 Bacon Basil Baked Sweet Potato Recipe
All of the measurements in this recipe can be give or take -- it does not have to be exact!
Ingredients
olive oil for the pan

3

small to medium-sized sweet potatoes

4

strips applewood smoked bacon

1

dozen large basil leaves

washed, dried and roughly chopped

1

cup

grated Gruyère cheese

1

tablespoon

honey

sprinkle of chile powder

mild or hot, depending on what you like

sea salt and freshly ground black pepper
Instructions
Preheat the oven to 375 degrees F and adjust a rack to the center.

Line a sheet pan with parchment paper and drizzle it with olive oil. Then evenly sprinkle the oil with salt and pepper.

Wash and dry the sweet potatoes, and then cut them in half, lengthwise. Place them on the oiled and seasoned parchment-lined sheet pan, round side up. Roast them in the preheated 375 degree F oven until they are super soft, about 30 minutes.

While the sweet potatoes are roasting, add a layer of paper towel to a plate and set aside. Then add the bacon to a large sauté pan, over medium heat, and cook until it's crispy, about 4 minutes per side. Let the bacon strips drain on the towel-lined plate.

Crumble the bacon and mix it with the basil.

Once you remove the sweet potatoes from the oven, use a fork to gently mash the them inside of their skins. (Keep the oven on!)

Top each one with an equal portion of the basil-bacon mixture.

Now top each one with an equal portion of the cheese, drizzle all of them with the honey and sprinkle each with a touch of the chile powder.

Place the sheet pan in the 375 degree F oven just to melt the cheese and bring the flavors together, about 5 minutes.

Serve!
Save
Save