This super fun, breadless sandwich recipe is over-the-top delicious!  I made it with peppers because I think it's tasty, and it also happens to be perfect for gluten-free grilled cheese!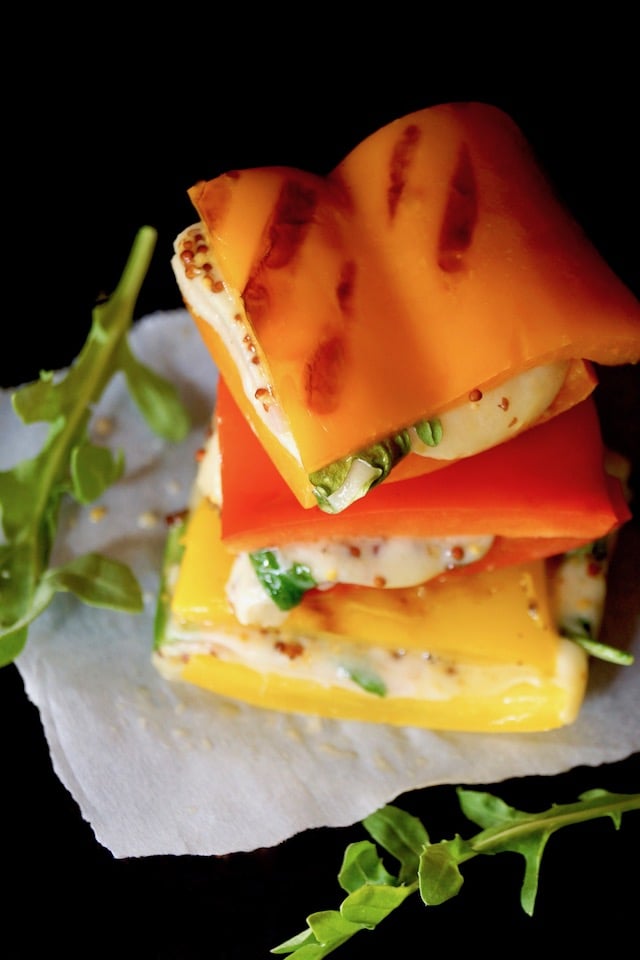 Have you ever done an art project that turns out exactly how you imagined it would?
That's what happened here . . . .
I imagined that it might be interesting to use bell peppers in lei of bread for a breadless sandwich recipe.
I imagined it would be unique and healthy.
Then I imagined my favorite cheese — the oh-so-delicious, nutty, creamy Gruyère — melting beneath a slightly sweet slice of ham, peppery arugula, and tangy mustard.
I imagined this would be a phenomenal.gluten-free grilled cheese sandwich.
And it was!
It is!
Not only is it so pretty, but the flavors are superb!
This recipe is a fabulous lunch or dinner, and is a lovely appetizer or hors d'oeuvre if you slice them into small bites.
And guess what?  You can turn this out inside of 20 minutes!
Enjoy!

Breadless Bell Pepper Ham and Cheese "Panini" Recipe
Ingredients
4 large bell peppers, varying colors
1 tablespoon plus 1 teaspoon whole grain Dijon mustard
approximately ½-pound Gruyère cheese
approximately 6-ounces applewood smoked ham
¾ cup loosely packed arugula leaves, washed and dried
extra virgin olive oil for drizzling
sea salt and freshly ground black pepper
Instructions
Preheat a panini press. (See notes.)
Wash and dry the peppers. Slice about 1-inch off the tops and bottoms, including the stems. Then slice each one in half vertically. Use a paring knife to smooth out the inside of each half, and to remove the seeds and membranes. Set aside.
Divide the Dijon among the insides of the pepper halves, and spread it evenly.
Cut the Gruyère into 8 thin slices, just a bit smaller than the size of the pepper halves. Place one slice on each one. Then cut the ham into 8 slices, approximately the same size as the cheese.
Place a few of the arugula leaves on top of each one.
Add a second slice of cheese on top.
Then close them with the remaining pepper halves, smooth side up.
Drizzle the top halves with a bit of olive oil and then sprinkle them with salt and pepper.
Once the panini press is ready (most have a green light - much like a waffle maker), place the "panini" on the bottom "plate," and close. Most presses will take about 5 minutes. I lift the lid a bit when I think it's getting close to check. The size of the panini press will determine how many you can make at once. I make two at a time in mine.
You can serve them whole, or cut each one in half.
Notes
If you don't have a panini press, you can use a stove-top grill. Just gently press down on the top with a flat-bottomed spatula during the cooking process.
Save
Save
Save
Save
Save