This Passion Fruit Mousse is deliciously light and creamy. Passion fruit desserts are so wonderful as they are almost always tart, sweet and aromatic.  This mousse is not exception, and it's lovely served on its own, and fantastic with chocolate!
Thirteen years ago, at a friends birthday party, I had a bite of one of the most delicious things I'd ever tasted.  It was light and airy, and sweet and tart.  I couldn't pin point what the tropical, somewhat intense flavor was.
About three bites in, I asked my Brazilian chef friend, Roasalia, who'd catered the party. Turns out, I was eating passion fruit mousse.
This was not just any passion fruit mousse, oh no — you see, everything made by Rosalia was special.  So I know it was not only created perfectly, but it must have been full of good vibes and love.  (Those are bona fide ingredients, you know.)
While for me this was something new, Rosalia told me how popular passion fruit desserts are in Brazil and that passion fruit mousse is quite common there.
Let me tell you, once I learned this divine flavor I couldn't name was passion fruit, it's become one of my favorite tropical fruits.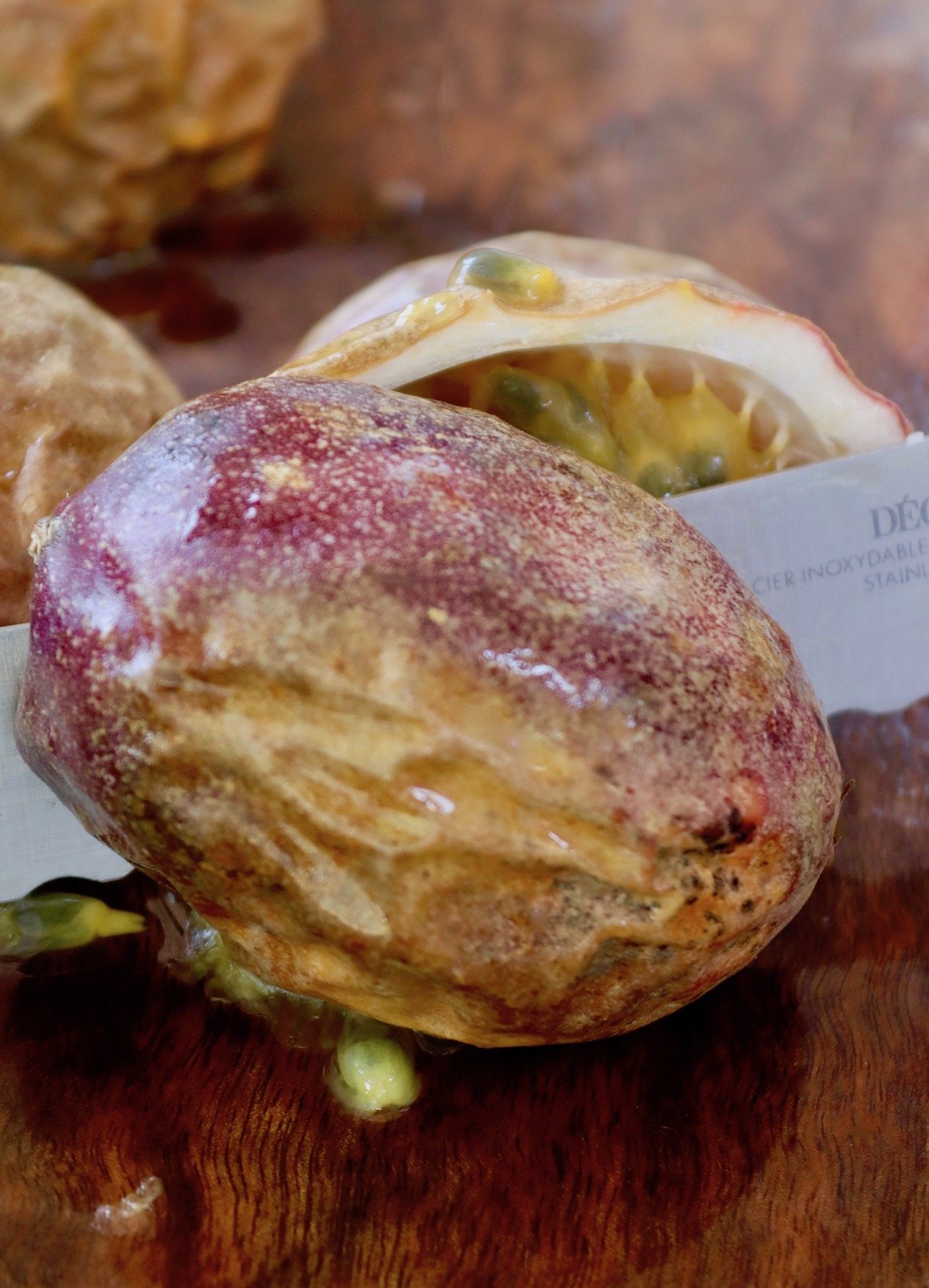 The passion fruit mousse was thick, rich and creamy, while somehow still light. And it was ever so delicately flavored with the absolutely dreamy, tropical taste of passion fruit.
You can buy frozen passion fruit juice at most Latin markets — OR — you can learn how easy it is to cut and juice fresh passion fruits here, which of course I think is the way to go, but I promise I won't judge if you purchase.
My passion fruit mousse recipe isn't Rosalia's, though I think the flavor and texture are pretty close.  I hope you love it!
And here are a few more delectable passion fruit desserts:
Passion Fruit Mousse Recipe
Ingredients
2

cups

heavy cream

½

cup

passion fruit juice

about 10 passion fruits

¾

cup

sweetened condensed milk

¾

teaspoon

vanilla
Instructions
Use an electric mixer with the whisk attachment to whip the cream until stiff peaks form.

Fold in the passion fruit juice, condensed milk and vanilla and mix only until everything is evenly incorporated.

Chill the mousse in the refrigerator, (covered either in a bowl with plastic wrap or in a plastic container with a lid), for about 2 hours before serving.
Recipe Notes
Please note that 2 hours of the prep time is inactive. And juicing the passion fruit is not included, which would take about 10 additional minutes.
Save