A savory, comforting and scrumptious hand pie for any time of year!  It's packed with delicious Cacique® Pork Chorizo, Cacique® Panela cheese and creamy potatoes — and all inside a flaky, buttery, sesame crust.  One won't be enough!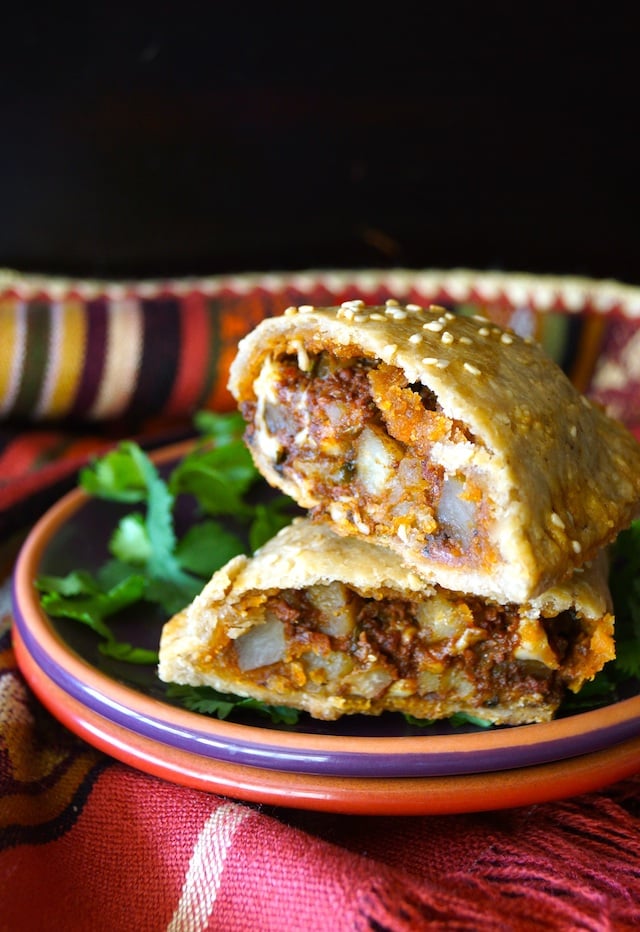 This is a sponsored post by Cacique Inc. and Society Culinaria.  All opinions are my own.  I only write about products I love, and I thank you for supporting the brands than make Cooking On The Weekends possible.
Last year I introduced you to Cacique, one of my favorite food brands. As a refresher, Cacique has an extensive line of Mexican-style cheeses, cremas, chorizos and yogurt smoothies — and they're all so good!
Today I have a new recipe using Cacique® Panela Cheese and Cacique® Pork Chorizo. It's amazing! In my humble opinion, of course. 😉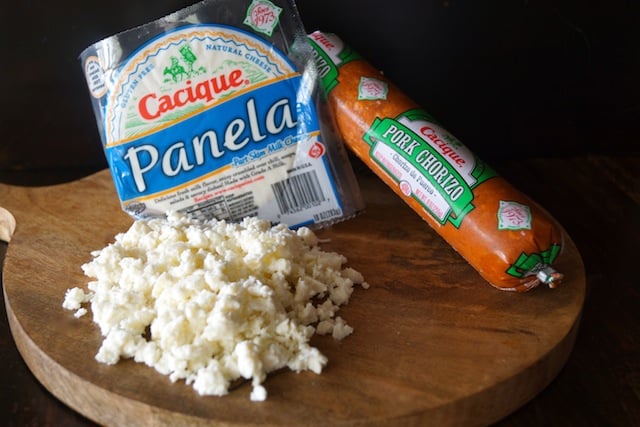 I'm excited to be one of ten food bloggers participating in the Cacique Cook Off Challenge!
I was given the task of using a list of ten ingredients to create one recipe.  Two were required Cacique products, and we had to use at least two others.  The catch?  Well, the higher the number of items we used from the list, the better we might do in the competition.  My list: 1. Cacique Panela, 2. Cacique Pork Chorizo, 3. yellow onion, 4. garlic, 5. cilantro, 6. sesame seeds, 7. lemon, 8. unbleached all-purpose flour, 9. potatoes and 10. shrimp.
I loved the challenge and had a moment where I felt like I was on Chopped.  Though even better, because I had more than 30 minutes to cook, and I used nine of the ten! 🙂
Aside from all of the deliciousness, what I love most about Cacique are their four pillars that represent family, quality, integrity and authenticity. Their products are made with over 40 year old family recipes, and a perfect combination of fresh and natural ingredients, which provide unique flavors that are only from Cacique.  Developing recipes with Cacique products is always fun, and these Chorizo-Potato Spiced Sesame Hand Pies were no exception.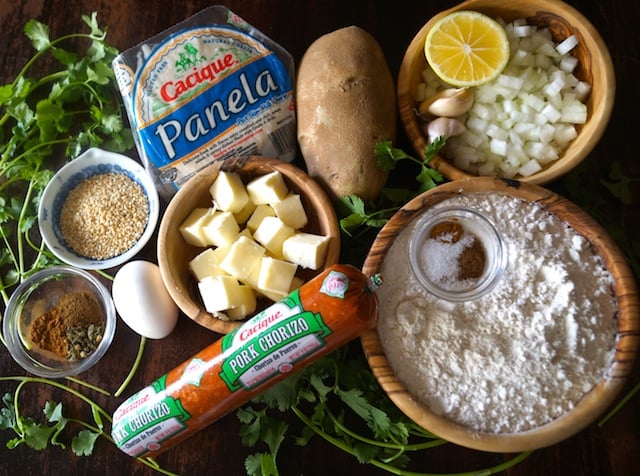 The blend of the ingredients in this recipe is unique and creates an exceptional comfort food – one that's great for lunch or dinner or even an on-the-go snack. (I should know, I've had it for all three!)
Soft cubes of potato are cooked with the wonderfully spiced chorizo and sweet caramelized onion.  And the cheese makes for the perfect amount of creaminess as it melts into the other ingredients as the pies bake.  (All of the Cacique cheeses — and cremas — are made with fresh and natural ingredients, including Grade A milk and sea salt.)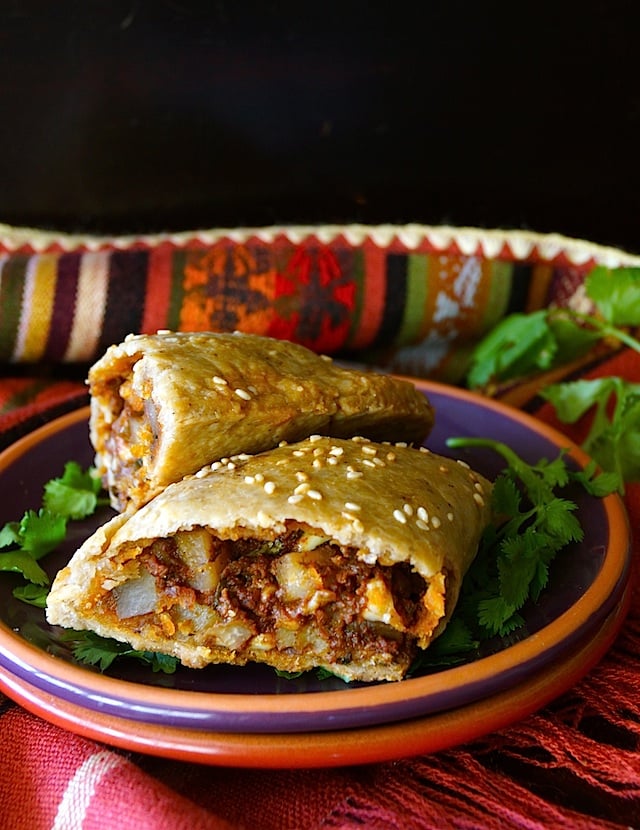 And let me tell you why I am in love with the beautiful crust . . . .
It's flaky and buttery – and it has a special secret ingredient that puts it over the top: ground sesame seeds !  (I had to share the secret with you, but you don't have to tell your guests. Let them guess!)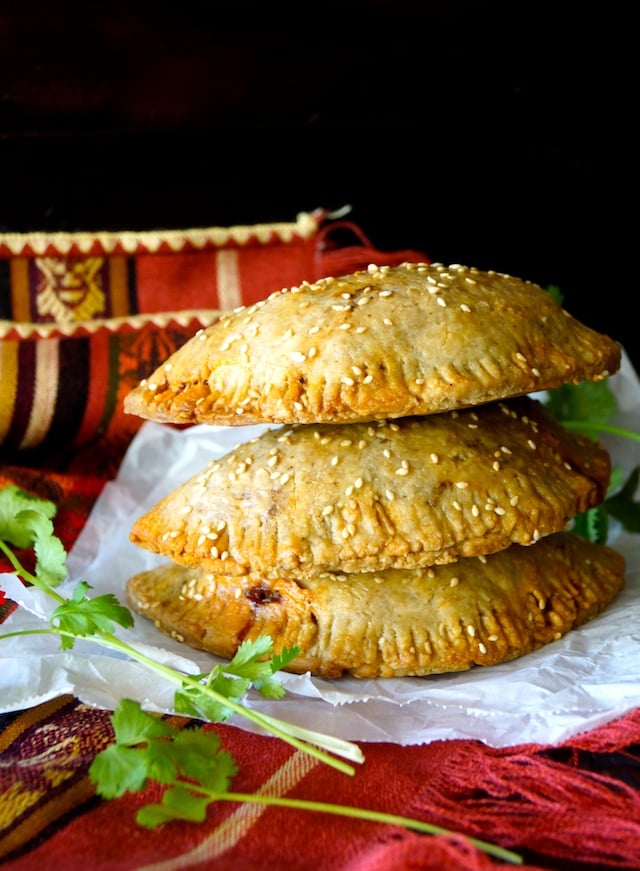 Enjoy!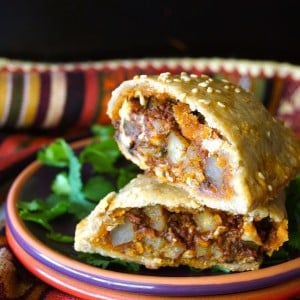 Chorizo-Potato Spiced Sesame Hand Pies Recipe
Ingredients
For the dough
2

tablespoons

plus 1 teaspoon white sesame seeds

3

cups

unbleached all-purpose flour

1

teaspoon

sea salt

1/4

teaspoon

cayenne pepper

1/2

teaspoon

ground cumin

1 1/4

cup

water

1/2

cup

unsalted butter

cut into cubes
For the filling
olive oil for the pan

1

cup

finely chopped yellow onion

2

teaspoons

minced garlic

1

cup

peeled and small diced Russet potato

1

9-ounce package Cacique® Pork Chorizo

1

teaspoon

each: ground cumin and dried oregano

1/2

teaspoon

ground cinnamon

1/2

cup

finely chopped cilantro leaves

washed and dried

2

teaspoons

fresh lemon juice

1

cup

crumbled Cacique® Panela cheese

1

egg

1

tablespoon

water
Instructions
For the dough
Line a baking sheet with parchment paper and set aside.

Pour the sesame seeds to a small sauté pan, and place it over low-medium heat. Move the pan around often, and once they're golden and aromatic, immediately remove them from the heat, about 3 minutes. (Be careful because they can go from golden to too dark quickly!) Add 2 tablespoons of the toasted seeds to a mortar, and set the remaining teaspoon aside for later. Use a pestle to grind the seeds in the mortar until they're a powder. (You can also do this is a spice grinder or mini food processor.) Set aside.

Add the flour, the 2 tablespoons toasted, ground sesame seeds, salt, cumin, and cayenne to a large mixing bowl and stir to evenly blend. Set aside.

Add the water and butter to a large saucepan, and bring to a boil. Remove from heat and use a wooden spoon to quickly stir in the flour mixture, until a soft dough forms.

Divide the dough into 6 equal parts and gently shape them into balls. Place them on the parchment-lined baking sheet, cover with plastic wrap, and set aside at room temperature.
For the filling
Coat the bottom of a large sauté pan with olive oil and place it over medium heat. Add the onion and garlic and cook, stirring often, until the onions are soft and beginning to caramelize, about 5 minutes.

Add the potatoes and cook -- again, stirring often, just until they're becoming tender, about 5 minutes.

Mix in the chorizo, breaking it into small pieces. Sprinkle with the cumin, oregano and cinnamon and stir to blend. Sauté until the chorizo is cooked, about 5 minutes. Remove from the heat and set aside to cool to room temperature, about 20 minutes. Once it's cool, stir in the cilantro, lemon juice, cheese, and season to taste with salt and pepper.
For the assembly and baking
Preheat the oven to 400 degrees F.

Place one of the balls of dough on a piece of parchment paper. Lay a piece of plastic wrap on top, that's a few inches larger than it, on all sides. Use your hands to evenly press down on the plastic wrap, to flatten the ball. Then use a rolling pin, over the plastic wrap, to make a disc that's about 1/8-inch thick and 6-inches in diameter. Set it aside on a plate, with a piece of plastic wrap on top. Repeat the process with each of the remaining balls of dough, piling them up on top of each other with plastic wrap between them.

Now place the 6 discs on the same parchment-lined baking sheet. (It's easy to move them around, if you use the plastic wrap beneath each one to carry them.)

Fold the dough over the filling into semicircles, and use the back of a small fork to gently seal the seams. (If desired, you can trim around the edges of the seam with a paring knife at this point for a more even, neater appearance.)

In a small bowl, whisk the egg with the tablespoon of water. Use a pasty brush to add a thin layer to each one, and then sprinkle them with the remaining teaspoon of toasted sesame seeds.

Serve!
Visit Cacique and follow them on Facebook, Instagram, Twitter and Pinterest where you will find countless recipes for your family with delicious Cacique products.