It doesn't get much prettier than Fresh Fruit Tartlets, and they are especially delicious for a summer treat when berries are at the peak of their season. Sitting on top of a creamy vanilla bean custard in a pastry shell, the fruit is the star of this dessert!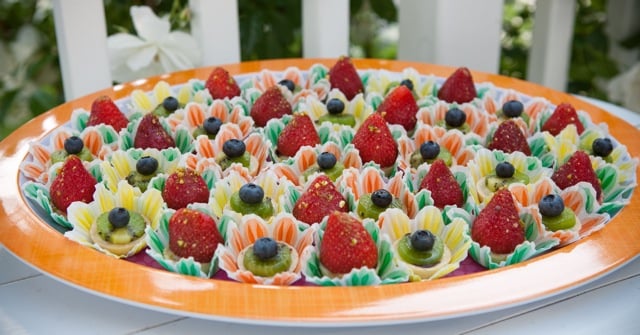 A bite of fresh fruit with Vanilla Bean Custard is the perfect finale for our dessert party!  These Fresh Fruit Tartlets are beautiful and sweet, light and refreshing!
There are a few rules to remember when making perfect Fresh Fruit Tartlets, that I learned many moons ago while apprenticing at a fine French bakery:
The custard must be completely covered with the fruit — not one drop should be visible.
Always, always glaze the fruit.
And finally, never, ever glaze the fruit that's used as garnish.
So there you have it, that's was the French chef said!  (And yes, on the photo below I see there's bit of custard showing on the kiwi tartlette!  Not perfect, but still perfectly delicious!  ;-))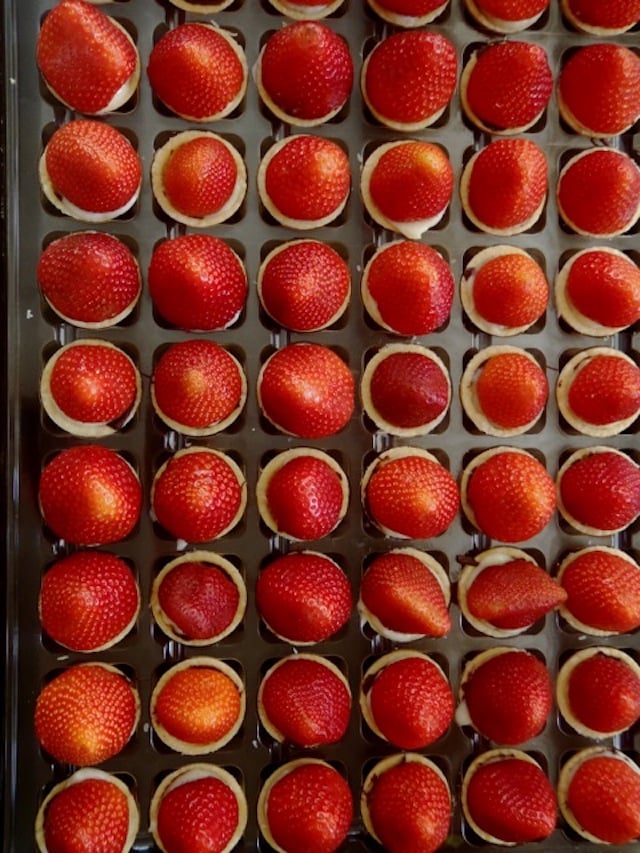 There are a couple things I want to add about throwing a lovely dessert party.  Bite-sized desserts are key!  No one wants to fumble around with a drink in one hand and a plate and fork in the other — trust me.
Also, pretty paper cups!  Love them!  They keep hands clean and they're adorable! I get mine at The Layer Cake Shop.
How pretty are these tulip cups holding the Fresh Fruit Tartletes?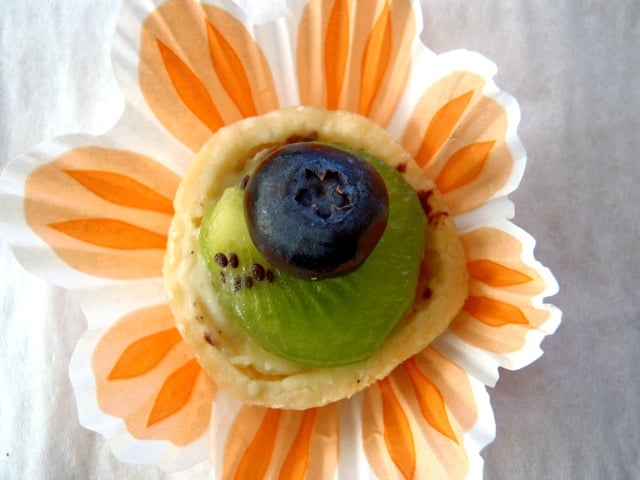 So it's Friday and as the weekend begins, I hope you've decided to share some of these treats with friends and family.
Have them all come over for a dessert party!
Or a Let's-Make-Desserts-Together Party!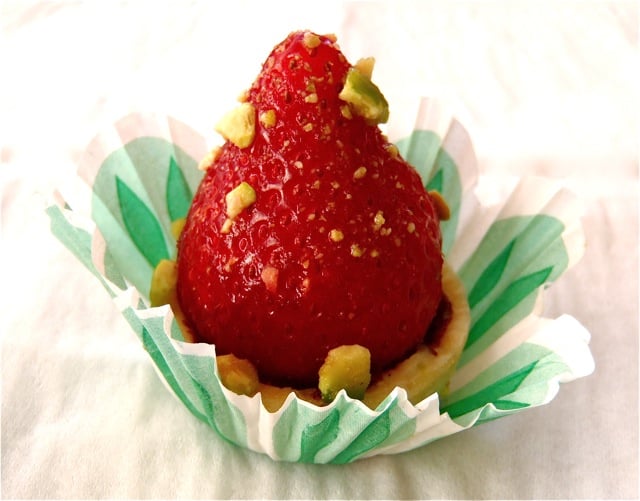 Thank you so much for coming to the first Cooking On The Weekends dessert party!  We'll have another one soon. Promise!
And another big thanks to the oh-so-talented photographer, Trish, who took the first shot in this post. Her work is beautiful and you can see it all at Trish Alison Photography!
If you're loving the sound of these Fresh Fruit Tartlets, you might also like these delicious treats:
Enjoy!
Dessert Party: Fresh Fruit Tartlets
Sitting on top of a creamy vanilla bean custard in a pastry shell, the fruit is the star of this dessert!
Ingredients
60

(approxmately 2-inch)

sweet tart shells

1/2

cup

semi-sweet chocolate,

melted

about 5

cups

fresh fruit of your choice

(raspberries, blackberries, strawberries, blueberries, kiwi)

1

(12-ounce) jar

apricot preserves,

heated, strained

1/4

cup

toasted almonds,

finely chopped
Instructions
Fill a pastry bag with a smooth tip -- or a large zip-lock bag with the custard. Set aside.

Place the tart shells on edged baking sheets and use a pastry brush to thinly coat the bottom of each one with the melted chocolate. Let them set at room temperature to let the chocolate set, about 15 minutes. (This help protect the tart shell from becoming soggy.)

With your pastry or zip-lock bag, gently squeeze the custard into each shell, filling them just below the rim.

Top the custard with the fruit, covering as much of it as possible. Depending on your fruit selection, you might need to slice it before assembling.

In a small saucepan over low-medium heat, warm the apricot preserves and strain it into a bowl. You might need to add a little water to thin it a bit; it should easily run off a spoon. Using a small pastry brush, glaze the fruit on each tartlet.

Sprinkle the fruit with the nuts for garnish or to cover any exposed custard. Strawberries look lovely with pistachios! Garnish kiwi with a berry.
Recipe Notes
The tartlettes can be kept chilled up to 8 hours ahead. You can make them the night before if you wait to glaze and garnish them until the next day.
This is another dessert where I opt out of the time consuming task of making my own tart shells. Truthfully, in this case I think of the shell as more of a vehicle to hold the delicious custard and fruit. These little shells I buy are tasty, cute, and you can find them at specialty kitchen stores.
Save
Save
Save
Save
Save