Fresh Fruit Tartlets are especially delicious for a dessert party when berries are at the peak of their season. Sitting on top of a creamy vanilla bean custard in a pastry shell, the fruit is the star of this dessert!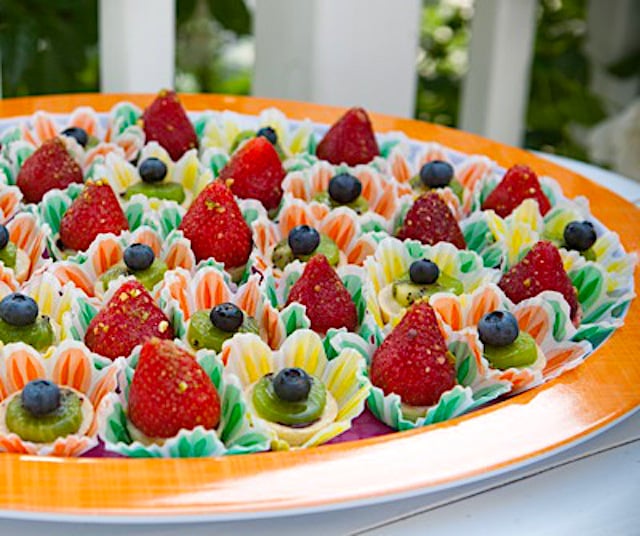 A bite of fresh fruit with Vanilla Bean Custard is the perfect bite!
These Fresh Fruit Tartlets are beautiful and sweet, light and refreshing!
Keys to Making Perfect Fresh Fruit Tarts
(I learned these while apprenticing at a fine French bakery.)
The custard must be completely covered with the fruit -- not one drop should be visible.
Always, always glaze the fruit.
And finally, never, ever glaze the fruit that's used as garnish.
So there you have it, that's what the French chef said.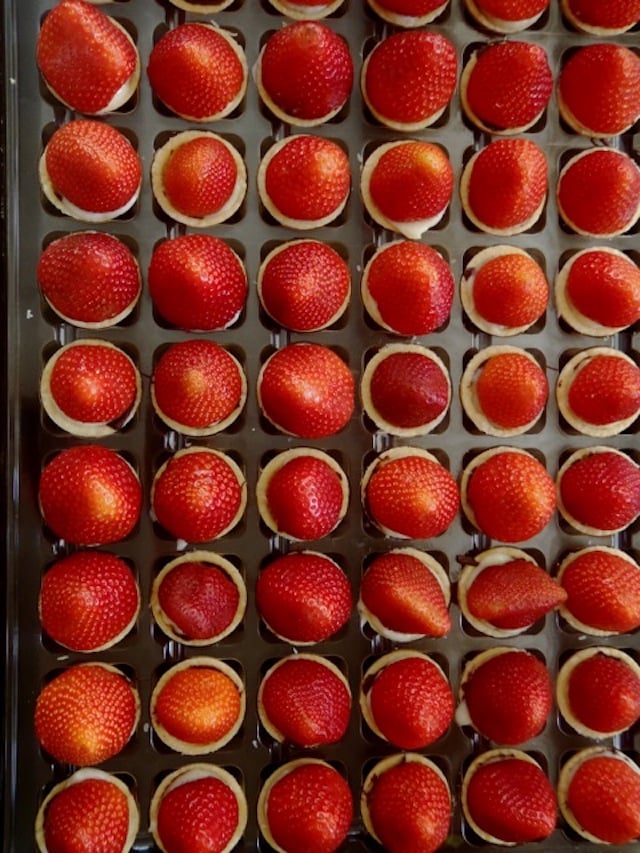 Fresh Fruit Tartlets are Ideal for a Dessert Party
When throwing a lovely dessert party,  bite-sized desserts are key. No one wants to fumble around with a drink in one hand and a plate and fork in the other -- trust me.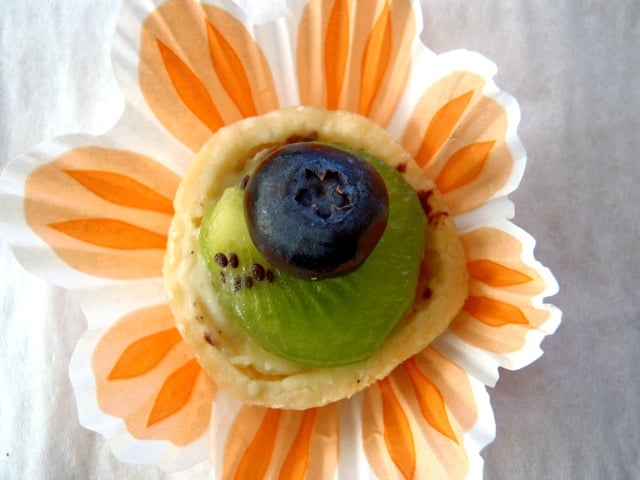 I hope you love these beautiful Fresh Fruit Tartlets as much as I do.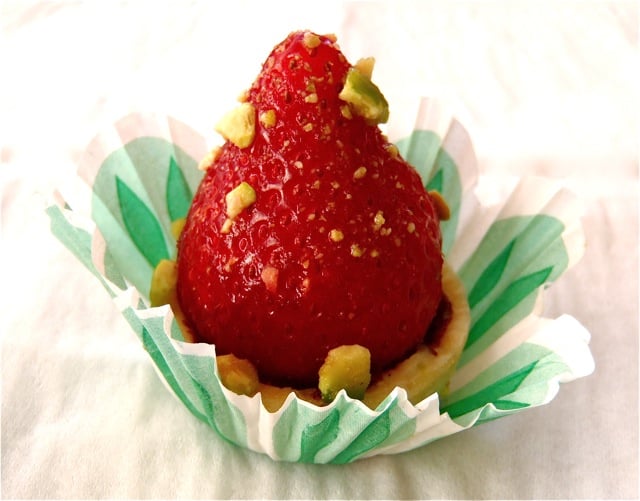 Can you make them ahead?
You can make them the night before if you wait to glaze and garnish them until the next day.
Recipe Tip
The Vanilla Bean Custard should be made at least 2 hours (and up to 3 days) ahead of time.
You can use any nuts you like for garnish -- I especially like using pistachios because of their pretty green color.
This is a dessert where I opt out of the time consuming task of making my own tart shells. Truthfully, in this case I think of the shell as more of a vehicle to hold the delicious custard and fruit. These little shells are tasty and cute.
More desserts made with fresh fruit:
Enjoy!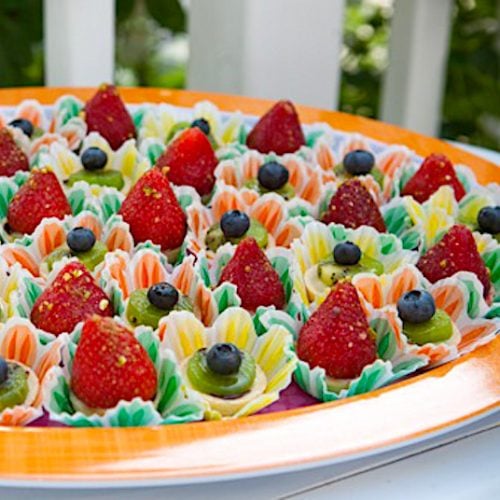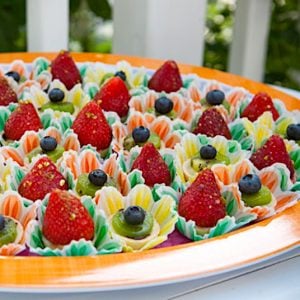 Dessert Party Fresh Fruit Tartlets
Sitting on top of a creamy vanilla bean custard in a pastry shell, the fruit is the star of this dessert!*The custard should be made ahead of time!
Instructions
Fill a pastry bag with a smooth tip -- or a large zip-lock bag with the custard. Set aside.

Place the tart shells on edged baking sheets and use a pastry brush to thinly coat the bottom of each one with the melted chocolate. Let them sit at room temperature to let the chocolate set, about 15 minutes. (This helps protect the tart shell from becoming soggy.)

With your pastry or zip-lock bag, gently squeeze the custard into each shell, filling them just below the rim.

Top the custard with the fruit, covering as much of it as possible. Depending on your fruit selection, you might need to slice it before assembling.

In a small saucepan over low-medium heat, warm the apricot preserves and strain it into a bowl. You might need to add a little water to thin it a bit; it should easily run off a spoon. Using a small pastry brush, glaze the fruit on each tartlet.

Sprinkle the fruit with the nuts for garnish or to cover any exposed custard. Strawberries look lovely with pistachios! Garnish kiwi with a berry.
NUTRITION
Have you tried this recipe?
I'd love to see it on Instagram! Tag me at @cookingontheweekends or leave a comment & rating below.
Cooking On The Weekends is a participant in the Amazon Services LLC Associates Program, an affiliate advertising program designed to provide a means for sites to earn advertising fees by advertising and linking to Amazon.com.