This Vanilla Bean Custard recipe is rich, creamy and super flavorful. It can be used in dozens of different recipes. And the benefit of using whole vanilla pods in the recipe is learning how to make vanilla sugar with your leftovers.
A perfect Vanilla Bean Custard recipe.
Yup, that's what we're making today. It featured in my Fresh Fruit Tartlets that I love to serve at dessert parties. (I definitely need to have more of those!)
What makes Vanilla Bean Custard so good?
It's perfectly sweetened.
It's rich, creamy and velvety smooth.
The essence of vanilla shines in every bite.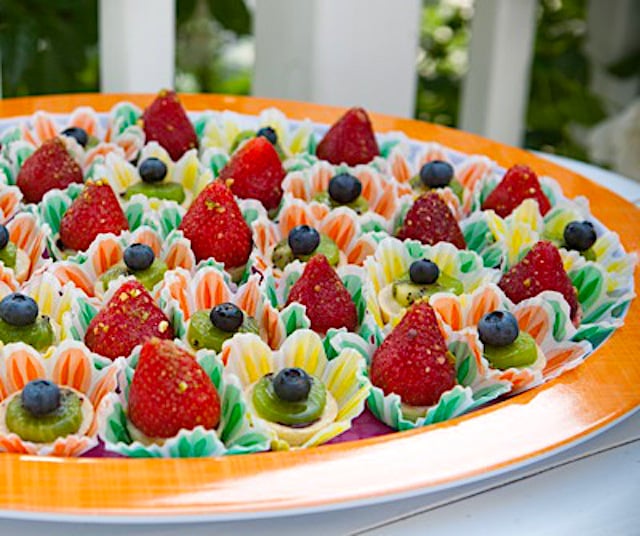 There's a lovely layer of the Vanilla Bean Custard spread beneath each piece of fruit in these beautiful tartlets.
Uses for Vanilla Bean Custard
It's amazing in fruit tarts, and most of them traditionally have a thin layer of it beneath the fresh fruit.
The custard is wonderful between layers of cake.
It's delicious and so pretty spooned into a pretty glass and topped with fresh fruit, or a drizzle of a

chocolate sauce

.
Vanilla Bean Custard is also absolutely unbelievable on its own.
This is also the perfect time to make Vanilla Sugar, so whatever you do, don't discard your empty, soaked vanilla pods!
It's so easy to learn how make to make vanilla sugar — and this is the perfect opportunity to get started.
How to Make Vanilla Sugar
After you've finished making this recipe, rinse and dry your empty

vanilla pods

and add them to a container of granulated sugar — of any amount. (If the pods haven't been in any liquid, there's no need to rinse them.) I've been adding vanilla pods to the same container for years. The sugar takes on a lovely vanilla flavor.
Use the vanilla sugar in anything you're baking — cookies, cakes, and definitely add some to your coffee! Keep replenishing the sugar as you use it.
There you have it. Now you know how to make a delectable vanilla bean custard recipe and how to make vanilla sugar. Two for one! 😉
I think there's something so deliciously comforting about this Vanilla Bean Custard recipe — I hope you discover it too!
Vanilla Bean Custard Recipe
Rich, creamy and super flavorful, this custard is versatile and can be used in dozens of different recipes.
*Makes 3 cups

Course:
Dessert, Ingredient
Keyword:
custards for fruit tarts, delicious in cakes, best vanilla recipes
Ingredients
1½

cups

whole milk

½

cup

unsalted butter

¾

cup

granulated sugar

⅛

teaspoon

salt

1

large

vanilla bean pod

⅛

cup

cornstarch

1

large

egg,

lightly beaten
Instructions
Remove ¼ cup of the milk and set it aside. Add the remaining 1¼ cups of milk to the butter, sugar, and salt in a medium saucepan.

Use a paring knife to slice open the ½ vanilla pod horizontally. With the back of the knife, scrape the vanilla beans into the saucepan and add the emptied pod as well.

In a small bowl, add the egg to the reserved ¼ cup of milk and the cornstarch. Use a small whisk to blend it until it's smooth. (This is called a slurry.)

Place the saucepan with the milk mixture over medium-high heat and bring to a boil. Reduce the heat and use a ladle to add about half of the hot milk mixture to the slurry and blend with the whisk. (This is called tempering.) Now you can add this to the remaining milk mixture in the saucepan and whisking constantly, bring it to a strong simmer. Remove from the heat and strain. Bring to room temperature and then chill before using.
Recipe Notes
You can make the custard up to two days ahead of time. Store it in a bowl or plastic container and place a layer of plastic wrap directly on the custard to keep it as fresh as possible.
Cooking On The Weekends is a participant in the Amazon Services LLC Associates Program, an affiliate advertising program designed to provide a means for sites to earn advertising fees by advertising and linking to Amazon.com.