Crispy on the outside, soft in the center, these super flavorful, spicy and earthy eggplant cakes are an incredibly delicious, crowd-pleasing hors d'oeuvre or appetizer.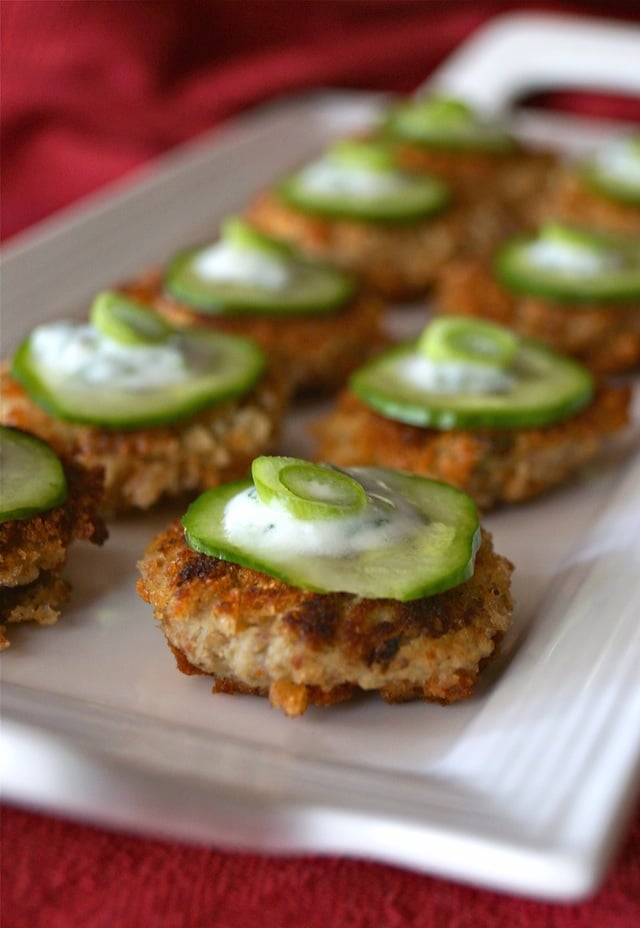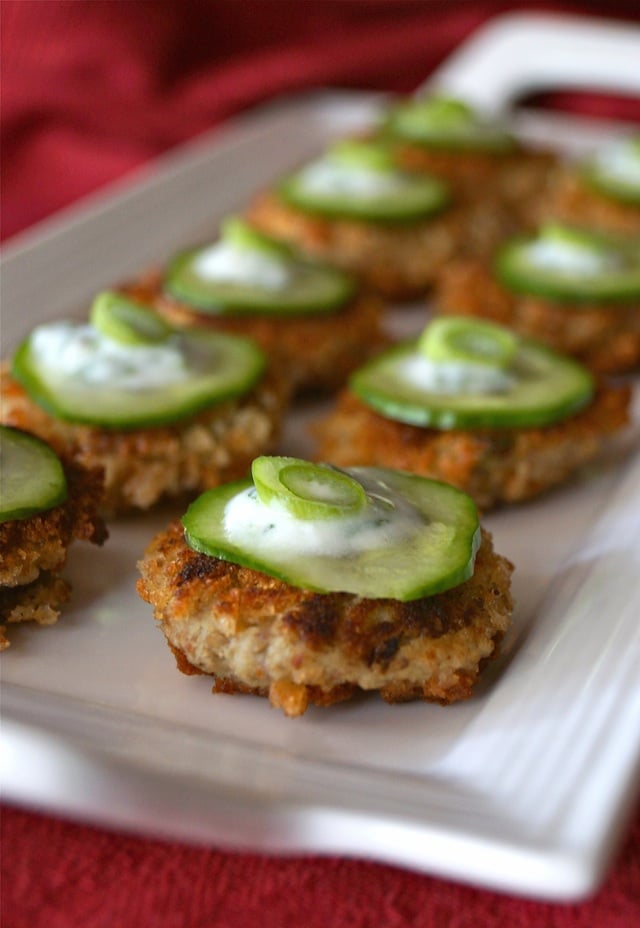 I had the pleasure of attending a delightful presentation by Faye Levy at Melissa's Produce a couple of weeks ago.  Faye, an authority on Middle Eastern and Jewish cuisine, is the author of 23 popular cookbooks and has written for dozens of major food publications around the globe.  You can learn more about Faye's impressive accomplishments here.  Faye generously shared her wealth of culinary knowledge with me and a room full of other food writers.
Faye spent a good amount of time during the presentation, focusing on the eggplant, which she said is the King of Vegetables in the Middle East.  She said there's even an old saying that, "if you don't know how to cook eggplant at least 101 ways, you're not fit to marry."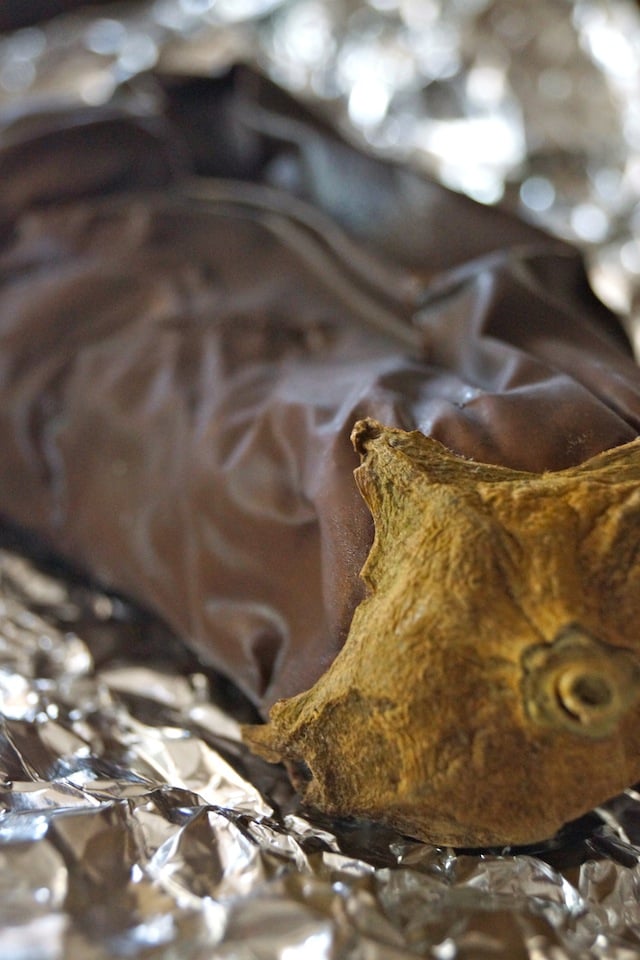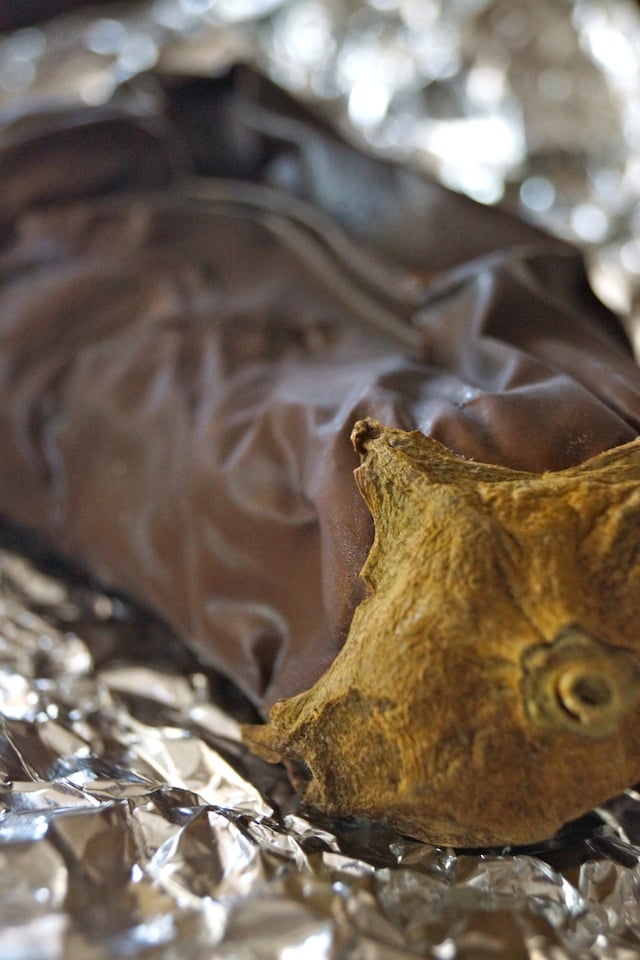 I left the presentation full of new and interesting bits of culinary information, but was especially inspired to experiment with eggplants.
It's the King, after all.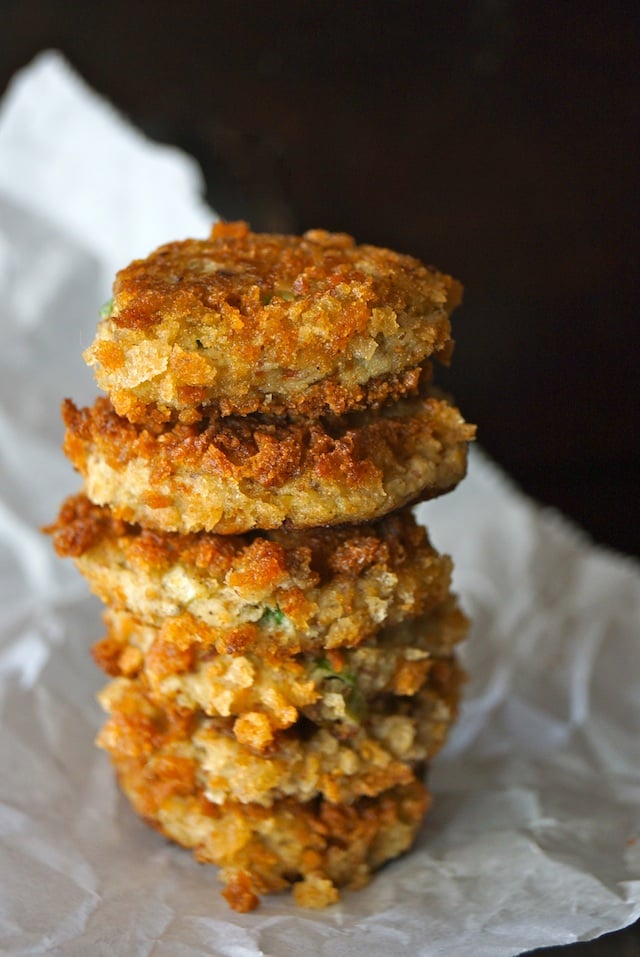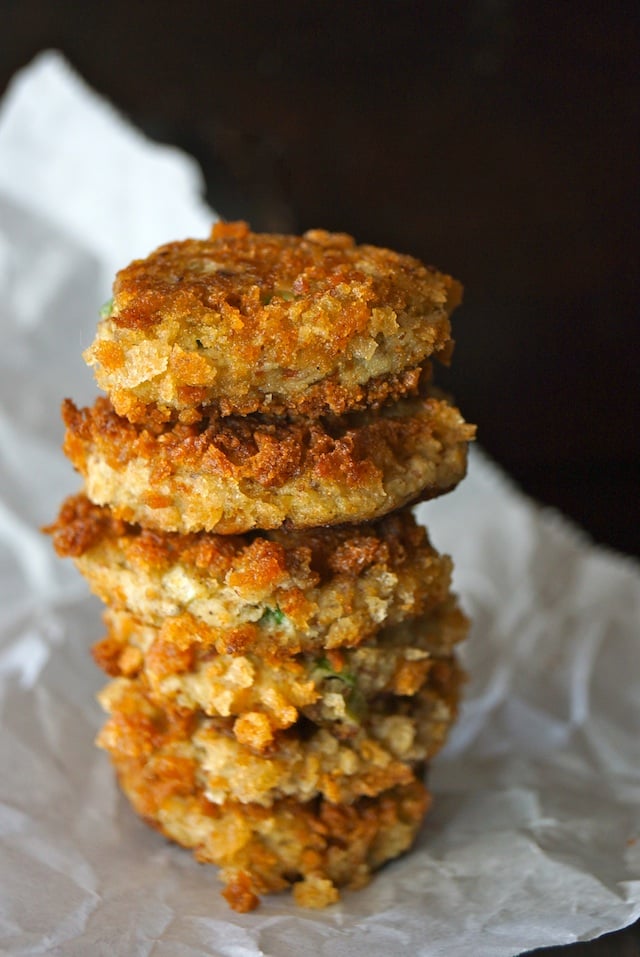 Eggplants are extremely versatile, and once they're roasted, the possibilities seem endless.
These little, crispy cakes are an absolutely divine bite of flavor that will make you a hit at your next dinner party!
Enjoy!
Spicy Eggplant-Almond Cakes Recipe with Cilantro-Lemon Yogurt
You can roast the eggplant up to 3 days ahead, to save about 45 minutes of the prep time.
Ingredients
For the cilantro-lemon yogurt
1/4

cup

plain Greek style yogurt

2

tablespoons

finely chopped cilantro

washed and dried

1 1/2

teaspoons

fresh lemon juice
For the eggplant cakes
2

approximately 1-pound eggplants

3

cups

breadcrumbs

divided (you can use any type -- I used gluten-free)

3/4

cup

almond meal

1

egg white

1

tablespoon

minced garlic

2

teaspoons

ground cumin

1

teaspoon

sea salt

1/4 to 1/2

teaspoon

cayenne pepper

see notes

a few turns freshly ground black pepper

5

very thinly sliced scallions

washed and dried, divided

olive oil for the pan

1

Persian cucumber

washed, dried and very thinly sliced
Instructions
For the cilantro-lemon yogurt
In a small mixing bowl, mix the yogurt with the cilantro and lemon juice. Season to taste with salt and pepper. (Here's

How to Season to Taste

.) Set aside.
For the eggplant cakes
Preheat the oven to 400 degrees F and adjust a rack to the center.

Pierce the eggplants with a fork and place them on a baking sheet.

Place them in the 400 degree F preheated oven and roast for 15 minutes. Then turn them over, and continue to roast them for another 15 minutes.

Use a spoon to scrape the "meat" off the skin, and scoop it into a food processor, fitted with the blade attachment.

Add 1/2 cup of the bread crumbs, almond meal, egg white, garlic, cumin, salt, cayenne and pepper. Blend until the mixture is smooth, and then pour it into a medium-sized mixing bowl. Fold in the slices from about 4 of the scallions and set aside. (The remaining scallion slices will be for garnish.)

Add the remaining 2 1/2 cups of breadcrumbs to a large plate or platter and gently shake to spread them out evenly. (You will likely have more than you need, but that's necessary to get all of the cakes coated.)

Coat the bottom of a large sauté pan with olive oil and place it over high heat. Cover a baking sheet with a double layer of paper towels and set aside.

Use a tablespoon measure or a 1-inch cookie scoop, to shape the eggplant mixture. (If you use the tablespoon, only fill it about half way.) As you scoop, drop the mixture onto the bread crumbs, with at least a couple of inches between them. Then use your fingers, or a butter knife, to very gently roll them over, to coat both sides with the crumbs. They will be quite fragile, but if handled carefully, they'll easily hold together.

Once the oil-coated pan is very hot, add the eggplant cakes. You should hear a sizzle when they hit the pan. Turn the heat to medium, and very carefully, flip them over when the bottoms are golden -- about 3 minutes per side. Use a small metal, flat-bottomed spatula to remove them from the pan and place them on the paper towel-lined baking sheet to drain. Repeat this process until all of the cakes are cooked.

When you're ready to serve, place the cakes on a large plate of serving platter, and add a slice of cucumber directly on top of each one. Use a teaspoon to add a tiny dollop of the cilantro-lemon yogurt to each cucumber slice, and add one of the remaining scallion slices on top.

Serve!
Recipe Notes
The amount of cayenne pepper you add depends on the amount of heat you like. 1/4 teaspoon gives it a slight kick, and 1/2 teaspoon gives it a strong one.
I like the eggplant cakes served warm or at room temperature, with the yogurt and cucumber a bit chilled.
Save