Carrot Ginger Soba Noodles are full of fresh and beautiful flavors. Ginger and carrot are two ingredients that are always delicious together, and the soft noodles make this recipe a bowl of comfort!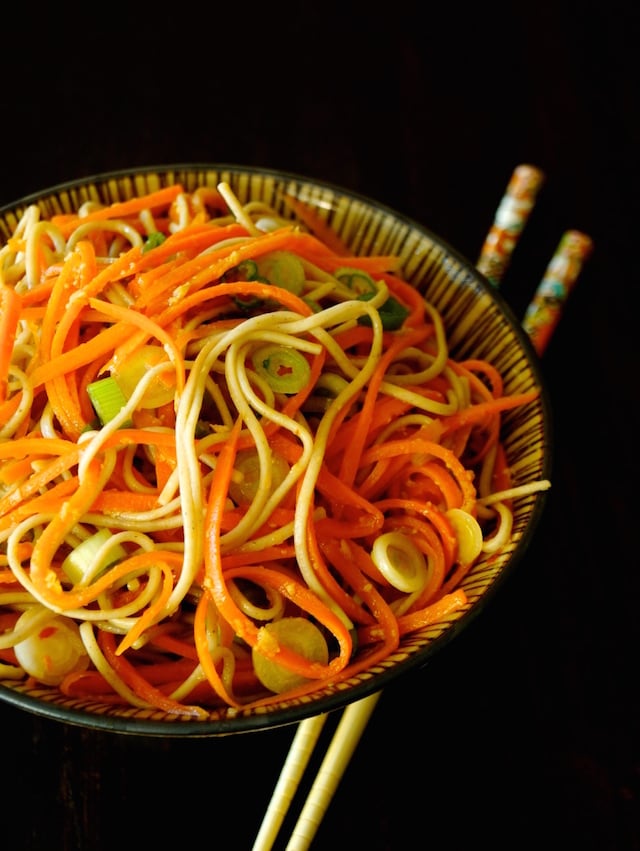 Spiralized Vegetables
Are "spiralized" vegetables to the food world what "bedazzled" shirts are to the clothing world?
The word "bedazzle" is funny.  Right?  Are you with me? And then there's the "bedazzler" — which you need if you're to bedazzle anything!
Still a little funny to me, though not quite as amusing, you can spiralize all sorts of vegetables with a Spiralizer.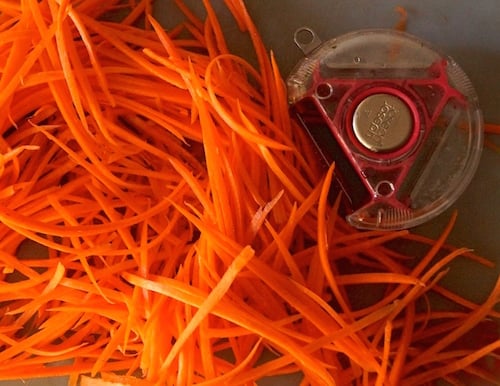 I have a Joseph Joseph Rotary Peeler which has three blades, one of which is like a Spiralizer.
It's perfect for my needs, but if you wanted to spiralize larger quantities (and with a bit more curl), something like this might be a better fit.
I love that the carrots in this recipe take on a similar feel to the noodles — and they're certainly pretty and fun.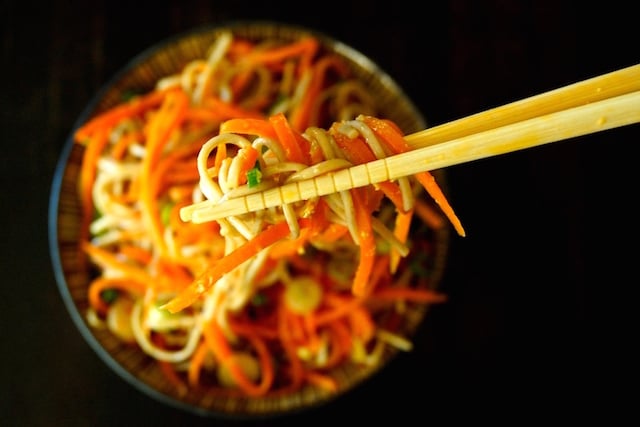 What are Soba Noodles?
"Soba" is the Japanese name for buckwheat, and typically refers to thin noodles made from buckwheat flour, or often, a combination of buckwheat and wheat flour.
The noodles are hearty and slightly chewy, with an earthy, nut-like flavor.

Soba is served both hot and cold.
In Japan, making soba noodles is an art form, and it's often considered "the humble jewel of Japanese cuisine." You can read more about that

here

.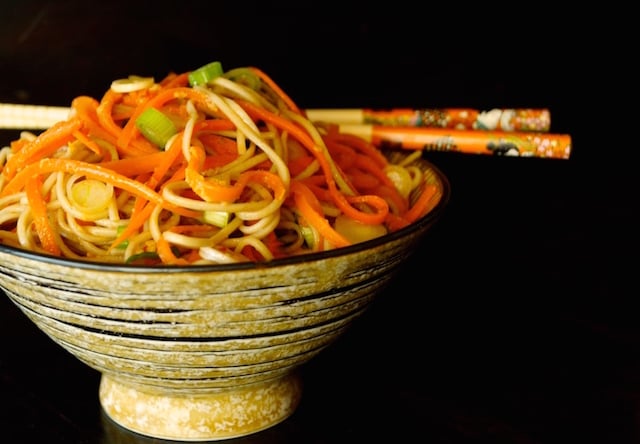 Carrot Ginger Soba Noodles are not only great on their own as a vegan dish, but they're also a fantastic base for chicken, tofu, fish, etc.
It works as a main course or a side dish, and stands out beautifully at a buffet table.
Enjoy!
More Asian noodle recipes:
This is not a sponsored post -- as always, I only share things I really like or love.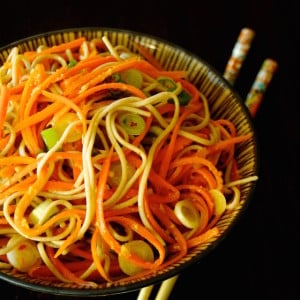 Carrot Ginger Soba Noodles
Ginger and carrot are two ingredients that are always delicious together, and these Ginger-Carrot Soba Noodles are no exception.Serves 2 as an entrée and 4 as a side
Ingredients
For the Noodles
1

pound

carrots,

peeled and spiralized, or cut into very thin, long sticks

1

bundle (about 3 to 4-ounces)

dry soba noodles

(see notes)

3

scallions,

thinly sliced, both whites and greens
Instructions
For the dressing
In a small mixing bowl, blend the ginger, garlic, and chili paste. Then add the Tamari, rice vinegar, Mirin, and sugar. Once everything is mixed together, gradually add the oil, continuously stirring. Set aside.
For the Noodles
Bring a medium-sized pot of water to a boil. Once the water is boiling, add the carrots and let them cook only until they're a bit soft, about 30 seconds. Do not pour this into a drainer, as we'll be re-using the water for the noodles — use a slotted spoon, or small strainer to remove them from the water and add them to a large mixing bowl. Set aside.

Bring the water back to a boil and then add the noodles. Stir to be sure all of the noodles are separated and then turn the heat to low and gently simmer until they are tender, about 4 minutes. Drain the noodles and add them to the large mixing bowl with the carrots.

Add the scallions and dressing and gently toss.


Let it come to room temperature and then refrigerate. (I like to serve this cold, as a "salad" of sorts, but it's also nice at room temperature.

NOTES
Usually Soba noodles come in a package with a few separate bundles. One bundle should be about 3 to 4-ounces.
Calorie count is only an estimate.
NUTRITION
Have you tried this recipe?
I'd love to see it on Instagram! Tag me at @cookingontheweekends or leave a comment & rating below.
Cooking On The Weekends is a participant in the Amazon Services LLC Associates Program, an affiliate advertising program designed to provide a means for sites to earn advertising fees by advertising and linking to Amazon.com.