Banana Chocolate Chip Cookies are a combination of your favorite banana bread and your favorite chocolate chip cookie. With a chewy, cake-like texture and chocolate in every bite, they're loved by everyone.
I've never met a person who doesn't love both banana bread and chocolate chip cookies. Have you?
I combined them and made these banana bread inspired cookies.
What does banana do in a cookie?
Not only do bananas add their delicious flavor to cookies, they also add moisture and can help thicken the batter.
Sometimes in baking, bananas are used to replace butter, oil, or eggs. And if they're overripe, and extra sweet, they can also be a sugar substitute. (In banana chocolate chip cookies they're added for flavor and texture, not as a substitute.)
And the flavor combination of banana and chocolate is soooo delicious!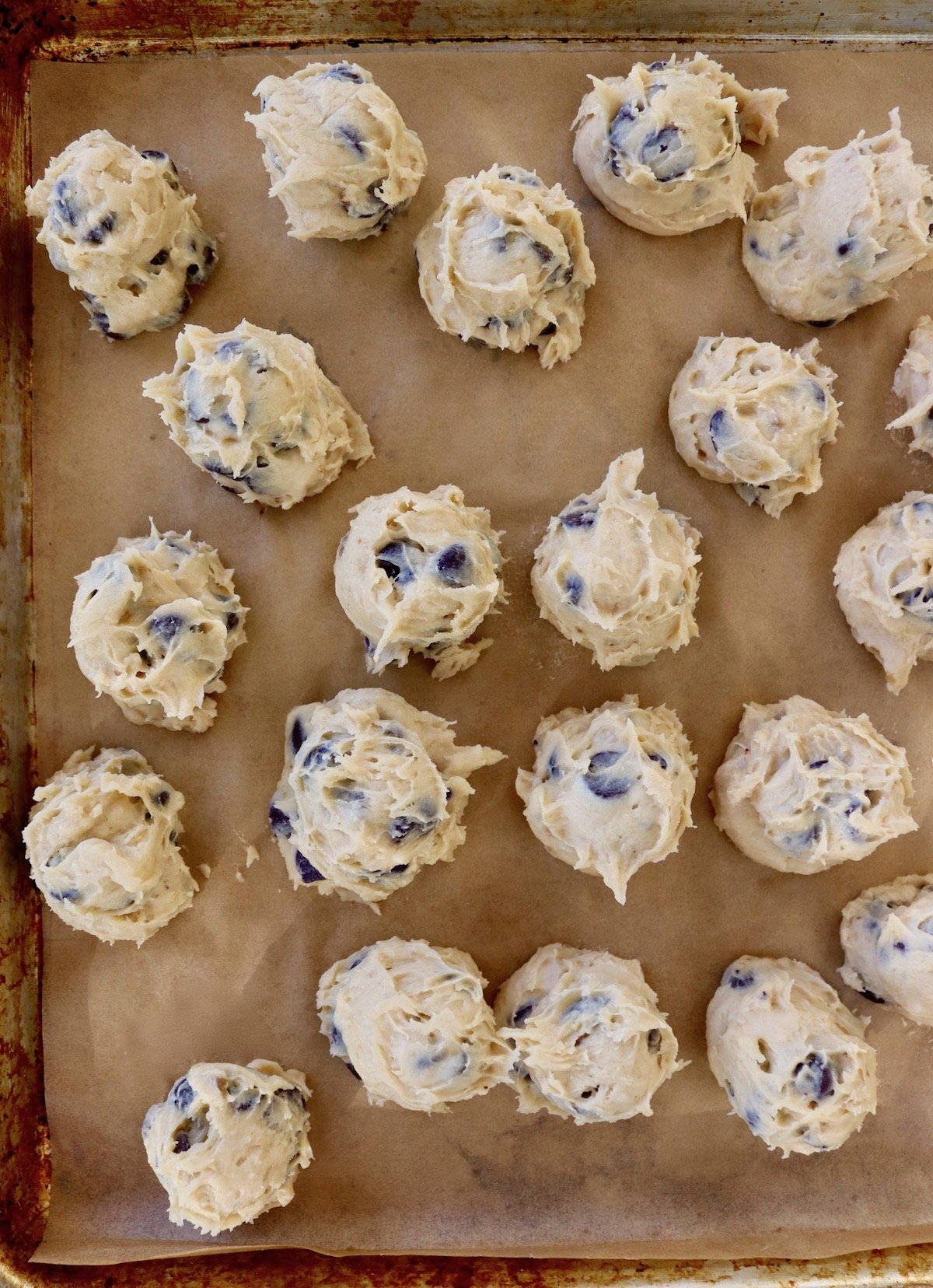 How to Make Chewy Cookies
While they have a nice crumb and somewhat cake-y texture, banana chocolate chip cookies are also on the chewy side. Chewy cookies have a lot of moisture incorporated into the batter.
Brown sugar - Brown sugar has more moisture than granulated sugar. In this recipe I used 3 parts brown sugar to 1 part granulated.
Egg yolks - Using all yolks or mostly yolks adds more moisture to the batter because the yolks have more fat than the whites. (Save the egg whites for a yummy

egg white frittata

.)
Baking powder - Baking powder is more acidic than baking soda. Baking soda helps the cookies spread, and the more they spread, the thinner the cookie with be and the less moisture it will have.
Refrigerate the batter - Resting the batter in the refrigerator evaporates some of the water and increases the sugar, which ultimately creates a chewier cookie. The longer you allow the batter to refrigerate, the chewier the cookies will be.
Shorter baking times - Cookies are chewier when baking times are shorter. They should be taken out of the oven when they still are very soft to the touch, and barely golden along the edges.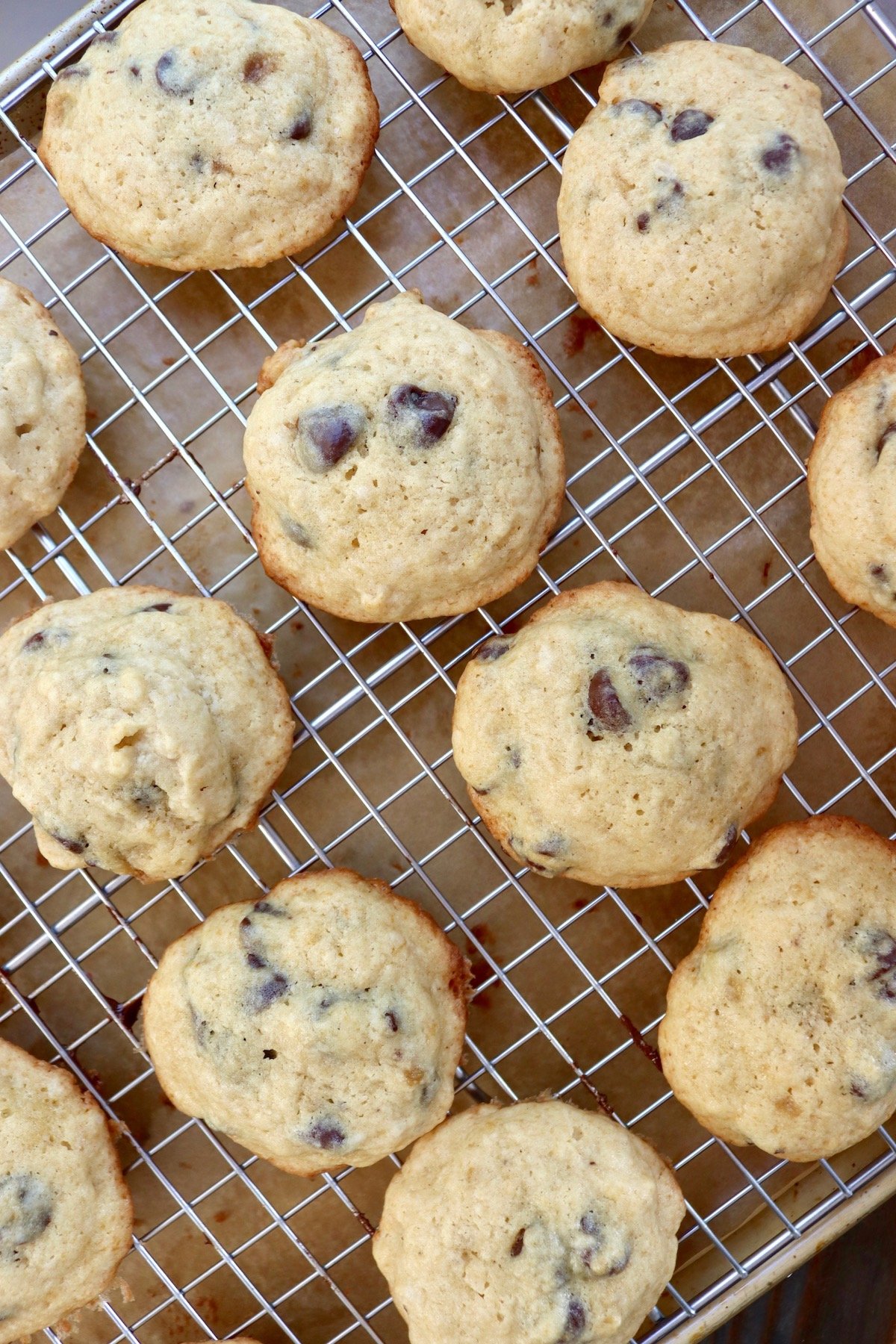 Recipe Tips
The refrigeration time is important for a plump, chewy cookie. If you don't have time for this -- not to worry, they will still be incredibly tasty, perhaps just flatter.
You might think the cookies still look a bit raw in the center when you take them out of the oven. For a softer, chewier cookie, you want this. Feel free to leave them in a bit longer for a crisper cookies.
Are you Gluten-free? Banana Chocolate Chip Cookies can easily be made gluten-free! I've tested this recipe using this

Cup4Cup Gluten-Free All-Purpose Flour

, and the result is great.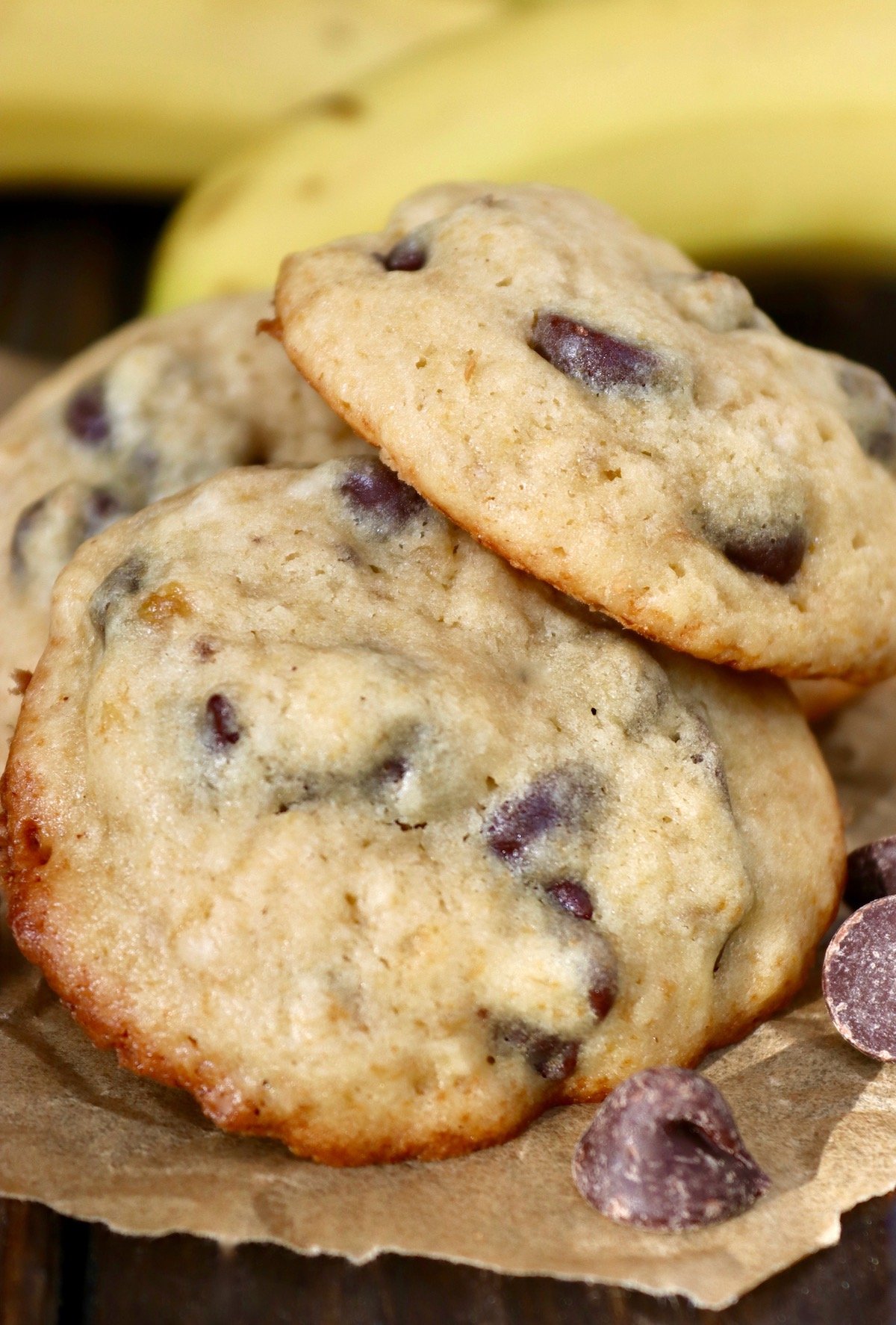 How to Store Them
It's always good to know how to store cookies, because, c'mon, who doesn't always want cookies around?
Room temperature. In a tightly sealed container, the cookies can be kept at room temperature for about three days.
Refrigerator. In a tightly sealed container, they can be stored in the refrigerator for up to a week.
Freezer. Sealed tightly, you can store the cookies for about two months in the freezer.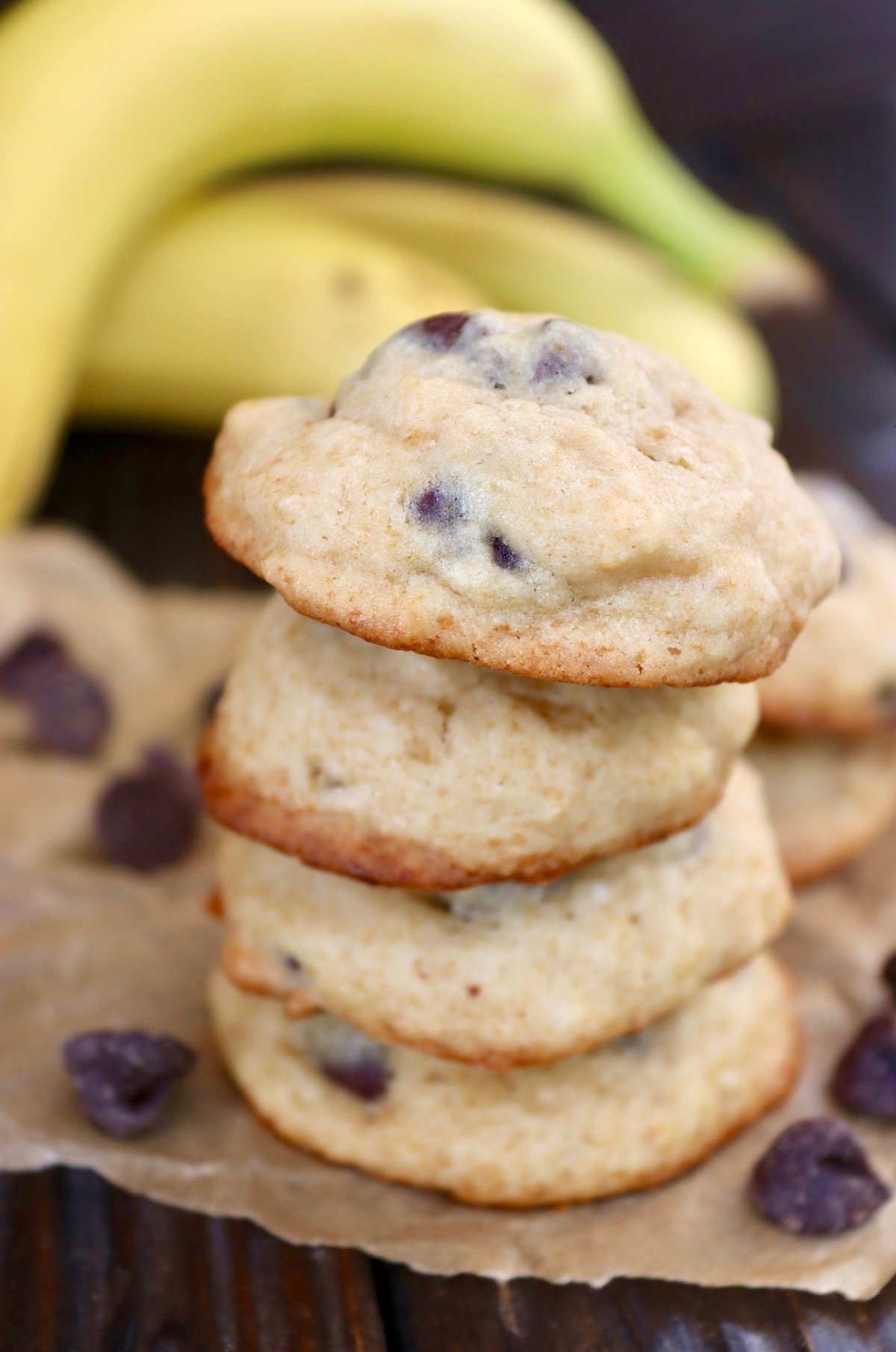 I hope you flip for these Banana Chocolate Chip Cookies!
More of my favorite chocolate chip cookies: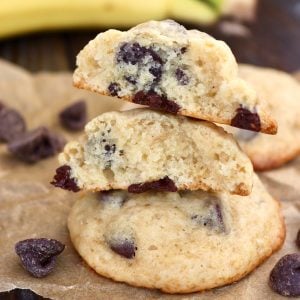 Banana Chocolate Chip Cookies
Banana Chocolate Chip Cookies are a combination of your favorite banana bread and your favorite chocolate chip cookie. They have a chewy, cake-like texture and chocolate in every bite.Please note that 6 hours of the prep time is inactive.Recipe makes 2-dozen cookies / serving size: about 2 cookies
Ingredients
¾

cup

unsalted butter,

softened to room temperature

¾

cup

packed golden brown sugar

¼

cup

granulated sugar

½

cup

mashed overripe banana (about 1 large banana)

1

teaspoon

salt

2

teaspoons

pure vanilla extract

2

large

egg yolks

1¾

cups

all-purpose flour

1

teaspoon

baking powder
Instructions
Set the oven and prep baking sheets. Preheat the oven to 375°F, line a couple of baking sheets with parchment paper and set them aside.

Make the batter. In a large mixing bowl, combine the butter, sugars, mashed banana, salt and vanilla. Mix just until everything is evenly incorporated and it's smooth.

Add the egg yolks and continue to mix until they are completely blended into the butter mixture.

Add the flour with the baking powder and mix only until you no longer see dry spots, and then fold in the chocolate chips.

Shape. Use a cookie scoop to shape the batter -- they should be about 1 generous tablespoon each, placing them on a parchment-lined baking sheet as you go, with a couple of inches between them.

Bake. Bake in the preheated 375°F oven just until the edges begin to turn golden brown, about 12 minutes. They will still look slightly raw in the center.

Cool. Let them sit on the baking sheet for a few minutes, and then transfer them carefully to a backing rack to cool to room temperature.
NOTES
Calorie count is only an estimate.
NUTRITION
Have you tried this recipe?
I'd love to see it on Instagram! Tag me at @cookingontheweekends or leave a comment & rating below.
Cooking On The Weekends is a participant in the Amazon Services LLC Associates Program, an affiliate advertising program designed to provide a means for sites to earn advertising fees by advertising and linking to Amazon.com.