Yellow Split Pea Burgers are so hearty and flavorful that they are loved by vegetarians and carnivores alike. Whether you serve this recipe at a summer barbecue, a winter dinner party, or simply need to get a healthy dinner on the table, it'll be a hit.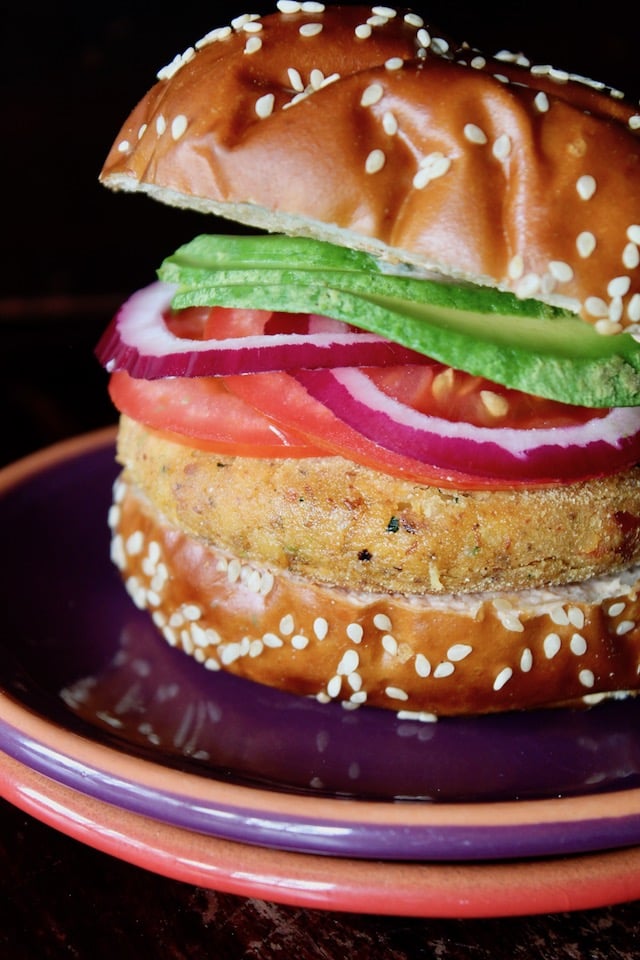 In my (humble) opinion, a burger is a sandwich that includes a bun, cooked meat, and usually other ingredients such as cheese, onion, tomatoes, etc.
That said, it didn't sound quite as delicious to me to call these split pea patties -- so Yellow Split Pea Burgers it is. And it's so good assembled burger-style with all of your favorite condiments.
Let's talk about split peas for a moment, shall we?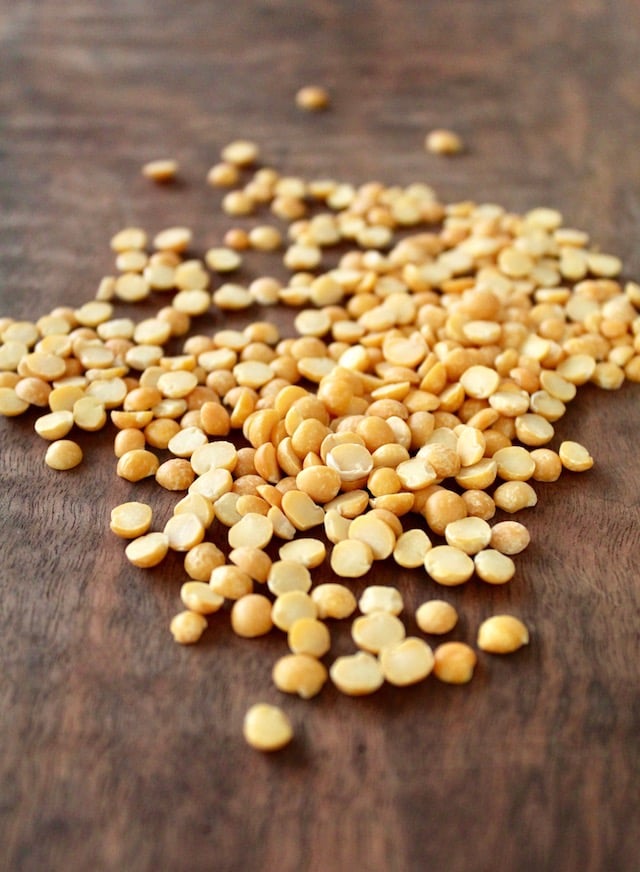 What are split peas?
Split peas are a type of legume, a field pea to be exact.
They're grown specifically for drying.
Once hulled, these peas are split in half along a natural seam, to become "split peas." Since they are split in half, the cooking time is fairly fast and there's no need to pre-soak them.
Split peas are either yellow or green. The green are slightly sweet and a bit less starchy than the yellow.
They're high in protein and fiber, and are low in fat, making them a very healthy ingredient.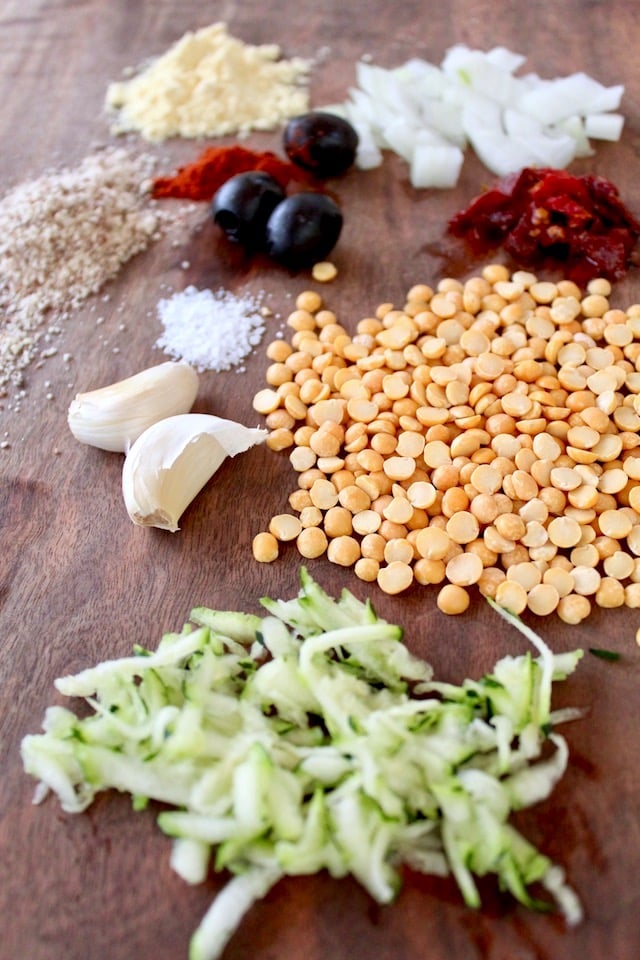 How to Make Split Pea Burgers
- Cook and cool the split peas.
- Blend the cooked split peas with zucchini, onion, olives, garlic, sun-dried tomatoes in a food processor until relatively smooth.
- Add an egg and blend.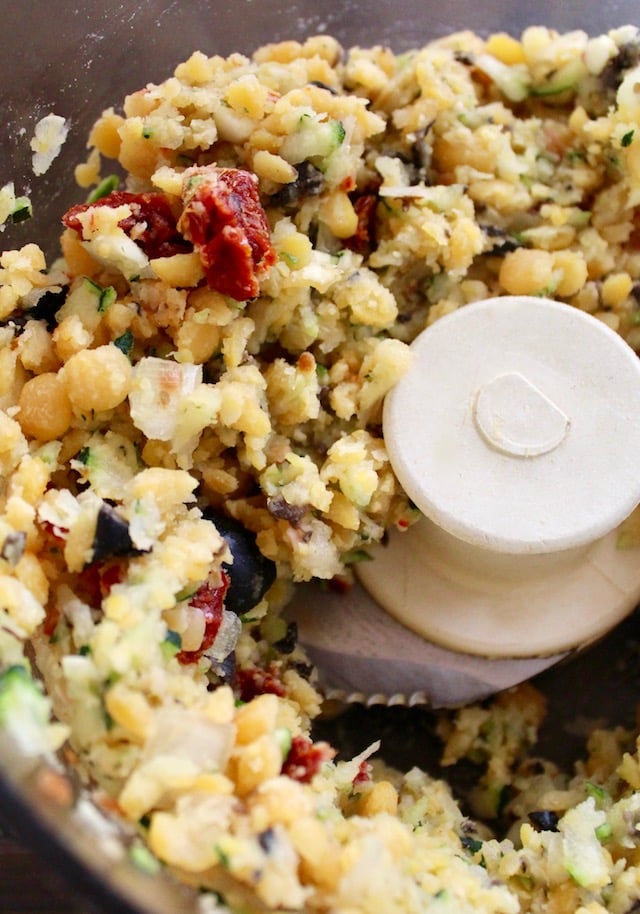 - Then in a mixing bowl, combine this wet mixture with almond flour, corn flour, salt, pepper, paprika and cayenne.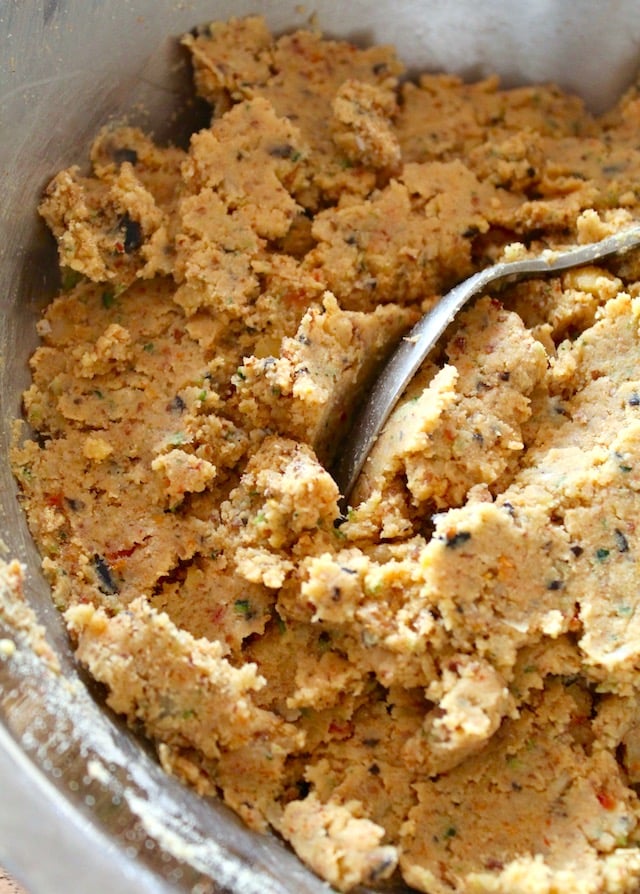 - Shape the mixture into six burgers, and lightly dust both sides with corn flour.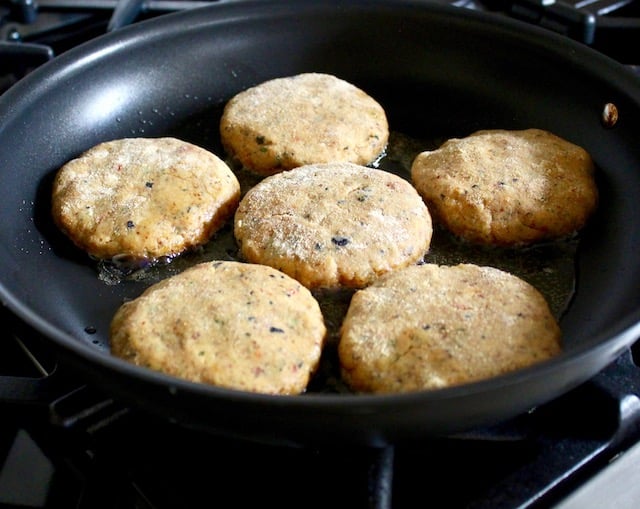 - Sauté them in a very hot, non-stick skillet with olive oil for about 3 minutes per side, until cooked through and golden. (You can also put the skillet directly on an outdoor grill.)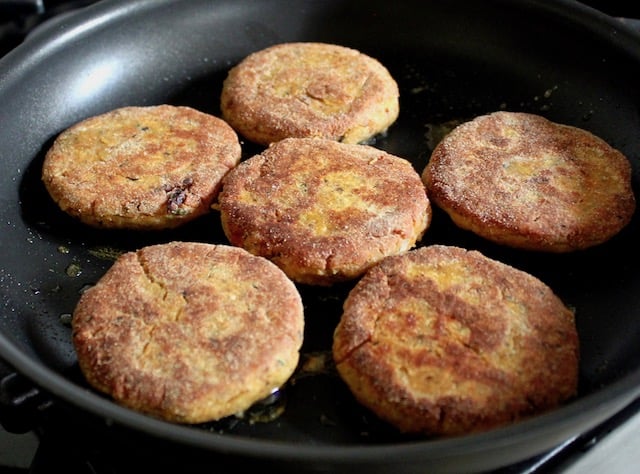 (More detailed instructions are below.)
How to Serve Them
Of course they're fantastic served with a bun and typical burger fixings. Pictured here, they're served on a pretzel bun with chipotle mayonnaise, avocado, tomatoes and red onion.
I also love serving them tostada-style. Just layer one of the split pea burgers on a crisp tortilla with lettuce, tomato, salsa and avocado.
And these burgers are so hearty and flavorful, that you might just eat them on their own. Delicious!
Delicious Vegetarian Sides to Serve with Them
Call it what you will, but the blend of ingredients in these Split Pea Burgers, make for an incredibly flavorful meal any way you serve them.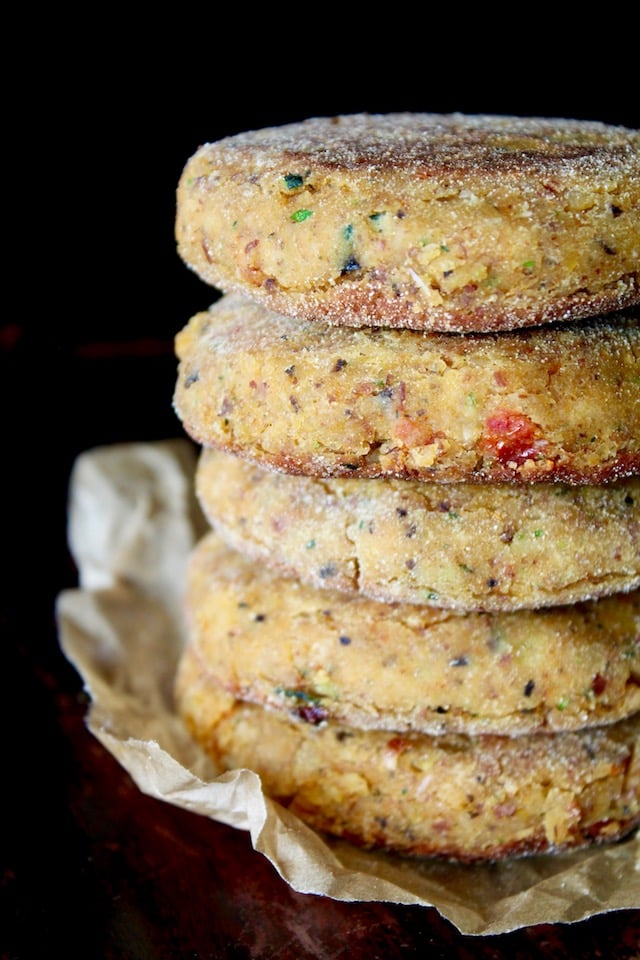 Recipe Tips and Substitutions
You can use green split peas if you like. (I prefer the look of them with yellow, but both will be very tasty.
These burger ingredients need to be as dry as possible while you're making them. (They will not turn out dry when cooked, though!) To achieve this, most importantly, do not skip "wringing" out the zucchini, or cooling/drying the split peas after they've cooked.
I use black olives in this recipe, but feel free to mix it up with Kalamatas or any other olive you like.
This yellow split pea recipe will be the most successful when cooked in a non-stick skillet.
The touch of cayenne is for a little heat. Skip it if you like a more mild flavor.
These hold together best in a pan, so for outdoor grilling, you can actually place the skillet right on the BBQ.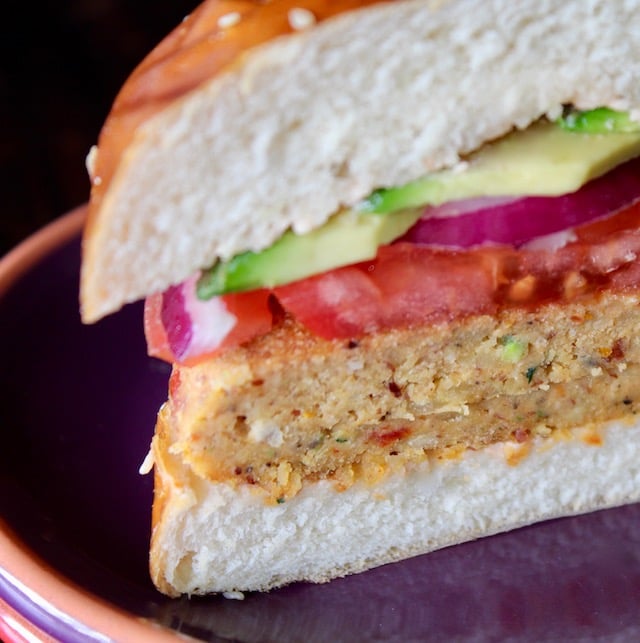 Can you make them ahead?
You can make split pea burgers up to four days ahead of time.
Refrigerator. They can be stored in an airtight container in the refrigerator for up to four days. Reheat just to warm them to serve. (They will however, be the most delicious up to about two days.)
Freezer. They can be stored for up to three months in the freezer. They should be in an airtight container, and thawed in the refrigerator the night before you want to serve them. Reheat just to warm them to serve.
I hope you enjoy this yellow split pea burger as much as we do!
More vegetarian burger recipes: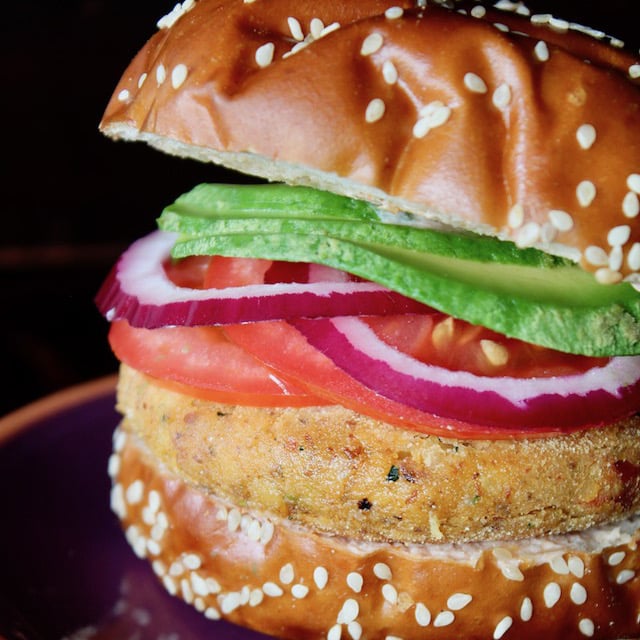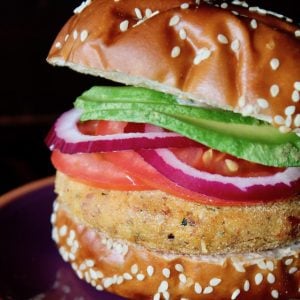 Vegetarian Yellow Split Pea Burgers
Yellow Split Pea Burgers are so hearty and flavorful that they are loved by vegetarians and carnivores alike. Whether you serve them at a summer barbecue, a winter dinner party, or simply need to get a healthy dinner on the table, they'll be a hit!
Ingredients
1

cup

dry yellow split peas

1½

cups

grated zucchini

¼

cup

yellow onion,

roughly chopped

¼

cup

black olives

3

tablespoons

olive oil marinated sun-dried tomatoes

1

tablespoon

garlic,

roughly chopped

1

large

egg

½

cup

almond meal (not flour)

½

cup plus 1 tablespoon

corn flour (not meal),

divided

1

teaspoon

paprika

1¼

teaspoons

salt

1-2

pinches

cayenne

a few turns

freshly ground black pepper

olive oil for the pan
Instructions
Prepare two sheet pans. Line two sheet pans with parchment paper and set aside.

Cook the split peas. In a medium-sized pot, mix the dry split peas with 3 cups water, bring to a boil, and then simmer, uncovered, for about 30 minutes, or until all of the water has been absorbed. (You will need 2 cups cooked split peas, and likely have a bit extra.) Pour them onto one of the parchment-lined sheet pans. Let them sit for at least 10 minutes to cool and dry out. *(You can do this portion up to a day ahead of time, keeping them refrigerated until you're ready to use them. If you do this, let them air dry the same way for about 10 minutes.)

Blend the "wet" ingredients. Use your hands to "wring out" the grated zucchini to remove as much liquid as possible. Add it to a food processor fitted with the blade attachment. Then add the cooked, cooled/dried split peas, onion, olives, sun-dried tomatoes, and garlic. Blend until everything is incorporated and it's relatively smooth. Then add the egg and process just until it's blended in.

Combine the pea mixture with the dry ingredients. Add the almond meal, corn flour, paprika, salt and cayenne to a large mixing bowl. Add the pea mixture and mix until smooth.

Shape the burgers. Dust a clean dry surface with the remaining 1 tablespoon of corn flour. Divide the batter into six equal portions (about a very generous ⅓ cup each), and shape it into approximately 1 inch thick burgers. Place them on the corn flour-dusted surface as you make them. Then flip them over to coat the other side. This should be a very light coating and you can gently even it out with your hands. Place them on the second parchment-lined baking sheet as you go.

Cook the burgers. Coat the bottom of a large non-stick skillet with olive oil and place it over high-medium heat. Carefully add the shaped burgers to the pan. You should hear a sizzling sound — if you don't, wait! (You won't get a nice "crust" on the burger if it's not hot enough.) Sauté until the bottoms are nicely browned, about 3 minutes. Drizzle a bit more olive oil over them if the skillet looks dry, carefully flip them over, and reduce the heat to low-medium. Sauté to brown the other side and cook them through, about 3 to 4 minutes.

Serve!
NOTES
Calorie count is only an estimate.
NUTRITION
Have you tried this recipe?
I'd love to see it on Instagram! Tag me at @cookingontheweekends or leave a comment & rating below.
Cooking On The Weekends is a participant in the Amazon Services LLC Associates Program, an affiliate advertising program designed to provide a means for sites to earn advertising fees by advertising and linking to Amazon.com.