This super healthy, vegan quinoa recipe of Smoky Lemon Vegetable Quinoa, is absolutely exploding with flavors that will keep you coming back for more. This has become one of my favorite quinoa recipes of all time!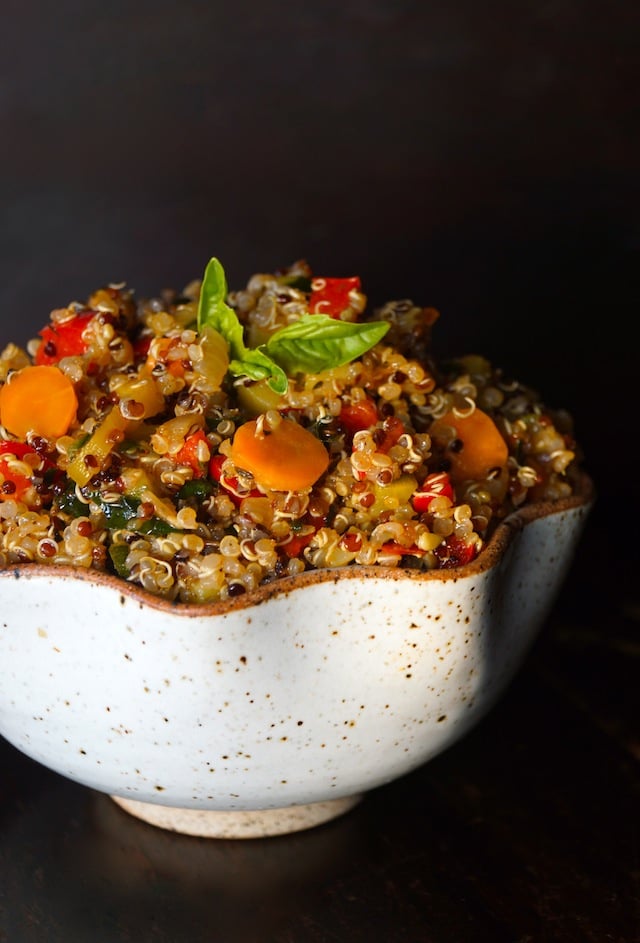 We are always on the hunt for fabulous restaurants with a lot of gluten-free options for my my 13-year-old son who has Celiac Disease.
Our favorites are usually Mexican, Thai or Japanese — they're typically full of inherently gluten-free items.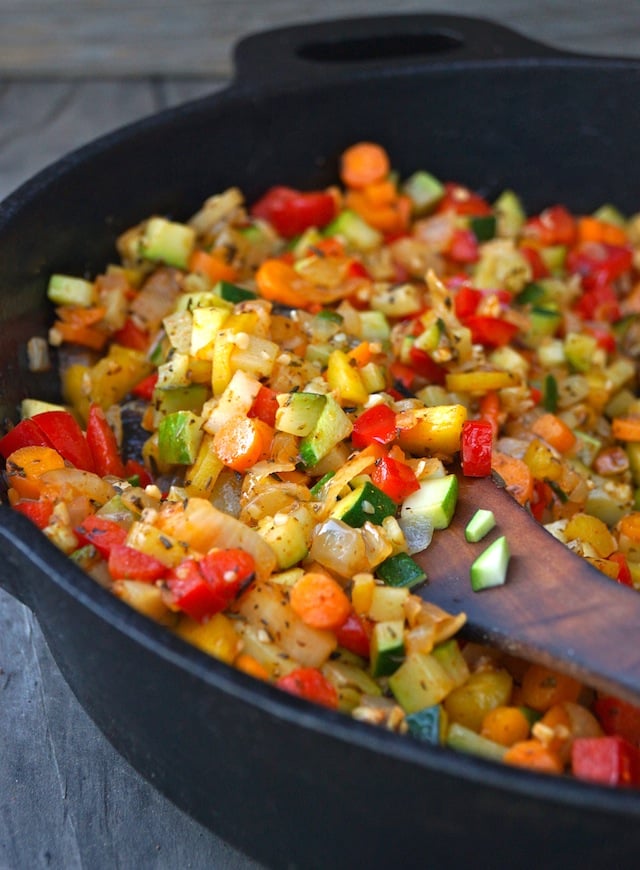 A few weeks ago though, I took him to Kreation — I'd been there a couple of times and thought he might think it was cool. They offer tons of gluten-free options, as well as vegan, vegetarian, and a handful of things for meat lovers, too.
Kreation is primarily a juicerie, but there are a couple of locations near us in Los Angeles with extensive breakfast, lunch and dinner menus — and apparently, according to my son, they have the most delicious quinoa recipes ever!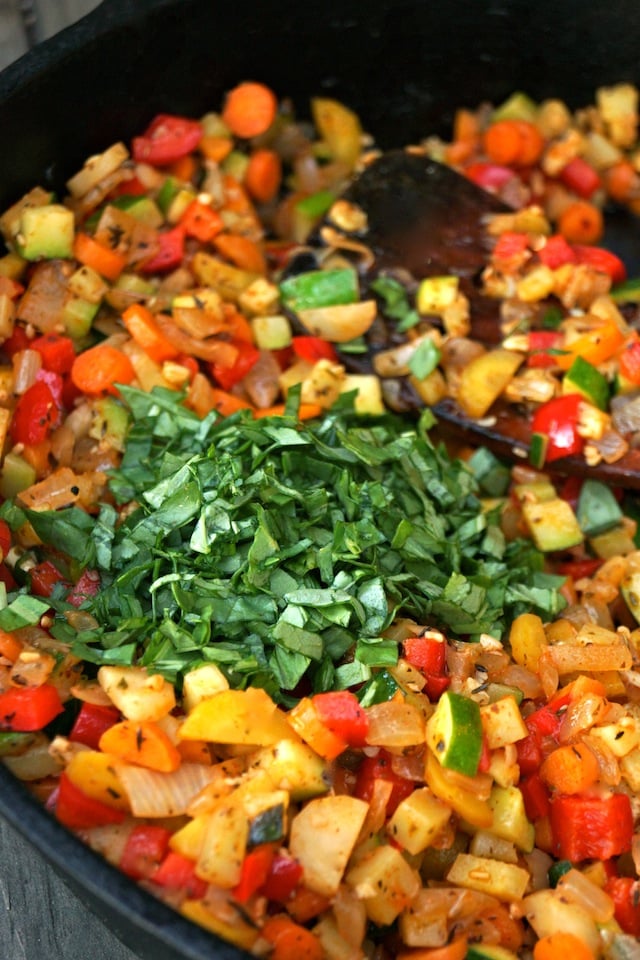 My son ordered the Braised Short Ribs — which is off topic, but I have to mention that they were superb.
Now to my point, the ribs came with a side of a fantastic quinoa recipe with vegetables mixed into it.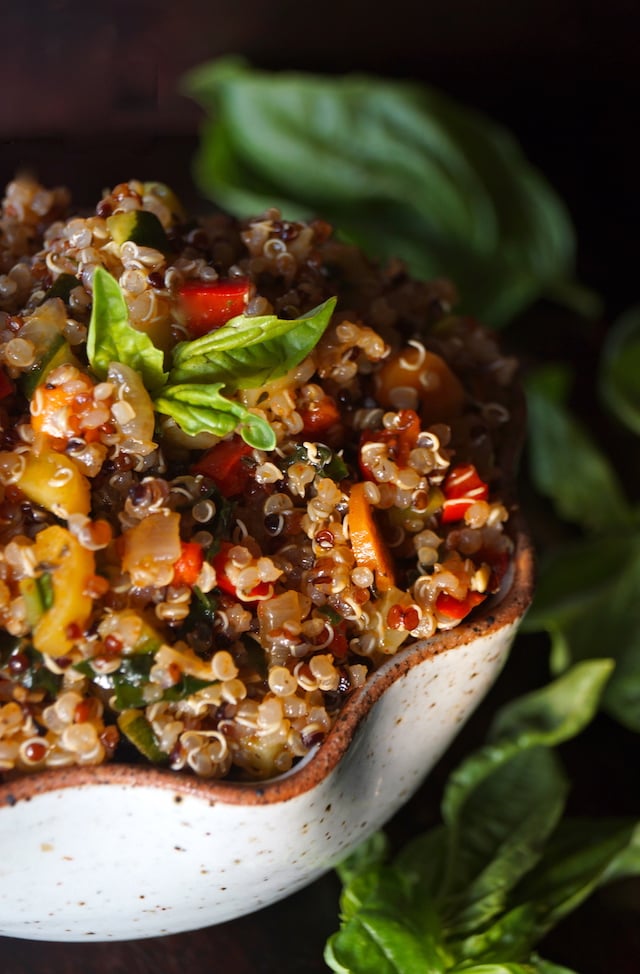 My first thought when I saw the quinoa was that I'd be the one to eat it, because my son wouldn't be interested.  You see, he's only recently become a good eater.  (And by good eater, I mean less picky.)
Well, he devoured the quinoa.  Who knew!?  I've definitely served quinoa over the years, but apparently it wasn't up to snuff. 😉
If you'd told me a couple of years ago, that I'd be writing vegan quinoa recipes for my son, I would have thought you were joking.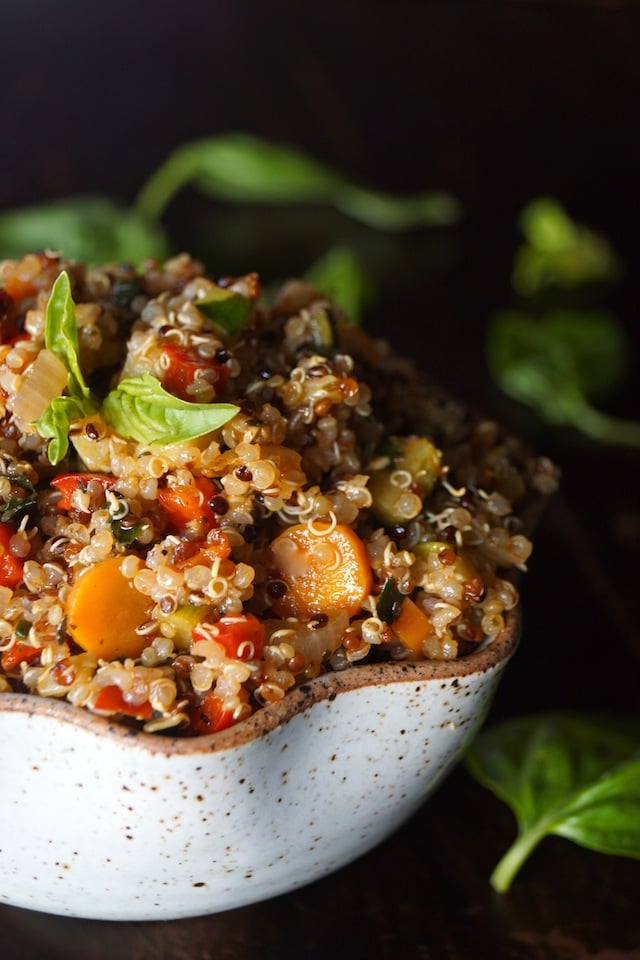 I've been making my hearty Lemon Vegetable Quinoa rendition of Kreation's version ever since.  It's a huge hit!  For starters, it's really quite beautiful.  Just look at those colors and textures!  And the smoky and tangy flavors are out of this world!
While I'm sure it's not exactly the same, it too is devoured — by everyone in my house! Turns out my 11-year-old is also a quinoa fan. Now, whenever I'm asked for vegan quinoa recipes or really, any quinoa recipes, this is the first one I suggest.
Want more quinoa deliciousness?  I love these Red Quinoa Crisps to add a tasty crunch to salads or just about anything .
Smoky Lemon Vegetable Quinoa Recipe
A vegan, gluten-free side dish or main course that's absolutely exploding with flavors that will keep you coming back for more!
Course:
Main Course, Side Dish
Keyword:
vegetables with quinoa
Ingredients
3

cups

water

1 1/2

cup

quinoa

(I used a mix of colors - black, red, & white)

olive oil for the pan

1

cup

yellow onion,

finely chopped

1

tablespoon

garlic,

minced

1 1/2

teaspoons

smoked paprika

2

teaspoons

dried oregano

2

teaspoons

dried thyme

1

cup

carrots,

peeled, cut into small dice

2

cups

zucchini,

washed, dried & cut into small dice

1

cup

red bell pepper,

washed, dried & cut into small dice

1

tablespoon

fresh lemon juice

1/3

cup

fresh basil,

washed, dried and finely chopped

sea salt and freshly ground black pepper
Instructions
Pour the water into a medium-sized pot, place it over high heat, and bring to a boil. Add the quinoa, reduce the heat to low, cover and simmer until all of the liquid has been absorbed, about 15 minutes.

While the quinoa is cooking, coat the bottom of a very large sauté pan with olive oil and place it over medium heat. Add the onion and garlic and cook, stirring often, until soft, about 7 minutes.

Sprinkle in the paprika, oregano and thyme and mix. Once it's very aromatic, add the carrots and cook for a few minutes. Then add the zucchini and pepper and cook, stirring often until all of the vegetables are tender, about 8 minutes.

Either in a large mixing bowl, or directly in the sauté pan if it's big enough — fold the cooked quinoa into the vegetables.

Add the lemon juice and basil and then season generously to taste with salt and pepper. (Here's

How to Season to Taste

.)

Serve warm or at room temperature.
This is not a sponsored post.  My son simply discovered his love of quinoa at Kreation.
This post contains Amazon affiliate links for your convenience at no additional cost to you.
Recommended items for this recipe: