This rich and creamy, No-Bake Tangerine Cheesecake recipe with shortbread cookie crust is lovely for a dinner party and will totally wow your guests!
Ojai Pixie Tangerines
Grown in the Ojai Valley in California, Ojai Pixie Tangerines are truly a special gem.
I shared this experience here, and it's a great prelude to any Ojai Pixie recipe on my site, or anywhere.
It's always good to know where your food comes from. And let me tell you, Ojai Pixies come from a very special place. Ojai, CA is the home to approximately 40 Pixie growers . . . .
And, it holds a special place in my heart, which is not on topic. 😉 In 1964 my mom and dad got married at The Ranch House in Ojai — then, in 2002, Stephen and I got married there, too.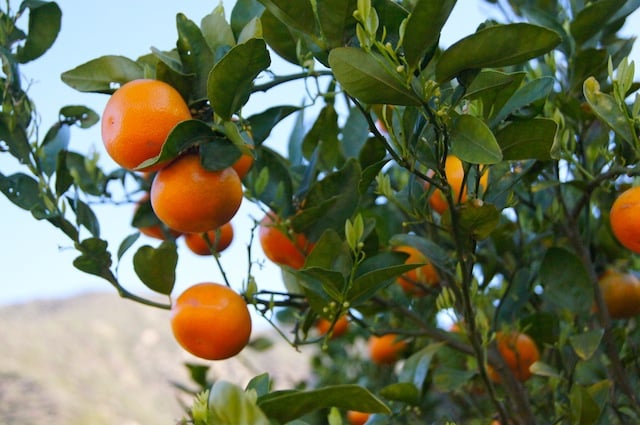 Pixie tangerines are sun-sweetened, delicate, seedless fruit treasures.
Grown in the perfect climate for citrus, where the days are hot and the nights are cool, they are oh-so- delicious!
When is Pixie Season?
Their season is quite short — it begins in March and ends in May.
It's only during about 2 to 3 months that you can make the most delicious tangerine recipes ever! Especially this delicious, No-Bake Tangerine Cheesecake recipe!
I made this recipe in individual servings because I'm also a sucker for my own individual serving — a whole cake just for me!
This recipe is bursting with Pixie tangerine flavor, as it makes its way through the entire dessert — zest in the crunchy, buttery crust, zest and juice in the smooth, silky filling, and gorgeous slices sitting prettily on top.
What's in No-Bake Tangerine Cheesecake?
Pixie tangerines
cream cheese
sweetened condensed milk
vanilla
shortbread cookies
butter
Don't miss out and get them while you can!
Recipe Tips for No-Bake Tangerine Cheesecake
You could also make one single cake with this recipe. [Add the crust to the bottom of a 10-inch spring form cake pan, then add the filling, and top with the tangerine slices. If you like a softer consistency, rather than frozen or semi-frozen, it should work well in this form.]
Shortbread cookie sizes might vary, so you might need a few more or a few less to get the 2 cups of crumbs.
If you love a graham cracker crust, you can swap them with the shortbread cookies, and add a bit of sugar.
You can find out more about Pixies at Melissa's Produce, and here's a list of locations where you can find them.
Enjoy every last sweet, fresh bite of this No-Bake Ojai Pixie Tangerine Cheesecake.
No-Bake Tangerine Cheesecake Recipe
While delectable on their own, tangerine recipes are also lovely -- particularly this rich and creamy, citrus no-bake cheesecake with a short bread cookie crust.
Keyword:
no-bake desserts, citrus desserts for a party
Ingredients
For the crust
2

cups

shortbread cookies,

finely ground (about 1 1/2 dozen cookies)

¼

cup plus 2 teaspoons

unsalted butter,

melted

Zest of 2 Ojai Pixie tangerines
For the filling
2

(8-ounce) packages

cream cheese,

softened

½

cup

sweetened condensed milk

zest of 2 Ojai Pixie tangerines

6

tablespoons

fresh Ojai Pixie tangerine juice

(from about 3 tangerines)

2

teaspoons

pure vanilla extract

3

Ojai Pixie tangerines

(if you've used them for zest, that's okay)
Instructions
Line 1 standard-sized (1-dozen) muffin pan with paper cups and set aside.
For the crust
Add the cookies to a food processor fitted with the blade attachment and blend until you have fine crumbs. (Shortbread cookies crush very easily, so if you don't have a food processor, you can put them in a heavy-duty zip-lock bag, seal it, and roll over it with a rolling pin, or pound gently with the bottom of a small sauté pan.)

Pour the crumbs into a mixing bowl and add the melted butter and tangerine zest. Stir until everything is evenly blended and set aside.
For the filling
Add the softened cream cheese to a medium-sized mixing bowl and mix until it's very smooth without any lumps. Then mix in the sweetened condensed milk, tangerine zest and juice, and the vanilla. Stir until it's a creamy, smooth consistency and set aside.

Place one tangerine slice in the bottom of each paper cup in the prepared muffin pan.

Evenly divide the filling among the paper cups, directly on top of the tangerine slices. Fill each one to about ¼ to ½-inch from the top.

Now place the muffin pan in the freezer for 30 minutes. (It should be firmed up, but still a bit soft.)

Evenly divide the crust on top of each cheesecake, filling it so that none of the cheese mixture is visible. Use a small, flat-bottomed spatula to very gently press down each crust, smoothing it out.

Place the pan back in the freezer, this time for about 2 hours.

To remove the cheesecakes from the pan, you can either invert it on a baking sheet, or use a small, dull knife to carefully lift each one out.

Then very slowly and gently, pull the paper cups off of each cheesecake, placing them, tangerine slice side up, on serving plates as you go. Let them sit for at least 10 minutes before serving. (They can be served frozen, semi-frozen or soft. Once they are soft, though, they don't present quite as well, and will easily fall apart as one cuts into it with their fork. My preference is when they've been defrosting for about 15 minutes -- semi-frozen. Delicious!)
Save
Save