A picturesque seasonal salad that's packed with fall fruits and a dressing that's out of this world!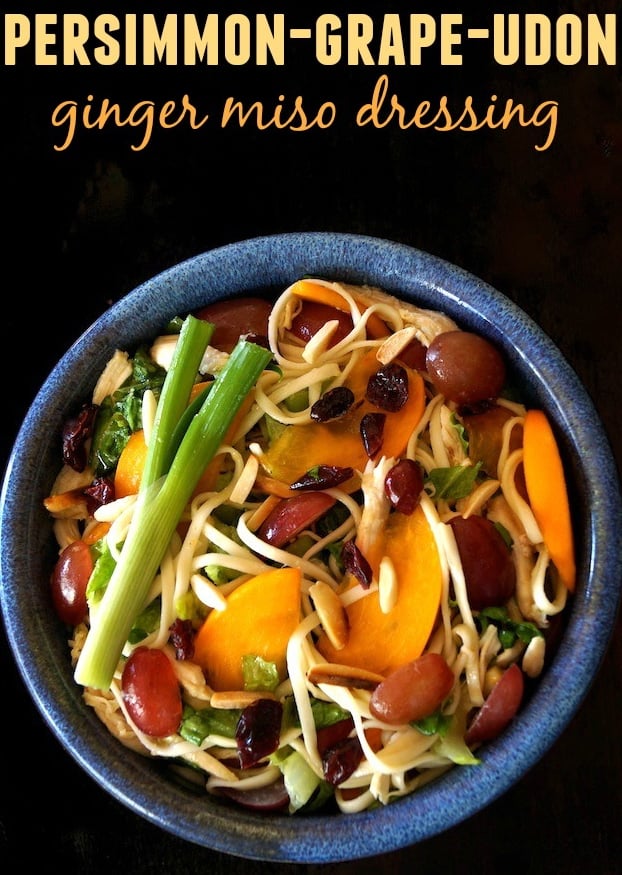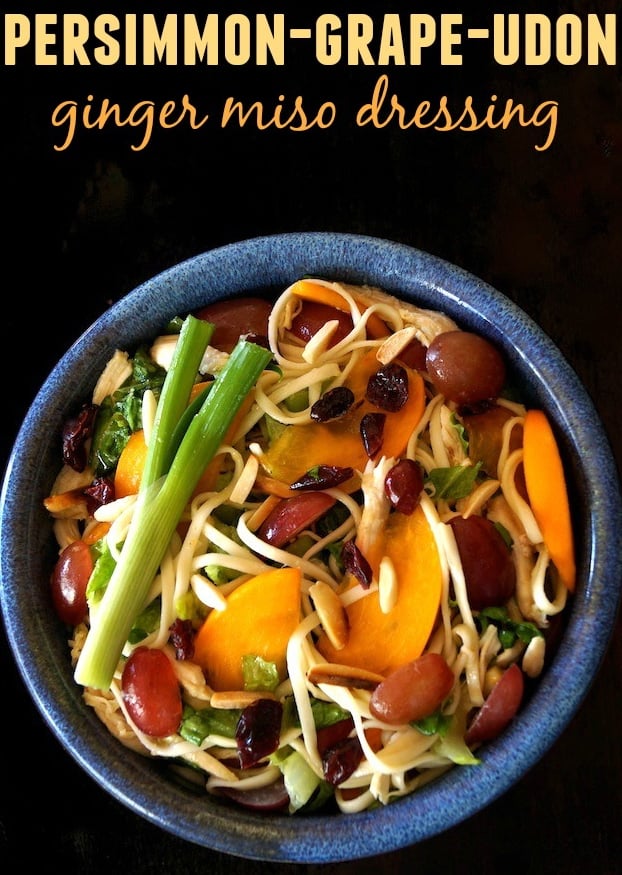 I'm not sure who (or what, I suppose) the star is here, the grapes, the persimmons, or the dressing.  I think they all have lead roles, and the noodles, lettuce and other ingredients are excellent supporting characters.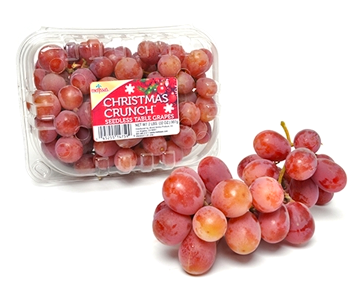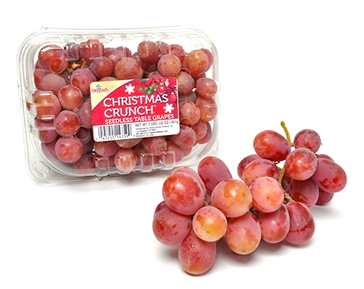 I love grapes in salads, especially when they're sweet and crisp.  Melissa's Christmas Crunch Grapes are exactly that!  They're a new variety of red, seedless grapes grown in Central California exclusively for Melissa's Produce.  In season from late summer through December, they're slightly sweeter and crunchier than standard red grapes.  These Christmas grapes are as tasty on their own as they are in festive in salads like this one.
Cinnamon persimmons are native to China and Japan and get their name from their speckled flesh. This variety can be likened to both the Fuyu and Hachiya combined with a sprinkling of cinnamon. I love it!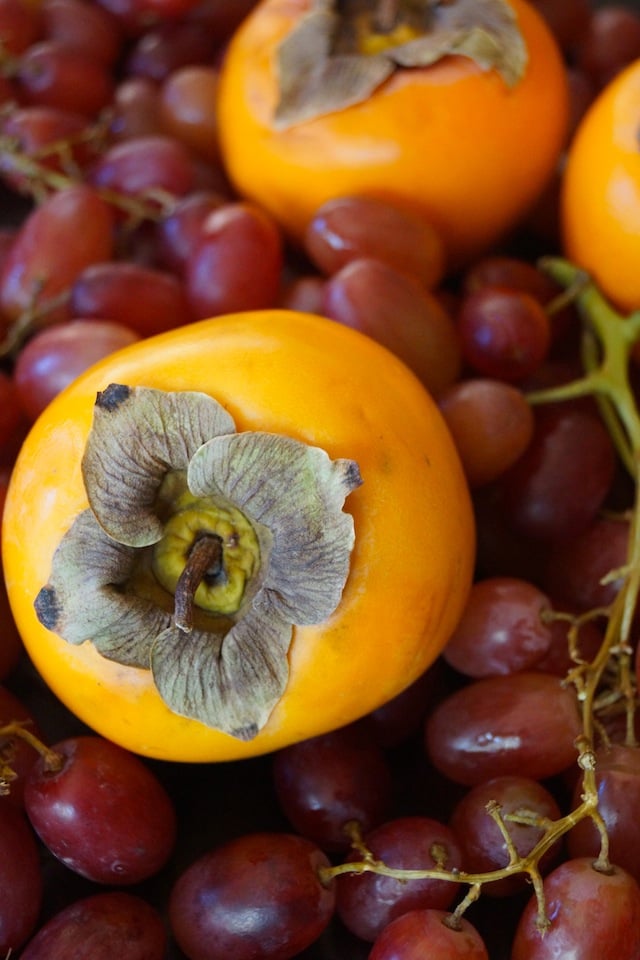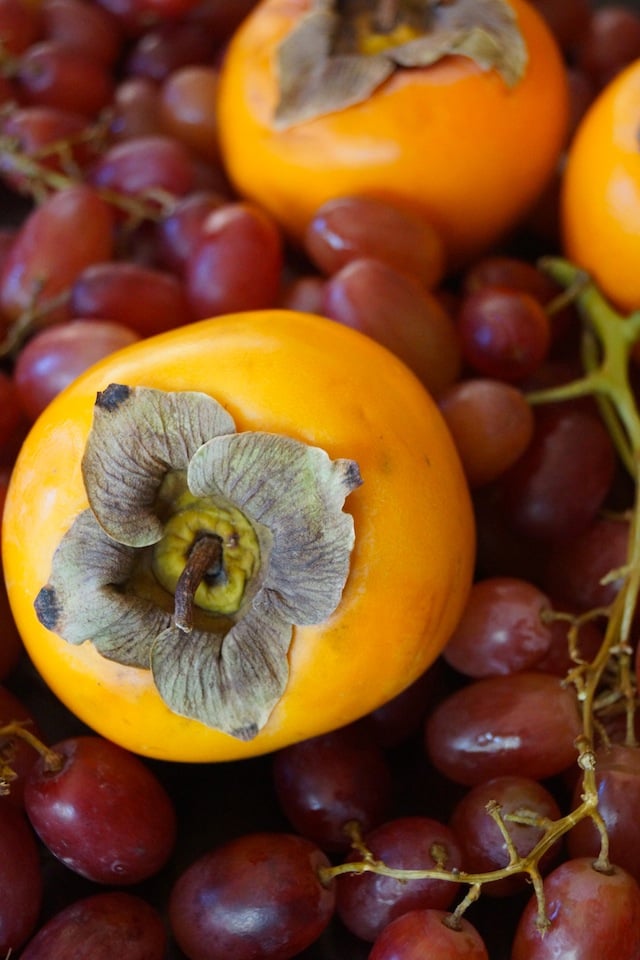 Drizzled with the super delicious, tangy-sweet miso dressing makes all the ingredients beyond scrumptious!
You'll want every last bite!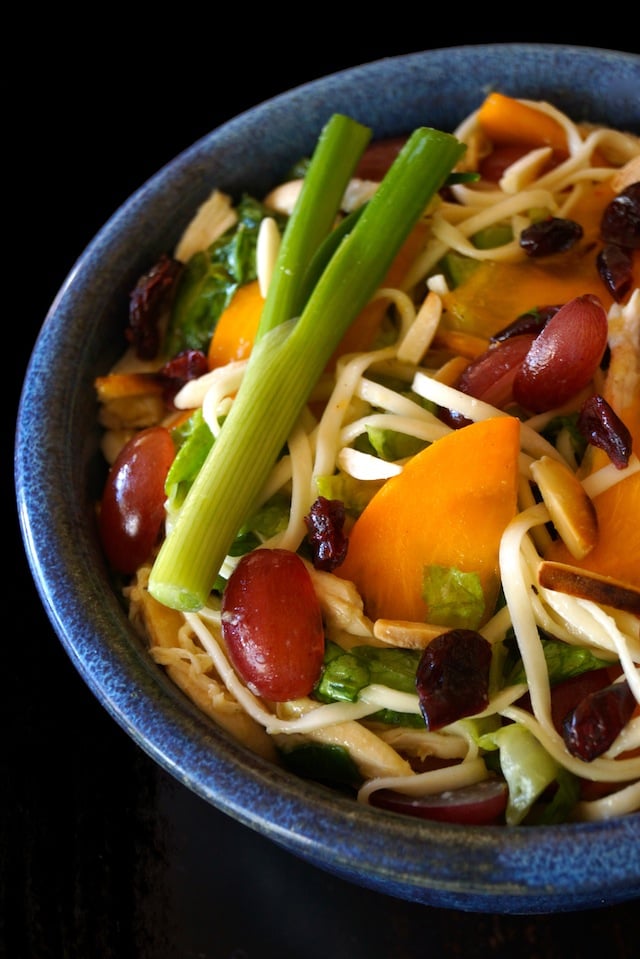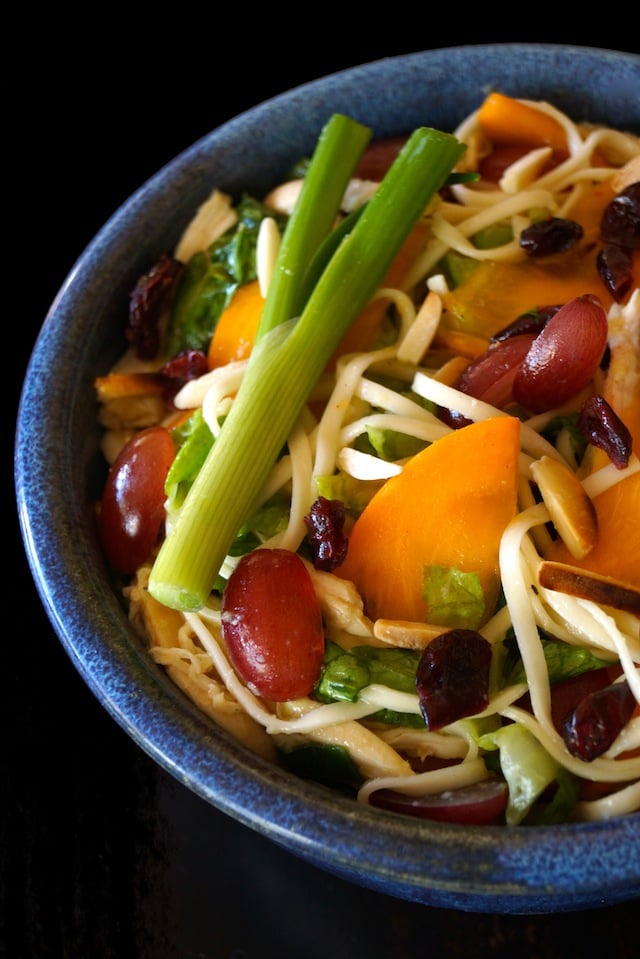 This is a lovely entrée salad one night before Thanksgiving later this week, and a great way to enter December afterwards.
This is not a sponsored post — Melissa's Produce sent me Christmas Crunch Grapes and Cinnamon Persimmons for recipe testing, and as always all opinions are my own.

Persimmon-Grape Udon Salad with Ginger Miso Dressing
Ingredients
For the dressing
2

tablespoons

Shiro

white miso paste

1

tablespoon

fresh ginger pulp

1

teaspoon

fresh minced garlic

2

teaspoons

sugar

1/4

teaspoon

sea salt

3

tablespoons

rice vinegar

3

tablespoons

grape seed oil

2

tablespoons

sesame oil
For the salad
2

cups

cooked and cooled udon noodles

from about 1-ounce dry noodles - see notes

1

head washed and dried

finely chopped Romaine lettuce

2 to 3

Cinnamon or Fuyu persimmons

washed, dried and thinly sliced (about 1 1/2 cups cups)

2 1/2

cup

Christmas Crunch grapes

washed, dried, and sliced in half, lengthwise

2

cooked

large chicken breasts, shredded (about 2 cups)

4

washed and dried

thinly sliced scallions

1/2

cup

dried cranberries

1/2

cup

slivered

toasted almonds
Instructions
For the dressing
Add the miso, ginger, garlic, sugar, salt and rice vinegar to a small mixing bowl and use a whisk to blend. Add the sesame and grape seed oils, and continue whisking until the mixture is smooth. Set aside.
For the salad
In a very large serving bowl, gently toss the noodles with the Romaine, grapes, persimmons, chicken, and scallions.

Drizzle with the prepared dressing and gently toss again. (Using your hands is best so the noodles don't break.)

Sprinkle with the cranberries and almonds and serve.
Recipe Notes
Dry udon noodles typically come is packages with a few separated bundles, with a string around each one. Each bundle of the dry noodles is usually 1 ounce.
While I'm loving the Christmas Crunch Grapes and Cinnamon Persimmons, use any varieties you enjoy.
Save