This Yellow Curry Paste recipe bursts with fresh flavors and warm, rich spices. You can whip this up inside of twenty minutes and use it to flavor dozens of different dishes.
With layers of fresh produce and dry warming spices, this yellow curry paste will enhance all sorts of dishes it's added to.
What is curry paste?
Curry paste

is primarily used in Thai dishes

, and like

curry powder

, it's a blend of several, sometimes dozens, of ingredients.
There are three main types of Thai curries—red, yellow, and green. The color is simply determined by the different types of chiles, spices, and herbs used. Each one also has its own distinctive flavor. (Yellow curry paste is typically more mild than red and green pastes.)
It's a very

versatile and flavorful base for a variety of Thai dishes, as well as all sorts of other creative dishes (examples below). 

Curry pastes help to develop dishes with deep, rich, incredibly delicious flavors.
Though it's not necessarily authentic, this particular recipe contains many of the ingredients in a typical Thai yellow curry paste.
What's in this recipe?
shallots
fresh garlic
fresh ginger
ground coriander seeds
ground cardamom
ground cinnamon
ground turmeric
ground cloves
brown sugar
coconut milk
fish sauce
fresh Thai chiles or dried chili flakes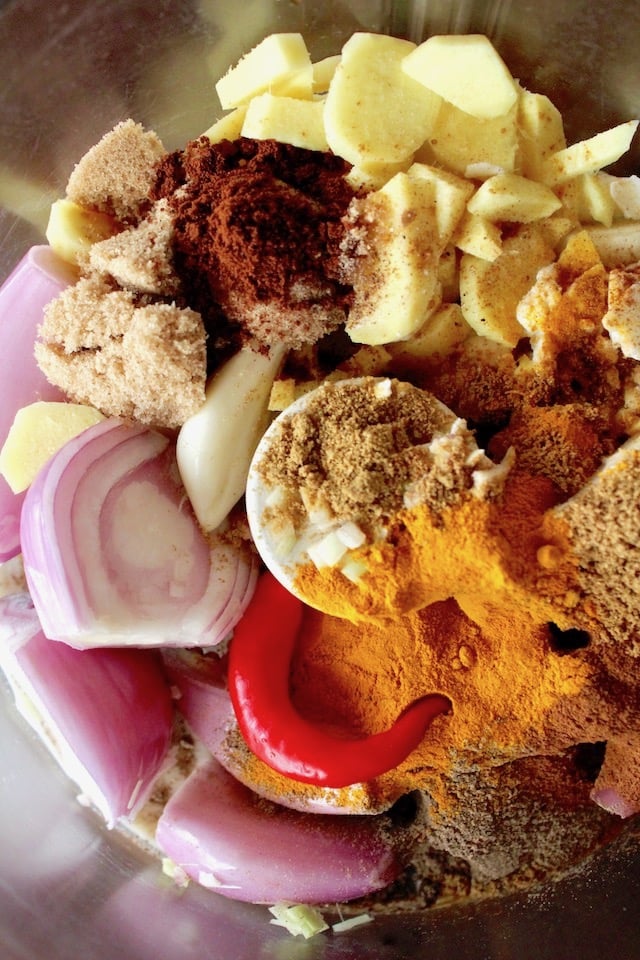 Recipe Tips and Substitutions
The best way to make this is in a food processor.
If time permits, and you have, or can get whole spices -- toast and grind them yourself. This is a lovely thing to do and the flavor will be slightly superior.
I would suggest using

this guide to cut the lemongrass

.
Amounts in this recipe should be close, but don't have to be exact.
You can make this yellow curry paste totally mild --  just omit the Thai chiles or chili flakes. Or, use more or less if you'd like to.
If you happen to have

fresh turmeric root

, you can use it instead of the ground turmeric. Use about double the amount.
How to Use it
Curry paste is excellent to add to sauces that are used for tofu, fish, meat, poultry and vegetables. (It's especially delicious mixed into coconut milk, which is quite common in Thai cooking.)
It's also fantastic to mix into stir fries.
It can be added as a wet rub for sautéed fish, poultry and meats.
You can blend a bit of the yellow curry paste into a vinaigrette or whisk it into yogurt to make salad dressing.
I also love it blended into noodles and soups.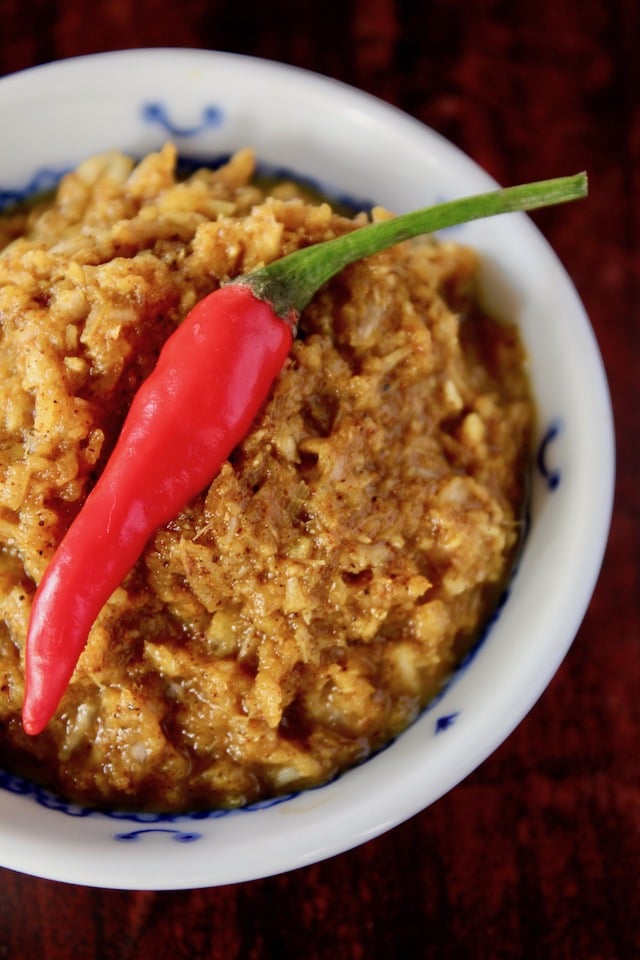 Recipes with yellow curry paste:
I hope you try and love this recipe!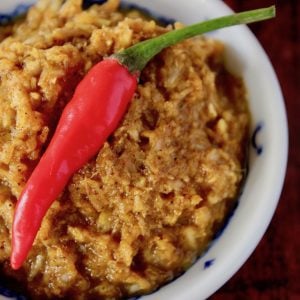 Yellow Curry Paste Recipe
Yellow Curry Paste Recipe is bursting with fresh flavors and warm, rich spices. You can whip this up inside of twenty minutes and use it in dozens of different recipes. *Makes 1 cup
Instructions
Blend the ingredients. Place all of the ingredients in a food processor fitted with the blade attachment and blend until it's as smooth as possible. This may take a few minutes, and it will not be completely smooth. Scrape down the sides of the food processor from time to time, to be sure everything gets incorporated.

Store the curry paste. Store in an airtight container in the refrigerator. It should keep for at least 2 months.
NOTES
Calorie count is only an estimate.
NUTRITION
Have you tried this recipe?
I'd love to see it on Instagram! Tag me at @cookingontheweekends or leave a comment & rating below.
Cooking On The Weekends is a participant in the Amazon Services LLC Associates Program, an affiliate advertising program designed to provide a means for sites to earn advertising fees by advertising and linking to Amazon.com.