These Curry Fries with Yogurt Lime Dip are a unique, flavor-packed, super delicious, lovely snack or appetizer. The spices in the curry are balanced perfectly with the fresh and tangy dip.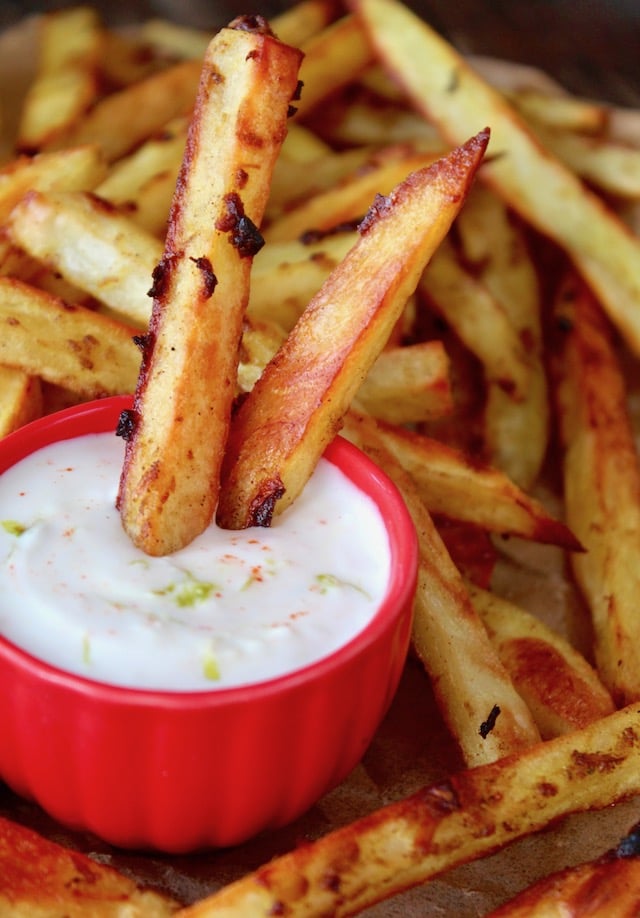 Who doesn't love a good French fry? Um . . . . nobody!
I mean, seriously.
These curry fries have a totally unique flavor profile and they're truly amazing!
Ingredients in Curry Fries?
Russet potatoes
grapeseed oil
salt
What's in the dip?
plain yogurt
lime zest
lime juice
honey
cayenne pepper
How to Make Curry Fries
It's so easy!
- Mix curry paste with grapeseed oil and a touch of salt.
- Peel the potatoes and cut them into sticks.
- Toss the potato sticks with the curry paste mixture.
- Spread them in an even layer on a baking sheet and bake in a 425°F oven for about 50 minutes.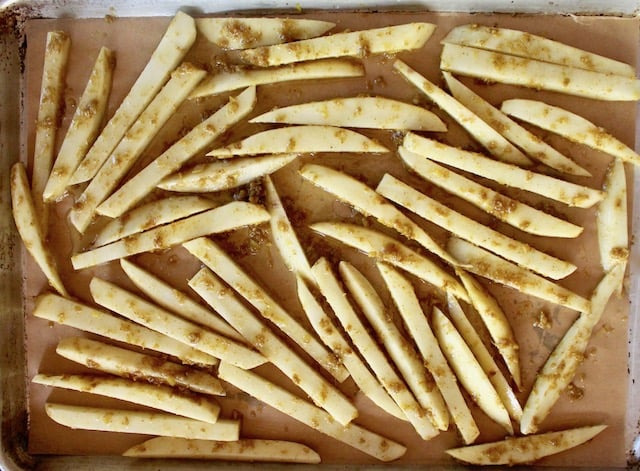 (More detailed instructions are below.)
Why Curry Paste vs. Curry Powder?
There are so many different pastes and powders, like thousands. (Really!)
In this recipe, I use Yellow Curry Paste that includes several delicious spices: cumin, cardamom, cloves, cinnamon, crushed chilies and turmeric.
The reason I chose to use a paste, rather than a powder, is that curry pastes also includes fresh ingredients like shallots, lemon grass and garlic.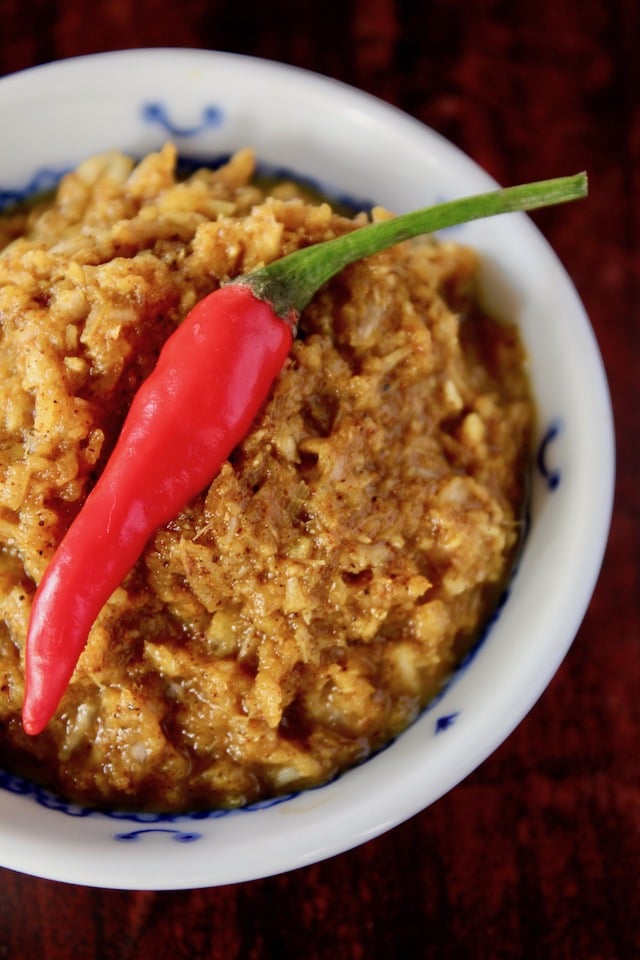 Above: Yellow Curry Paste
And all of these deep flavors that together create a super tasty and crispy "crust" on the curry fries.
*Curry powder is a staple in Indian cooking and curry paste is typically associated with Thai food.

Yogurt Lime Dip
The Yogurt Lime Dip is super tangy and subtly sweet with just a touch of honey. Fresh and bright, it's divine with a bite of the deep, rich curry flavor on the crispy potatoes.
I love to serve the fries hot or very warm, and the Yogurt Lime Dip cold. This mix of spicy, sweet, hot and cold is over-the-top fantastic!
Recipe Tips and Substitutions
As I mentioned above, I use yellow curry paste in this recipe. You can however, use any curry paste you like. Red, green, yellow, spicy, mild . . . it's your call. (If you purchase curry paste, taste it before you use it to be sure you know how spicy or mild it is. Also, many curry pastes are made with oil, while the

curry paste

recipe I use

doesn't have oil in it. If this is the case, you will likely want to use less oil than the recipe calls for -- just enough to help coat the potatoes with the paste.)
I use a pinch of cayenne pepper in the Yogurt Lime Dip. If your prefer it without the heat, omit it. Either way, it's deliciously refreshing with the curry fries.
If you want a vegan version of the dip, you can use this

Cashew Cream

instead of the yogurt.
I hope you love these curry fries as much as my family and I do!
More unique French fry recipes:
Curry French Fries with Yogurt Lime Dip
These Curry French Fries with Yogurt Lime Dip are a flavor-packed, unique, super delicious, and lovely snack or appetizer! The spices in the curry are balanced perfectly with the fresh and tangy sauce.
Ingredients
For the fries
¼

cup

grapeseed oil

1

teaspoon

salt

1¾

pounds

Idaho Russet potatoes
For the dip
¼

cup

plain yogurt

1

teaspoon

lime zest,

finely chopped

¾

teaspoon

lime juice

1

teaspoon

honey

pinch

teaspoon

cayenne pepper
Instructions
For the fries
Preheat oven and prepare a baking sheet. Preheat the oven to 425°F and line a sheet pan with parchment paper.

Mix the ingredients to coat the potatoes. In a large mixing bowl, combine the oil with the curry paste and salt.

Prepare the potatoes and add them to the curry paste mixture. Peel, wash, and dry the potatoes. Then cut them into French fry-sized pieces, about ¼ to ½ inch x 4 inch sticks. Add them to the bowl with the curry mixture and toss them until they're completely coated. (Using your hands is the easiest way to do this.)

Bake. Spread the coated potato sticks on the parchment-lined baking sheet in a single layer, and place them in the preheated 425°F oven for approximately 50 minutes, or until both sides are golden brown and crispy. They should be flipped about three quarters of the way through the cooking process, with a flat-bottomed metal spatula. Leave them on the baking sheet to cool for a few minutes before serving.
For the dip
Combine ingredients. Mix all of the ingredients together in a small bowl until smooth. Keep refrigerated until you're ready to serve. (The perfect time to make the dip is while the fries are baking.)
NOTES
Calorie count is only an estimate.
NUTRITION
Have you tried this recipe?
I'd love to see it on Instagram! Tag me at @cookingontheweekends or leave a comment & rating below.
Cooking On The Weekends is a participant in the Amazon Services LLC Associates Program, an affiliate advertising program designed to provide a means for sites to earn advertising fees by advertising and linking to Amazon.com.