Persimmon Prosciutto Pork Tenderloin is an unforgettably delicious entrée to serve during the fall and winter months. It's a hearty, comforting dish that's bursting with sweet and savory flavors that will keep everyone coming back for more.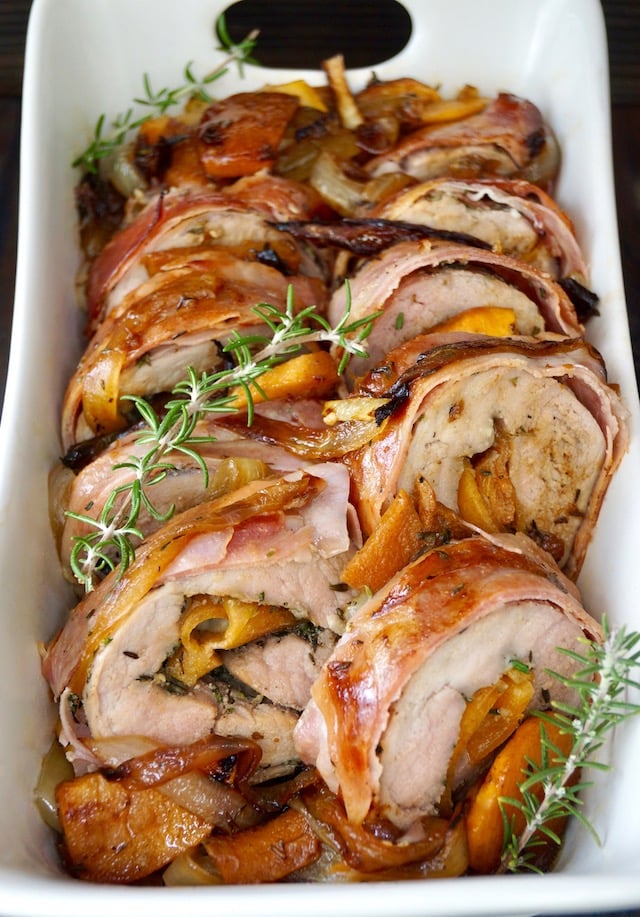 Inspiration
We've started a new family tradition at my house. My dad comes over every Thursday night for dinner. While I certainly try to serve delicious food all week, this new tradition makes Thursday night's dinners little bit more special.
And this past Thursday was made even more special with a very timely Fuyu persimmon delivery from my friends at Melissa's Produce.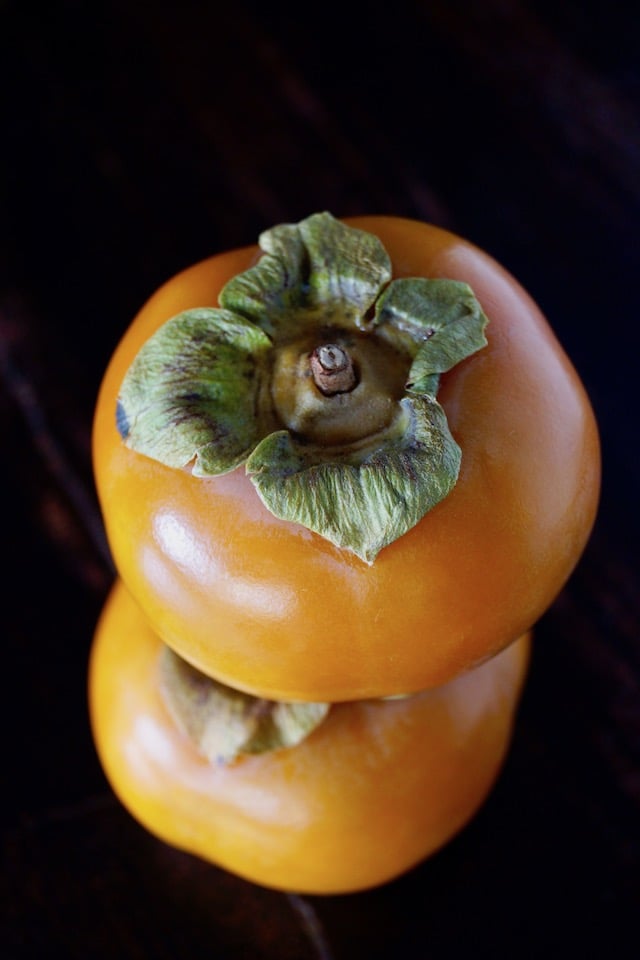 With a pork tenderloin and prosciutto in the fridge, I almost instantly thought of making this Persimmon Prosciutto Pork Tenderloin Recipe.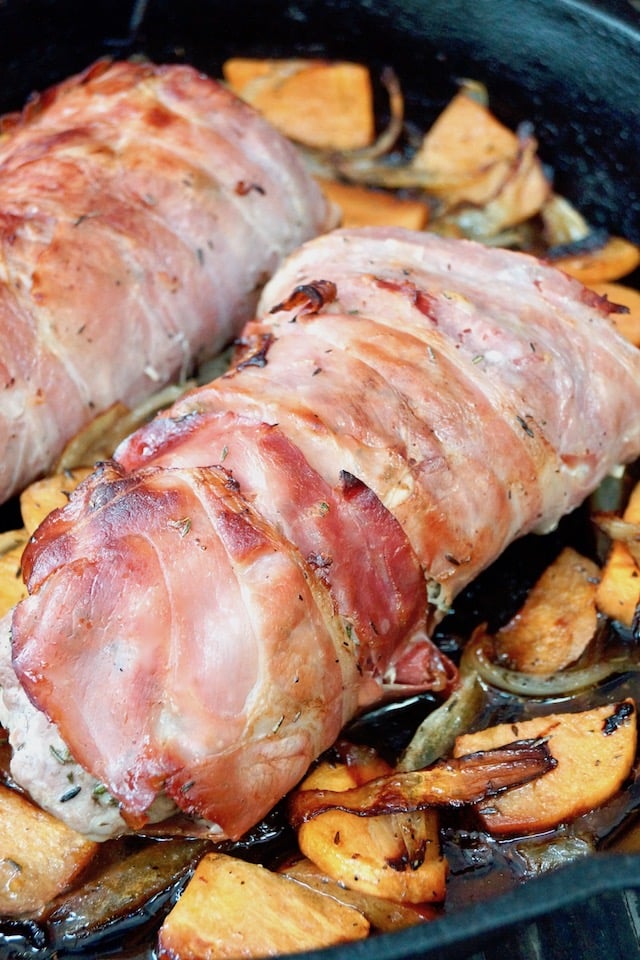 Since my dad's on his own now, mealtime is different. He's been cooking from time to time, but like most of us, he prefers to cook for someone. He has a lot of good prepared foods he can just heat up, which he likes, but on Thursday's I really try to do it up, so it's extra exciting for him.
And we all reap the benefits. Win-win.
Fuyu Persimmons vs. Hachiaya Persimmons
Fuyu Persimmons, like other varieties are truly gorgeous. Unlike Hachiya persimmons, which can only be eaten once they're super soft and unable to be sliced, Fuyus are a non-astringent variety, that are sweet and delicious when firm and can be easily sliced.
They are so lovely to have around during their fall season — their orange-red color exudes warmth and beauty.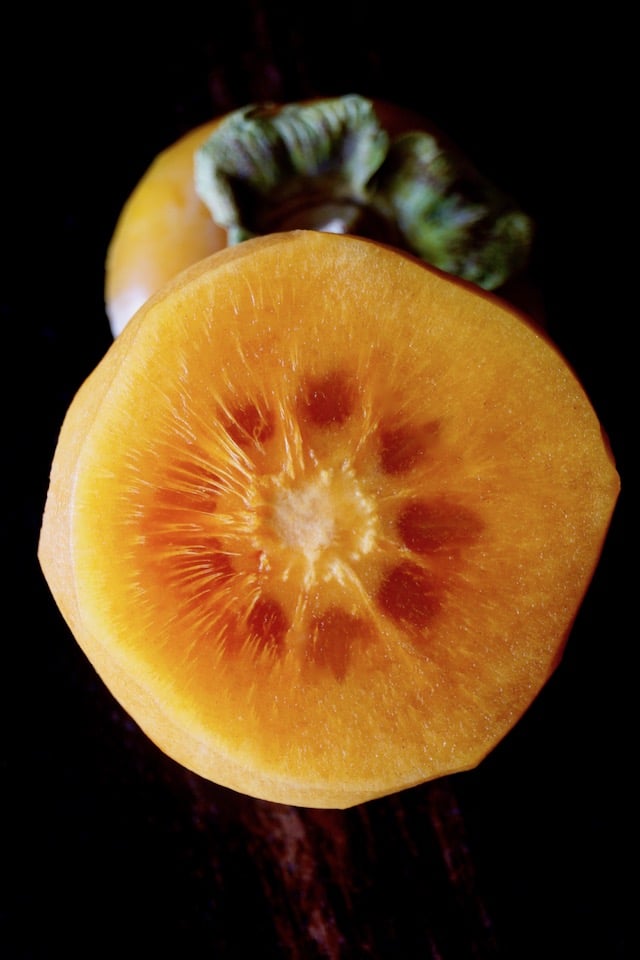 I used the Fuyu persimmons two ways in this recipe:
Sliced super thinly inside of the rolled pork, and sliced in wedges in a mixture of sweet caramelized onions and herbs.
Key Elements That Make Persimmon Prosciutto Pork Tenderloin so Delicious
Fuyu persimmons become softer during the cooking process, but remain intact, so you get a nice piece in every bite.
The prosciutto crisps up perfectly, almost working as a "crust."
Bits of melting gorgonzola add just the right amount of punch to bring this to the next level, without interfering with the sweetness of the persimmons.
Juicy, succulent pork holds everything together and is what makes this such a hearty dish.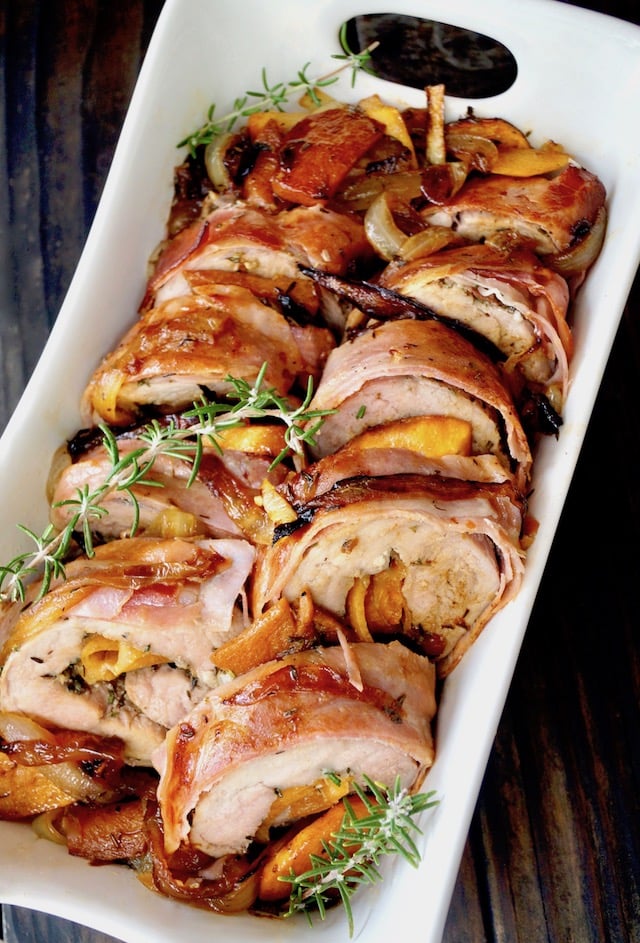 Oh and of course, in honor of my mom, this is appropriately served with double the onions!
Enjoy!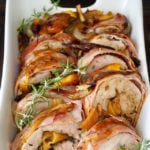 Persimmon Prosciutto Pork Tenderloin Recipe
An unforgettably delicious entrée to serve during the fall and winter months. It's a hearty, comforting dish that's bursting with sweet and savory flavors that will keep everyone coming back for more.
Keyword:
holiday meat recipes, recipes with pork
Ingredients
1

tablespoon

fresh rosemary,

washed and dried, finely chopped

1 1/2

teaspoons

dried thyme

divided

2

teaspoons

garlic,

minced (about 4 small cloves)

1

tablespoon

olive oil and a bit more for the pan

3

(approximately 4-ounce)

Fuyu persimmons

1

(1 1/2-pound)

pork tenderloin

5

ounces

prosciutto,

very thinly sliced

3

tablespoons

gorgonzola,

crumbled

2

cups

yellow onion,

thinly sliced

salt and freshly ground black pepper
Instructions
Preheat the oven to 450°F and adjust a rack to the center.

In a small bowl, combine the rosemary, 1 teaspoon of the thyme, garlic and the 1 tablespoon of oil. Set aside.

Slice about 1/2-inch off the stem end of each persimmon, and about 1/4-inch off the bottoms, and peel them. Cut two of them into rounds, as thinly as possible. Set aside. Then cut the third one into approximately 1/2 inch wedges and set it aside (separate from the rounds).

Working on a clean, dry surface, use a boning knife to trim the pork of any excess fat. Next, butterfly it in a roll cut. To do this, cutting lengthwise, slice about 1/2-inch from the edge, starting to cut down at a 45 degree angle. When the knife is about 1/2-inch from the bottom of the tenderloin, angle it parallel to your work surface and continue to slice, gently pulling the pork back as you go. You'll end up with a somewhat flat piece that's about 1/2-inch thick. Now sprinkle it very lightly with water, and then place a large piece of plastic wrap on top. Use a smooth meat pounder or the bottom of your smallest sauté pan, to pound the pork until it's as smooth and even as possible, if possible without thinning it. (It will tear if it's too thin.)

On another clean dry surface, place another large piece of plastic wrap, and lay the prosciutto slices on it, layering them by about 1/2-inch along their edges, lengthwise. It's should be about the length of the pork. (If you have leftover slices, place them in any thin areas.) It should look like this . . .

Season both sides of the pork with salt and pepper and then place it directly on top of the prosciutto with the rosemary mixture, smooth side down. Rub the remaining half of the rosemary mixture on top, like this . . .

Sprinkle the gorgonzola evenly over the persimmon slices.

Now, starting with the end closest to you, roll up the pork, as tightly as possible. You'll be rolling the pork off of the prosciutto — don't roll the prosciutto with the pork! Once the pork is tightly rolled, with the seam side down, use the plastic wrap to help you wrap the prosciutto around the pork roll, as tightly as possible.

Set the pork aside and coat the bottom on a large oven-proof sauté pan (approximately 14-inch) with olive oil and place it over medium heat. Add the onions and remaining 1/2 teaspoon of dried thyme. Sauté, stirring often, until the onions are soft and becoming golden, about 10 minutes. Add the sliced persimmon wedges, mix and sauté for another minutes. Season to taste with salt and pepper. (

Here's How to Season to Taste

.)

Now we're going to add the prosciutto wrapped pork to the pan. It will most likely be too long to fit, so cut it in half, horizontally, in the center. Turn the heat up to medium-high, spread the onion-persimmon mixture to the edges of the pan, and add a bit more olive oil in the center. Being very careful, use your hands or kitchen tongs, gently place the pork in the pan, seam side down. If it's in two pieces, try to have at least an inch between them. Sauté long enough to brown the bottom, about 1 minute. (It's okay if they become unwrapped a little — they might not be perfect.)

Turn the heat off and spread the onion-persimmon mixture evenly around the pork, and between them if there are two.

Place the pan in the preheated 450°F and roast just until the pork is cooked through, about 15 minutes.

Let it sit for a few minutes before slicing it into rounds and serving.
Save
Save
Save
Save
Save
Save
Save
Save
Save
Save