This Mini Red Potato Appetizer with Cranberries are a sweet and savory fusion of delicious fall flavors. They're the prefect way to start any holiday celebration!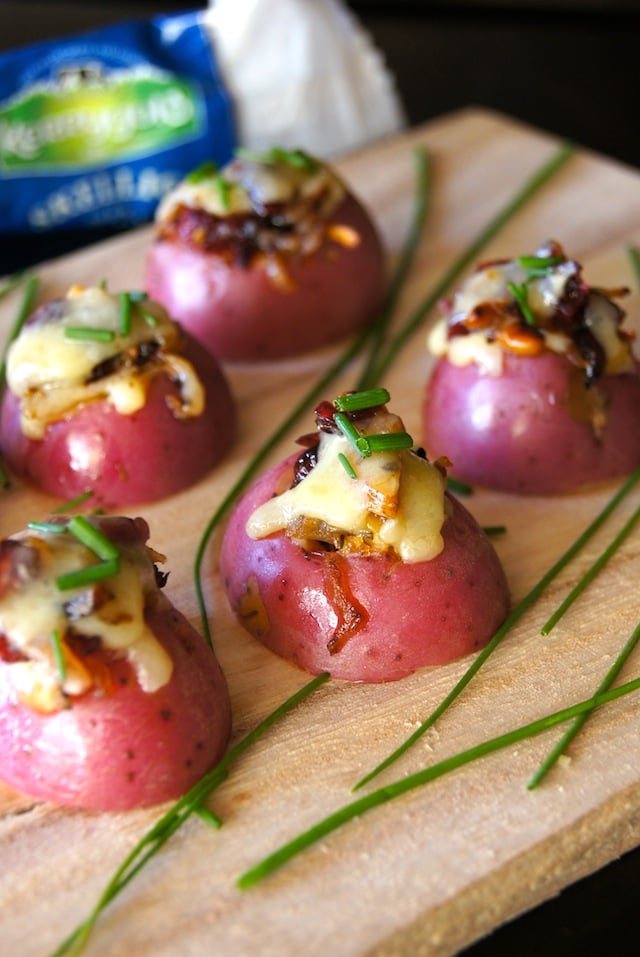 This Mini Red Potato Appetizer recipe with Cranberries could have had a much longer title, but I decided the recipe itself is enough of a mouthful. 😉
I'm always tempted to list as many ingredients as possible in the title, because they usually sound so delicious together, and lure people in.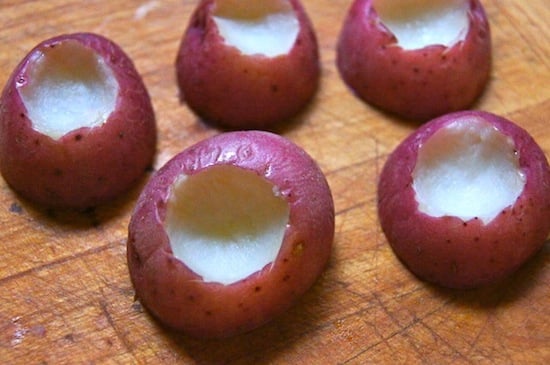 Mini red potatoes are filled with melting Kerrygold Skellig Sweet Cheddar cheese, and spiced cranberry-pecan caramelized onions. The combination of flavors and textures is simply out of this world!
What's in this recipe?
mini red potatoes (also called Pee Wee)
olive oil
red onion
dried cranberries
pecans
cayenne, salt and pepper
Kerrygold Skellig Sweet Cheddar Cheese (or other favorite white cheddar)
chives
Ar you imagining all of this in one delicious, melt-in-your-mouth bite!?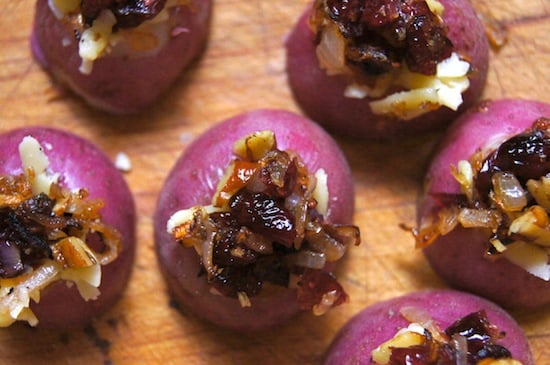 Even a huge feast should begin with a treat, and these Red Potato Hors D'Oeuvres scream Thanksgiving. They're perfect all through the winter holidays.
*Here are a handful more scrumptious show-stopping Thanksgiving appetizers.*
What do these taste like?
Let's break it down. . .
The creamy, full-flavored Cheddar is rich, tangy and subtly sweet, and it's unbelievable delicious melted beautifully into each bite.
The red onion-cranberry-pecan mixture is a compote of sorts. It's sweet and has a tiny crunch to it.
The potatoes are velvety soft and are the perfect vessel for all of the other ingredients. They are like tiny bowls.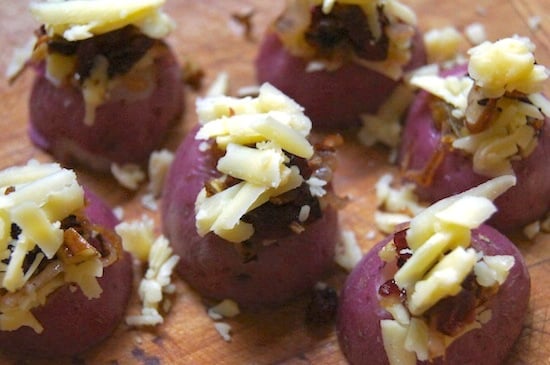 I think these are so adorable and even more delicious. They're also quite festive looking, and can be eaten in just one or two bites. Perfect!
Can you use other cheeses?
This Skellig from Kerrygold is one of my favorite cheeses, but you can use any white cheddar cheese you like.

Gruyère would also be a lovely choice.
Can you make this ahead?
Yes!
You can make all of the components a day ahead of time, assemble a few hours ahead, and then bake about fifteen minutes before serving.
Enjoy every last bite of this Mini Red Potato Appetizer with Cranberries . . . . and pecans, onions, etc. 😉
More fabulous potato appetizers:
This is not a sponsored post — Kerrygold sent me Skellig Sweet Cheddar Cheese for recipe testing. As always, all opinions are my own.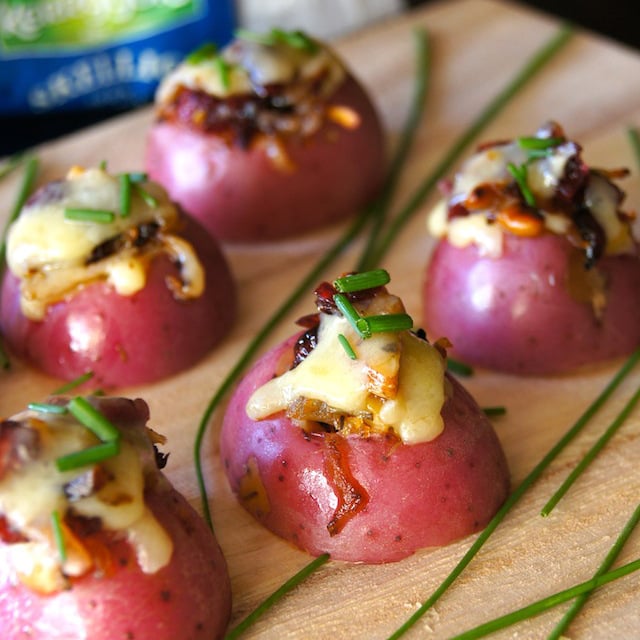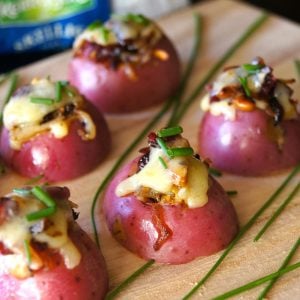 Mini Red Potato Appetizer with Cranberries
These festive appetizers are a sweet and savory fusion of delicious flavors. They're the prefect way to start your holiday feast.Makes 2 dozen
Ingredients
1

dozen

pee wee red potatoes (they should be approximately 1-inch in diameter, and 1½-inches long),

washed and dried

1 to 2

tablespoons

olive oil

⅔

cup

thinly sliced red onion,

2

tablespoons

roughly chopped pecans

pinch

cayenne pepper

salt to taste

⅓

cup

finely grated Kerrygold Skellig Sweet Cheddar (or other favorite white cheddar)

2

teaspoons

finely chopped fresh chives
Instructions
Cut the potatoes. Cut each potato in half, horizontally. Then use a small melon baller to hollow out a bit of the round side of each half, about ½-inch deep. (Save the scraps to sauté, sprinkle with salt and pepper and eat!)

Steam potatoes. Place the prepared potato halves, flat side down on a large steamer rack, over a few inches of water -- ideally into a pot that fits it perfectly. Place the pot over high heat and once the water below the rack is boiling, reduce the heat to low, cover and steam the potatoes until they are tender, 10 to 15 minutes. (Cooking times will vary depending on their size). Set the potatoes aside to cool.

Make the filling. Add the olive oil to a medium-sized sauté pan, using enough to coat the bottom.

Roughly chop the thinly sliced onion and place the pan over medium-high heat.

Add the onions to the pan and, stirring often, cook until they are soft and beginning to brown, about 10 minutes. Add the cranberries and pecans and cook for another 2 minutes.

Season and set oven. Add the cayenne and season to taste with the salt. (Here's How.)

Preheat the oven to 300°F, and line a baking sheet with parchment paper.

Assemble. Place the potato halves on the lined baking sheet. Using about ⅔ of the cheese, add a bit to the top of each potato, filling the scooped out area, and gently pressing it down. Now evenly divide the onion mixture among the potatoes, gently pressing in down on top of the cheese. Then sprinkle a bit of the remaining cheese on top of each one.

Bake. Place them in the preheated 300°F oven just to warm them through and melt the cheese, about 4 minutes.

Serve. Place them on a serving platter, sprinkle with the chives and serve warm.
NOTES
Calorie count is only an estimate.
NUTRITION
Have you tried this recipe?
I'd love to see it on Instagram! Tag me at @cookingontheweekends or leave a comment & rating below.
Cooking On The Weekends is a participant in the Amazon Services LLC Associates Program, an affiliate advertising program designed to provide a means for sites to earn advertising fees by advertising and linking to Amazon.com.