With succulent pieces of juicy pork, coated with a fresh, spicy Salsa Verde recipe, this popular Mexican dish, Puerco en Salsa Verde, will have you licking your plate clean!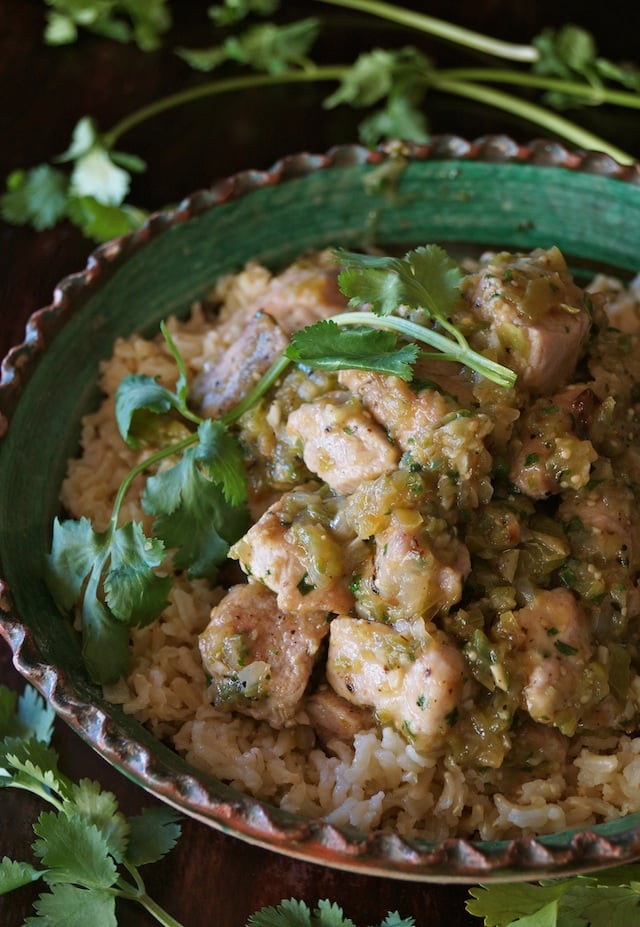 Though my recipe inspiration comes from a myriad of places, including magazines, the seasons, what I see in the market, or my mood — what I love the most is when it comes from unexpected conversations.
It's probably my favorite!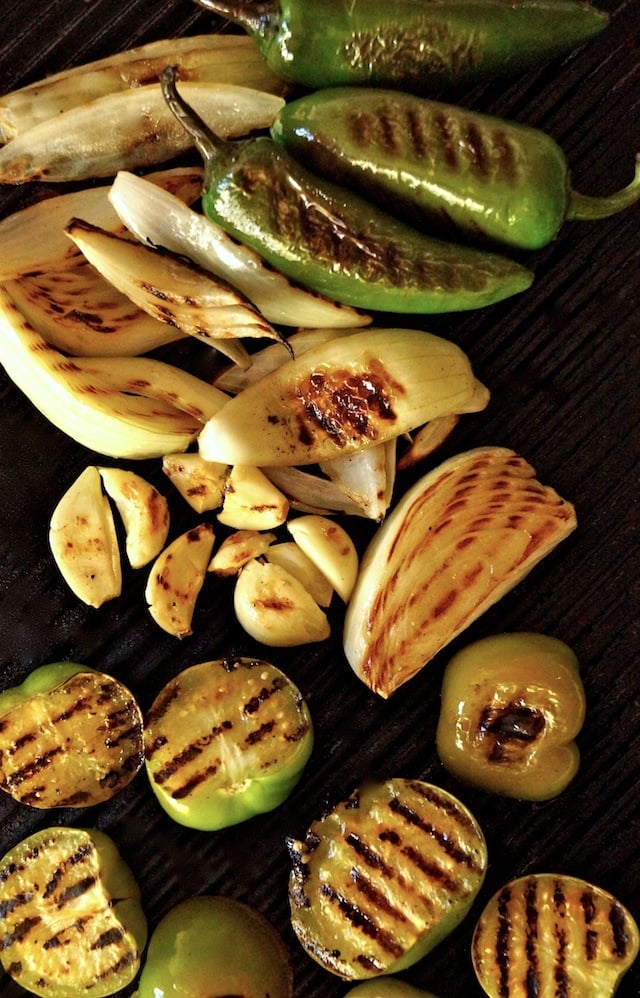 My 12-year-old son goes to Tae Kwon Do class a few times a week, and I've met all sorts of lovely people at there.  Recently I've been talking food with a dad of another boy in my son's class — he's from Michoacán, Mexico.
I think his English is quite good, but he's kind enough to speak only in Spanish with me. It's the most Spanish I've spoken since I lived in Spain in the early 90's. 🙂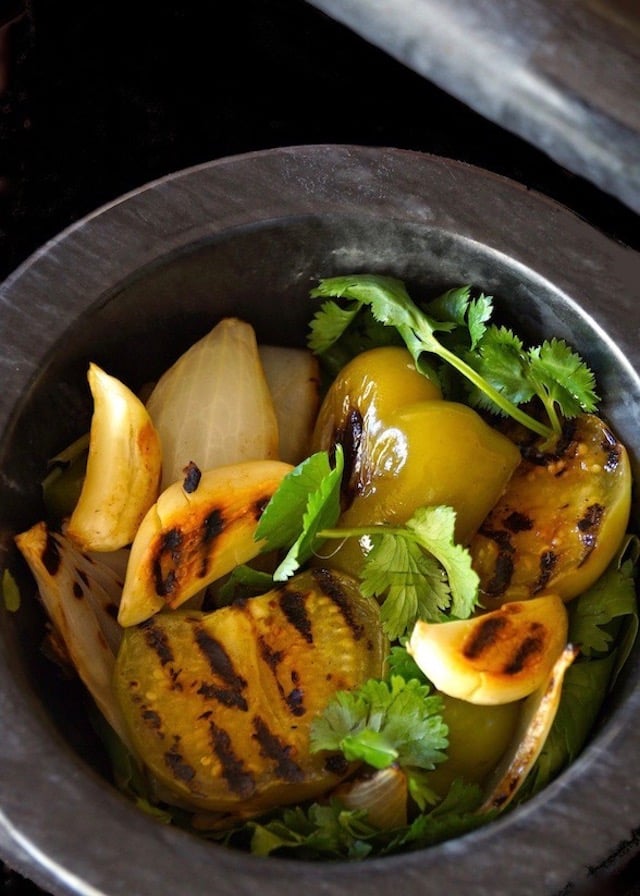 He was telling me about his favorite, authentic Mexican dishes, and was the most enthusiastic when it came to Puerco en Salsa Verde.
He told me that he loves the simplicity of it — the very few, but very vibrant ingredients, and the easy preparation.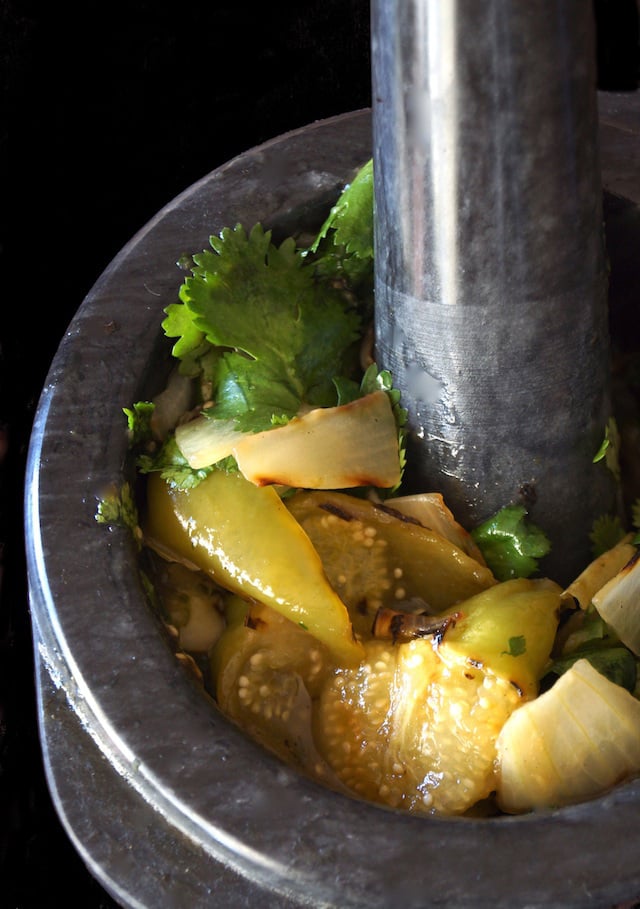 He said that while of course one could use a food processor or blender for the Salsa Verde recipe, the flavor would be far superior if it was made with a molcajete and tejolote, a Mexican, granite mortar and pestle.
I loved that he shared all of these details with me, and in my mind, I was already cooking it.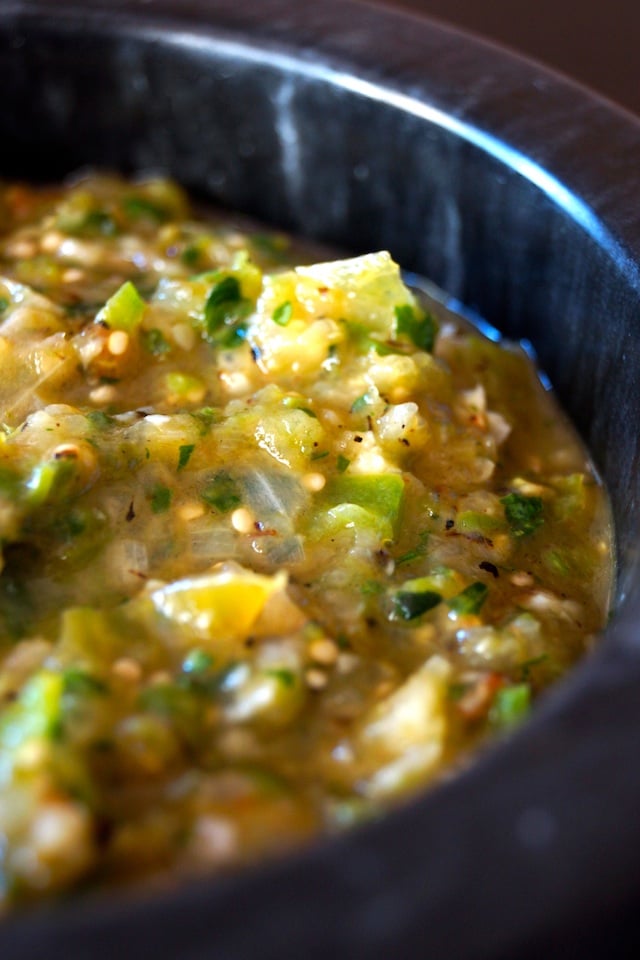 Now while this super nice dad was telling me how to create this deliciousness, I took detailed notes on the back of an old receipt I had in my purse. Unfortunately I couldn't find it when I was ready to cook. (Go figure!)
So while I'm not sure I've done this exactly as he might have, this Puerco en Salsa Verde turned out to be absolutely fantastic. The kind of delicious where I could hardly keep my hands off of it before serving my family.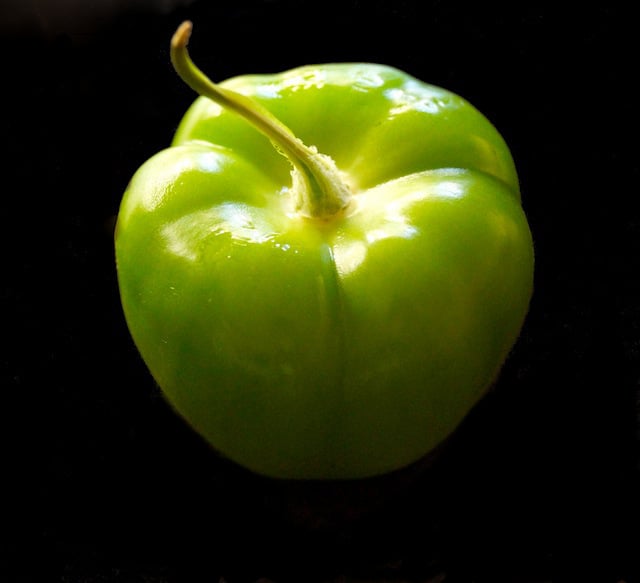 The ingredients are so beautiful, so fresh, and so rich with flavor!  Add to that, a bit of the char flavor from the grill, and it's over the top!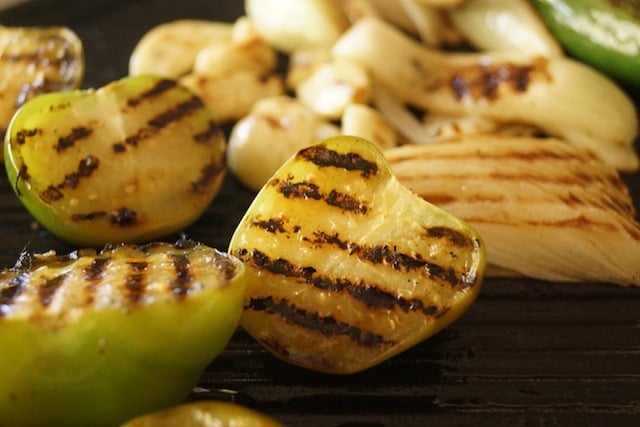 I choose to use a pork tenderloin, though it seems a more traditional choice is pork butt or shoulder.
I wanted a quick cooking time, and the tenderloin never disappoints!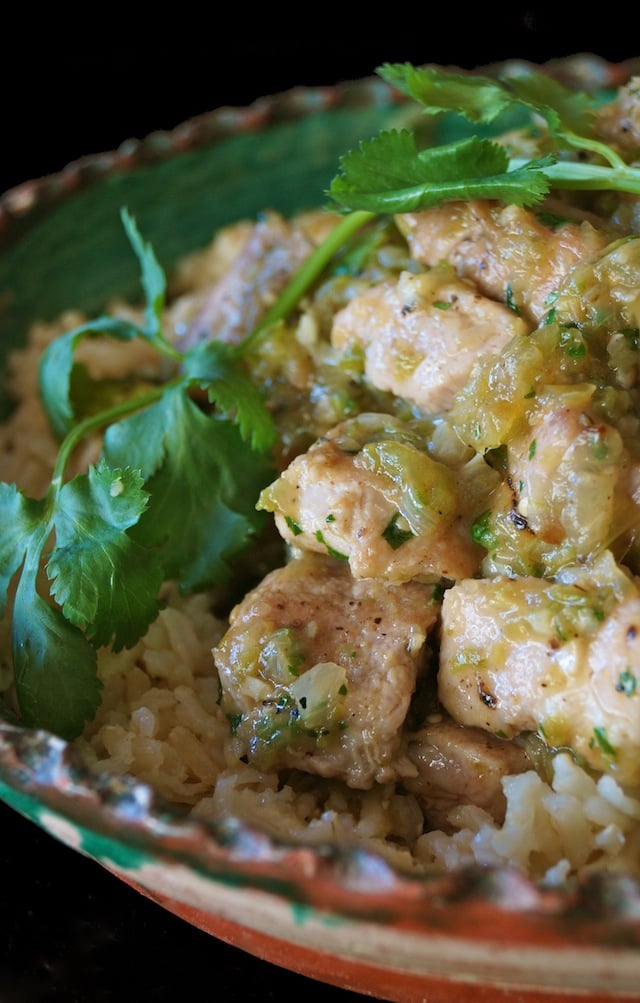 Enjoy every last bite!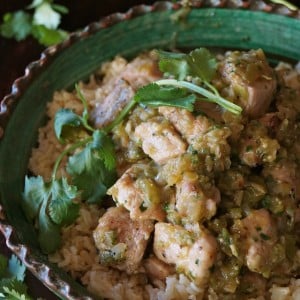 Puerco en Salsa Verde Recipe
With succulent pieces of juicy pork, coated with a fresh, spicy Salsa Verde recipe, this popular Mexican dish, Puerco en Salsa Verde, will have you licking your plate clean!
Keyword:
Mexican dinner recipes, recipes with pork
Ingredients
olive oil for grilling and for the sauté pan

4

tomatillos,

husks removed and cut in half

2 to 3

(approximately 3-inch)

jalapeño peppers,

washed and dried (see notes)

1

cup

yellow onion,

peeled, cut into large wedges

5

medium-large

garlic cloves,

peeled

1

cup

loosely packed fresh cilantro leaves,

washed and dried

1

(approximately 1 1/2-pound)

pork tenderloin

sea salt and freshly ground black pepper
Instructions
Preheat a stove-top or outdoor grill.

Drizzle the tomatillo halves, whole jalapeños, onion wedges and garlic cloves lightly with olive oil. Once the grill is very hot add these ingredients . You should hear a sizzle when they hit the grill -- if you don't, it's not hot enough yet. Remove the ingredients when they're nicely charred and soft-- this will not be all at the same time, and will take about 15 minutes. Place them on a large plate as you go.

Once everything is grilled, cut the stems off the jalapeños, and slice them into smaller pieces, removing the seeds if less heat is preferred. (I usually leave a bit less than 1/4 of the seeds, but this is a personal preference.) Cut the tiny root end off the garlic cloves, as well.

If you have a mortar (the larger, the better), add the grilled ingredients and the cilantro in small batches, and mash them with the pestle until it's the consistency you desire -- I like it somewhere between saucy and chunky. You can season the salsa to taste with salt and pepper if you want to. (I didn't find it necessary, but just in case, here's

How to Season to Taste

.) Set the salsa aside. (Please feel free to use a food processor or blender if you would rather, or if you don't have the mortar and pestle -- it'll still be fantastic!)

Cut the pork into bite-sized pieces and heat a large sauté pan over high heat. Coat the bottom of the pan with olive oil, and season all sides of the pork pieces with salt and pepper. Once the pan is very hot, add the pork. Again, if you don't hear a sizzling sound, the pan isn't hot enough yet. Sauté the pork just until it's cooked through and is browning a bit, about 7 minutes.

Pour the Salsa Verde over the pork, mix and serve!
Recipe Notes
The amount of jalapeños you use depends on the amount of heat you want. I tend to use more of them, and remove more seeds, which is where a good portion of the heat is.
Please note that if you use a food processor or blender, the prep time will be much less.
Save