This Cuban Chicken Stew has ingredients found in Alcaparrado, which you'll learn all about as you read on. It's a hearty, comforting stew that's bursting with delicious flavors.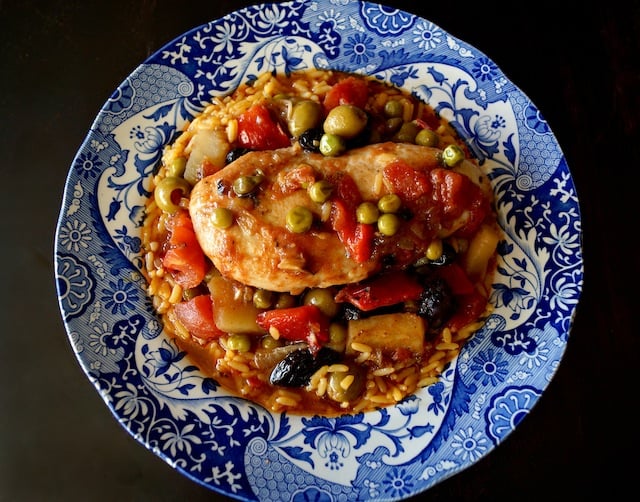 New culinary word or the day: alcaparrado.  Have you ever heard of it?  I hadn't either, until a few days ago when I read a Cuban recipe in the March issue of Savuer Magazine.
Alcaparrado is a mix of pimento-stuffed olives, capers and raisins.  This blend of deliciousness is typically found in a rich, hearty Cuban chicken stew called Fricassé de Pollo.
Now whenever you see the word Alcaparrado on a menu, you'll feel like the coolest one at the table, as you explain its meaning to everyone else.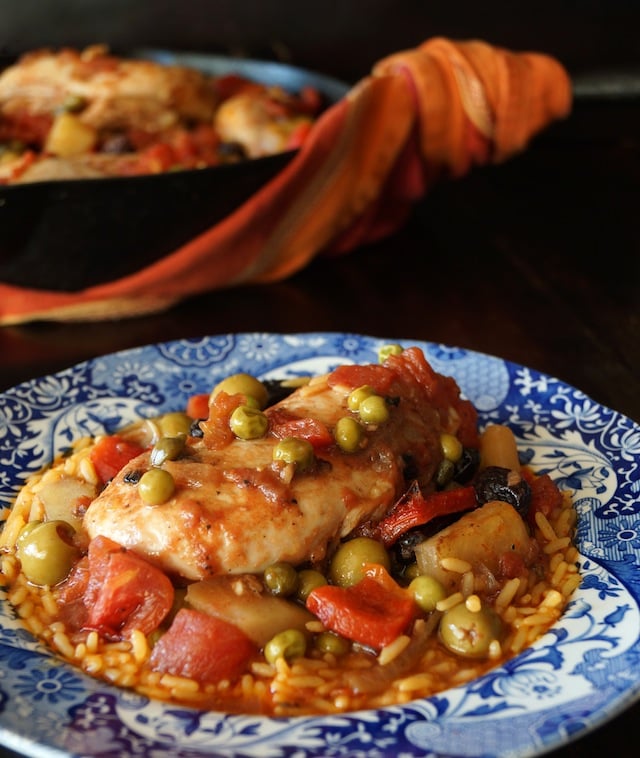 I was immediately taken with this delectable combination of sweet and salty flavors in this beautiful comfort food meal.
I call my adapted recipe "Cuban-Style" because my version has slightly different ingredients and cooking techniques.  The vibe however, is the same as the Fricassé de Pollo.
The vibe of a recipe is important.  In my world, anyway.
The look, the feel, the flare — it all sets a mood that goes along with the taste. Know what I mean?
One of the things that makes this so delicious is this unusual combination of ingredients.
Thee ingredients in this Cuban Chicken Stew with Alcaparrado might sound odd to eat together, if you just heard them in a list:
raisins
olives
orange juice
peas
wine
See what I mean?  However, I can assure you, in stew form, you simply won't be able to get enough of this blend.  You might even want to like you plate. Really!
I love serving this over rice, but it is also wonderful on pasta or along side French bread or rolls.  You could even use the sauce alone, without the chicken, for a delightful vegetarian dish.
And winter, spring, summer or fall, I'm always up for comfort food.
So please enjoy this Cuban Chicken Stew with Alcaparrado. The cooking process and your results!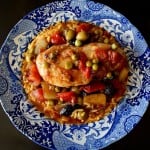 Cuban-Style Chicken Stew Recipe
This recipe is a hearty, comforting stew that's bursting with delicious flavors.
Ingredients
¼

cup plus 1 tablespoon

olive oil,

divided

2

cups

yellow onion,

thinly sliced

4

medium-sized

garlic cloves,

stems removed, roughly chopped

1

(approximately 3¼-pound)

whole chicken,

cut up, skin off, bone in

¾-

pounds

Idaho Russet potato

peeled and cut into bite-sized pieces

1

cup

roasted red pepper (click here for How to Roast and Peel a Pepper),

peeled and roughly chopped

¼

cup

capers

1

cup

Spanish olives stuffed with pimentos

¾

cup

raisins

(golden or black)

¾

cup

frozen peas,

thawed

¼

cup

fresh lime juice

(from about 1 large lime)

¼

cup

fresh orange juice

(from about 1 small Naval orange)

⅓

cup

dry red wine

(like Shiraz or Zinfandel)

1

(28-ounce) can

diced tomatoes in tomato juice

salt and freshly ground black pepper
Instructions
Preheat the oven to 400 degrees F and adjust a rack to the center.

Coat the bottom of a large (not-to-deep), ovenproof pan with ¼ cup of the olive oil.

Place the pan over medium heat and add the onion and garlic. Sauté, stirring every few minutes, until the onions are golden brown, about 15 minutes.

Season both sides of the chicken pieces with a bit of salt and pepper. Move the onions and garlic to the sides of the pan and add the chicken. Sauté just to brown the surface, about 1 minute per side. Remove the chicken from the pan and place it on a large plate. Set aside.

Add the potatoes to the pan and sauté just to brown them, about 4 minutes.

Then add the roasted pepper, capers, olives, raisins and peas. Stir to blend and cook for a minute or so.

Mix the citrus juices with the wine and pour the mixture into the pan. Stir to blend and cook for another minute.

Now add the tomatoes, mix, and bring to a boil.

Reduce the heat to low and return the chicken to the pan, smooth/top sides up, burying it in the sauce, with just the top exposed.

Cover the pan with a lid or foil and place it in the preheated 400 degree F oven.

Cook for 20 minutes, uncover, drizzle with the remaining tablespoon of olive oil and sprinkle with a bit of salt and pepper. Then cook just until the chicken is cooked through, about 10 minutes. (You can check buy cutting into the thickest piece.)

Remove from the oven and let the dish rest for 10 to 15 minutes before serving.
Recipe Notes
I love roasting my own peppers (here's how), however if you want to save time, you can use good quality roasted and peeled peppers from a jar.
If you're wondering why it looks like there are large black olives in the dish, it's because I used jumbo raisins -- they're what I had in the pantry, but I suggest the smaller raisins.
Save
Save