Pecan Green Beans with Orange are subtly sweet and roasted to a golden crisp. As far as Thanksgiving green bean sides go, this dish is far from ordinary. Not even close!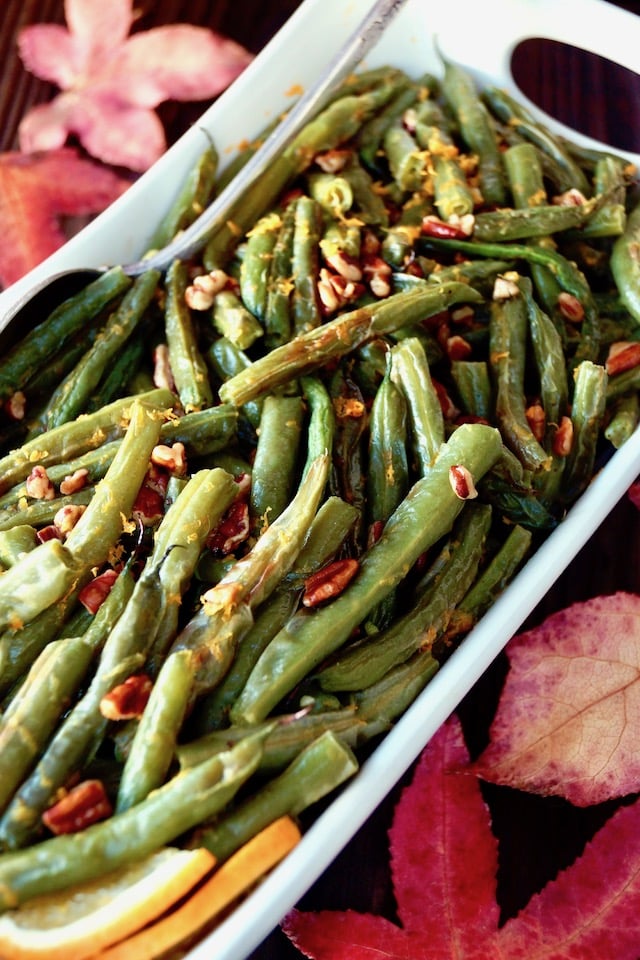 This Roasted Orange Pecan Green Bean recipe is a quick and easy and all of your guests will love it!
Most people expect green beans or brussels sprouts as a part of a Thanksgiving feast.
Not that I'm into always doing what's expected, but I do think it's nice to have a few classic dishes as a part of a holiday spread.
Pecan Green Beans
This is an exciting green bean dish! It's far from ordinary, but it still does its job. And that is to brighten the plates and the table.
Most of the dishes traditionally served on Thanksgiving are more or less in the same color palate. Orange, beige, brown mostly. Think about it — turkey, gravy, stuffing, sweet potatoes.
Don't get me wrong, I truly adore these foods, and wouldn't have a Thanksgiving without them, but it's always lovely to add a touch of green that's fresh and vibrant. It brings a plate of food to life.

The Key to Roasting Green Beans
The key to delicious roasted green beans is caramelization.
Roasting the beans at a very high temperature, after they've been boiled, adds tremendous additional flavor from the caramelization process, from browning in the oven.
What's in this recipe?
green beans
olive oil
pecans
orange zest
orange juice
butter
salt, pepper, cayenne
Pecans add a subtle maple flavor and lovely crunch, and the splash of sweet orange juice, finishes it off perfectly in a silky smooth butter sauce.
Oh, and a pinch of cayenne adds just a touch of heat that's fantastic with the other ingredients.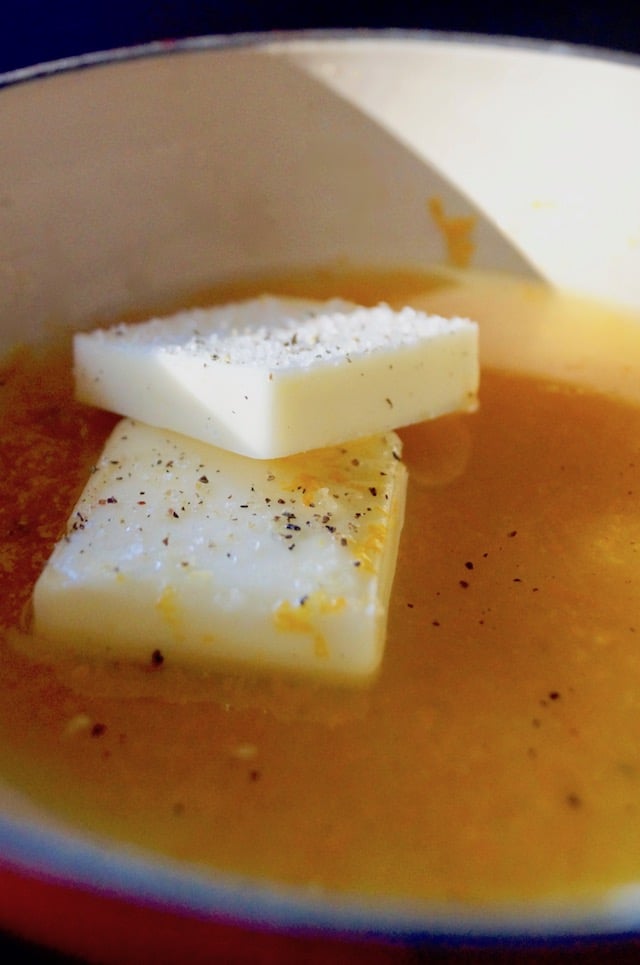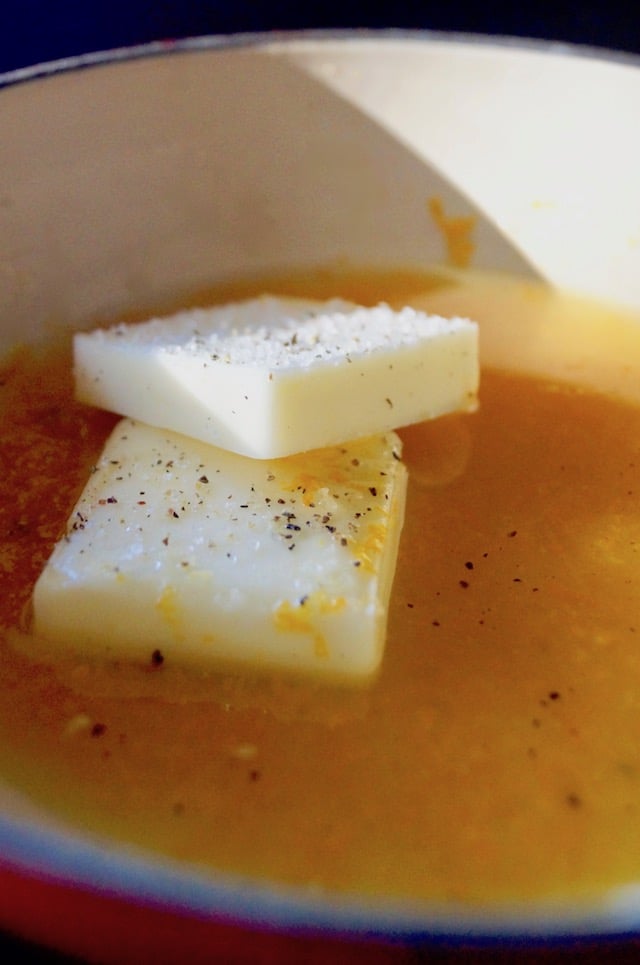 This recipe only takes about 25 minutes -- start to finish!
It's an expected dish that will wow your guests with unexpected flavors.
I make this dish often, not just for the holidays. It turns out, it's just as delicious every other day. 😉
Enjoy and I hope this turns out to be one of your favorite Thanksgiving green bean sides, too.
Here's another exciting green beans dish for Thanksgiving.
Pecan Green Beans Recipe with Orange
Cooked to a golden crisp, these green beans, are far from ordinary. Not even close!
Ingredients
1¼

pound

green beans,

trimmed and cut in half

1½

tablespoons

olive oil

2

tablespoons

unsalted butter

zest of 1 Navel orange

juice of ½ Navel orange

pinch

of cayenne

3

tablespoons

toasted pecans,

finely chopped

salt and freshly ground black pepper
Instructions
Set the oven. Preheat the oven to 500°F, and adjust a rack to the top third.

Boil, shock, dry and oil the green beans. Fill a large bowl with ice and water and set it aside. Bring a large sauce pot of water to a boil. Add the green beans, and boil just until they're a brighter green and tender, about 4 minutes. Drain, and immediately plunge them into the ice water. (This is called shocking.)

Once they're cool, drain again, dry them with a kitchen towel, and spread them out on a sheet pan. Drizzle them with the olive oil and then toss with your hands to ensure they're all well coated. Sprinkle with salt and pepper and spread them out evenly, in a single layer.

Roast. Place the sheet pan in the 500°F oven and roast until they begin to blister and become a little bit golden, 8 to 10 minutes. (Move them around and flip them about half way through the roasting time.) Use a spatula to help you add the roasted beans to a large mixing bowl. Set aside.

Make the sauce. While the beans are roasting, add the butter, orange zest and orange juice to a small sauce pan. Sprinkle a little salt and pepper on top and place it over low heat.

Combine sauce with green beans. Once the butter is melted, remove the pan from the heat and drizzle the sauce over the roasted beans.
NOTES
Calorie count is only an estimate.
NUTRITION
Have you tried this recipe?
I'd love to see it on Instagram! Tag me at @cookingontheweekends or leave a comment & rating below.