This beautiful and delicious Red Goddess Dressing and Sauce is made with vibrant red peppers, red onion, garlic, fresh herbs and spices. It can also be used as a marinade and it will turn anything it touches into pure deliciousness!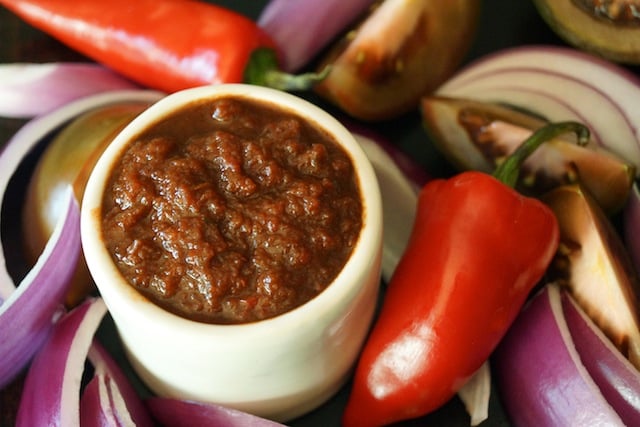 Amazon affiliate links are for your convenience. As an Amazon Associate I earn from qualifying purchases at no additional cost to you.
I know you've very likely heard of Green Goddess dressings, sauces, etc. — but, have you ever heard of Red Goddess dressing or sauce?
I thought I was brilliant when this idea popped into my head, though after googling it, turns out I'm not the first person to think of it — in fact seems I might the two millionth or so.  😉 Ha!
I didn't explore too much to see what other people are doing in their Red Goddess recipes — I simply wanted to create a super tasty blend of fresh ingredients, that are mostly red in color — and that could be used as a dressing, sauce and even a marinade.
After all, most red — or reddish — foods are packed with delicious flavor. A huge variety chile peppers, tomatoes, all sorts of berries, blood oranges, plums, onions, grapes/wine, and the list goes on (and on).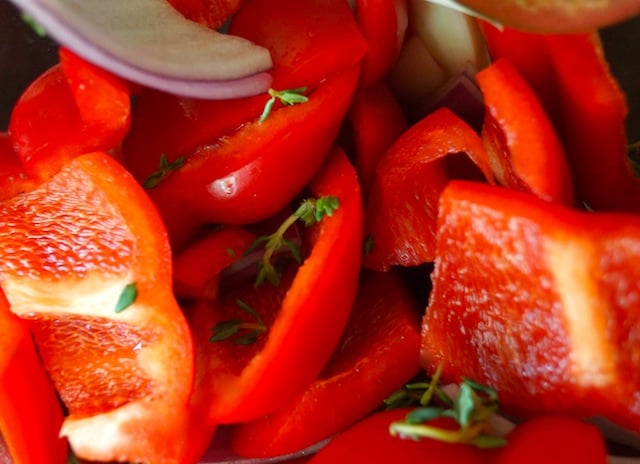 This Red Goddess dressing recipe is also an ideal marinade for meat and chicken, and is incredibly delicious as a sauce with roasted vegetables — especially potatoes!
Check out this Red Goddess Marinated Flank Steak — it's divine! In the recipe, the Red Goddess Dressing is used as both a marinade and a sauce.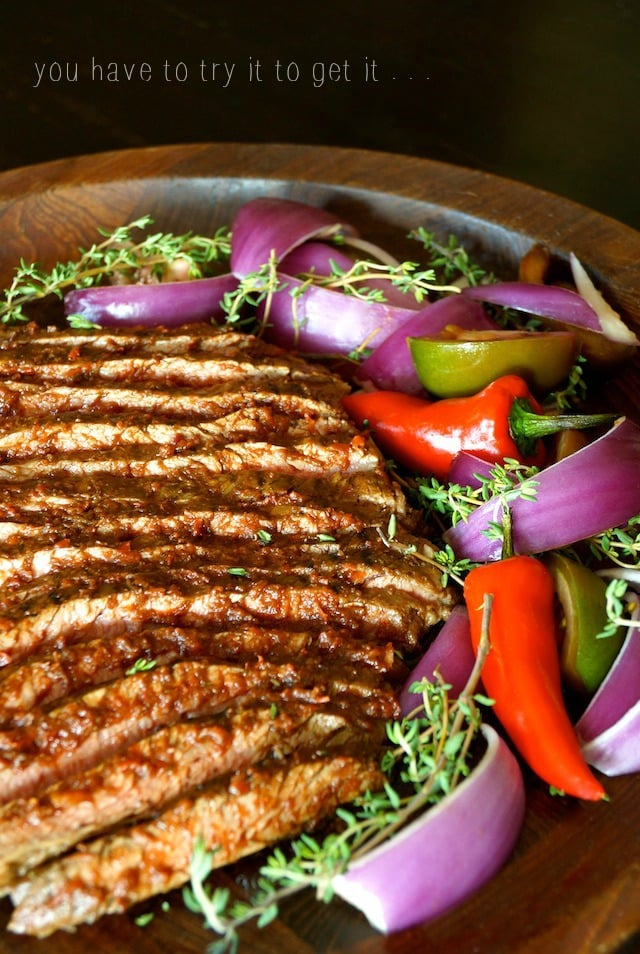 How to use Red Goddess Dressing
Red Goddess Dressing is fantastic on green salads, potato salads and pasta salads.
You can use it to marinate fish, chicken and meat (including beef, pork, lamb, etc.)
As a sauce it's absolutely fantastic with just about everything! Steak, chicken, shrimp, roasted and grilled vegetables, and so on.
I've always heard that red is the most appetite provoking color, to boot. (Blue is the least — so I'm told.)
Enjoy!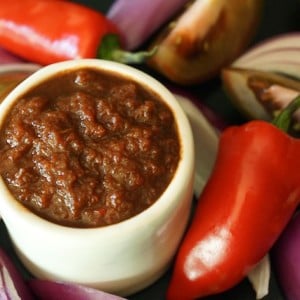 Red Goddess Dressing and Sauce Recipe
A dressing, a marinade and a sauce! This will turn anything it touches into pure deliciousness!
Makes about 1½ cups | serving size: 2 tablespoons

Course:
Condiments, Sauces, Dressings and Vinaigrettes
Keyword:
best steak marinades, unique dressings
Ingredients
2

cups

red bell peppers,

washed and dried, seeded, roughly chopped

3/4

cup

tomatoes,

washed and dried, seeded, roughly chopped

3/4

cup

red onion,

roughly chopped

1

tablespoon

red jalapeño pepper

washed and dried, seeded, roughly chopped

5

sprigs

fresh thyme,

washed and dried, leaves removed from stems

1/4

cup

dry red wine

1

tablespoon

honey

1

tablespoon

sweet paprika

1/4

teaspoon

ground cinnamon
Instructions
For dressing (and marinade)
Pour the mixture into a bowl and then add wine, honey, paprika and cinnamon.
For the sauce
After you've used this as a marinade, you can turn it into a sauce. Simply remove whatever you've marinated (probably chicken or steak), and then pour the remaining marinade into a small sauce pan. Place it over high heat bring it to a boil. Then reduce the heat to low and simmer until it's reduced by about 1/4, about 15 minutes.
Recipe Notes
To take this from a marinade to a sauce, 15 minutes will be added to the prep time.
Cooking On The Weekends is a participant in the Amazon Services LLC Associates Program, an affiliate advertising program designed to provide a means for sites to earn advertising fees by advertising and linking to Amazon.com.