This beautiful and delicious Red Goddess Marinade and Sauce is made with vibrant peppers, onion, garlic, fresh herbs and spices.  It will turn anything it touches into pure deliciousness!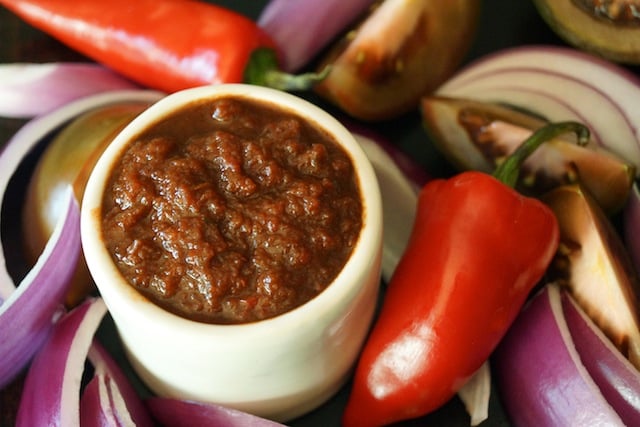 I know you've very likely heard of Green Goddess dressings, sauces, etc. — but, have you ever heard of Red Goddess?
I thought I was brilliant when this idea popped into my head, though after googling it, turns out I'm not the first person to think of it — in fact seems I might the two millionth or so.  😉
I didn't explore too much to see what other people are doing in their Red Goddess recipes — I simply wanted to create a super tasty blend of fresh ingredients, that are mostly red in color — and that could be used as a marinade and sauce.
After all, most red — or reddish — foods are packed with delicious flavor.  A huge variety chile peppers, tomatoes, all sorts of berries, blood oranges, plums, onions, grapes/wine, and the list goes on (and on).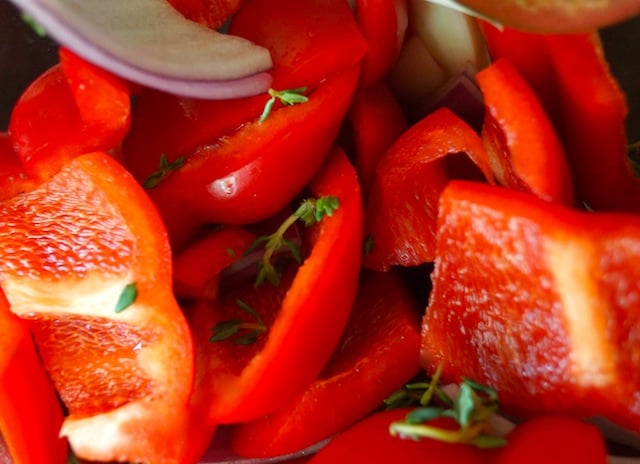 This Red Goddess recipe is an ideal marinade for meat and chicken, and is so delicious as a sauce with roasted vegetables — especially potatoes!
Check out this Red Goddess Marinated Flank Steak — it's divine!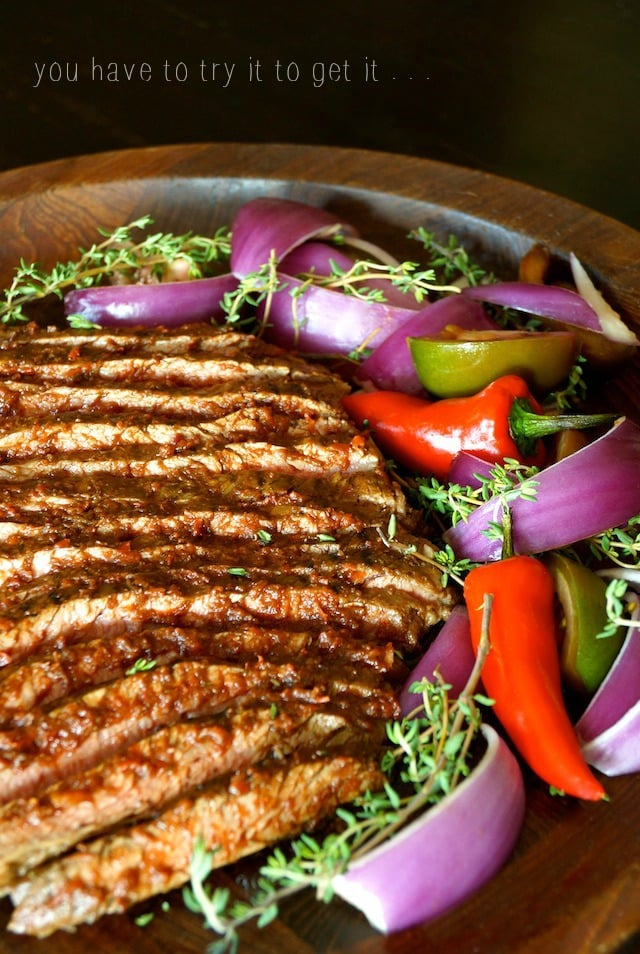 (The top image above is after it's been taken from a marinade to a sauce, so it's a bit darker — the marinade itself is brighter red.)
I've always heard that red is the most appetite provoking color, to boot. (Blue is the least — so I'm told.)
Enjoy!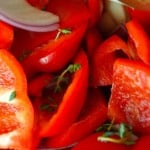 Red Goddess Marinade and Sauce Recipe
Makes about 1½ cups
Ingredients
2

red bell peppers

washed, dried, seeded and roughly chopped (about 2 cups)

1

small to medium-sized tomato

washed, dried seeded and roughly chopped (about ¾ cup)

about ¼ of a large red onion

roughly chopped (about ¾ cup)

1

small red jalapeño pepper

washed, dried, seeded and roughly chopped (about 1 tablespoon)

5

sprigs fresh thyme

washed, dried and leaves removed

¼

cup

dry red wine

1

tablespoon

honey

1

tablespoon

sweet paprika

¼

teaspoon

ground cinnamon

honey

sea salt, and freshly ground pepper to taste (Here's How to Season to Taste.)
Instructions
For marinade
Add the first 5 ingredients to a powerful blender and purée.

Pour the mixture into a bowl and then add wine, honey, paprika and cinnamon.
For sauce
After you've used this as a marinade, you can turn it into a sauce. Simply remove whatever you've marinated (probably chicken or steak), and then pour the remaining marinade into a small sauce pan. Place it over high heat bring it to a boil. Then reduce the heat to low and simmer until it's reduced by about ¼, about 15 minutes.
Recipe Notes
To take this from a marinade to a sauce, 15 minutes will be added to the prep time.
Save